By Jocelyn Buhlman
Every attraction at a Disney park is a full story, sweeping you, your friends, and family off on grand journeys that you'd only been able to previously imagine. How you travel through these journeys depends on the ride vehicle—often an unexpected or whimsical form of transport. In our adventures at Disney parks around the world, we've stepped into haunted elevators, flying pirate ships, Doom Buggies, magic carpets, and more to experience unforgettable adventures. While we love these unique ways to travel through Disney attractions, some of the most memorable adventures take place on more practical types of vehicles: planes, trains, and automobiles. As part of our celebration of 65 years of the Disney park, we're exploring these forms of transportation at Disneyland Resort, Walt Disney World, and Disney Parks around the world and celebrating how even the most traditional forms of transport can sweep you off into mysterious temples or the futuristic world of tomorrow.
Planes
Goofy's Sky School
If you want to take to the sky, but don't know how to fly, head over to Disney California Adventure to get some lessons. We heard the teacher is a little… silly. Wait, no. He's goofy. Like, he's literally Goofy—our favorite funny friend of Mickey. Yes, that's right, Goofy is starting his career as a flying instructor. Is this the wackiest flight school to ever issue a diploma? In order to provide instruction to his aspiring airliners, Goofy's posted giant billboards along the flight path to instruct you on your lessons. Try to ignore any plane-shaped holes in those signs.
Inspired by "pleasure pier" rides and the golden era of seaside amusement parks, Goofy's Sky School features retro-style roller coaster cars with no modern dimensional elements, like protruding wings or mechanical propellers (Maybe that explains all those crash marks on the billboards?). Truly, these vehicles look less like a plane and more like a contraption invented by Goofy himself—but once you're done, you'll be flying with the best (and goofiest) of them!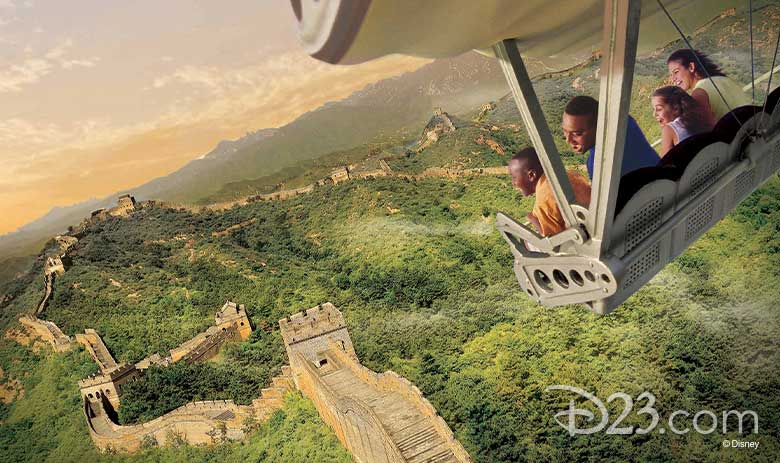 Soarin' Around the World
One of the most peaceful, breathtaking, and enchanting experiences at EPCOT is Soarin' Around the World. Climb aboard a hang glider and sit back as you soar over iconic landmarks and landscapes around the world. Close your eyes for a moment—feel the wind on your face; smell sea breeze in the air. This flight takes you to locations you've only dreamed of visiting: the Great Wall of China, the Great Pyramids of Egypt, the Taj Mahal in India—plus, it brings some Easter eggs you might need multiple flights to spot. The unique hang glider system was created by Walt Disney Imagineering ride engineer Mark Sumner, who came up with the idea one weekend by building a model with an erector set he had at home. That model soon became a must-experience attraction for any fans of flight.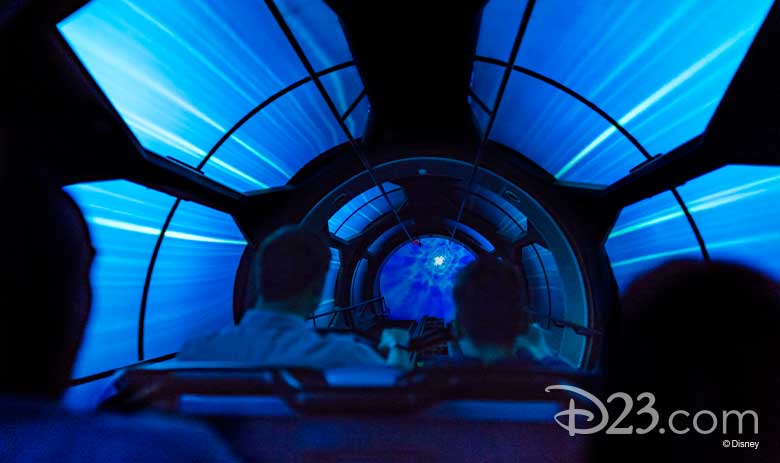 Space Mountain
Is soaring through the air just not enough for you? Feel like your real calling is in space? Maybe you're just a big fan of mountains but think the whole "being on the ground" part is overrated? At Magic Kingdom, Disneyland, Tokyo Disneyland, Disneyland Paris, and Hong Kong Disneyland, step into Space Mountain and prepare to blast off on a high-speed adventure. A rocket is waiting at the spaceport to take you into the far reaches of the universe. Equipped with a rockin' sound system so you can jam out while you're far out, your rocket travels across the galaxy and back. In fact, Space Mountain was made with the help of an expert—former Mercury 9 and Gemini 5 astronaut Gordon Cooper was a consulting member of the original Disney Space Mountain team, bringing his NASA expertise to the attraction so that your space travel is as authentic as possible.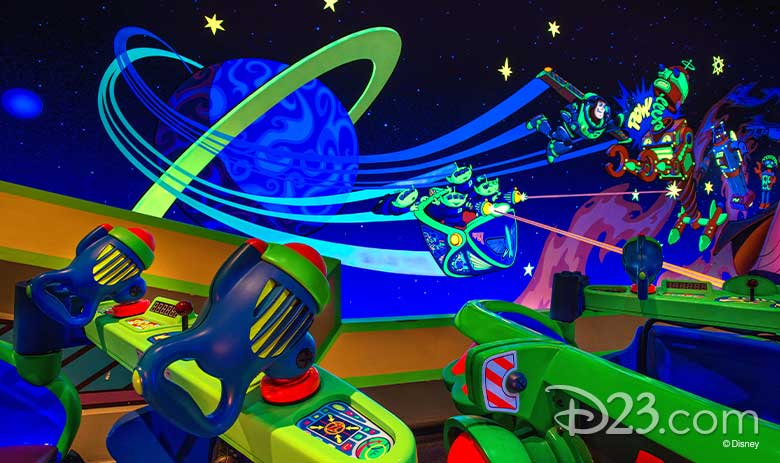 Buzz Lightyear Astro Blasters and Buzz Lightyear Space Ranger Spin
If you want to experience intergalactic adventure, consider enlisting as a Space Ranger. Your mission—defeat the evil Emperor Zurg. Your vehicle for intergalactic travel? The sleek, toy-inspired Space Cruiser. At Disneyland's Buzz Lightyear Astro Blasters, you board the Space Cruiser XP-40. The "X" signifies that the capabilities of the vehicle are an "unknown quantity," or a "secret" to Zurg, and the "P" means "Protection," which is what the vehicles provide for Star Command and the Universe. Over at Tokyo Disneyland they are the XP-38s; at Buzz Lightyear Space Ranger Spin in the Magic Kingdom, they are the XP-37s.
Of course, on this mission, it's not just about saving the galaxy—it's about fun. This adventure takes place in the Toy Story world, and your Space Cruiser is a play item—a plastic battery-powered intergalactic spacecraft with built-in electronics and wheels on its underside. Like many plastic toys, it has parts that are assembled with screws. The brand name on the batteries at the back of the vehicle indicates that it is powered by "Crystolic Fusion," which is Buzz-speak for "battery powered." Unlike other toys, this Space Cruiser is key to saving the galaxy—so let your imagination run free and you just might be the next cosmic commando.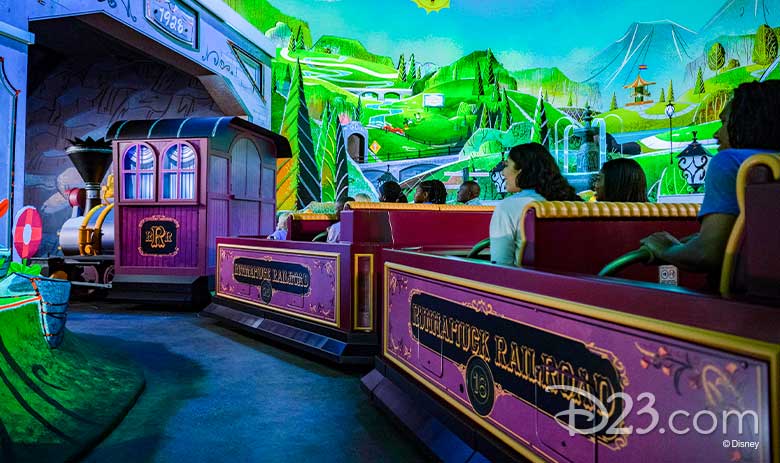 Trains
Mickey & Minnie's Runaway Railway
Enter the cartoon world of Mickey and Minnie, where anything can happen—including Goofy driving a train (who is letting him into all these vehicles?). Would you believe that on this train you have bigger worries than a goofy conductor? In the world of cartoons, mouse rules apply—but the laws of physics sometimes don't. There's a reason this train is called the Runnamuck Railroad, after all, and it's not just because we like alliteration. This train is the only one at a Disney park that can take you through the city, under water, and even into a tornado! Plus—keep your eyes open for Easter eggs and hidden details along the way.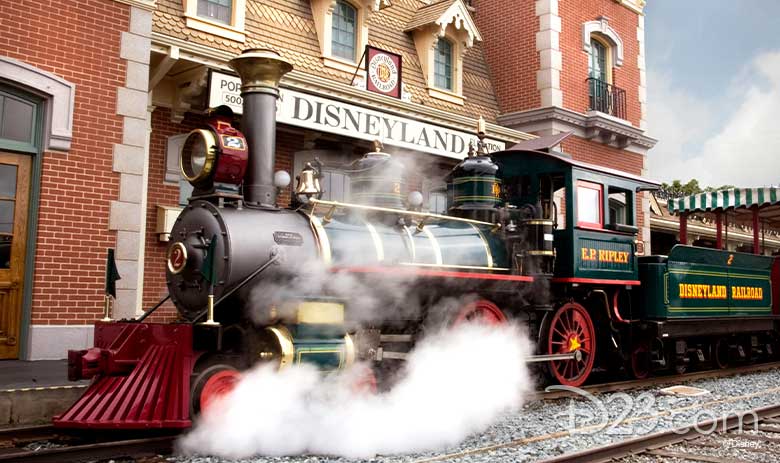 The Disneyland Railroad and The Walt Disney World Railroad
When it comes to traveling around Disney Parks, there's one mode of transportation that originates from Walt Disney's personal passion. Inspired by Walt Disney's love of trains, The Disneyland and Walt Disney World Railroads transport guests on a full circle tour of the parks. This attraction evokes the nostalgic adventure of riding on old‐fashioned steam-powered trains that crisscrossed America from the 1850s to the early 1900s. But these trains don't just take you around the Americana-inspired Main Street, U.S.A.—they also take you through worlds of adventure, tomorrow, and fantasy. Walt's passion for railroads extends across the globe—railroads circle Disneyland Paris, Tokyo Disneyland, and Hong Kong Disneyland.
At Disneyland, there are five trains to transport you around the park: C.K. Holliday, E.P. Ripley, Fred Gurley, Ernest S. Marsh, and Ward Kimball. At Magic Kingdom, there are four trains to transport you around the park: Lily Belle, Roy O. Disney, Walter E. Disney, and Roger E. Broggie.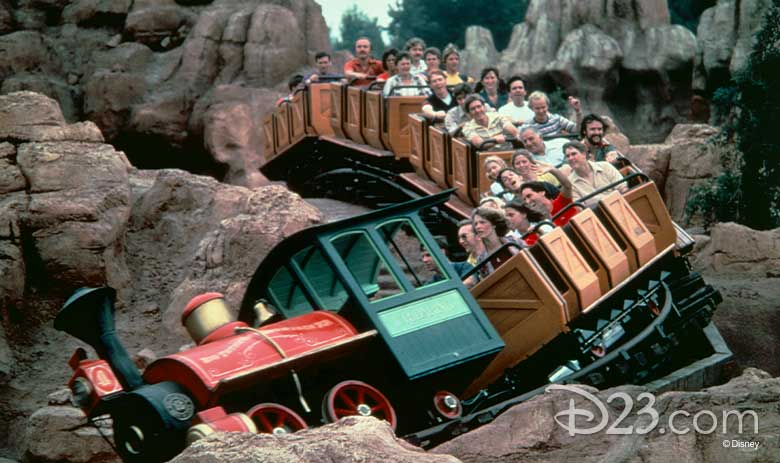 Big Thunder Mountain Railroad
Not every train takes you on a peaceful journey—in fact, Big Thunder Mountain Railroad is considered the "Wildest Ride in the Wilderness!" With no engineer, no fear, and all the adrenaline of the wild west frontier, this train ride is out of control in the best way possible. This train takes you on an adventure through deep gorges, twisting caverns, and mysterious and foreboding mine shafts.
Inspired by small steam locomotives of the mid-to-late 1800s, the engines of the Big Thunder Mountain Railroad have funneled smokestacks and a roofed cab overlooking the boiler, along with passenger cars featuring wood crate sides patterned after the excursion cars that were used in mining and logging operations to carry workers to and from their work sites. While the train might be inspired by a mining operation, the real treasure on this attraction isn't gold—it's the wild and rollicking adventure you'll be talking about for years to come.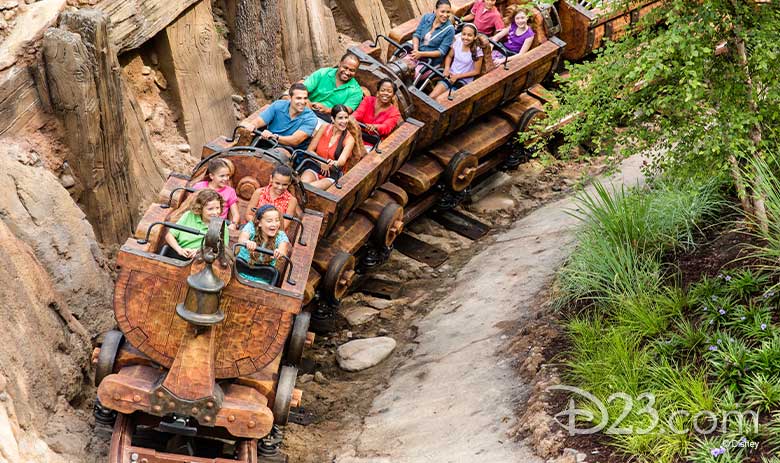 Seven Dwarfs Mine Train
This mine train was made to transport glittering jewels, but it's also your vehicle to adventure at Magic Kingdom and Shanghai Disneyland. It travels into the Seven Dwarfs' Mine, where you'll be enchanted by glittering diamonds, rubies, and other precious gems. "Handmade" by the Dwarfs, the wooden mine cars were originally intended to haul rocks and jewels. The mine cars sit in cradles so they can be tipped to unload their contents—or so they can swing back and forth as guests zip through rolling hills, past pools and waterfalls, to the mine and to the cottage of the Seven Dwarfs.
Casey Jr. Circus Train
This colorful, small-scale train takes guests on a charming tour of the hills and valleys of Storybook Land. The Casey Jr. Circus Train was a Disneyland 1955 original attraction that has been transporting guests past the miniature homes and villages of Disney's most beloved animated characters for 65 years.
Before you board Casey Jr., you need to pick what car you'll be riding in. Will you ride up front in the engine (look, Casey Jr. is smiling at you!) or will you hop in the back and enjoy the view from the caboose? Take the traditional route and hop in an open car, or grab your wildest friends and slide into the Animal Cages. No matter where you choo-choo-choose to sit, one thing's for certain: you're in for a fantas-tic view.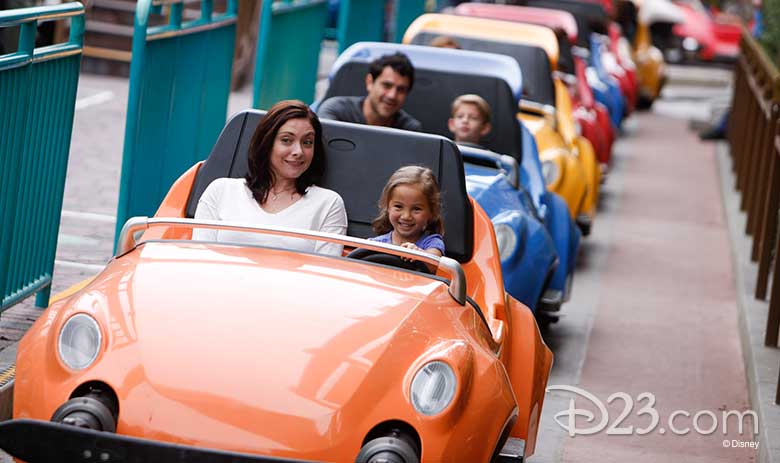 Automobiles
Autopia
One of life's little pleasures is taking a simple drive along the roadway. Isn't it a shame that our younger guests don't know that joy? In the world of the future, there's no need to fret! Autopia allows drivers of all ages to cruise in a cute coupe, a rugged off-road vehicle, or a stylish sports car. Your drive will travel along the fun-filled (and often pun-filled) roadways of Tomorrowland, including a chance to off-road!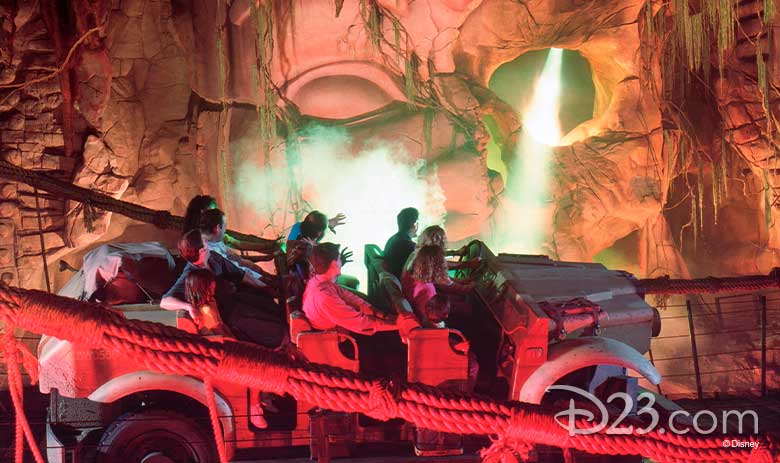 Indiana Jones Adventure
Just like its name promises, Adventureland has no shortage of thrilling expeditions on which you can embark. But if a cruise through the jungle isn't quite pulse-racing enough for your adrenaline addiction, stop by the Temple of the Forbidden Eye. Famed archeologist Indiana Jones is missing…Will you be part of the group of intrepid explorers who find him? Hop in your Jungle Transport—a handy vehicle built for rugged terrain and equipped with a radio to guide you through the ominous temple. Sure, it sounds like the car is perfect to get you through this mysterious temple, but we have one question—how good are you at driving with your eyes closed? The temple doesn't just have its name because it sounds cool. While you drive through the ruins, beware the eyes of the idol—or you'll soon be in for a driving test like no other (You thought parallel parking was tough? Try driving through a mummy chamber, a dart corridor, and—gulp—the Gates of Doom!)
If you're a real auto aficionado, your Jungle Transport isn't the only vehicle of note at Indiana Jones Adventure. In the outside queue, pay close attention to the German Patrol Truck—it's a real prop from the Indiana Jones film Raiders of the Lost Ark. Read more about Easter eggs in the Indiana Jones Adventure here [link: https://d23.com/hidden-details-in-indiana-jones-adventure/]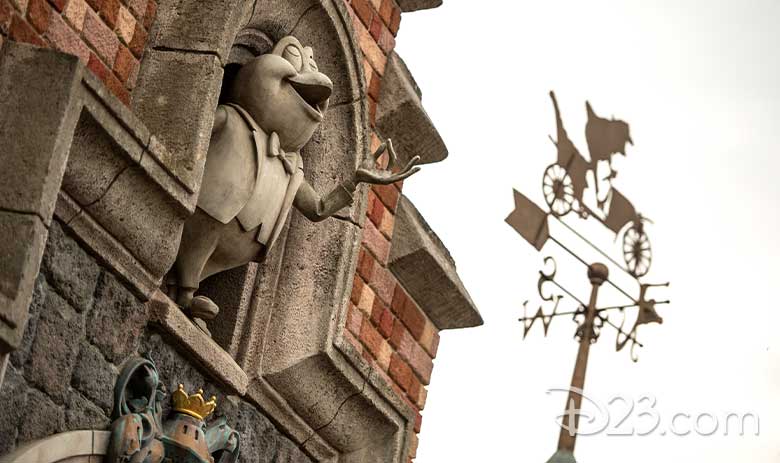 Mr. Toad's Wild Ride
We've talked about the train line that's considered the "wildest ride in the wilderness," but what about an automobile that's the wildest ride through…. A mansion? Channel Mr. Toad's motormania (we know you want to) by climbing aboard a vintage motorcar at Toad Hall at Disneyland park.
Inspired by early 20th century buggies, (drivers enter on the right side—British-style) the motorcars bear the names of characters from The Wind in the Willows including Mr. Toad, MacBadger, Moley, Ratty, Weasel, Winky, and Cyril. Enjoy your drive through the English countryside… and through Toad Hall… and the courthouse… Just keep an eye out for any trains! No matter where you end up on your wild ride, rest assured that the homely grounds of Toad Hall are just around the corner.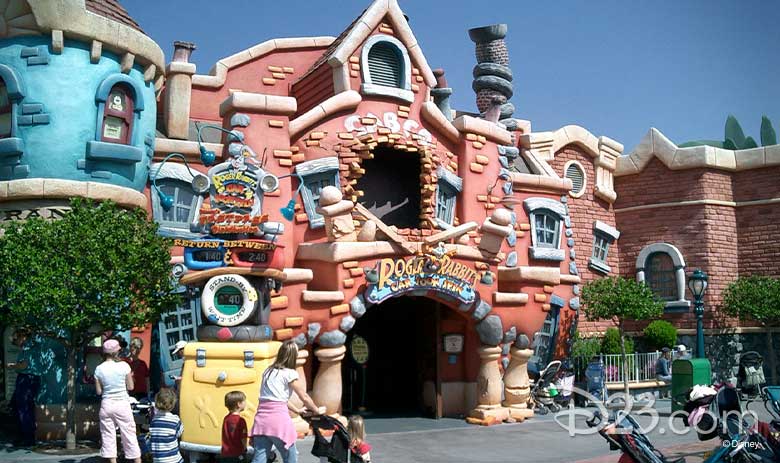 Roger Rabbit's Car Toon Spin
Want to go for a spin through the city? Stop by the Toontown Cab Co.—home of Roger Rabbit's Car Toon Spin at Disneyland and Tokyo Disneyland—and race through the wacky streets of Toontown on the tail of Roger Rabbit. (But watch out for the dip!) Your adventure is courtesy of a yellow and black "covertible" taxicab with whitewall tires named Lenny. (And don't forget his name—it's right there on his license plate!) He'll drive you through Toontown with a twinkle in his headlight eyes and a grin on his grille. While you're enjoying your day at Disneyland or Tokyo Disneyland, you'll drive a variety of cars on your adventures—but this is one of the few with a mind of its own.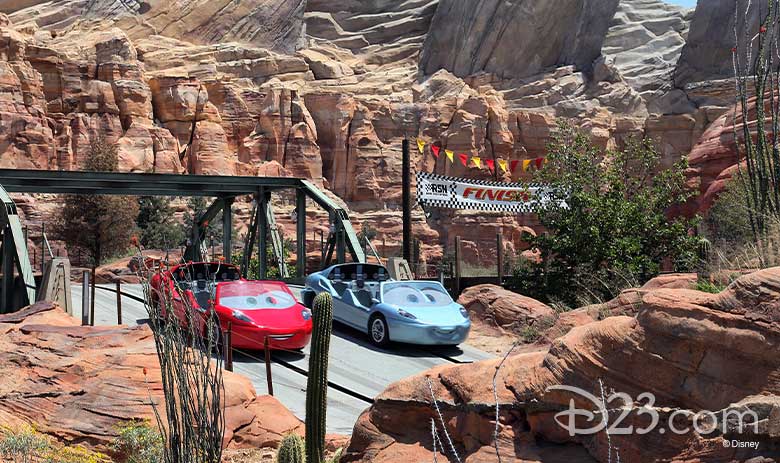 Radiator Springs Racers
Speaking of Cars with a lot of character, next time you're in Radiator Springs, you should join in the big race. Make new friends with a stylish convertible who'll chauffeur your road trip through the majestic Ornament Valley while headed to Radiator Springs, encountering some familiar faces—er, windshields? —along the way. You and your new car pal are a team together, because when you arrive at Radiator Springs, it's time for the race—and your competition are your fellow guests. Watch for the flash—it's a photo finish! And what better way to commemorate your time in Radiator Springs than with a photo of your big race day and your new automotive amigo?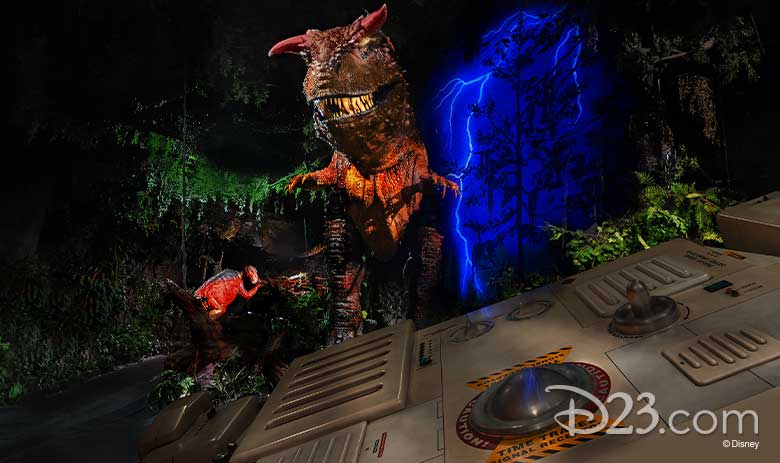 Dinosaur
When you hop in a car at Walt Disney World or Disneyland, you know you're going to journey to many exciting places: concerts, mansions—even a high-speed race! But over at Disney's Animal Kingdom's Dino Institute, your automobile has a unique destination: The past!
You've never hopped in a car like this. The Time Rover is designed to take you to the age of the Dinosaurs. If you thought that was an impressive feature for an automobile, wait till you see what it can carry! You and your friends better scoot over, because the plan is to go to the past and nab a 3.5-ton Iguanadon! There's one feature of the car you better hope doesn't need to get tested—the ability to outrun the clock before a giant meteor strikes the Earth!
Want to keep celebrating 65 years of the Disney Theme Park? Make sure to check out all the ways we're celebrating, including more digital content right here on D23.com, all month long!