By Beth Deitchman
We're getting ready to embark on a train ride unlike any other, Mickey & Minnie's Runaway Railway—the first Mickey-themed ride-through attraction in a Disney park—which opened this week at Disney's Hollywood Studios. "Mouse rules apply" in this new attraction, which means that anything can (and does) happen, from the moment guests enter the Chinese Theatre for the premiere of a new Mickey Mouse cartoon short, "Perfect Picnic," until Disney magic brings them through the movie screen and into a cartoon world.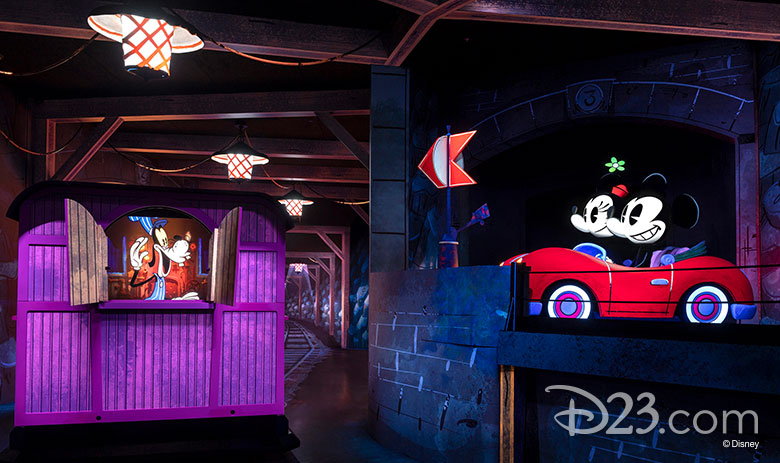 Mickey & Minnie's Runaway Railway represents an incredible combination of classic Disney storytelling and cutting-edge technology. "We've taken our whole grab bag of theatrical tricks and blended them together so seamlessly you won't be able to tell what's what," said Kevin Rafferty, executive creative director, Walt Disney Imagineering. "There is more happening in each and every scene than you could possibly have time to see in just one experience."
To help you discover all of the mouse-terful details throughout the attraction, we've put together a list of fun facts and Easter eggs you'll want to train your eyes and ears upon when you hop aboard the Runnamuck Railroad: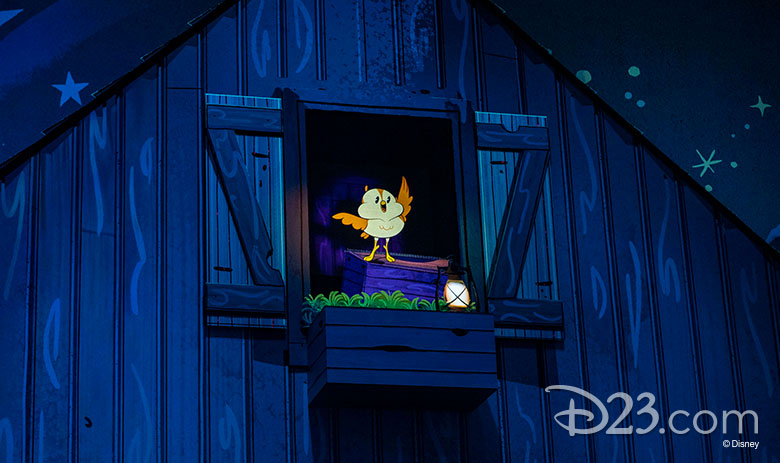 Old friends—and a charming new feathery one—are along for the ride.
Mickey and Minnie set out on a leisurely drive through Runnamuck Park when their plans for a "Perfect Picnic" go off the rails. They're joined on the madcap adventure by dutiful dog Pluto; Engineer Goofy; a dancing Daisy Duck (who just might have some fancy new moves to teach you); a hot-headed Donald Duck, steaming over the theft of the sign from the hot dog stand he runs; Jackhammer Pete, whose vibrations could have unexpected results for Mickey and Minnie; and an adorable bird, Chuuby (pronounced "choo-bee"), who is sure to fly right into your heart. Chuuby loves to sing and dance in Runnamuck Park—and he's been created exclusively for Mickey & Minnie's Runaway Railroad.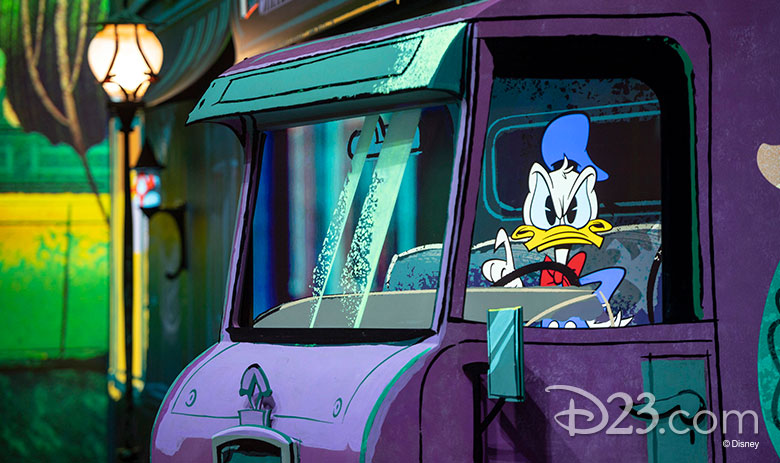 The look of Mickey & Minnie's Runaway Railway is intended to resemble the hand-drawn animation of Disney Television Animation's Emmy®-winning Mickey Mouse shorts.
Disney Imagineers studied every cartoon short and consulted with Mickey Mouse executive producer Paul Rudish and art director Joseph Holt to ensure that the attraction's hand-drawn look is true to that of the cartoons. During the stampede scene, take note of the extra floating "lines" that have been added around a cactus to create the appearance that they're standing alone in mid-air.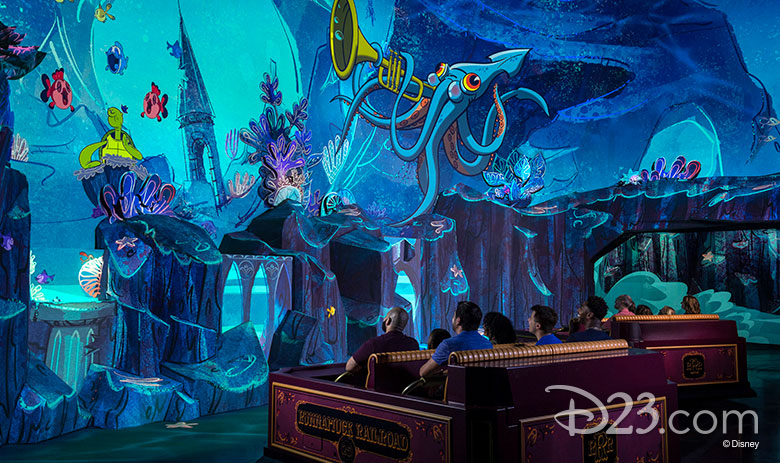 You'll hear more than just a whistle on this railroad adventure.
Mickey & Minnie's Runaway Railway's exclusive theme song, "Nothing Can Stop Us Now," was written by Christopher Willis, award-winning composer of the Mickey Mouse shorts, and his wife, Elyse Willis. The attraction also features several sound effects created by Disney Legend Jimmy Macdonald for classic Disney shorts that date back to the 1930s—and Imagineers used Macdonald's original equipment to develop some new effects for the attraction, as well. And if there's something familiar about the sound of Engineer Goofy's train whistle, it's because the tri-tone whistle from Mickey Mouse's 1928 big-screen debut, Steamboat Willie, was used to record it.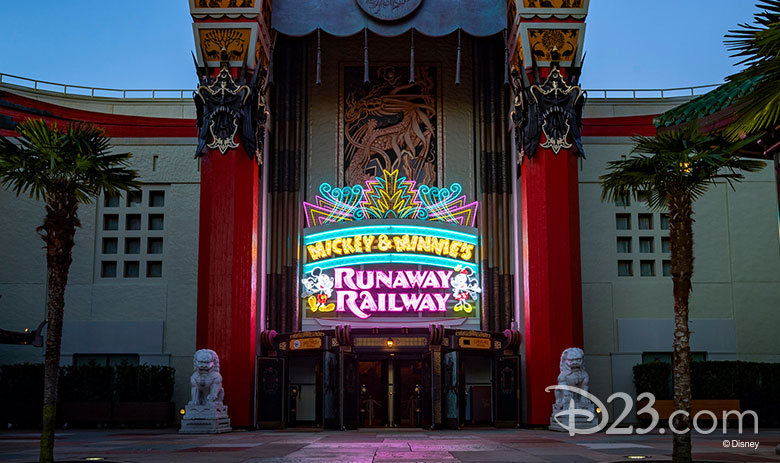 Classic Hollywood touches illuminate the brand-new attraction.
As you enter the attraction, be sure to take a close look at the spectacular marquee, which features blinking bulbs and hand-crafted animated neon depictions of Mickey and Minnie. This is reminiscent of the dazzling displays that were custom-made for premieres of epic films during the mid-20th century.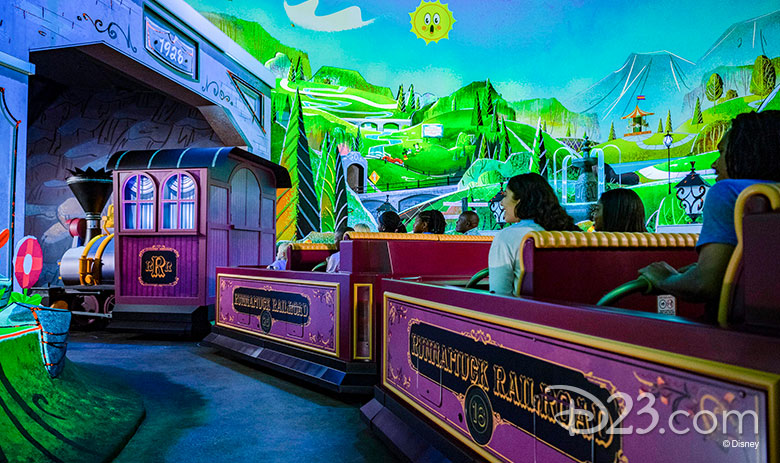 Detail on the ride vehicles will draw you in.
The ride vehicles on Mickey & Minnie's Runaway Railway appear to have been drawn by hand, as if in a cartoon. Imagineers used special painting effects to achieve this magical look.
Easter eggs hidden in the attraction provide nods to Disney history.
Disney Legends, landmarks, and milestones are referenced throughout the attraction in Easter eggs that celebrate Disney's (and Mickey's) incredible heritage. Oswald the Lucky Rabbit gets a shout-out on a newspaper with the headline "Oswald Wins!," a reference to the character created by Walt Disney that pre-dates Mickey Mouse. The Iwerks and Uwerks Waterworks water treatment plant pays tribute to Disney Legend Ub Iwerks, who is credited with sketching Mickey for the very first time. The 1401 Flower Shop takes inspiration from Walt Disney Imagineering's Glendale, California, headquarters; and look for two other numbers within the attraction—1901 and 1928. Those important dates reference Walt Disney's and Mickey Mouse's birth years, respectively.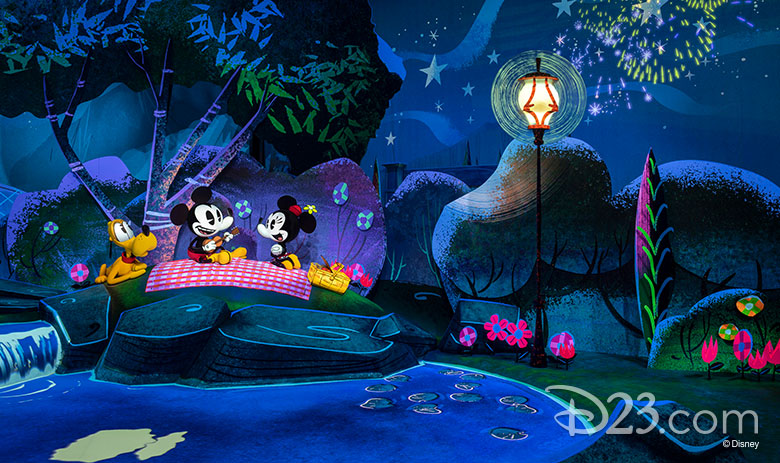 To learn more about this first-of-its-kind attraction, "toon in" to D23.com for a special streamed event celebrating the opening of Mickey & Minnie's Runaway Railway at Disney's Hollywood Studios. A special episode of D23 Inside Disney from on site at the attraction's grand opening, featuring the Imagineers and creative minds who took us inside this wild ride for a spin into Mickey's cartoon universe! Then, Walt Disney Imagineering opened their doors for a special "From Sketch to Reality" program, in which Imagineers behind the ride, including Charita Carter and Kevin Rafferty, pulled back the curtain during a fascinating chat that reveals some of the twists and turns of this wacky attraction.