This may be the closest thing to a park map that has been released so far from the Shanghai Disney Resort.
This concept art—a birdseye view of the new resort—plus a first look at two themed hotels, and what's planned for an area called Disneytown—a spectacular shopping, dining, and entertainment district—were recently released.
See Concept Art From Shanghai Disneyland's Treasure Cove ►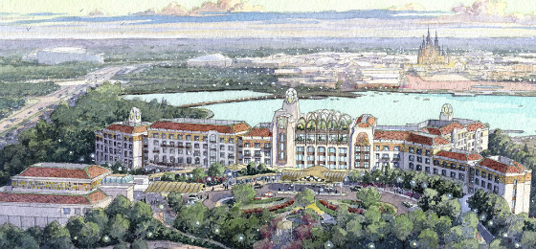 The signature hotel of Shanghai Disney Resort will be the Shanghai Disneyland Hotel, an elegant Art Nouveau-inspired hotel with a touch of Disney magic and imagination.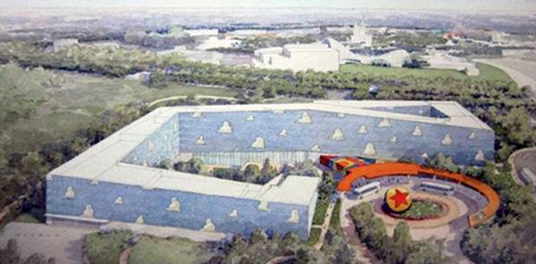 Also, the recently announced Toy Story Hotel will transport guests to a world inspired by the toys from the Disney•Pixar series of "Toy Story" animated films.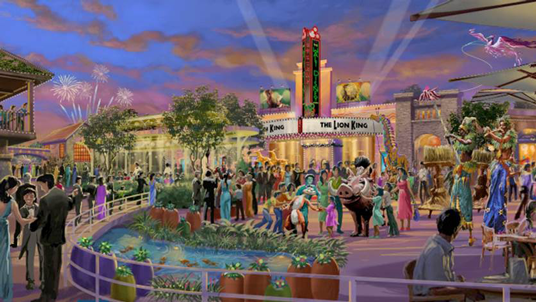 Also announced, Disneytown will be located near the two resorts and Shanghai Disneyland and feature world-class entertainment in China at the Walt Disney Grand Theatre—along with distinctive dining and unique shops. This Art Deco theatre in Broadway Plaza will host the global premiere of the Mandarin version of The Lion King, the highest-grossing Broadway show ever.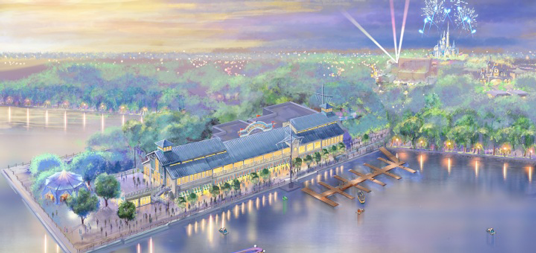 At the heart of Disneytown will be the Marketplace—a location filled with specialty shops with Disney merchandise, musicians, and entertainers. Next to the Marketplace will be an area called Spice Alley, offering a variety of popular Asian cuisines in a casual, yet romantic environment. The al fresco dining spots are perfect for lunch with friends or a more formal date. And the intimate streets and festive lights encourage leisurely after dinner strolling. Broadway Boulevard at Disneytown will have stylish boutiques that create an upscale atmosphere. Guests will discover an exciting array of popular labels and trendsetting products. Also near Disneytown will be the resort's central lake area, offering guests from Shanghai and around the world an opportunity to commune with nature, surrounded by peaceful greenery and a beautiful lake. The area includes a walking path and various beautiful gardens, which present guests with awe-inspiring natural views and beautiful sunsets.