By the D23 Team
We've arrived—by one-horse open sleigh, natch—at our second holiday season with the fabulous fun and frolic that is Disney+, the streaming service that has gifted the world with The Mandalorian; the incredible filmed version of Broadway's Hamilton; High School Musical: The Musical: The Series; and so, so much more. And to make things merry and bright this year, our pals at Disney+ are offering up some incredible new holiday content over the next couple weeks.
Read on for our rundown of the kind of jingle-jangle joy you can expect… several are already streaming (perfect for Thanksgiving weekend viewing!), and some will premiere in just a few weeks' time. And for good measure, we've included one amazing selection that may not be Disney+ original content, but will undoubtedly make you say "D'oh-ho-ho!"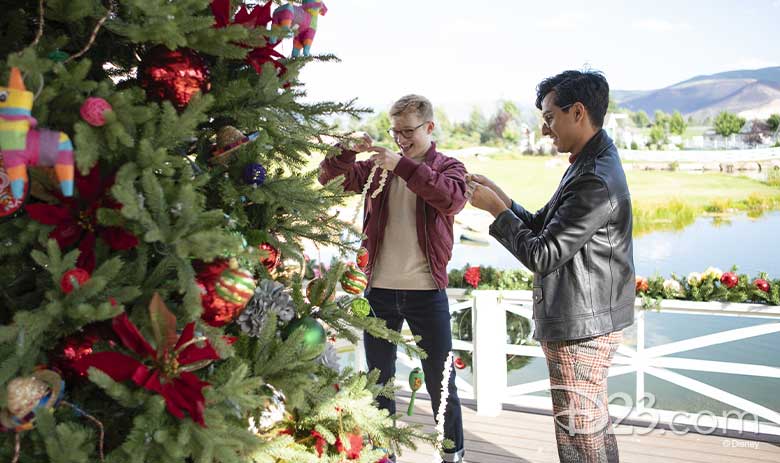 High School Musical: The Musical: The Holiday Special
The Wildcats are back in a brand-new special debuting exclusively on the streaming service on Friday, December 11. The cast of High School Musical: The Musical: The Series—Joshua Bassett, Olivia Rodrigo, Matt Cornett, Sofia Wylie, Larry Saperstein, Julia Lester, Dara Reneé, Frankie Rodriguez, Joe Serafini, Mark St. Cyr, and Kate Reinders—reunite to share childhood holiday memories; recall unforgettable gifts; chat about favorite traditions; and reminisce over family photos. Plus, there'll be lots of music, of course—including "The Perfect Gift," a new song from the highly anticipated second season of the series, written and performed by Bassett. (By the way, the soundtrack for the holiday special is now available!)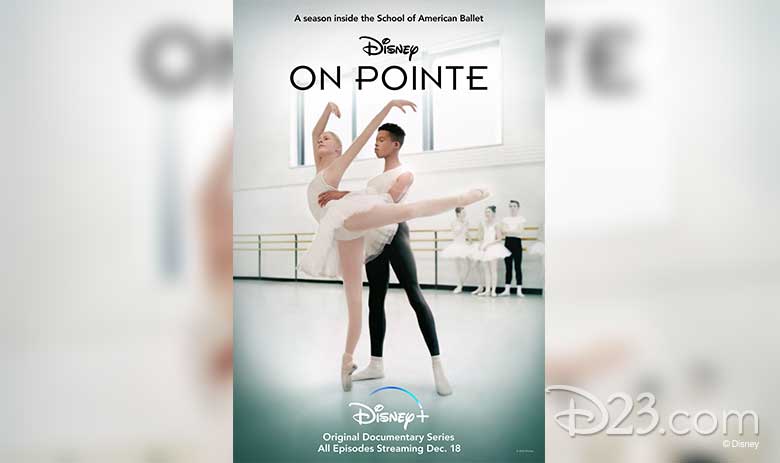 On Pointe
Every holiday season, dance schools and studios across the country stage their versions of the Tchaikovsky's legendary The Nutcracker for appreciative audiences… This year may look a little different, but that doesn't mean we can't enjoy some gorgeous holiday-themed ballet from the comfort of our own homes! Disney+'s brand-new six-part documentary series, On Pointe, captures a season in the School of American Ballet (SAB) in New York City. Featuring unprecedented access to the iconic ballet institution, the series follows the lives of the students ages 8 to 18 as they pursue their ultimate dancer dreams. While older students from all over the country rigorously train for professional careers, younger students from NYC are put through their paces as they rehearse and perform in New York City Ballet's holiday classic, George Balanchine's The Nutcracker, onstage in 2019 at Lincoln Center. Look for On Pointe on Disney+ beginning December 18.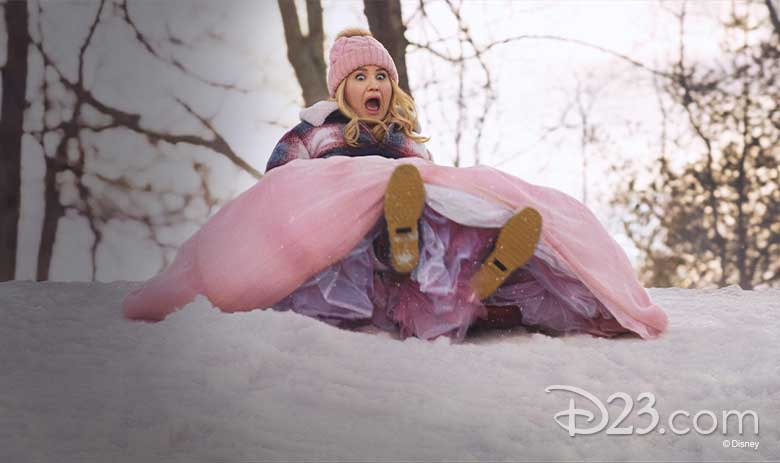 Godmothered
Premiering December 4, Godmothered stars Jillian Bell as Eleanor, a young, inexperienced fairy godmother-in-training who—upon hearing that her chosen profession is facing extinction—decides to show the world that people still need fairy godmothers. Finding a mislaid letter from a 10-year-old girl in distress, Eleanor tracks her down and discovers that the girl, Mackenzie, is now a 40-year-old single mom (Isla Fisher) working at a news station in Boston. Having lost her husband several years prior, Mackenzie has all but given up on the idea of "happily ever after," but Eleanor is bound and determined to give Mackenzie a happiness makeover, whether she likes it or not. Directed by Sharon Maguire (Bridget Jones's Diary), Godmothered also stars Santiago Cabrera, Mary Elizabeth Ellis, Jane Curtin, June Squibb, Jillian Shea Spaeder, and Utkarsh Ambudkar.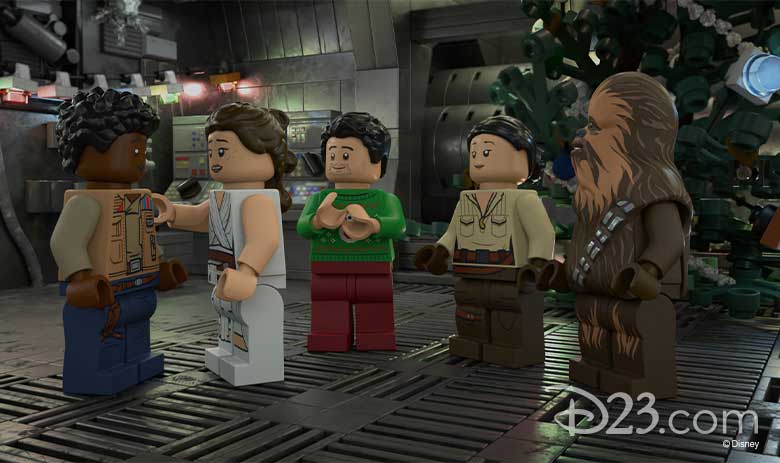 LEGO Star Wars Holiday Special
This particular special already premiered—on Life Day, November 17, appropriately enough—but that doesn't mean you can't enjoy it again for the second, fourth, or 28th time (honestly, who's counting?) as we dash through the snow towards our Earth-bound holidays… The special, the first for LEGO on Disney+, follows along as Rey sets off on a new adventure with BB-8 to gain a deeper knowledge of the Force. At a mysterious Jedi Temple, she is hurled into a cross-timeline adventure through beloved moments in Star Wars cinematic history, coming into contact with Luke Skywalker, Darth Vader, Yoda, Obi-Wan and other iconic heroes and villains from all nine Skywalker saga films. But will she make it back in time for the joyous Life Day feast with Finn, Poe, Chewie, Rose, and the droids, and learn the true meaning of holiday spirit? (C-3PO himself, Anthony Daniels, chats about the special right here.)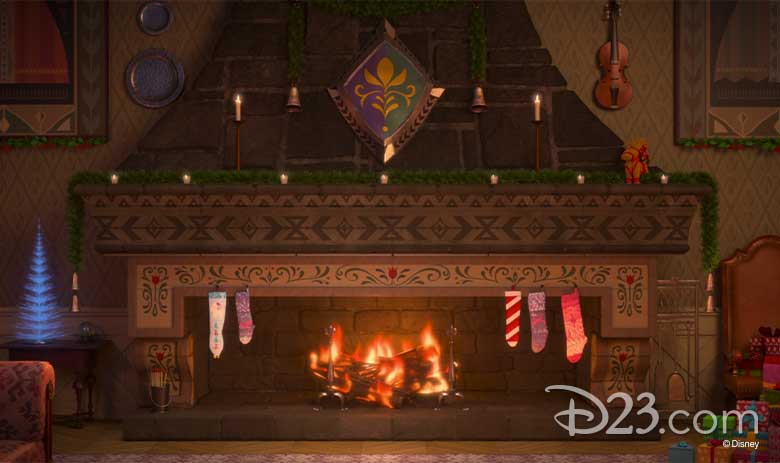 Arendelle Castle Yule Log
With last year's premiere of Frozen 2, Disney+ debuted a warm and inviting Arendelle Castle Yule Log during the holiday season—which featured the castle's hearth (in the same room where they often gathered for Family Game Night). Well, we're delighted that the Arendelle Castle Yule Log is returning for Holidays 2020, beginning on Friday, December 18. The castle is newly decorated this year with elements harking back to Anna, Elsa, Olaf, Kristoff, and Sven's recent journey to the Enchanted Forest!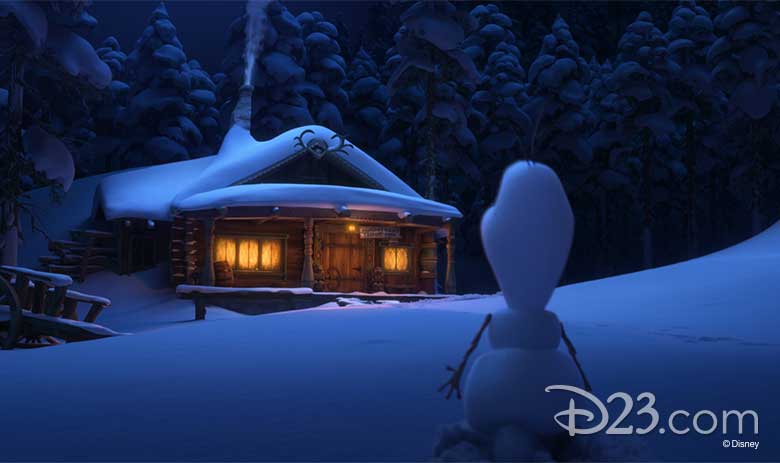 Once Upon a Snowman
Speaking of Frozen: Now streaming on Disney+ is another adorable short from our good friends at Walt Disney Animation Studios. The film follows Olaf the sunny snowman's first steps as he comes to life and searches for his identity in the mountains outside Arendelle. Once Upon a Snowman was directed by WDAS veterans Trent Correy and Dan Abraham, and once again features the voice of Josh Gad as Olaf. (For a deeper dive into all things Once Upon a Snowman, check out D23's behind-the-scenes Q&A with the filmmakers.)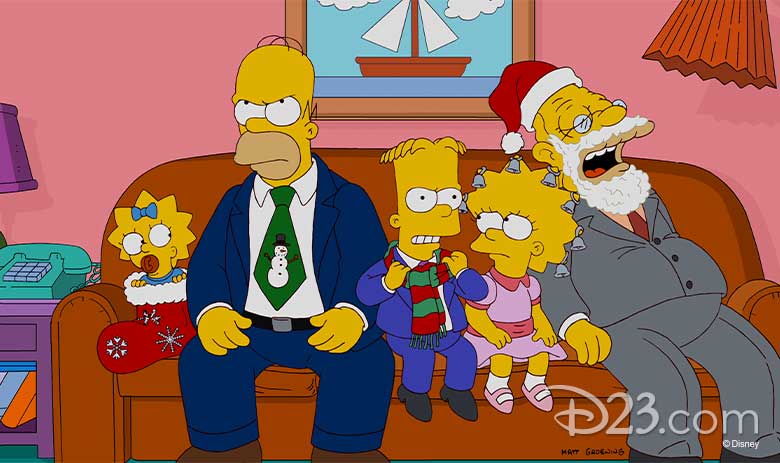 The Simpsons—Christmas Episodes from all 31 Seasons
We couldn't conclude this list without alerting all and sundry that Disney+ is streaming Christmas episodes from all 31 seasons of the seminal animated series The Simpsons. Should you feel the need (and who amongst us doesn't?) to roast chestnuts and feel Jack Frost nippin' at the ol' nose with Homer, Marge, Bart, Lisa, and baby Maggie, you'll have hours and hours of holiday hilarity from which to choose.