By Courtney Potter
If you've seen Walt Disney Animation Studios' Oscar®-winning 2013 animated hit Frozen—and honestly who amongst us hasn't, at least two or 26 times?—you might have found yourself wondering… what really happened after Elsa (voiced by Idina Menzel) creates that adorable snowman Olaf (voiced by Josh Gad) as she sang the iconic anthem "Let It Go" and just before he meets Anna (voice of Kristen Bell) and Kristoff (voice of Jonathan Groff)? Well wonder no more, because Olaf's origin story is here in the form of a brand-new animated short debuting on Disney+ this Friday, October 23!
Once Upon a Snowman film follows Olaf's first steps as he comes to life and searches for his identity in the snowy mountains outside Arendelle. Written and directed by Trent Correy (animation supervisor, "Olaf" in Frozen 2) and Dan Abraham (veteran story artist who boarded Olaf's "When I Am Older" musical sequence in Frozen 2), the short promises to draw viewers into the sunny snowman's innocent but insightful world like never before.
D23 recently heard from Correy and Abraham—as well as head of animation Becky Bresee and creative consultant Peter Del Vecho (producer of Frozen and Frozen 2)—at a virtual press conference celebrating the short's upcoming release on the streaming service. Read on for a look at some of the sunniest behind-the-scenes stories from the making of the short, and why the filmmakers can't wait for you to see it!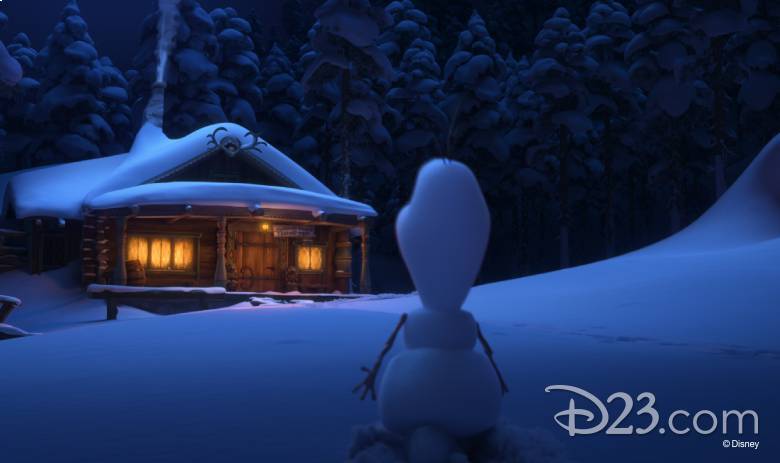 Correy and Abraham on how Once Upon a Snowman came to be:
"I started in the [Walt Disney Animation Studios] training program in 2012, and actually my very first film at Disney was the first Frozen, where I get to meet Becky and Peter and later met Dan," Correy explains. "I started as a crowd animator, and my very first character to animate was Olaf—and I was very lucky to get to animate Olaf for the rest of the show. And I very clearly remember seeing Chad Sellers' animated shot [of Olaf] during 'Let It Go' while I was a trainee. Elsa just makes Olaf and it's beautiful—but then she just walks away. She creates life and she walks away—and I thought there's gotta be a story there."
"I love Pinocchio, I love Bambi—and [as with those films], I want to see what Olaf's first steps are like," Correy continues. "I actually found sketches last week when I was moving, of original ideas from 2013—some 'beat boards' and writing and ideas of Olaf taking his first steps and learning about who he is. Cut to last year [at D23 Expo] when Jennifer Lee, chief creative officer of Walt Disney Animation Studios and our fearless leader, stood on stage and said we're going to be partnering with Disney+. And I thought, right then, that this is the perfect opportunity to have this short come out."
"I had a ball working on Frozen 2," Abraham adds. "Working with Jennifer Lee and Chris Buck and Peter Del Vecho—I guess they liked what I had done and thought, 'Oh, this guy has a handle on who Olaf is.' And so Jennifer asked if I would partner with Trent and direct this great idea that he'd had all those years ago. So the two of us just kinda went arm-in-arm from there."
Del Vecho on creating Once Upon a Snowman immediately after finishing work on Frozen 2:
"I'm sure Trent and Becky and Dan can attest—when you make these movies, you get to know these characters really well and it becomes a 'family'," Del Vecho explains. "And as hard as the movies are to finish, it's also hard to step away. So I think the fact that Trent and Dan had this story ready to go, we could build on that enthusiasm of having just finished Frozen 2 and bring all that skill and momentum that we had as you finish a movie—bring that right into the short. And I think it was a nice way to continue to celebrate the finish of Frozen 2."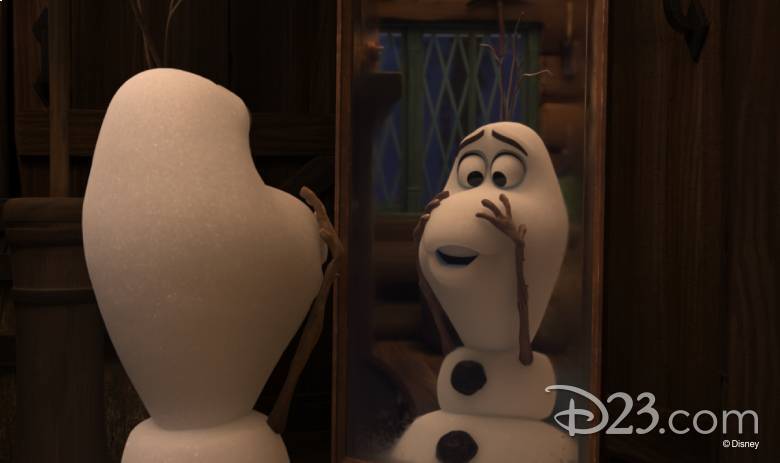 Bresee on what drew her to the world of Frozen, and what she loved about working on this short:
"Well, when I started on the first Frozen, I was really in it for the fairy tale of it," says Bresee. "I've always loved fairy tales and Disney art… but after a while, it started with to become a sister story, and then it spoke to me in a very different way because I have sisters—and more so, I have daughters and they're my little Anna and Elsa. So I was more invested now, even more so than before. [And] what's wonderful about Olaf is he's a reflection of the love between these two sisters."
"It really is not often that we get to revisit characters," she continues. "When Frozen 2 came up, I thought, 'Yay! We get to visit these characters again!' And then to continue on with this story, that's very special and ties everything together from those first moments of [Olaf's life]—it's a really neat way to revisit those [early] scenes and think about the people who animated them on the first movie and then how it all ties in."
On working with Josh Gad, and a memorable moment from the wrap party:
"Josh is just as funny in the movie and on his Instagram and social media as he is in person," Correy admits. "He is hilarious. In fact, Dan and I were in the recording booth with them [for Once Upon a Snowman], not behind the glass. And I think the hardest part about that was just trying not to laugh so we didn't mess up the take… He's so generous with his time; he came in right after Frozen 2 to record this with us. He gives you so much as an actor and a comedian. I just loved working with him."
"Josh came in [to our Once Upon a Snowman wrap party] excited—he brought his family, his little kids, which was adorable," Correy adds, chuckling. "And this cracks me up, I still think of it all the time: His little daughter came up to me, and she shakes my hand and she says, 'I didn't like the short… I loved the short!" And I was like, she is Josh Gad's daughter! The timing was perfect!"
On the fun Easter eggs viewers should keep an eye out for in Once Upon a Snowman:
"Well, there's a lot of little fun tidbits throughout the short because we're showing [events seen in the original Frozen] from a different perspective," says Correy. "One of the ones I love has to do with Anna's coronation dress." "There's other little Easter eggs within the cards that Olaf looks at through a stereoscope," Abraham adds. "There's a few different shots in there, that people might be keen on, from other Disney animated films."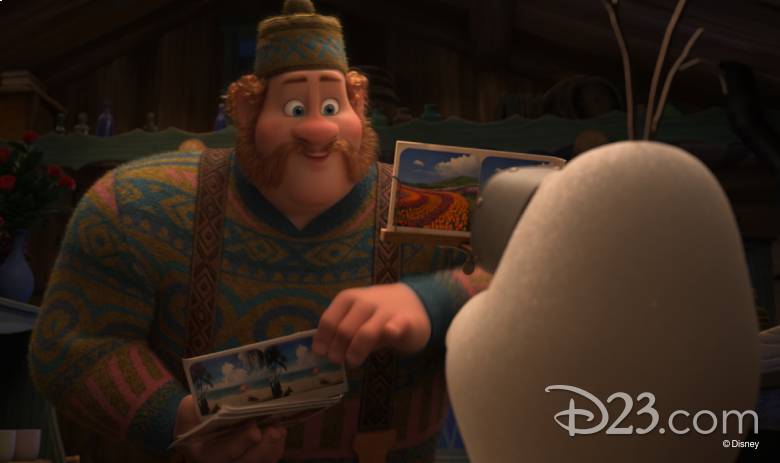 On exploring those particular events from the original Frozen from a different POV:
"We know who animated the first moments, and then seeing those moments from a totally different angle is just so interesting," Bresee admits. "Because I have it in my head who animated the shot, the movements they did, the acting they did. And we have insight into what's happening next and before and all that—it's just really fun to see it all connect. And y'know, Anna and Olaf narrowly miss each other [in the first film]… it's just neat to see these moments play out." "We didn't want to force it in any way," adds Abraham. "So the story of what Olaf was trying to accomplish and [to] discover who he was and all that—it sort of led us to these different locations. And then we thought, 'Oh, you know what's happening at Oaken's right now?!' It all guided us. When we knew the story that we wanted to tell, it took us to these places. It worked naturally, really."
The filmmakers on why we all love returning to the world of Olaf:
"Olaf has this overwhelming optimism and sincerity about him and that just never gets old," Abraham admits. "It's something that we all sort of aspire to and sometimes fall short—but Olaf is always there, charging ahead with this eternal optimism and sweetness that I think is a part of all of us, but maybe we wish we had more of." Correy agrees: "I grew up on Disney movies in the 1990s. I loved Aladdin—by far my favorite movie, and Genie was my favorite character. And what I loved about Genie was that he could be hilarious and change shapes, but he could also be sincere. And from an animator's point of view, Olaf is everyone's favorite character to [work on] because he can be very emotional—like Becky mentioned, he's connected to the sisters—but he's also fun to just break apart." "And I think we can all relate to his innocence, as a child—that slightly naïve look at the world," Del Vecho adds. "But in doing, he can really hit on some profound, emotional things. He can zero in on things that maybe as adults we miss."
See how Olaf became the cuddly character we all know and love when Once Upon a Snowman begins streaming exclusively on Disney+ beginning Friday, October 23!