By Courtney Potter
Everyone's favorite snowman becomes a Macy's Thanksgiving Day Parade balloon, and and a sneak peek at Toy Story Land's eatery… See more, along with other news from around Disney, in this week's news briefs!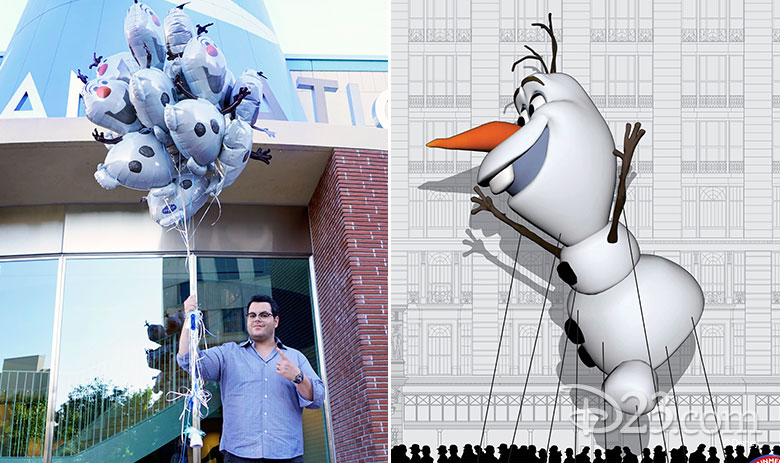 Frozen's Olaf Celebrates Thanksgiving as New Macy's Parade Balloon
With Olaf's Frozen Adventure—Walt Disney Animation Studios' brand-new featurette—opening ahead of Disney•Pixar's Coco in just a few weeks' time, everyone's favorite sunny snowman is poised for a huge holiday season… especially since it was just this week announced that Olaf himself will debut as a balloon in the legendary Macy's Thanksgiving Day Parade!
"Having an Olaf balloon alongside Mickey, Elmo, and Big Bird is a dream come true," admitted Josh Gad, the voice behind Olaf, to USA Today. "[It's] something that, because [the parade's] so storied and has such a long tradition, I now get to share with my own kids." Fun fact: Chris Buck, who directed the first Frozen movie in 2013, drew a sketch for the balloon himself—and it was used as inspiration by the Macy's Parade Studio design team.
Olaf is one of four new gigantic balloons to be featured in this year's parade, which airs on NBC at 9 a.m. ET/PT. And don't forget to see the snowman (and his Arendelle pals Elsa, Anna, Kristoff, and Sven) in action when Olaf's Frozen Adventure rings in the season, ahead of Coco, at a cineplex near you beginning November 22.
Save the Date!
Be sure to mark these upcoming Disney events on your calendar:
October 29, 2017


D23's Spooky Screening Series: Halloweentown on The Walt Disney Studios Lot


November 17, 2017


Lunch with a Disney Legend: Russi Taylor


November 18, 2017


D23's Magical Screening Series: The Many Adventures of Winnie the Pooh in Florida


November 18, 2017


Mickey's of Glendale—Orlando Shopping Event


November 18, 2017


The Official Walt Disney Studios Tour—Presented by D23


November 26, 2017


Join D23 at the Saks Holiday Breakfast with Snow White


December 6, 2017


D23's Holidays in Hollywood


December 10, 2017


D23's Light Up the Season


December 10, 2017


D23's Holiday Shopping Day at Mickey's of Glendale


February 2, 2018


D23 Member Night at Disney's Aladdin at the Hollywood Pantages Theatre
Parks


August 25 and 29, September 1, 7, 10, 12, 15, 17, 19, 22, 24, 26, and 29; October 1, 3, 5, 6, 9, 10, 12, 13, 15, 17, 19, 20, 22, 24, 26, 27, 29, and 31; November 1




Mickey's Not-So-Scary Halloween Party at Magic Kingdom Park




August 31-November 13, 2017




Epcot Food & Wine Festival




September 15–October 31, 2017




Halloween Time at the Disneyland Resort




September 20, 22, 25, 27, 29, October 3, 6, 10, 13, 17, 20, 24, 27, 31




Mickey's Halloween Party at Disneyland Park




November 10–January 7




Holidays at the Disneyland Resort




December 16


Star Wars: Galactic Nights returns to Disney's Hollywood Studios


2019


Star Wars-Themed Lands Opening at Disneyland and Walt Disney World



Studios




November 3, 2017


Thor: Ragnarok opens in theaters


November 22, 2017


Coco opens in theaters


December 15, 2017


Star Wars: The Last Jedi opens in theaters


February 16, 2018


Marvel Studios' Black Panther opens in U.S. theaters


Television




October 19–31, 2017




Freeform's 13 Nights of Halloween




November 2017


Big Hero 6 The Series Premieres on Disney XD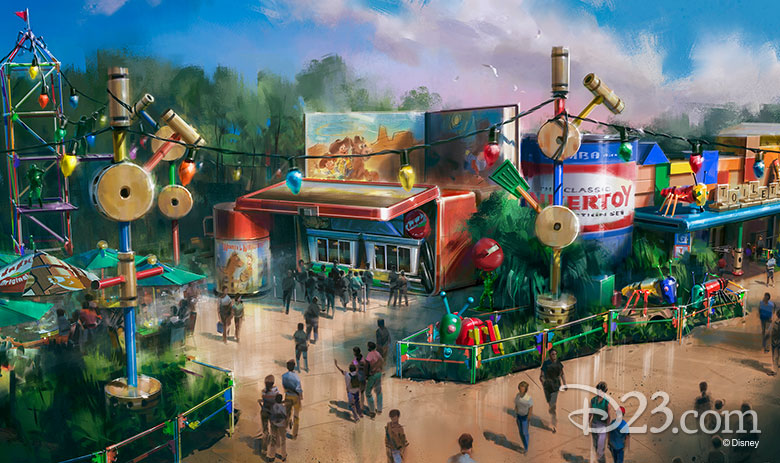 First Look: Woody's Lunch Box at Toy Story Land
We're just under a year away from the debut of Toy Story Land, the newest area of Disney's Hollywood Studios at Walt Disney World Resort—and work is continuing faster than you can say "There's a snake in my boot!" Case in point: Our pals over at the Disney Parks Blog just revealed a fun "first look" at Woody's Lunch Box, a walk-up, quick-service restaurant.
As seen in the rendering above, Andy has evidently used his lunch box and thermos to create a quick-service window that'll offer up delicious meals and old-fashioned soda floats. And like the rest of Toy Story Land, Woody's Lunch Box has been strewn about with some of Andy's favorite toys, as well as items from his own lunch… Bonus points if you can spot the green army man on a nearby lookout tower, keeping watch for Andy's return. Walt Disney World Resort is partnering with Mini Babybel cheese to help bring Woody's Lunch Box to life.
Stay tuned for more info on Toy Story Land as it becomes available…
Celebrate Coco with "Plaza de la Familia" at Disney California Adventure
As previously mentioned, Disney•Pixar's Coco opens on November 22—and Disney California Adventure park is getting into the spirit in a colorful new way.
"Plaza de la Familia, A Celebration of Coco and the Everlasting Bonds of Family" is a very cool immersive experience including storytelling, live entertainment (with mariachi music and folklorico dancers), and a yummy new menu of Mexican food. And it's all inspired by the traditions behind the upcoming Dia de los Muertos (Day of the Dead) holiday—which not only honors loved ones who've passed on, but also celebrates timeless family bonds…
Check out the video, above, for a peek inside the world of "Plaza de la Familia," located near the Paradise Garden Grill at Disney California Adventure's Paradise Pier.
Get Inspired by Thor: Ragnarok's Cate Blanchett
She's an Academy Award®-winning actress, with three Golden Globe Awards® to boot… and next week, she'll be proverbially leaping off the big screen as Hela in Marvel Studios' Thor: Ragnarok.
Are you looking for inspiration? Some encouragement or motivation, perhaps? Well, ask and you shall receive: Take a gander at this cute-and-clever short video, above, from our friends over at Marvel featuring Ms. Blanchett as she offers some hard-earned wisdom for the ages. (Especially good for those of you looking to become big-screen villains. Hey, it could happen…)
Thor: Ragnarok—starring Chris Hemsworth, Mark Ruffalo, Tom Hiddleston, Idris Elba, Tessa Thompson, Jeff Goldblum, and Blanchett—premieres in theaters on November 3.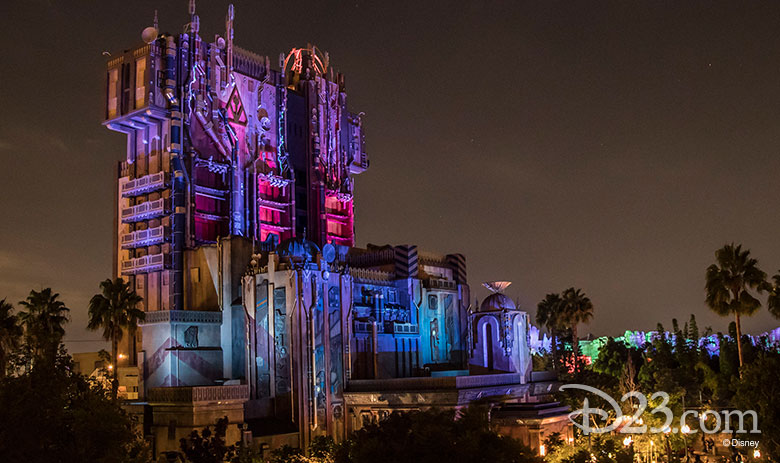 Guardians of the Galaxy—Monsters After Dark Running All Day on Halloween
Spooky-fun news for all D23 fans and friends who'll be enjoying the Disneyland Resort on Halloween (next Tuesday, October 31)…
As you know, during this year's Halloween season, Guardians of the Galaxy—Mission: BREAKOUT! has been transforming into Guardians of the Galaxy—Monsters After Dark once the sun goes down each evening at Disney California Adventure park. But on Halloween, guests will have the opportunity to "#SaveGroot" all day long! That's right: The Collector's Fortress will feature this all-new version of the attraction's story—in which the Guardians have accidentally left Groot behind—throughout the park's full operating day.
Who better to spend Halloween with than an adorable dancing sapling, a smart-mouthed raccoon, and all their intergalactic warrior pals? (Answer: No one!)