Making Merry at Disney Parks Around the World
Well, it's official—Christmas is around the corner, and we're fairly certain Santa's already started loading up his sleigh. But yuletide excitement doesn't end there: This time of year brings a new layer of magic to Disney Parks, and we've got a rundown of the festive entertainment, delicious food, and traditions-in-the-making you'll find around the globe.
Disneyland Park is hosting the 21st edition of its A Christmas Fantasy parade, and it's a small world Holiday is resplendent with 60,000 colorful lights. Over at Disney California Adventure, "Disney Viva Navidad! Street Party" returns with a cast of more than 50 performers, and World of Color: Winter Dreams delights audiences once more. On the other side of the country, Walt Disney World's Magic Kingdom Park boasts its Mickey's Very Merry Christmas Party (on select evenings) and enchanting entertainment like "A Frozen Holiday Wish." Epcot's Illuminations: Reflections of Earth gets a special holiday finale, and the 20th (and final) installment of The Osborne Family Spectacle of Dancing Lights dazzles guests at Disney's Hollywood Studios.
At Hong Kong Disneyland Resort, Christmas comes early with a special Frozen Christmas tree lighting ceremony; Tokyo Disneyland guests can revel in the Starbright Christmas fireworks spectacular; and Tokyo DisneySea boasts uniquely themed decorations. Not to be outdone, Disneyland Paris welcomes the season with the Disney Dreams! of Christmas fireworks spectacular and a new "Royal Christmas Wishes" show. Even Disney Cruise Line is getting into the spirit with its "Very Merry-time Cruises" featuring "Deck the Holiday" parties and a special atrium tree-lighting celebration.
There's so much to see and do at Disney Parks during the holiday season… grab a cup of hot cocoa and visit a Park near you!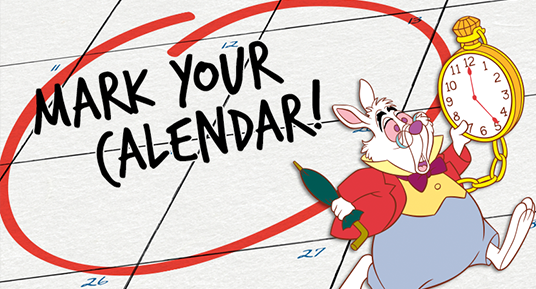 Save the Date!
Be sure to mark these upcoming Disney events on your calendar:
D23 and Walt Disney Archives


December 13


Holiday Gingerbread House Building Workshop


April 20


D23 Member Night at Newsies—On Tour in Portland, Oregon


June 8


D23 Member Night at Newsies—On Tour in Salt Lake City, Utah


Studios




December 18


Star Wars: The Force Awakens opens in theaters.


January 29


The Finest Hours opens in theaters.


March 4


Zootopia opens in theaters.


April 15


The Jungle Book opens in theaters.


May 6


Captain America: Civil War opens in theaters.


May 27


Alice Through the Looking Glass opens in theaters.

Parks


November 8, 10, 12, 13, 15, 17, 19, 20, 29; and December 1, 3, 4, 6, 8, 10, 11, 13, 15, 17, 18


Mickey's Very Merry Christmas Party at Magic Kingdom Park


January 16




Club Villain at Disney's Hollywood Studios




Television




December 12


The Wonderful World of Disney Presented by Target Brings You Mary Poppins airs at 8 p.m. ET on ABC.


December 13


Behind the Magic: Snow White and the Seven Dwarfs airs at 8 p.m. ET on ABC


December 25


32nd Annual Disney Parks Christmas Day Parade airs at 10 a.m. ET on ABC


January 19


Marvel's Agent Carter returns to ABC at 9 p.m. ET
The Legacy Lives On: New Star Wars: The Force Awakens Featurette
Over the weekend, a brand-new Star Wars: The Force Awakens featurette made its debut at Comic-Con Brazil during a presentation hosted by one of the film's producers, Bryan Burk. Check out the cast and crew as they discuss the legacy of the Star Wars saga, in these last few days before the film premieres!
Star Wars: The Force Awakens stars Harrison Ford, Mark Hamill, Carrie Fisher, Adam Driver, Daisy Ridley, John Boyega, Oscar Isaac, Lupita Nyong'o, Andy Serkis, Domhnall Gleeson, Anthony Daniels, Peter Mayhew, and Max Von Sydow. Kathleen Kennedy, J.J. Abrams, and Bryan Burk are producing with Tommy Harper and Jason McGatlin serving as executive producers. The screenplay is by Lawrence Kasdan & J.J. Abrams and Michael Arndt… and it's all coming to a theater (galactic and otherwise) near you on December 18.
First Look at Steven Spielberg's The BFG
Roald Dahl's beloved 1982 novel The BFG comes to life next summer, directed by the legendary Steven Spielberg! The film stars newcomer Ruby Barnhill as Sophie, a 10-year-old orphan who finds herself on the adventure of a lifetime with a friendly—if dimwitted—24-foot-tall giant (Tony winner Mark Rylance).
Also starring Bill Hader (Saturday Night Live), Jemaine Clement (Flight of the Conchords), and Penelope Wilton (Downton Abbey), The BFG was adapted by the late screenwriter Melissa Mathison (E.T. the Extra-Terrestrial).
Look for The BFG in theaters on July 1, 2016!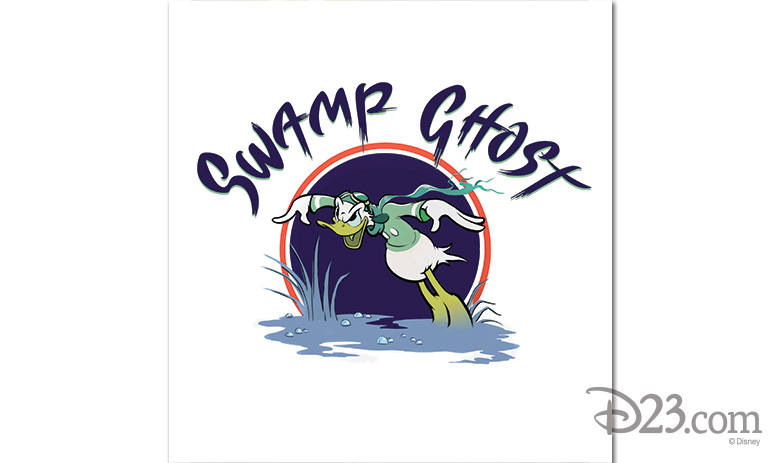 Disney Animators Create Art for "Swamp Ghost" WWII-Era Plane
During World War II, The Walt Disney Studios made more than 1,200 insignia for the United States and Allied forces, many of which featured iconic characters including Donald Duck. To help honor the celebrated WWII-era B17 "Flying Fortress"—affectionately named "Swamp Ghost" for its infamous landing in the swamps of Papua New Guinea—Disney artists Mike Gabriel (director, Pocahontas) and Klay Hall (director, Disneytoon Studios' Planes) worked with the Pacific Aviation Museum in Honolulu, Hawaii, to create original nose art for the museum's brand-new "Swamp Ghost" plane display! The announcement of the collaboration was made by former Good Morning America host David Hartman at the museum's Annual Gala on Saturday, December 5.
"Walt Disney's Donald Duck was one of the most iconic and likable characters during the 1940s," says Hall. "He was very popular amongst servicemen, possessing a feistiness with a 'can-do' attitude. He seemed like a natural fit for the 'Swamp Ghost' nose art."
A date for the exhibition's opening will be announced at a later time.
Carrie Fisher (and Gary the Dog) Visit Good Morning America
Actress and author Carrie Fisher is known for her irreverent and entertaining interviews, and a recent chat with co-host Amy Robach on ABC's Good Morning America (GMA) did not disappoint! Not only did she speak to her experiences working on Star Wars: The Force Awakens and her legacy as Princess (now General) Leia, but she also introduced viewers to her adorable French bulldog, Gary; evidently, it was the sheer awesomeness of the film (which he "watched" at a recent screening) that caused his tongue to, shall we say, "escape" his mouth. "He didn't look like this before," Carrie said, generating laughs throughout the GMA studio.
Take a gander at the hilarious interview, above!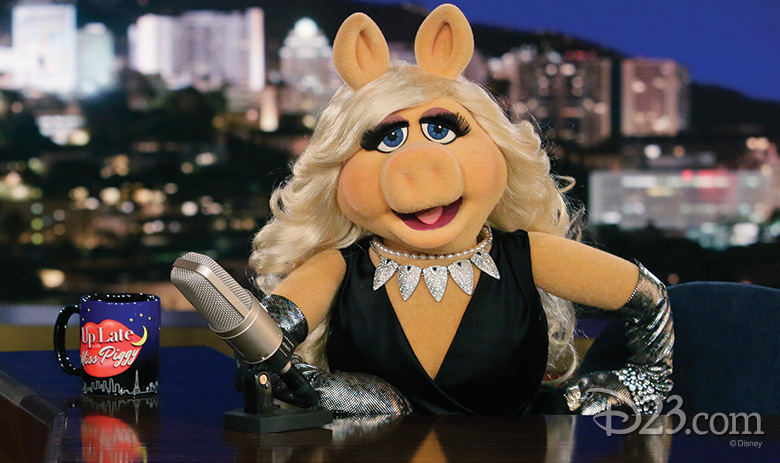 Chat Live with Miss Piggy on Facebook Messenger
Beginning this week, the legendary Miss Piggy will offer her millions of adoring fans a chance to chat one-on-one via Facebook Messenger! The host of Up Late with Miss Piggy (as seen on The Muppets, Tuesdays at 8 p.m. ET/7 p.m. CT on ABC) will be available for live chats Monday, Wednesday, and Friday from 10 a.m. to 11 a.m. PST.
Getting "up close and personal" with her fans (virtually speaking, of course!) is a first for the porcine celeb. "I see this as a gift to all those who love me, who admire me… and who have always dreamed the impossible dream of chatting with me," says Piggy. "Here's your chance. Come and get it!"
This truly unique Artificial Intelligence-powered chat experience was created by Disney Consumer Products and Interactive Media Labs, The Muppets Studios, and imperson, a participant in the 2015 Disney Accelerator mentorship and investment program for technology-enabled startups in the media and entertainment space.
Head over to Miss Piggy's Facebook page to start your own unique conversation with the mega-star!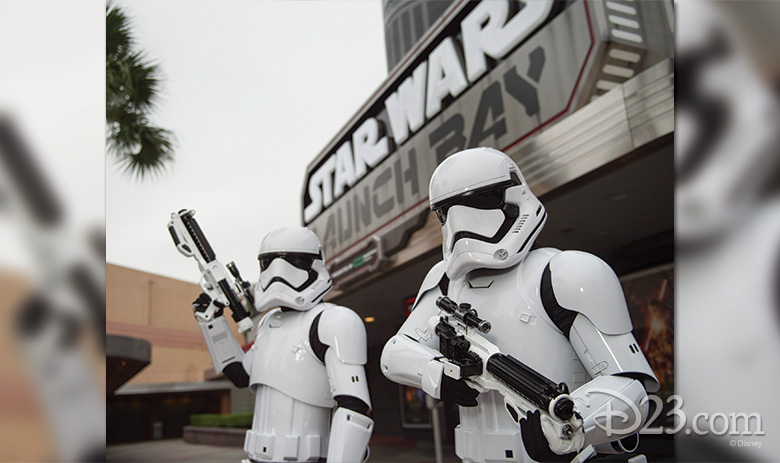 Star Wars Fun at Disney's Hollywood Studios
For guests at Walt Disney World, the Star Wars galaxy is now closer than ever before! Disney's Hollywood Studios just unveiled their own Star Wars experiences—on par with Disneyland Park's recent Season of the Force launch.
Star Wars Launch Bay, located in Animation Courtyard, offers guests the chance to interact with Star Wars characters by choosing to encounter the Dark Side in a Star Destroyer-themed area, or visit with the brave Rebels in a makeshift Rebel Base. Fans can also visit two different exhibits: Celebration Gallery and Celebration Hallway to view iconic ships from the Rebel Alliance and Imperial Navy fleet, as well as replica Star Wars props and murals; and Preview Gallery to explore costumes, artwork, models, and more from the new film. The popular Star Wars—The Adventure Continues attraction is now enhanced with a scene based on Star Wars: The Force Awakens, and fans of the younger persuasion can get in on the fun with Jedi Training: Trials of the Temple.
Plus, don't miss new Star Wars-inspired food items throughout the park, and look for an all new Symphony In The Stars: A Galactic Spectacular nightly fireworks show beginning December 18. Light speed to Walt Disney World!
Behind the Scenes with The Good Dinosaur Featurette
This new featurette from Disney•Pixar takes us behind the scenes with the filmmakers and the cast of The Good Dinosaur to learn more about Arlo and Spot's incredible journey. Hear from voice actors Sam Elliott (Butch) and AJ Buckley (Nash), as well as director Peter Sohn and producer Denise Ream.
The Good Dinosaur is in theaters now!