By Courtney Potter
Get Ready for Muppets Now, Coming to Disney+ July 31
If you're anything like us, this news will leave you positively jubilant: As announced at D23 Expo by Kermit the Frog himself, the Muppets are coming to Disney+… and just this week, we found out exactly when! Their new short-form series, Muppets Now, will premiere on the streaming service in July.
In the six-episode season, our pal Scooter rushes to make his delivery deadlines and upload the brand-new Muppet series for streaming. The episodes are due ASAP, naturally, and he'll need to navigate whatever obstacles, distractions, and complications the rest of the Muppet gang throws at him. Overflowing with spontaneous lunacy, including science experiments with Dr. Bunsen Honeydew and his anxious-yet-trusty sidekick Beaker; lots of surprising celebrity guest stars; and more frogs, pigs, and bears (and whatever else—we're looking at you, Gonzo) than legally allowed, the Muppets cut loose in Muppets Now with the kind of startling silliness and heartfelt fun that first made them world-famous.
So mark your calendars for some fabulous Disney+ fun beginning Friday, July 31—we certainly are!
5 Fantastic Things to Watch This Weekend
It might be a little different this year, but we're heading into Memorial Day Weekend—which, for many of us, means several more hours during which we can watch some highest-of-quality Disney entertainment. Make sure to set aside some time for the likes of LANCE, a two-part documentary on ESPN about the rise and fall Lance Armstrong; the debut of adorable Skeeter and Scooter on Disney Junior's Muppet Babies; and a Toy Story marathon on Freeform. Get your weekend watchlist sorted by clicking here.
Freeform Announces Programming Slate for 2020 and 2021
Speaking of Freeform, they just announced a whole bunch of programming news—and it's all terrifically exciting…
Their critically acclaimed new series Everything's Gonna Be Okay—created by and starring Josh Thomas—has been picked up for a second season, as has Motherland: Fort Salem. Additionally, the hit black-ish spinoff grown-ish; the debut of the new psychological thriller series Cruel Summer (formerly known as Last Summer); and the return of Good Trouble have all been moved to 2021. But if you're looking for brand-new stuff to watch this summer, never fear: the limited scripted series Love in the Time of Corona will debut on the network this August, and fan-favorite The Bold Type continues its big fourth season beginning Thursday, June 11.
Check out the brand-new trailer for all this Freeform fun, above.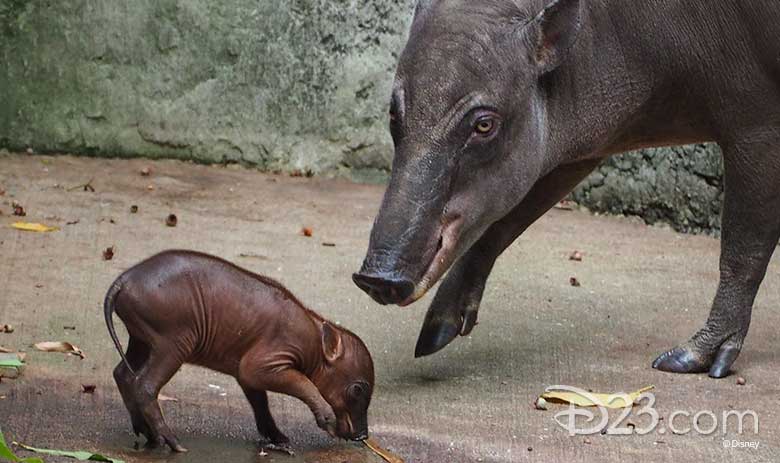 Cute Baby Alert: Babirusa Pig Born at Disney's Animal Kingdom
Have you ever heard of a babirusa? They're a part of the hog family, and they're native to swamps and rainforests of the Indonesian Islands. They have very unique snouts and amazing tusks that can grow to over 17 inches long—and they count among their close relatives the warthog (made famous in The Lion King, natch), and KuneKune pigs.
Several examples of all three animals live at Disney's Animal Kingdom… and just this week, they announced their very first babirusa birth! The Disney animal care team has chosen to name the baby girl Kirana, which translates to "sunbeam" in Indonesian.
As explained by our pals at the Disney Parks Blog, over the last 15 years, Disney animal care experts have partnered with reproductive biologists and the SSP to "crack the code" on breeding a babirusa pair. This cute new piglet is making an important contribution toward the worldwide conservation and understanding of the species, which will help ensure a future generation for these vulnerable animals.
Congrats to the happy babirusa family, and to everyone at Disney's Animal Kingdom!
Disneyland's Dapper Dans Wish You a Happy Birthday
Do you have a birthday coming up? Or is it your un-birthday? Either way, here's something super joyful to help celebrate the big day, no matter when you're due to mark that next trip 'round the sun.
As part of their continuing #VoicesFromHome series for #DisneyMagicMoments, the fellas from Disneyland's Dapper Dans are back with an amazing a capella performance of "Happy Birthday"—and they welcome you to sing along!
Take a look at the fun clip, above… and make sure to keep those eyes peeled on DisneyMagicMoments.com for more oh-so-special fun from around the worlds of Disney.