By Courtney Potter
Into the Unknown: Making Frozen 2 Coming to Disney+ in June
Picture it: The world premiere of Walt Disney Animation Studios' Frozen 2 is looming, and the filmmakers, artists, songwriters, and cast are fantastically busy readying the film for audiences around the world. Ever wonder what that incredible process is really like? Wonder no more when Disney+ debuts the brand-new, six-part documentary series Into the Unknown: Making Frozen 2 on June 26!
In each episode, the talented team behind the hit film reveals the hard work, heart, and collaboration it takes to create one of the most highly anticipated films in Disney's near-century of moviemaking. For the first time, cameras captured an eye-opening—and at times jaw-dropping—view of the challenges and the breakthroughs; the artistry and the creativity; and the complexity of making the No. 1 animated film of all time.
The series follows director, writer, and chief creative officer Jennifer Lee; director Chris Buck; producer Peter Del Vecho; Oscar®-winning songwriters Kristen Anderson-Lopez and Robert Lopez; and actors Kristen Bell (voice of Anna), Idina Menzel (voice of Elsa), Josh Gad (voice of Olaf), Jonathan Groff (voice of Kristoff), Sterling K. Brown (voice of Lieutenant Mattias), and Evan Rachel Wood (voice of Iduna)—as well as all the artists and technicians of Disney Animation—as everyone races against time to finish the film, with both frustrations and discoveries along the way.
Mark your calendars for a warm hug in Disney+ form, next month!
5 Fantastic Things to Watch This Weekend
We here at D23 are always ready to point out the latest and greatest for your viewing pleasure from around the worlds of Disney… and this coming weekend is no exception. It's a ridiculously star-studded 24 hours—look for graduation celebrations on Freeform featuring LeBron James and Pharrell Williams; the grand finale of American Idol on ABC; a brand-new concert special from Taylor Swift; and so much more. Click here for our rundown!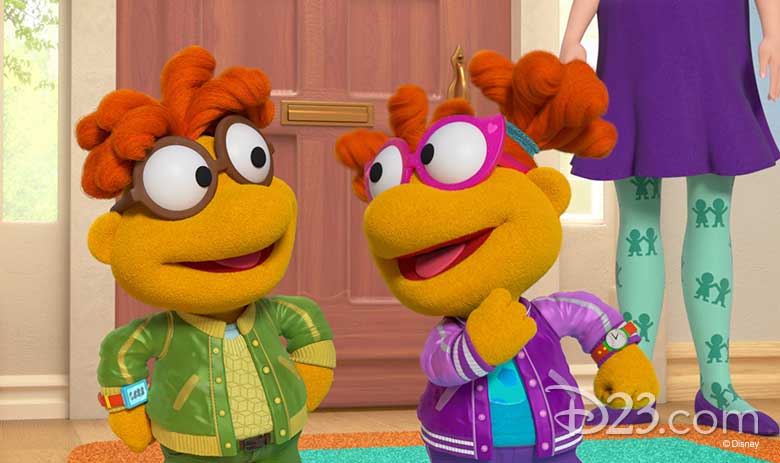 Skeeter and Scooter to Visit Disney Junior's Muppet Babies
There are some fun new friends coming to Miss Nanny's playroom: Fan-favorite twins Skeeter and Scooter will make their debut in a new episode of Disney Junior's Muppet Babies on Friday, May 22, at 8:30 a.m. EDT/PDT.
Both 11-minute stories in the all-new episode will feature Skeeter and Scooter: "Win a Twin," in which Skeeter volunteers to help Miss Nanny bake, but her twin Scooter isn't sure he can have fun playing without her… and "Skeeter and the Super Girls," which finds Skeeter excited to save the day with Super Fabulous and Captain Ice Cube—but she worries whether she can be a hero, too, if she has to wear her glasses.
Based on the original Emmy® Award-winning series, Muppet Babies chronicles the hilarious playroom antics of a young Kermit the Frog, Piggy, Fozzie Bear, Gonzo, Animal and Summer Penguin. It's loads of Muppet-y fun for the little ones in your life!
Disney+ Announces New Feature Film Clouds
There's a new feature film premiering exclusively on Disney+ this fall… Clouds, based on the memoir Fly a Little Higher, tells the true story of Zach Sobiech, a musically gifted 17-year-old living with a rare bone cancer. For more info about the film—which boasts a talented cast including Sabrina Carpenter, Thomas Everett Scott, and Neve Campbell—click here.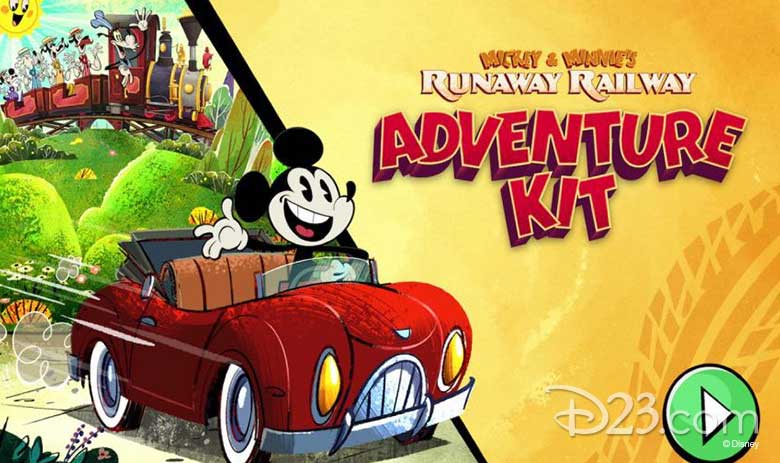 Check Out This New Mickey & Minnie's Runaway Railway-Inspired Game
There's a new game in the DisneyNOW app, and it brings the magic and mischief of Mickey Mouse and Minnie Mouse right into your very own home!
Mickey & Minnie's Runaway Railway: Adventure Kit is a free game (for mobile only) that allows players to control Mickey and friends' cars, trains, and more through a series of wacky adventures, in a delightfully surprising, off-the-rails sandbox game based on the newest attraction in Disney's Hollywood Studios at Walt Disney World Resort. Using augmented reality, players can choose from three characters (Mickey Mouse, Minnie Mouse, and Goofy) and three worlds (Runnamuck Park, Big City Snarl, and Carnival Chaos), with each setting taken directly from the Mickey & Minnie's Runaway Railway attraction. Drop virtual objects and obstacles to jump, crash, and zig-zag through a zany cartoon adventure… and then race to collect picnic items, so you can unlock even more objects.
So, what are you waiting for? Get to playin', friends!
Be in the Living Room Where It Happens: Hamilton Coming to Disney+!
Oh goodness, did this news legitimately pulsate through the entire universe or what?! In case you missed it: Originally slated for a theatrical release in 2021, it was announced just days ago that the Tony® Award-winning, groundbreaking musical Hamilton will debut on Disney+ this July 3! (Just in time for Independence Day, natch.) Read up on what you can expect from this very special "live capture" presentation right here at D23.com.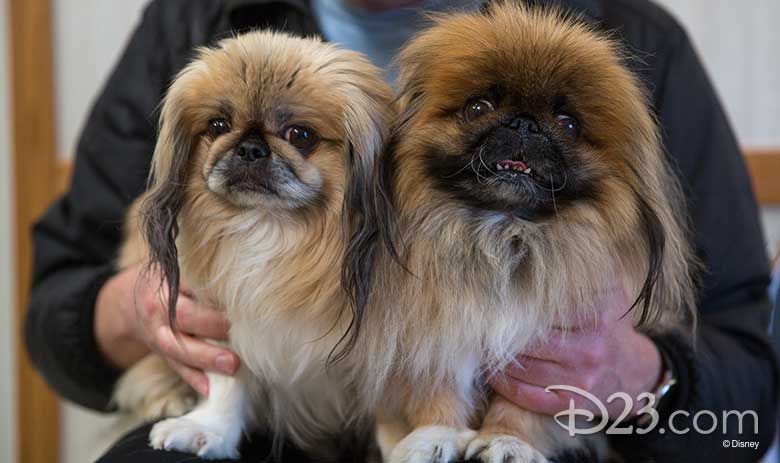 Nat Geo WILD Goes to the Dogs with Special Marathon Next Week
Let's face it: Our pets have definitely been helping us with some normalcy during this totally unprecedented time. In fact, the number of animals adopted out of shelters and welcomed into homes has jumped up 70 percent! That's a lot of new dog owners out there… As such, Nat Geo WILD will spend next week honoring the very special connection between dogs and humans with a five-day-long, weekday marathon beginning Monday, May 18, at 7 a.m. EDT.
Featuring a ton of fan-favorite shows, the network's five-day "Sit, Stay, Dogs All Day" programming event will be headlined by Cesar Millan—who became a "fur-miliar" face on Nat Geo WILD nearly a decade ago; he returns to provide the latest dog tips in an easy-to-understand, "mini-masterclass" format. Topics will include: knowing the proper technique for leashes; creating an indoor exercise program; helping a barking dog; keeping your dog fetchingly clean; and ensuring a night filled with sweet dreams for both pups and people.
Throughout the week, Nat Geo WILD—which is celebrating its 10th anniversary—will feature canine content from the past decade with a spotlight on Millan's hit shows Dog Whisperer and Cesar 911, as well as current hits including The Incredible Dr. Pol and Dr. Oakley: Yukon Vet. Other programming highlights include Unlikely Animal Friends, A Dog Saved My Life, and Is Your Dog A Genius?
So stay tuned to Nat Geo WILD all next week—you'll have a barkingly good time!