By Greg Ehrbar
"You know the thing about good food? It brings folks together from all walks of life. It warms them right up and puts little smiles on their faces."
If Tiana's father, James, added "from all over the world" to his words from Disney's The Princess and the Frog, he would completely express the feelings that Walt Disney World Guests and Cast Members have for the Epcot International Food & Wine Festival, a once-a-year coming-together of all ages from all places to share the fun and flavors of the world.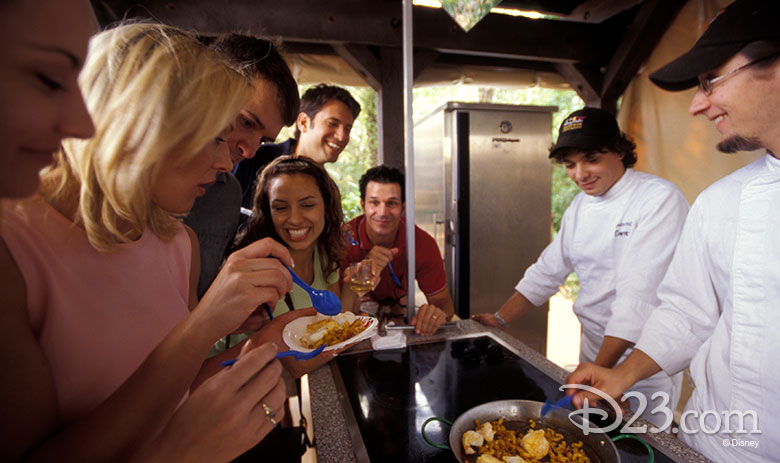 How the flavors began to blend
"Back in the '80s, we had a smaller event called the Walt Disney World Village Wine Festival at what is now Disney Springs," explains Chef Marianne Hunnel, Content Development Manager for Disney Parks Events. "George Kalogridis, who was our Vice President of Epcot, had a vision to bring this kind of festival to Epcot, especially since it's such a food and beverage-driven place.
"There weren't as many food-related TV shows or big culinary events back then. Now there are festivals all over the world. It's neat to know that Epcot was on the cutting edge. Today, it's grown from 30 days in 1996 to 75 days this year with 35 outdoor kitchens, over 2 million Guests attending each year, and George is our Walt Disney World President. He was willing to take the risk of giving the Festival time to take hold."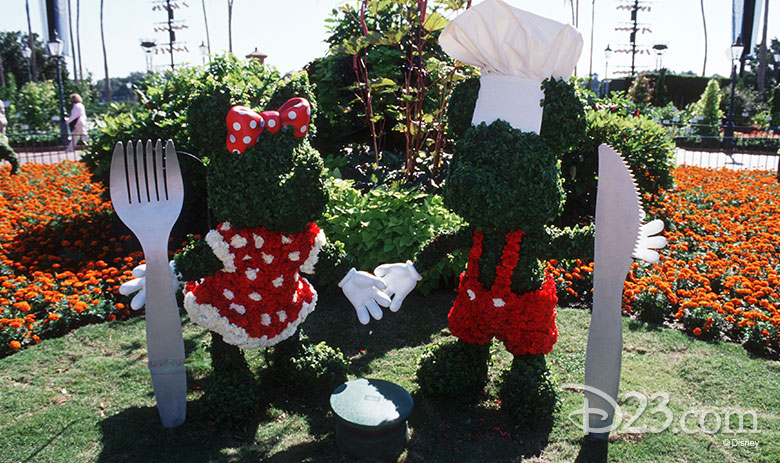 "Save the liver!"
The legendary Julia Child was one of earliest celebrity chefs to grace the Epcot International Food & Wine & Garden Festival in 1997. "It was awesome to work alongside her," Chef Marianne recalls. "She was very jovial. I was so inspired to meet and talk with her. She was in her 80s, but age had no impact on what she wanted to do. Her zest for life was incredible."
Two years after Millennium Village opened in 2000 with special limited-time exhibits from around the world, Party for the Senses was celebrated for the first time. At this magnificent dinner—and every one since—the crème de la crème of Disney's culinary artists plied their trade on an unforgettable feast. In 2008, the cast of Cirque du Soleil, La Nouba, joined in the festivities, performing feats of astonishing agility and ineffable surrealism. (It's a good idea to reserve tickets for this as soon as they become available.)
"Right here, on our stage…"
The "Beverly" was really bubbling in 2002, when the America Gardens Stage first presented the "Eat to the Beat" Concert Series. These live performances included pop stars like "King of the Twist," Chubby Checker; Mary Wilson of The Supremes, Little Anthony and The Imperials and the Fifth Dimension. This year, the Eat to the Beat Concert Series will present a total of 225 concerts featuring such artists as David Cook, Baha Men, Taylor Dayne and Plain White T's.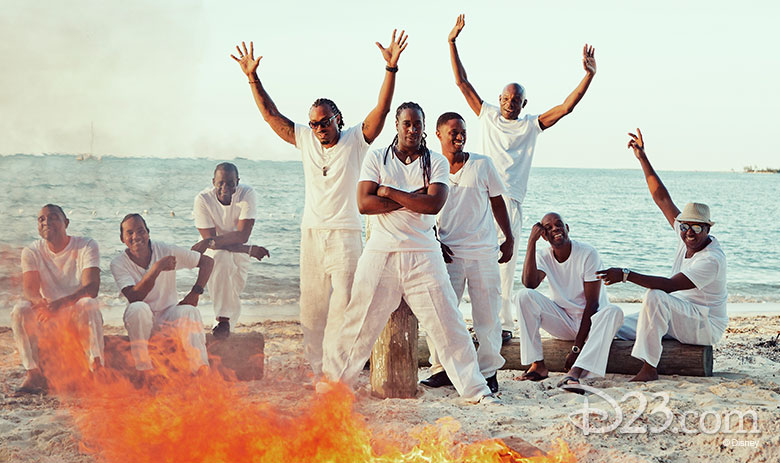 Soon certain Festival dishes became all-time Guest favorites. "We add numerous new dishes, wines and beers each year," says Chef Marianne. "But there are some things that we try to serve every year. I don't know what would happen if, for instance, we didn't have the cheddar cheese soup at Canada!"
Eating to run, running to eat
In addition to offering a plethora of palate-delighting decadence, the Epcot International Food & Wine Festival focuses on the delicious side of good nutrition, fresh food, health and good living. The folks at runDisney did their part by creating foot race events that wind through Epcot and surrounding Disney locations.
The races have also become traditions for a variety of running skill levels. You don't have to be Thor to enter an event (even your humble author has participated). They include entry to the outdoor kitchens and a late-night party. Plus, there's a family run, kid's events and Disney Characters to meet. (NOTE: It's really popular, so right now you'd have to sign up for 2018 to participate.)
In 2007, the Wonders of Life pavilion became the Festival Center, with a full schedule of demonstrations, seminars and hands-on activities. And in 2011, Ocean Spray Cran-Raisin brought in their first cranberry bog (fun news for those who loved the Sherman Brothers song of the same name sung by Hayley Mills!)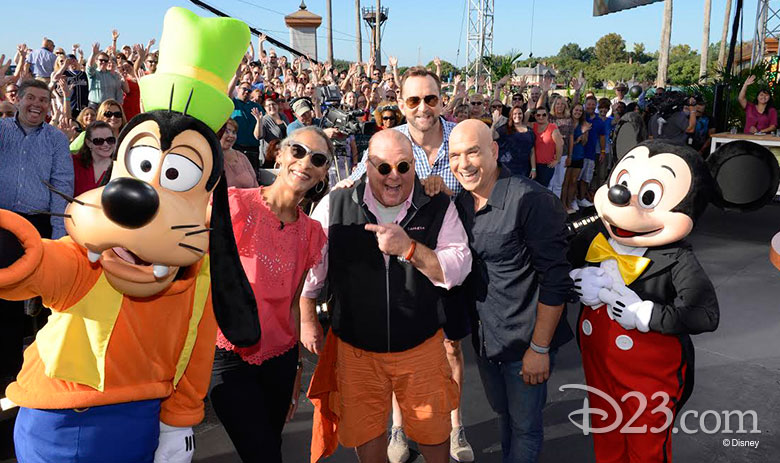 The stars of TV, movies… and mouths everywhere!
Beginning in 2011, Epcot became a place where "foodies" could exchange ideas, techniques and tastes with the biggest stars of HGTV and later, Food Network. Then in celebration of the 20th Anniversary of the Epcot International Food & Wine Festival, the stars of ABC-TV's The Chew brought their entire show to the park.
2015 also saw the introduction of "Remy's Ratatouille Hide and Squeak" scavenger game also started during the 20th Anniversary year. Using a map and sticker set available at select shops, everyone who plays can win a special button or pin.
One of the most unique ideas came from Disney artist Laura Adams, who asked Disney animator Eric Goldberg (who created the original Genie in Aladdin) to design whimsical "taste buds" for the Festival. Suddenly "Sweet," "Salty," "Cheesy" and all their bud-dies were lovable little characters adorning advertising, pins, apps and magazines.
Celebrating the 35th anniversary of Epcot
This year, the Epcot International Food & Wine Festival is raising a toast to the Epcot Anniversary with charming nods to the Park's history, designed to resonate especially with those "in-the-know" like D23 members.
In the early '80s, the Odyssey was a counter service restaurant along the east side between Future World and World Showcase. Today, it is used for private meetings and special events. But this year, Guests have a chance to peek inside—and chomp into one of those fabled "Handwiches." Chef Figment adorns aprons, oven mitts, mugs and so forth with colorful designs inspired by the look of another fond Epcot memory, the Kitchen Kabaret ("Veggie Veggie Fruit Fruit!")
Not only does the Epcot International Food & Wine Festival get bigger and better each year, it has inspired other Disney Parks events. "The kind of food component that Guests love during Epcot International Food & Wine Festival has now become a staple of all our festivals—Flower & Garden, Festival of the Arts, and the upcoming International Festival of the Holidays," says Christopher Stewart, General Manager, Epcot Entertainment. "Even Disney California Adventure Park has its own version of the Food & Wine Festival."
The Epcot International Food & Wine Festival is one of those wonderful concepts that's always bubbling with something new and exciting. At its heart is a rather special optimism—a "so much that we share" philosophy—that people of all cultures can and should gather to enjoy good food, wine and friendship.
This year's Festival continues through November 13, 2017.