By Courtney Potter
Spooky New Trailer for Secrets of Sulphur Springs Season 3
Disney Branded Television just released a first sneak-peek look at Season 3 of the Disney Channel series Secrets of Sulphur Springs. The series follows the adventures of Griffin Campbell (Preston Oliver) and his family at The Tremont, a hotel with a paranormal past.
As we catch back up with Griffin and crew, a new ghost checks into room 205 and starts wreaking havoc around The Tremont. After learning the evil presence will ruin their lives by 2024, the kids race to solve a tangled mystery in the past. This could be the key to defeating the ghost in the present—and saving the Dunns and the Campbells from a very bleak future…
The series also stars Kyliegh Curran as Harper Dunn, Elle Graham as Savannah Dillon, Kelly Frye as Sarah Campbell, Josh Braaten as Ben Campbell, Landon Gordon as Wyatt Campbell, Madeleine McGraw as Zoey Campbell, Diandra Lyle as Jess Dunn, Johari Washington as Topher Dunn, and Eugene Byrd as Sam Tremont
The new season of the Children's and Family Emmy® Awards-nominated series premieres Friday, March 24, at 8 p.m. ET/PT on Disney Channel. All episodes are available on Disney+ the day after they air on Disney Channel.
Themes From Wondrous Journeys Now Available on Streaming Platforms
If you've visited Disneyland Resort lately and been lucky enough to catch the brand-new nighttime spectacular Wondrous Journeys at Disneyland Park, you no doubt remember the incredible music featured… a total of 18 Disney songs are heard throughout! But one of the songs is brand-new: the spectacular's theme, "It's Wondrous," with music and lyrics by Grammy® winner Alex Geringas and Duddy Brown.
Beginning today, Friday, March 3, fans can find the main version of the theme—performed by Devan Garcia and Rudi—as well as the show exit version, performed by Lawrence, across all major music platforms!
"It's Wondrous" is first heard upon the show open; later, elements of the song are woven throughout the musical score of other Disney tunes, creating an audible throughline—in particular, a musical refrain that the creative team referred to as "the butterfly call." The finale of Wondrous Journeys then brings "It's Wondrous" back for a triumphant crescendo. Guests then, no doubt, finish their viewing by dancing along to the soul-funk exit version arranged and performed by Lawrence.
So, take a listen wherever you stream your music… and don't miss Wondrous Journeys the next time you visit Disneyland Resort!
Miley Cyrus and Disney Reunite for a Disney+ Original Special
Whether you're a Hannah Montana fan or a newcomer to her work, here's some cool news: Miley Cyrus will perform her greatest hits and new songs in an upcoming Disney+ performance special in celebration of her upcoming album, Endless Summer Vacation.
From Disney Branded Television, Miley Cyrus – Endless Summer Vacation (Backyard Sessions) will include a performance of her hit single "Flowers," which has been No. 1 on Billboard's Hot 100 chart for six consecutive weeks since its debut. For the first time, the multiplatinum-selling recording artist will also perform eight songs from Endless Summer Vacation, one of her chart-topping classic hits, and a special duet with Rufus Wainwright.
The global superstar's cinematic performances are threaded with exclusive interviews in the famed Los Angeles house where Frank Sinatra once lived and where Cyrus shot the "Flowers" music video.
Cyrus, who also serves as executive producer, opens the door to audiences worldwide—providing insight into her new album and the person she is today. The Backyard Sessions is a series that Cyrus began in 2012 for her fans, where she and her band performed in an intimate, outdoor setting. Miley Cyrus – Endless Summer Vacation (Backyard Sessions) is a continuation of what soon became a benchmark series.
Look for the special to premiere Friday, March 10, at 1 p.m. ET/10 a.m. PT, only on Disney+.
ICYMI: Icons of Disney Storytelling—Peter Sohn
The latest in our series of interviews with some of the most creative and innovative storytellers from around the worlds of Disney, D23 sat down for a chat with Pixar's Peter Sohn. He talks everything from what makes Pixar the perfect place for the kinds of stories he wants to tell, to the fun he's had voicing characters, and so much more.
Look Alive! It's a Teaser Trailer for Disney's Haunted Mansion
Disney has debuted the teaser trailer for the comically creepy Haunted Mansion, premiering in theaters this summer.
Inspired by the classic theme park attraction, Haunted Mansion follows a woman (Rosario Dawson) and her son (Chase W. Dillon) who enlist a motley crew of so-called spiritual experts to help rid their home of supernatural squatters.
Directed by award-winning filmmaker Justin Simien, the film features an all-star ensemble cast that also includes LaKeith Stanfield, Tiffany Haddish, Owen Wilson, Danny DeVito, and Dan Levy. Jamie Lee Curtis plays the beloved Madame Leota, and Jared Leto takes on the role of The Hatbox Ghost.
"As a lifelong fan of the Haunted Mansion attraction, I'm beyond excited to share the teaser trailer for our new film adaptation featuring an incredible cast," says Simien. "Our team has worked tirelessly to create a scary, funny, and cinematic otherworldly adventure for both new and die-hard fans to enjoy! I can't wait for audiences to experience this big screen version of the iconic Disney attraction."
See the film in theaters beginning July 28!
5 Fantastic Things to Watch This Weekend Presented by State Farm®
Happy March! The third month of the year already… Celebrate time's march (see what we did there?) with some quality viewing from around the worlds of Disney—including a new episode of SuperKitties on both Disney Channel and Disney Junior; a special presentation of Kingsman: The Golden Circle on FX; a new episode of American Idol on ABC; and so much more.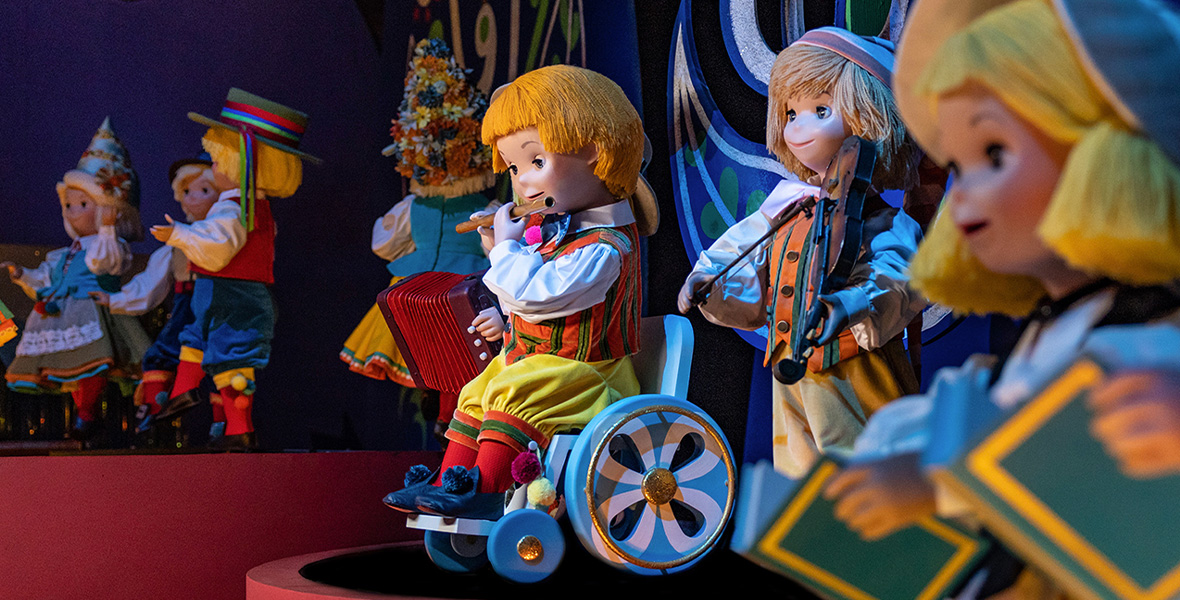 'it's a small world' Debuts New Doll at Magic Kingdom Park
Our pals at the Disney Parks Blog recently announced that a new doll using a wheelchair has debuted at the Magic Kingdom's "it's a small world," inside Walt Disney World Resort. Wearing yellow pants and a striped vest, the doll sits in a light blue wheelchair with wheels themed to the attraction.
Among those seeing the doll for the first time were members of the ENABLED Business Employee Resource Group, a Disney cast member-led group that promotes accessibility.
"The parks are very special to my family," Liv, a member of the ENABLED leadership team explained to the Parks Blog. "My sister Chloe used a wheelchair, so to see a character in such an iconic attraction that puts the spotlight on accessibility makes my heart feel full."
Keep an eye out for the new doll the next time you visit the Magic Kingdom!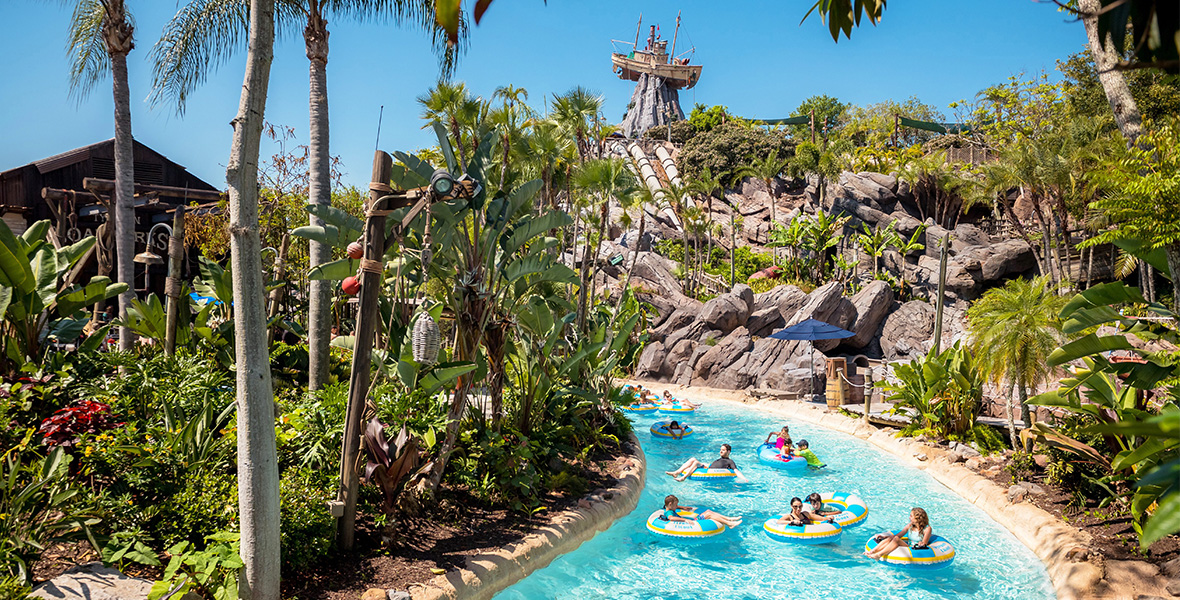 Disney Typhoon Lagoon Water Park Reopens March 19
Speaking of Walt Disney World Resort, here's some great news for the beachcombers amongst us: Disney's Typhoon Lagoon Water Park is set to reopen Sunday, March 19!
The reopening marks the return of the park's exciting attractions and special events, including H2O Glow After Hours. After closing time, the late-night party includes special glow effects, a DJ-ed dance floor, and complimentary ice cream treats and popcorn. This limited-capacity event runs from 8 p.m. to 11 p.m. on select nights from Saturday, May 20, through Saturday, September 2. Tickets go on sale Friday, March 3, on the Walt Disney World Resort website.
Guests can also look forward to the return of the largest outdoor wave pool in North America: The Typhoon Lagoon Surf Pool. The attraction uses state-of-the-art technology to create controlled waves up to six-feet high, creating two surfing options—"open surf'' for small groups that involve 10 waves, or "private surf'' for groups of up to 25 people.
Typhoon Lagoon's reopening will also bring several new food offerings, including fresh DOLE Whip® flavors such as watermelon, mango, strawberry, and raspberry at Snack Shack; a new Pineapple Upside Down Cone at Happy Landings; and a Barbecue Chicken and Grilled Pineapple Flatbread at Leaning Palms.
We're ready to hang ten… are you?
New Teaser Trailer for Peter Pan & Wendy, Coming Soon to Disney+
Second star to the right, and straight on 'til morning… Disney+ just shared the teaser trailer for the original movie Peter Pan & Wendy—a live-action reimagining of the J.M. Barrie novel and the 1953 animated Walt Disney classic Peter Pan.
The film follows Wendy Darling (Ever Anderson), a young girl afraid to leave her childhood home behind, who meets Peter Pan (Alexander Molony)—a boy who refuses to grow up. Alongside her brothers and a tiny fairy, Tinker Bell (Yara Shahidi), she travels with Peter to the magical world of Never Land. There, she encounters an evil leader of a pirate ship, Captain Hook (Jude Law), and embarks on a thrilling and dangerous adventure that will change her life forever.
"In making Peter Pan & Wendy, we set out to craft a film that honors both the original J.M. Barrie text and Walt Disney's animated adaptation," director and co-writer David Lowery recently said. "We wanted to invigorate our retelling with emotional sincerity, an open heart, and a grand yearning for adventure. Hundreds of incredible artists spent many years bringing this film to the screen; I'm excited for audiences to see their work, to go on this ride, and to rediscover an evergreen tale from a new perspective."
The film also stars Alyssa Wapanatâhk, Joshua Pickering, Jacobi Jupe, Molly Parker, Alan Tudyk, and Jim Gaffigan.
Get ready to experience the timeless adventure—featuring beloved characters—like never before, when Peter Pan & Wendy debuts Friday, April 28, exclusively on Disney+.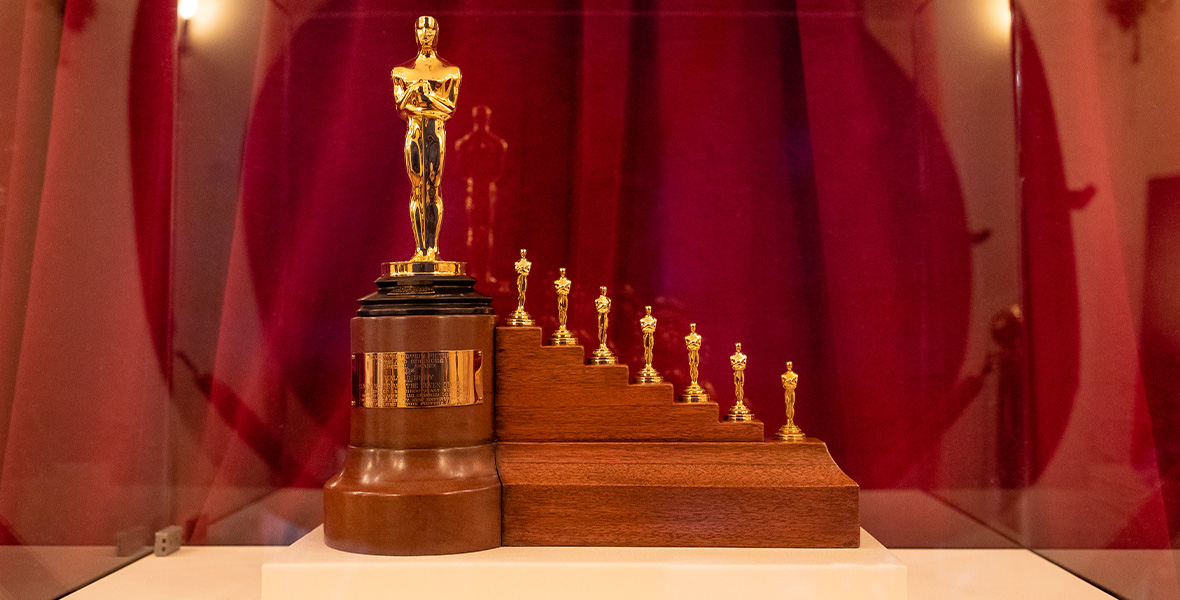 Limited-Time Fun Celebrates the Oscars® at Disney Parks
The glitz and glamour of the 95th Oscars® will light up ABC on Sunday, March 12—and Disney Parks are ready to celebrate with fun limited-time food and photo ops!
At Disneyland Resort, the iconic Snow White-inspired Oscar statue (that Walt received in 1939) is on display through Monday, March 20. The trophy traveled from The Walt Disney Family Museum in San Francisco, California, and is now available for selfies and photos a-plenty at Carthay Circle Restaurant in Disney California Adventure Park. (Fittingly, the restaurant is inspired by Carthay Circle Theater, where Snow White and the Seven Dwarfs premiered in 1937!)
Another photo op is just steps away at Disney's Grand Californian Hotel & Spa, where a larger-than-life Oscars statue is stationed by a red carpet. The display will be up through Wednesday, March 15.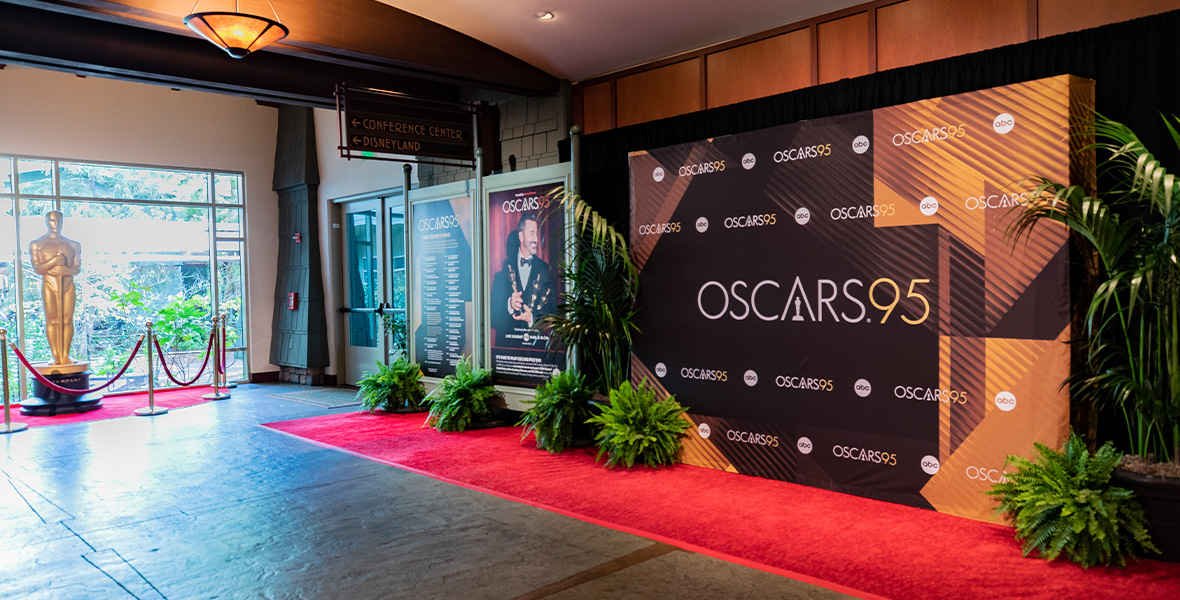 Limited-time food comes to Hollywood Land in Disney California Adventure from Friday, March 10, to Sunday, March 12; guests can choose between three funnel cakes at Award Wieners and then head over to Schmoozies! for a chocolate brownie milkshake, complete with a bow tie for the occasion.
Meanwhile, at Disney's Hollywood Studios at Walt Disney World Resort, the ABC Commissary offers a tropical tart topped with an Oscars chocolate coin, while specialty popcorn blends are offered at select carts; these delights are available through Oscars Sunday, March 12. Plus, this year's photo wall comes to Disney Springs in early March for the perfect picture… and don't forget: Post your photos to social media with the hashtags #DisneySprings and #Oscars.
Hulu Debuts Trailer for New Musical Series Up Here
Our good friends at Hulu are getting ready for the big premiere of Up Here, a new musical romantic comedy series that premieres on Friday, March 24. All eight episodes debut on the streaming service simultaneously.
Set in New York City in the waning days of 1999, the series follows Lindsay (Mae Whitman) and Miguel (Carlos Valdes) as they fall in love and discover that the greatest obstacle to finding happiness together might be themselves—and the treacherous world of memories, obsessions, fears, and fantasies that lives inside their heads.
The cast also includes Broadway vets Katie Finneran and Andréa Burns, as well as John Hodgeman, Sophia Hammons, and Emilia Suárez.
Up Here is written by Steven Levenson and Danielle Sanchez-Witzel, with songwriting duo (and Frozen music masterminds) Kristen Anderson-Lopez and Robert Lopez composing the original songs. Thomas Kail, known for his work on Broadway's Hamilton, directs and executive produces the series.
You'll Be Living for Saturdays Too… After Watching This Trailer!
The good folks at Disney Branded Television have rolled out (pun intended) their trailer for their new series Saturdays.
Executive produced by Marsai Martin (black-ish, Fantasy Football), Saturdays is a coming-of-age comedy that takes place on the very best day of the week! It revolves around 14-year-old Paris Johnson (Danielle Jalade) and her best friends, Simone (Daria Johns) and Ari (Peyton Basnight), who hone their roller-skating skills on the cool parquet floor of Saturdays Roller Palace, a local skating rink in Chicago. Together they form the We-B-Girlz skate crew and are determined to show and prove they have the hottest skate routines on the planet—and to become Goldens, the best skaters at the rink!
Saturdays is set to premiere with back-to-back episodes on Friday, March 24, on Disney Channel, with episodes one through six available the next day on Disney+.