By Courtney Potter
See the Official Trailer for Disney Original Movie Prom Pact
Disney Channel and Disney+ recently revealed the trailer for Disney Branded Television's Prom Pact, a heartfelt romantic comedy set during all the emotion and excitement of high school prom season. The Disney Original Movie stars Peyton Elizabeth Lee, Milo Manheim, and newcomer Blake Draper.
It's the height of prom season, and high school senior Mandy Yang (Lee) and her best friend and fellow outsider Ben (Manheim) are surrounded by over-the-top '80s-themed Promposals. However, Mandy keeps her eyes focused on a different goal: her lifelong dream of attending Harvard. When she finds out that she has been put on the waitlist, she is determined to do whatever she can to get herself accepted, even if that means asking for help from the one person she abhors—popular all-star jock Graham Lansing (Draper) whose father is a powerful senator and Harvard alum. Once Mandy becomes Graham's tutor, she begins to realize there's more to him than she thought and perhaps something more to life than Harvard.
Prom Pact also stars Monique Green as LaToya, Arica Himmel as Zenobia, Jason Sakaki as Charles, Chelah Horsdal as Mrs. Lansing, and David S. Jung as Tom Yang, with Wendi McLendon-Covey as Alyssa Yang and Margaret Cho as Ms. Chen.
Look for it on Thursday, March 30, at 8 p.m. ET/PT, on Disney Channel—and on Friday, March 31, on Disney+.
5 Fantastic Things to Watch This Weekend Presented by State Farm®
Here we are… the final weekend of February! There's much to mark the occasion with, from around the worlds of Disney: Keep "looking out for the little guy" with a viewing of Ant-Man and The Wasp on Saturday; go undercover with the Disney+ Original Movie Secret Society of Second-Born Royals on Disney Channel on Sunday; and more where that came from.
New Trailer for Disney+'s Bono & The Edge: A Sort of Homecoming, with Dave Letterman
Our pals at Disney+ just revealed the official trailer for Bono & The Edge: A Sort of Homecoming, with Dave Letterman, debuting globally Friday, March 17 on the streaming service.
The docu-special, from Disney Branded Television, premieres the same day as U2's highly anticipated album Songs of Surrender, a collection of 40 re-recorded and reimagined U2 songs from across the band's catalog. The first track, "Pride (In the Name of Love)," is already available.
Academy Award®-winning filmmaker Morgan Neville follows Dave Letterman on his first visit to Dublin to hang out with Bono and The Edge in their hometown, experience the city, and join the two U2 musicians for a concert performance unlike any they've done before.
From Brian Grazer and Ron Howard's Imagine Documentaries, Neville's Tremolo Productions, and Letterman's Worldwide Pants, Bono & The Edge: A Sort of Homecoming, with Dave Letterman is part concert movie, part travel adventure, plus a whole lot of Bono and The Edge, with Letterman's humor throughout.
As well as the concert performance itself, the docu-special will focus on the extraordinary relationship between Bono and The Edge and how it has developed across more than 45 years of close friendship to become one of the most remarkable songwriting partnerships in the history of rock 'n' roll.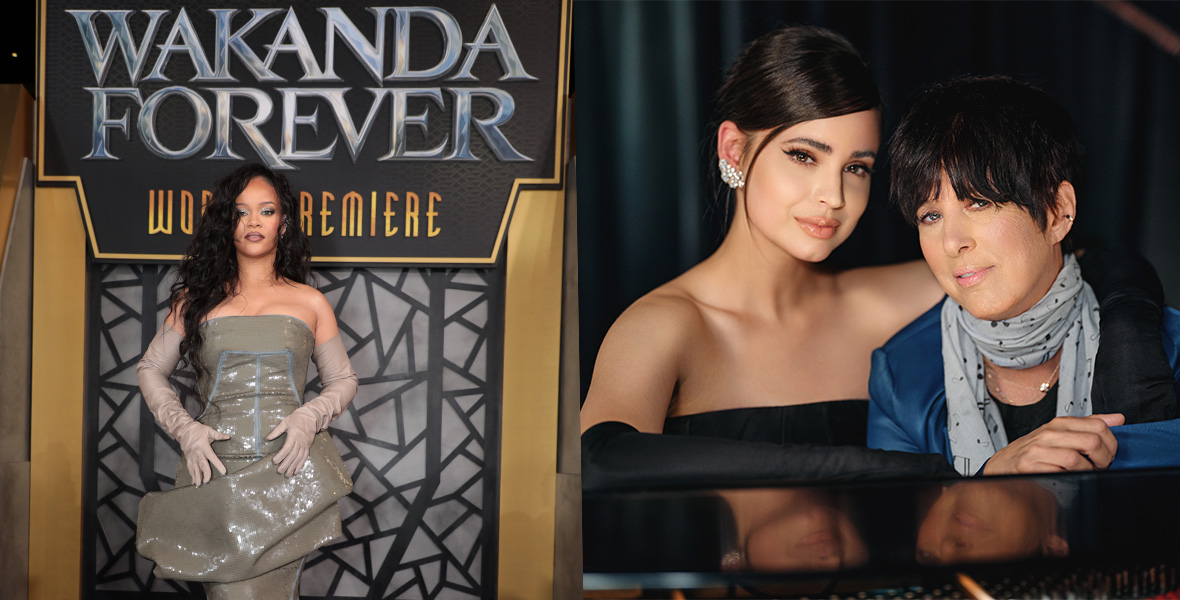 Superstars to Perform at 95th Oscars®
We're deep into awards season, and here's some fabulous related news: Music superstar Rihanna, recently seen wowing millions with her halftime performance at the Big Game, will perform the Academy Award®-nominated song "Lift Me Up" from Black Panther: Wakanda Forever at the 95th Oscars®.
"Lift Me Up," with music by Tems, Rihanna, Ryan Coogler, and Ludwig Göransson and lyrics by Tems and Coogler, is nominated for Original Song. It is Rihanna's first Oscar nomination.
But that's not all: Actress and singer Sofia Carson, accompanied by songwriter Diane Warren, will perform the Oscar-nominated song "Applause" from Tell It like a Woman. This is Warren's 14th Oscar nomination; in November 2022, she received an honorary award at the Academy's Governors Awards. Carson is known to Disney audiences as Evie in the Descendants trilogy.
Hosted by Jimmy Kimmel, the 95th Oscars will be held at the Dolby® Theatre at Ovation Hollywood on Sunday, March 12, airing live on ABC and broadcast outlets worldwide. Mark those calendars!
ICYMI: The Lion King Choreographer Garth Fagan Celebrated at Smithsonian Museum
The Smithsonian's National Museum of African American History and Culture recently honored Garth Fagan, The Lion King's award-winning choreographer—and the longest-running Black choreographer in Broadway history—with an incredible tribute performance. Read all about it, and check out video from the extraordinary evening, right here at D23.com.
Disney+ Debuts Trailer for Original Film Chang Can Dunk
The good folks over at Disney+ just revealed the trailer for Chang Can Dunk, a coming-of-age sports comedy that premieres Friday, March 10, exclusively on the streaming service. Take a look:
The film follows Chang, a 16-year-old, Asian American high school student in the marching band, who bets the school basketball star that he can dunk by Homecoming. The bet leads the 5' 8″ Chang on a quest to find the hops he needs to dunk in order to impress his crush, Kristy, and finally gain the attention and respect of his high school peers. But before he can rise up and truly throw one down, he'll have to reexamine everything he knows about himself, his friendships, and his family…
"This movie is my love letter to basketball," first-time writer and director Jingyi Shao recently said, "and about how it helped me better understand family, friendship, and the Asian American/immigrant experience, about growing up and taking responsibility even when the odds are against you, and about learning to believe in yourself and break through not only the barriers set by others but more importantly, the barriers set by yourself."
Chang Can Dunk stars Bloom Li, Dexter Darden, Ben Wang, Zoe Renee, Chase Liefeld, and Mardy Ma. The film's producers are Rishi Rajani, Lena Waithe, and Brad Weston, with Pamela Thur serving as executive producer.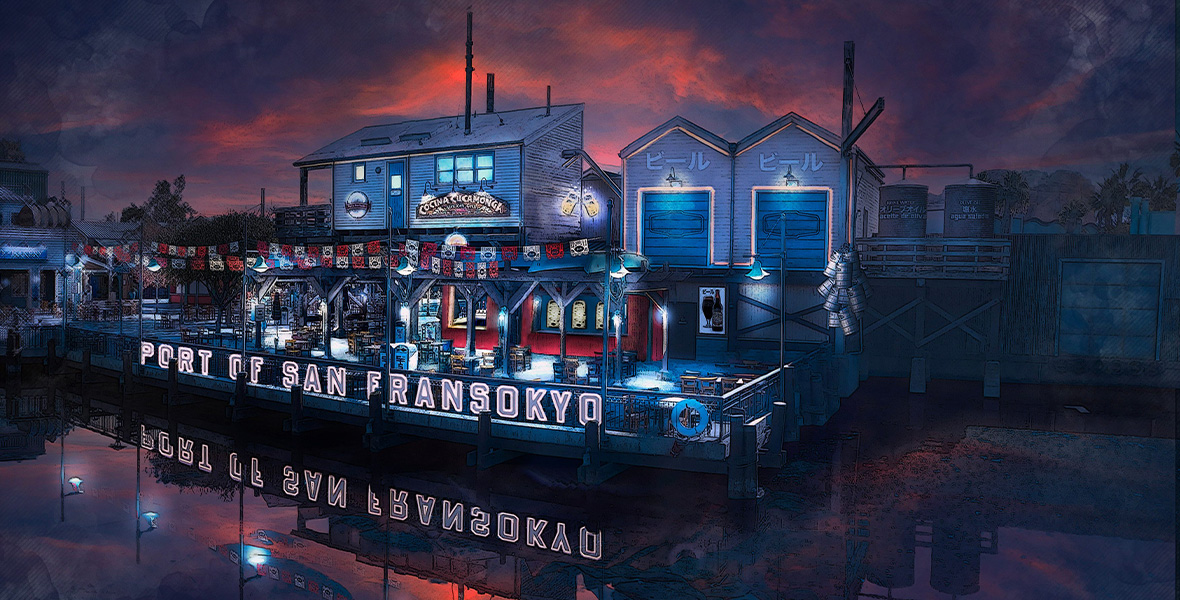 This Summer, Visit San Fransokyo Square at Disney California Adventure Park
In just a few months' time, Pacific Wharf inside Disney California Adventure Park will officially debut as San Fransokyo Square! Inspired by Walt Disney Animation Studios' Oscar®-winning Big Hero 6, the area will preserve many familiar favorites within a memorable new atmosphere…
True to its name, San Fransokyo is a fictional mash-up of Tokyo and San Francisco in the not-too-distant future. As the tech industry emerged and the local fishing trade lagged behind, entrepreneurs came together to reinvent the seaside canneries into a vibrant, multicultural district of neighborhood restaurants and small businesses.
Cross the San Fransokyo Gate Bridge—over the tide pools that link the square to the Paradise Gardens Park obelisk—before checking out the floating wind turbine atop an old fishing net tannery, which powers the district.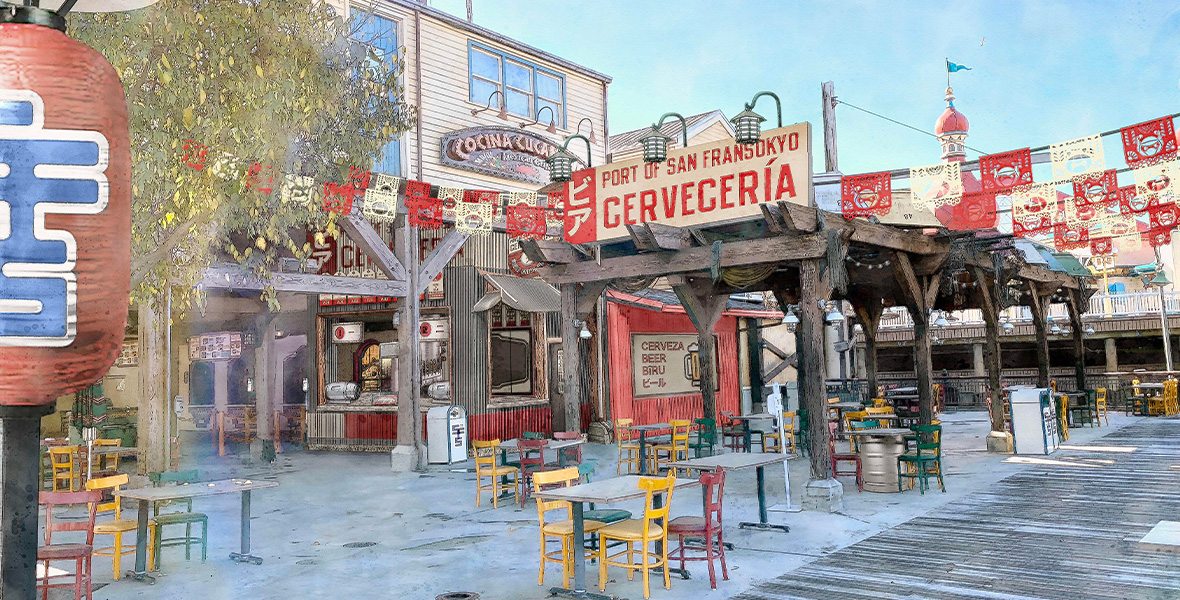 Guests can still enjoy Pacific Wharf's dining locations as San Fransokyo Square undergoes construction. When completed, recognizable faves will be joined by many new Asian-inspired selections. For instance, the new Port of San Fransokyo Cervecería draws inspiration from its tri-cultural influences, with signage in English, Japanese, and Spanish, while patrons can also enjoy a beer garden decorated with festoon lights and papel picado outside. And at the south end of the square, you might even find Baymax!
Look for San Fransokyo Square to open later this summer…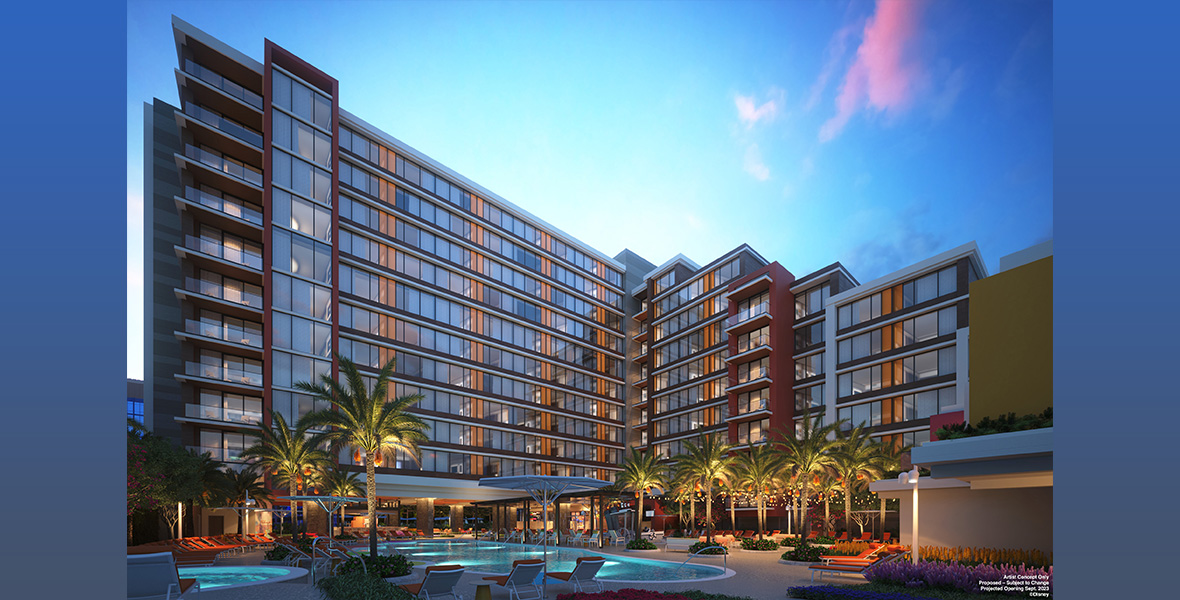 The Villas at Disneyland Hotel Reveal First Look at Guest Rooms
This week, our pals at the Disney Parks Blog shared a special look inside The Villas at Disneyland Hotel, opening this September at the Disneyland Resort.
The Villas will blend timeless Walt Disney Animation Studios classics with contemporary designs, celebrating Disney history in the place where it all started: the Disneyland Resort. This will be the fourth tower at the Disneyland Hotel, located just steps from the Downtown Disney District.
Every space will immerse guests in the creative storytelling process, bringing some beloved classic Disney stories to life like never before in a variety of themed accommodations.
From a duo studio inspired by The Jungle Book to deluxe studios themed to the tales of Sleeping Beauty and The Princess and the Frog, these accommodations will enchant the young and young at heart alike.
For those needing more space, families can spread out in a one- or two-bedroom villa, sleeping up to five and nine guests, respectively. Inspired by the vibrant colors of Fantasia and The Princess and the Frog, these villas include a washer and dryer, a comfortable living area, and a full-size kitchen.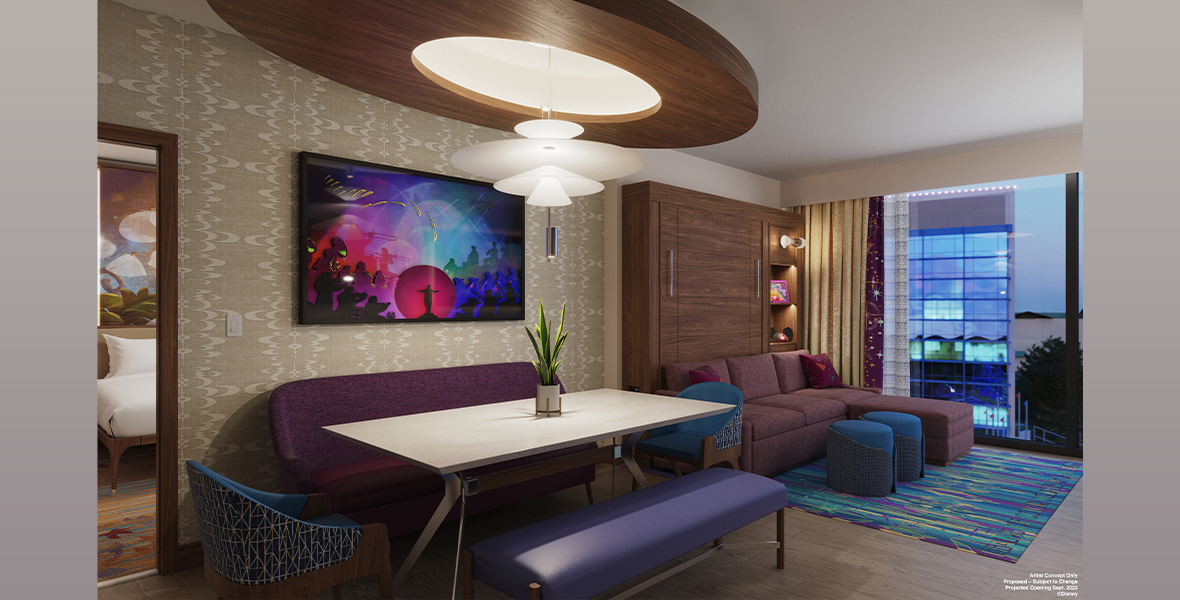 Discover even more enchantment in a multilevel three-bedroom Grand Villa that sleeps up to 12 guests, where the magic and artistry of Disney is sprinkled throughout every space. The first floor features a full-size kitchen, large dining area, and a double-sided fireplace connecting the living area to a private outdoor balcony. The first floor is also home to the primary suite, inspired by Bambi. Venture up a spiral staircase to discover the delightful details of the second floor, which features two bedrooms with en-suite bathrooms inspired by Frozen and Moana, as well as a full washer and dryer.
Early rental reservations for The Villas at Disneyland Hotel can be made beginning Wednesday, March 15, for Disney Vacation Club Members, and on Thursday, March 16, for Disneyland Resort Magic Key holders; rental reservations will open to the public on Friday, March 17, subject to availability. For more information, Disneyland.com/VillasDisneylandHotel.