By Beth Deitchman
We've seen The Muppets take on many challenges over the years, from hosting a primetime TV variety show and retelling iconic tales like A Christmas Carol and Treasure Island on the big screen, to starring in attractions at Walt Disney World Resort. But this weekend, they're taking on a new challenge—and a new venue—as they star in their first-ever dedicated live show.
This weekend, Kermit, Miss Piggy, The Great Gonzo, and more of your favorite Muppets will grace the historic stage that has welcomed such iconic musical acts as Frank Sinatra, Judy Garland, and the Rolling Stones. The three-night stand features the legendary Hollywood Bowl Orchestra, actor Bobby Moynihan (Saturday Night Live) as special guest, a fireworks finale, and a slew of surprises! Show times are Friday, September 8, at 8 p.m.; Saturday, September 9, at 8 p.m.; and Sunday, September 10, at 7:30 p.m.; visit HollywoodBowl.com for all of the details and to purchase tickets.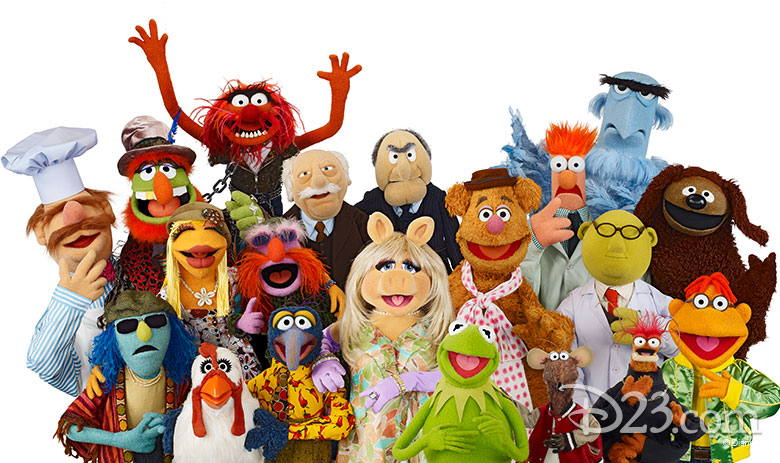 Kermit and Miss Piggy took a few minutes out of their busy rehearsal schedule to chat with D23 about what fans can expect this weekend.
D23: Kermit, The Muppets Take the Bowl is the Muppets' first-ever dedicated live show, and it's taking place at one of Hollywood's most iconic venues. What has it been like to prepare for the show, and work with the Hollywood Bowl Orchestra?
Kermit: It's been total chaos and pandemonium preparing for this show. Which is pretty much what it's like when the Muppets prepare for any show. But, the Hollywood Bowl is such a legendary venue that we want to make sure we put on our best show ever… and that nobody falls off the stage. As for the great Hollywood Bowl Orchestra and principal conductor Thomas Wilkins: They are the best ever! Not only are they incredible musicians, but they're extremely patient with the mayhem that always surrounds a Muppet performance. Which reminds me, I want to personally thank the lead oboe player for not pressing charges after he got smacked in the face by Lew Zealand's boomerang fish. I now have a whole new respect for oboe players.
D23: Are there any interesting challenges that come with working on a live show vs. a TV show or film?
Kermit: Yes. When you work live, everything is "one take." You've got to get it right the first time because there's no going back and doing it again. And that means we have to be perfect every time with every act. And if you've seen us perform, you know we'll be lucky to be perfect one time with one act. So, make sure you're there at the Hollywood Bowl to watch the fireworks—both during and after the show.
D23: What moments or songs are you most looking forward to from the show, and why?
Kermit: Well, the great thing about this show is that it's a wonderful story—about us and about the audience. Y'see, this is a show about leaving your swamp, or wherever you grew up, and following your dream here to Hollywood. I know that's what happened for me and the Muppets, and that's true for a lot of folks in the audience. It's a journey with a lot of great music—both classic Muppet songs and some new surprises—lots of laughs from Pigs In Space, Veterinarian's Hospital, and other great sketches; a mind-blowing, budget-busting musical extravaganza starring Miss Piggy and… wait for it… our very special guest star, straight from nine fantastic years at SNL, the amazing Bobby Moynihan! Yaaaaaay!
D23: Here's a question for Miss Piggy.
Miss Piggy: Well it's about time! I do not like waiting …
D23: Our apologies. How can we make it up to you?
Miss Piggy: Comp tickets to the next D23 Expo.
D23: You got it. Now, Miss Piggy, everyone wants to know: What can we expect to see you wearing for the performance? Will there be multiple costume changes?
Miss Piggy: Will there be costume changes during my performance?! Are you kidding? Sweetie, I've had three costume changes and two set changes just sitting here waiting for you to ask me a question! Of course, there will be many, many costume changes. My clothier, dresser and fashionista consultant, Uncle Deadly, has conjured a cornucopia of haute couture that will amaze, dazzle, astonish and, like the eclipse, possibly blind you if you look directly at moi without special glasses. In fact, I've been so busy with wardrobe fittings, I've hardly had time to rehearse. Oh well, who needs rehearsals? Moi is a star!… Gotta go, I'm terribly late for an important meeting about accessorizing! Kissy Kissy!
D23: Finally, one last question for you, Kermit: We've seen what a big part you play behind the scenes. How has it been to bring everyone together for this performance? Any particular challenges working with the talent?
Kermit: Working with our guest talent has been a pleasure. Our special guest star Bobby Moynihan is one of the funniest, most talented and most willing to roll-with-the-penguins performers we've ever worked with. His experience doing live shows on SNL is really helping us.  Every time Miss Piggy yells "Cut!" Bobby just keeps going. What a trouper!… And there are several surprise guests that you'll have to be there to find out about. They've all been fantastic!  As for the rest of our cast: I can honestly say that Miss Piggy, Fozzie, Gonzo, Animal, Pepe, and everyone else have really risen to the challenge. They're all committed to making this a show that will make the audience laugh, smile, sing… and duck when Lew Zealand throws his boomerang fish. Be there and find out what happens. See you at the Bowl!