By Courtney Potter
D23 was fabulously fortunate enough to chat with Liz Gazzano and Roger Gould from Pixar Animation Studios about the magic that went into creating Toy Story Land at Disney's Hollywood Studios.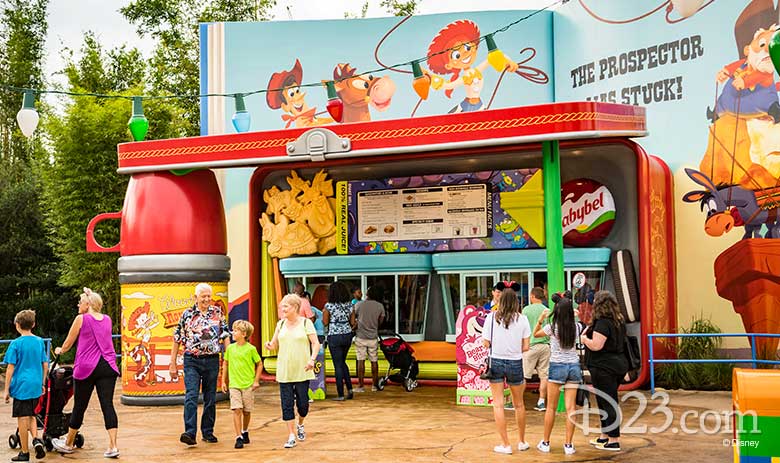 Mere days ago, D23 had the spectacular opportunity to visit Toy Story Land inside Disney's Hollywood Studios at Walt Disney World Resort before it was open to the public (click here to read all about our adventures!)… Not only did we have an absolute blast, riding Slinky Dog Dash and trying the delicious food at Woody's Lunch Box (among so many other things), but we also had the chance to meet with two very important people in Toy Story Land's development.
Liz Gazzano is Pixar Animation Studios' executive producer for theme parks, while Roger Gould is Pixar's creative director for theme parks—and both have been helping Walt Disney Parks and Resorts, as well as Walt Disney Imagineering, make Pixar-related magic for years. (Talk about two of the coolest jobs on the planet, right?) Liz and Roger took a few minutes out of their busy day to chat about what went into creating such an immersive, colorful land. Here are five of their most fascinating tidbits!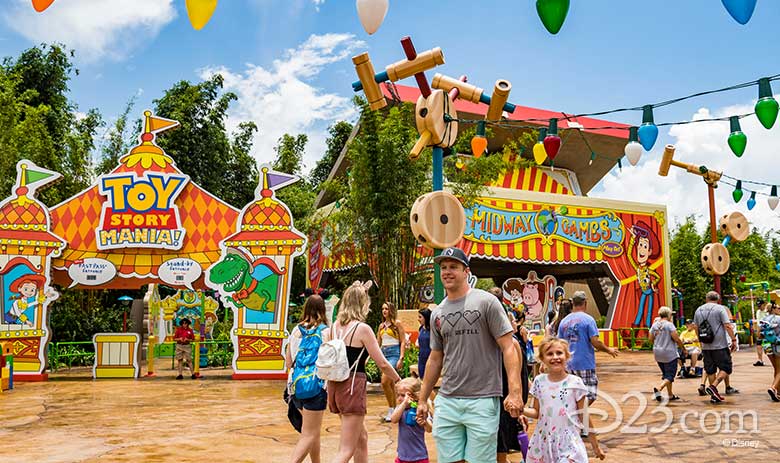 On making sure guests were truly able to "play big"…
"The first time I saw the land finished was two days ago," shares Gazzano. "I was curious to see if I was going to feel small like a toy—and honestly, the job that everyone has done here, with Walt Disney Imagineering… I felt it. That's what I'm most excited about, is walking into that land and feeling like you're the size of a toy. The minute you cross that threshold where Sheriff Woody is standing there greeting you, and you see all these big plants that look like grass—you feel it!"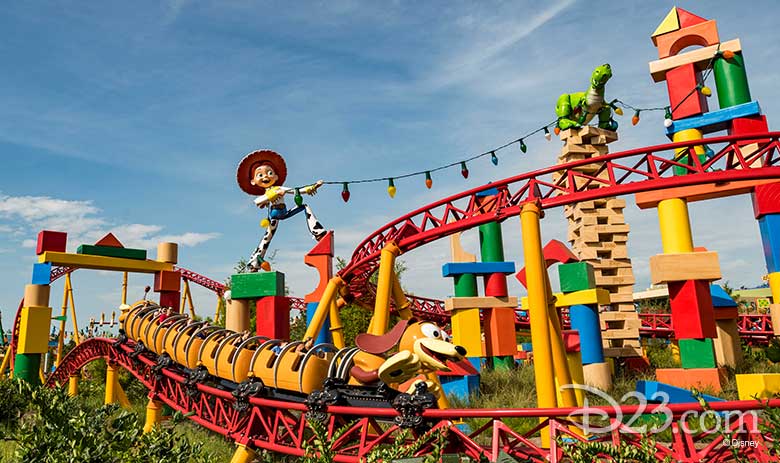 On some charming not-so-hidden details they know fans will really love…
"If you look closely at the Rex box that we [created, in the queue for Slinky Dog Dash], Jeff Pidgeon—one of the original Toy Story designers—drew the box that he would have come in originally," explains Gould. "We all know Rex as the nervous Rex, but this is an image of him as the ferocious Tyrannosaurus Rex. And if you look at the price stamp, you'll see it's from Al's Toy Barn, and the cost is—in fact—$19.95, the year the original Toy Story premiered in theaters!… [Plus], one of my favorite things is the Wheezy box in his original packaging, [something] we invented for this land; it doesn't say 'Wheezy,' it says, 'Squeaky Penguin toy'—but Andy himself has written 'Wheezy' on it. [Make sure to] look at the disclaimer down at the bottom: 'Do not use in water'… We think that maybe is how his squeaker got ruined."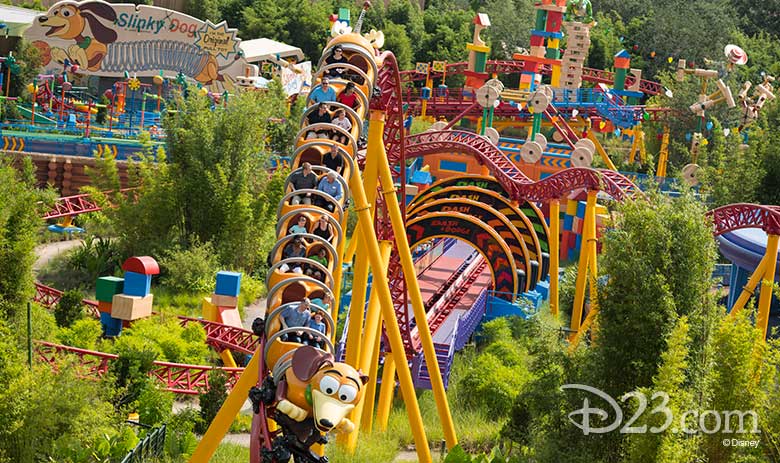 Gazzano has a favorite detail too…
"This is such a silly thing, but one thing that I think is really fun with Slinky Dog Dash is being in the back seat and seeing his little tail spring, just like the real toy," Gazzano says. "I just thought, 'Oh my gosh, I'm so glad we did that'—because he really feels like a toy, so when I watch him going [along] on that coaster and you see his little tail bouncing along, it cracks me up every time!"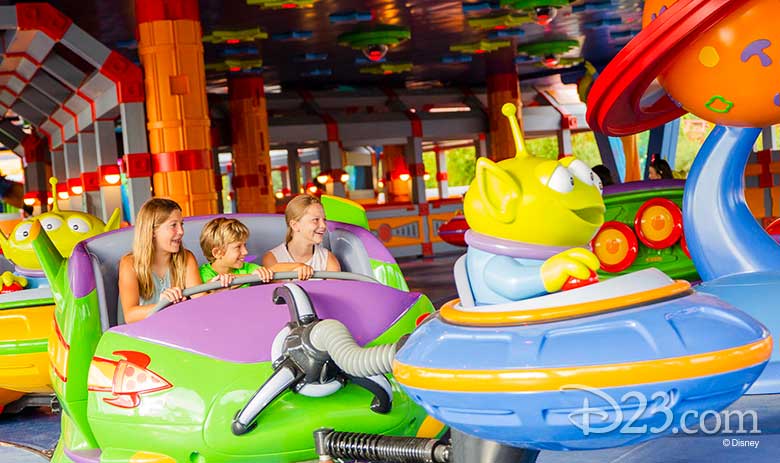 On a stand-out memory from her four-plus years spent working on the land's development…
"With Alien Swirling Saucers—I'm a producer, so I love detail and I love process," explains Gazzano. "I so enjoyed working with our production designer, Bob Pauley, who worked on all three Toy Story movies, and having him design the alien ride vehicles, and work with the engineers from Imagineering. We would meet three times a week with our modeler at Pixar [to] design that vehicle… It [meshed] science and art in a really great way, [not only] being able to work with the artists but also being able to learn about the engineering—marrying that all up so it becomes something as darling as that little ride vehicle. I just love it."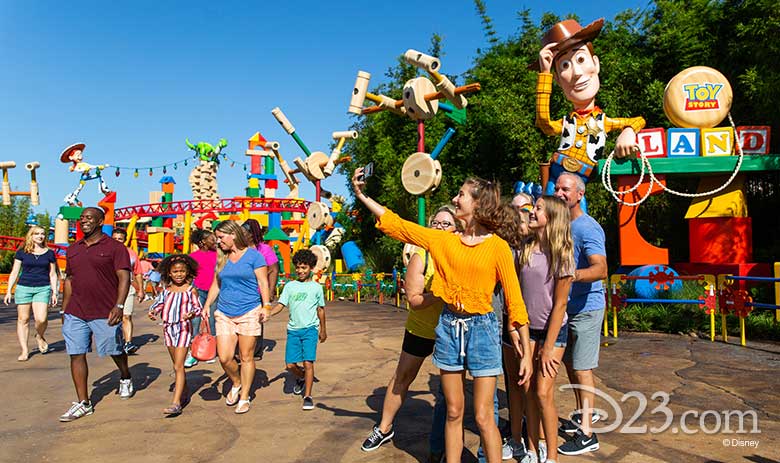 On what they hope guests will take away from their Toy Story Land adventures…
"I think [visitors] are going to really enjoy this land for its uniqueness," Gazzano says. "I think that, especially Disney fans who've visited the other parks and enjoyed them for their own uniqueness, [they'll see how] this one really fits. It just fits the park… I think that Imagineering has done such an amazing job of bringing our characters to life, bringing our environments to life, building a backyard for Andy—making the guests feel like they truly can play here."
Make sure to visit Toy Story Land, now open at Disney's Hollywood Studios, during your next visit to Walt Disney World Resort!