by Jeffrey Epstein
Shanghai Disney Resort is truly larger than life. From the dazzling Enchanted Storybook Castle (the largest castle in any Disney park) and the imposing Roaring Mountain (home to the beastly Q'aráq) with its gushing waterfalls, to the heart-stopping TRON Lightcycle Power Run and spectacular Pirates of the Caribbean: Battle for the Sunken Treasure, at every turn is another eye-popping delight. And as impressive as these new attractions and experiences may be, the incredible details that the Walt Disney Imagineering (WDI) team has seamlessly integrated throughout the resort make Shanghai Disney Resort even more special for Disney fans. Here we have selected our 23 (of course!) favorite Disney-themed details at Shanghai Disney Resort along with some of the stories behind their enchanting origins.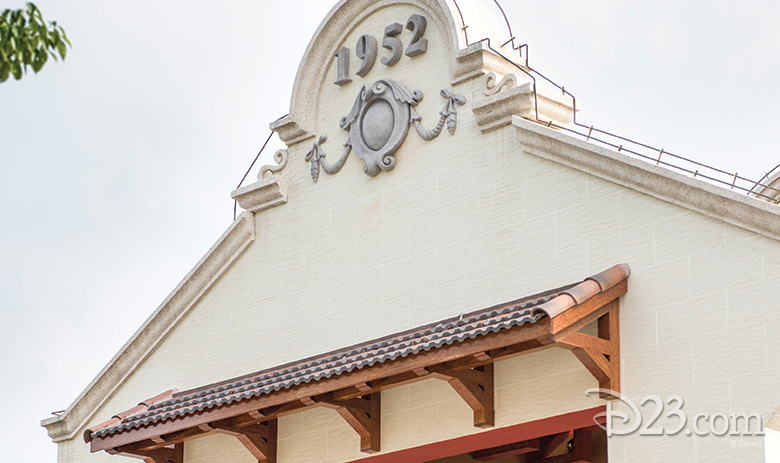 1952
In Disneytown (the resort's shopping, dining and entertainment district) above the Chow Tai Fook jewelry shop (which features a great Disney collection) is the year "1952"—which happens to be the year of the founding of WED Enterprises, which would later become WDI. Atop another section of the structure is the year "1901"—the year of Walt Disney's birth.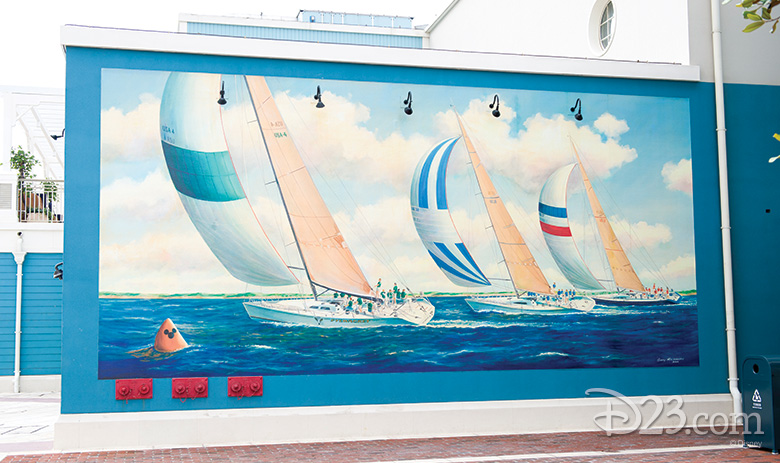 Pyewacket
This lovely reproduction of Gary Miltmore's 2002 painting (with a not-so-Hidden Mickey) is in the Lakeshore section of Disneytown, and guests with an eagle eye will notice the first ship is the Pyewacket—Roy E. Disney's beloved sailing boat.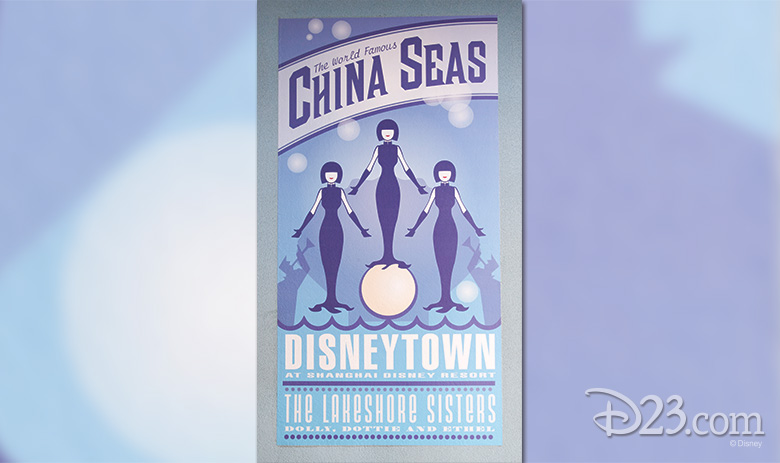 The Lakeshore Sisters
If the Lakeshore Sisters look (or sound) familiar in this poster from Disneytown's Lakeshore area, that may be because Dolly, Dottie, and Ethel were known in the U.S. as the Silver Lake Sisters, a trio of talent who also "created" the Fiddler, Fifer & Practical Café on Buena Vista Street at Disney California Adventure.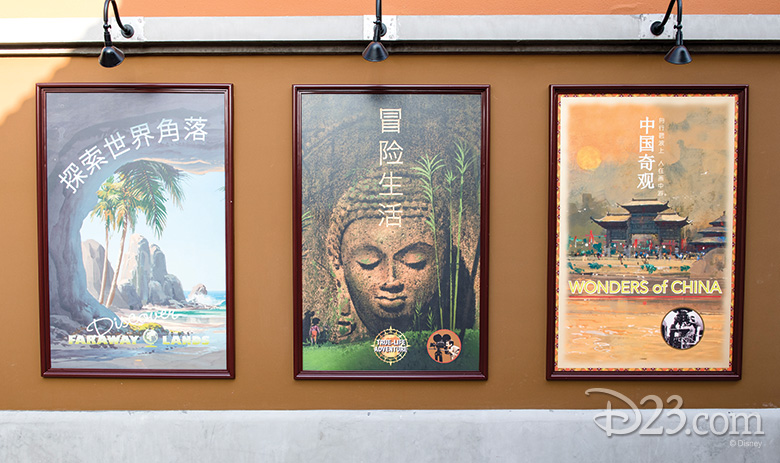 Disneytown Posters
These posters are three for the price of one Disney Detail. The artwork for the poster on the far left was created in 1981 for Epcot's El Río Del Tiempo attraction. In the middle is visual development artwork for 1967's The Jungle Book on a poster advertising a "never-produced" True-Life Adventure. And on the far right is a piece of concept artwork Herb Ryman created for the China pavilion at Epcot in 1981.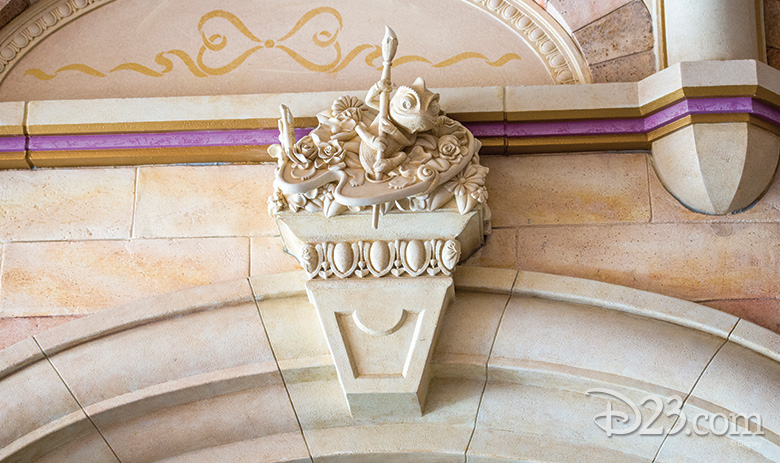 Pascal the Painter
We have seen any number of adorable chipmunks, squirrels, and birds adorning Disney's castles before, but we love that Rapunzel's pal Pascal managed to find his way into the design elements of the Enchanted Storybook Castle.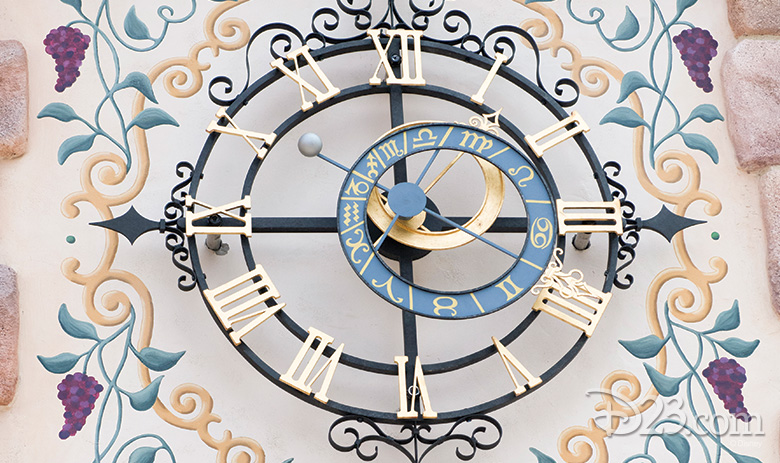 Fantasyland Clock
Does this clock look familiar to some fans of Disneyland Park in Anaheim? It should, as this clock (featured in, naturally, Fantasyland) is a reproduction of one at its stateside counterpart.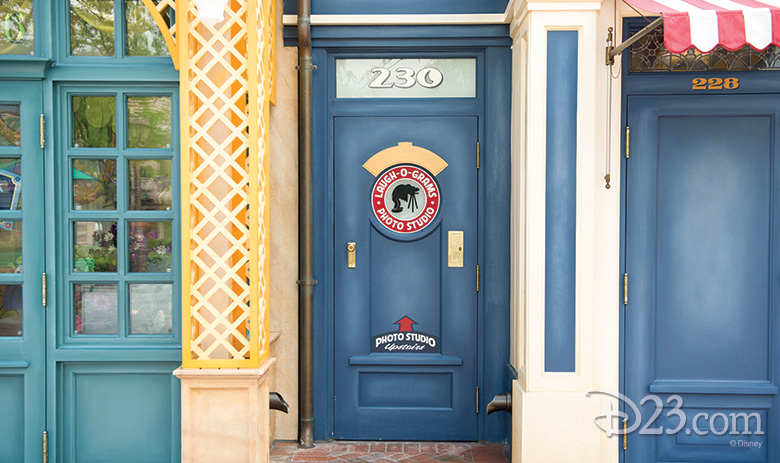 Laugh-O-grams Photo Studio
Mickey Avenue has many an homage to Disney's rich history, including this door "leading" to the Laugh-O-grams Photo Studio. Laugh-O-gram Films was Walt's Kansas City company, which made a series of seven modernized versions of fairy tales in 1922.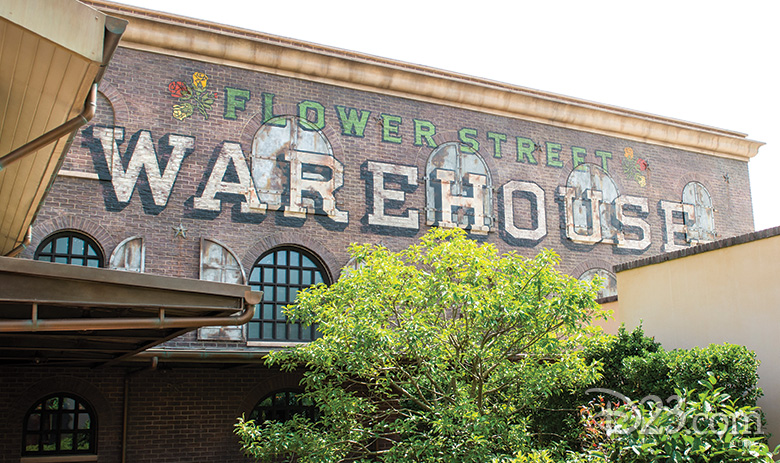 Flower Street Warehouse
The Flower Street Warehouse is located on, of course, Flower Street, which also happens to be the name of the street WDI is located on in California.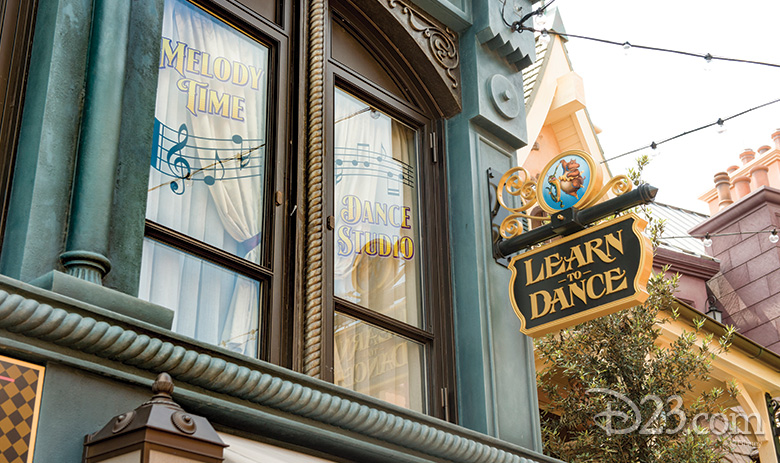 Everybody Dance!
Who wouldn't want to "learn to dance" with Fantasia's Hyacinth Hippo and Ben Ali Gator located on Mickey Avenue? Plus, it's at the Melody Time Dance Studio, named for the film, which consisted of seven animated and live-action sequences, including Johnny Appleseed and Pecos Bill. Melody Time references continue down Mickey Avenue. A painted billboard for Big Toot and Son is a fun nod to Little Toot.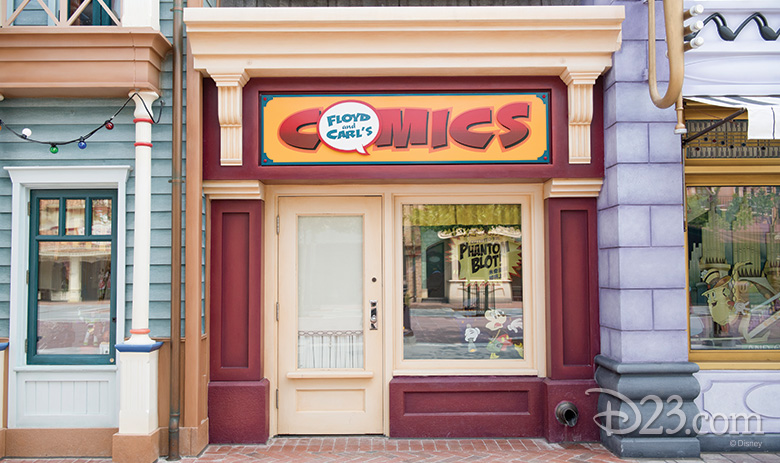 Floyd and Carl's Comics
Floyd and Carl's Comics is actually part of the Avenue M Arcade shop on Mickey Avenue (similar to Main Street, U.S.A.'s Emporium), and is named after comic book artists and Disney Legends Carl Barks and Floyd Gottfredson. Keen eyes will notice the window with the Phantom Blot, a wicked creation who went up against Mickey Mouse in several comic strips and comic books.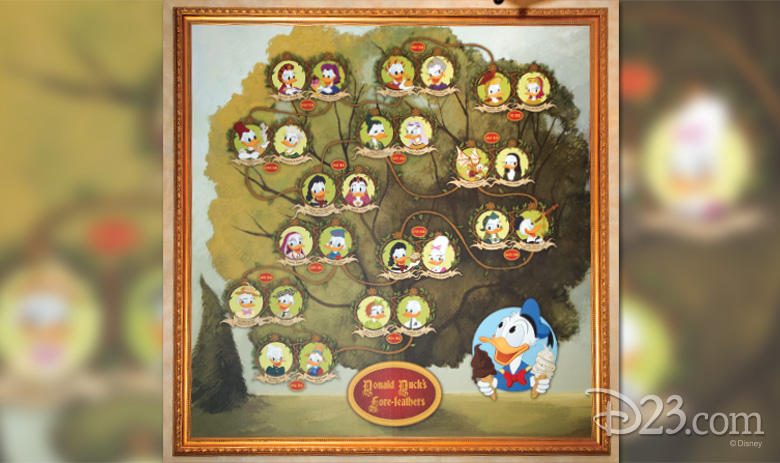 Donald's Family Tree
When grabbing some soft-serve ice cream in a waffle cone at Il Paperino on Mickey Avenue, take a look at Donald Duck's extensive family tree, which goes well beyond Duckburg!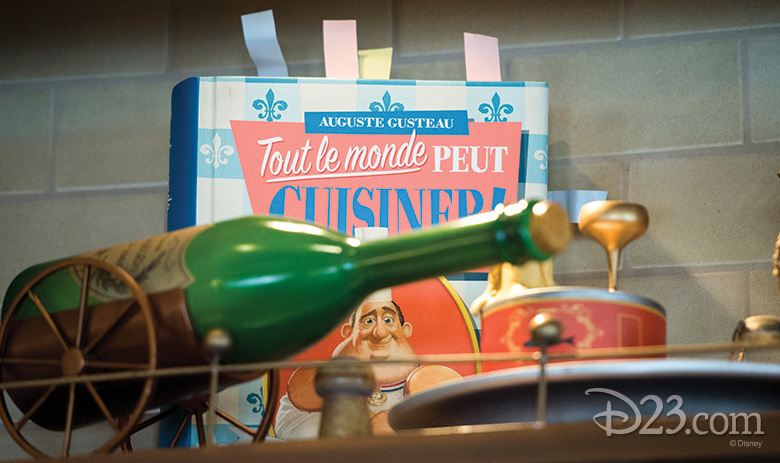 Tout le Monde Peut Cuisiner
You don't have to be French to love Ratatouille (or Remy's Patisserie on Mickey Avenue). And inside, guests will find this well-marked version of Tout le Monde Peut Cuisiner, a cookbook fans of the film will recognize as Chef Gusteau's Anyone Can Cook.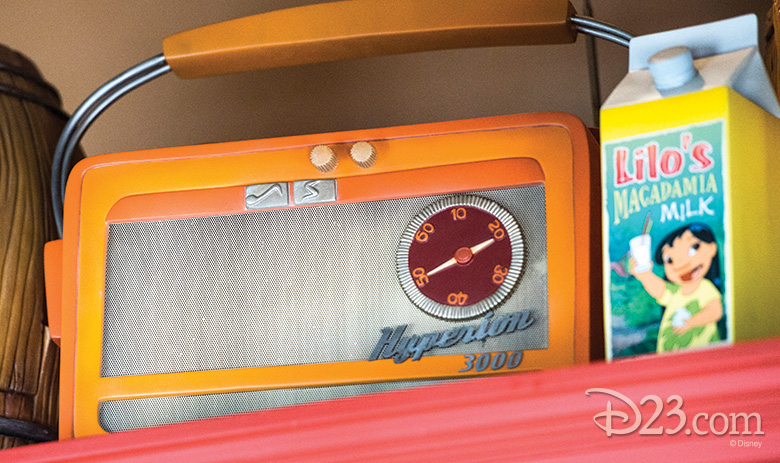 Hyperion Tunes
While picking up a healthy snack at Chip & Dale's Treehouse Treats on Mickey Avenue, take a look at the Hyperion 3000 radio, named for the Walt Disney Studios on Hyperion Avenue in Los Angeles.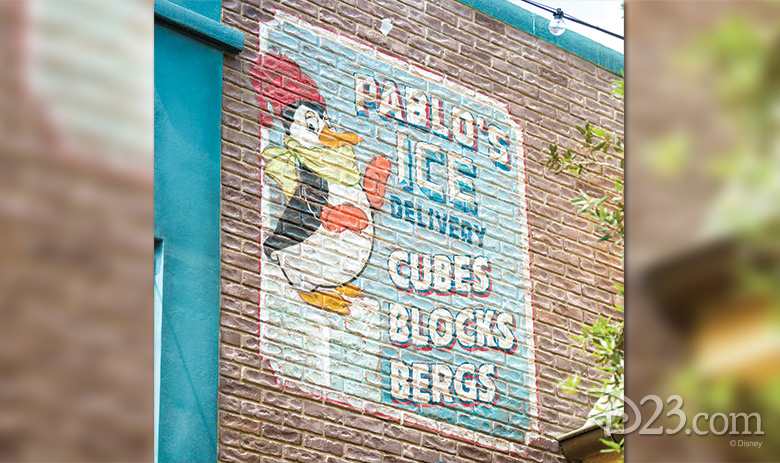 Chillin' with Pablo
Pablo Penguin from The Three Caballeros has found a new side gig selling ice in this fanciful billboard on one of the alleys along Mickey Avenue.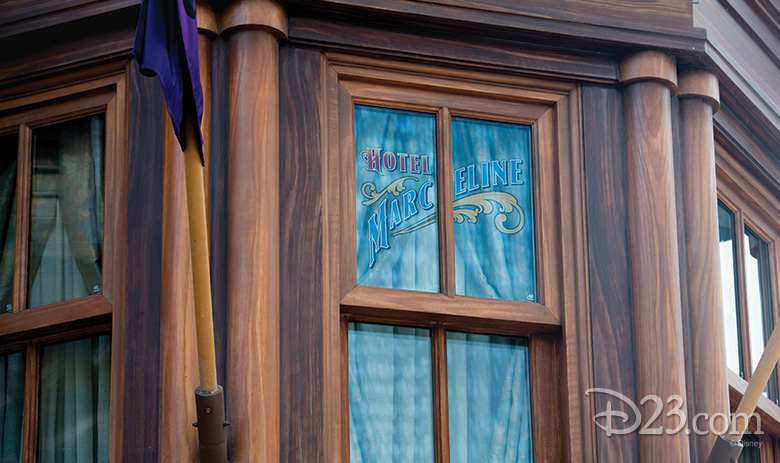 Hotel Marceline
The second floor of one of the buildings on Mickey Avenue advertises the Hotel Marceline, a reference to one of Walt's boyhood homes in Marceline, Missouri. Marceline's Main Street was also one of the influences for Main Street, U.S.A. at Disneyland.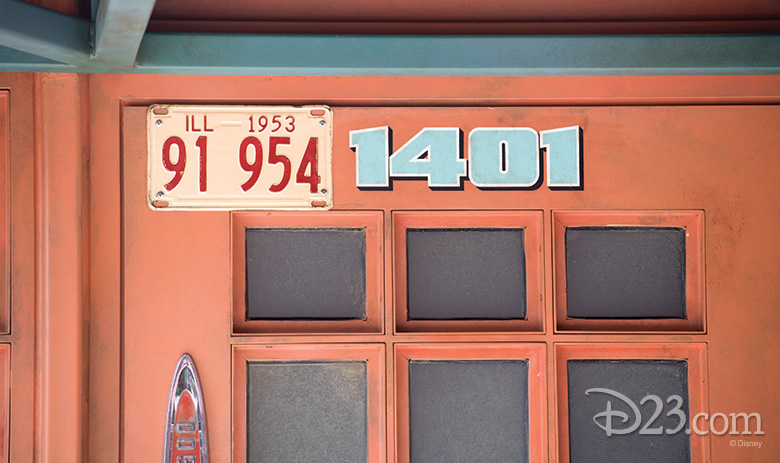 1401
Along one of the back streets of Mickey Avenue, guests will find building 1401—which also happens to be WDI's address on Flower Street in California.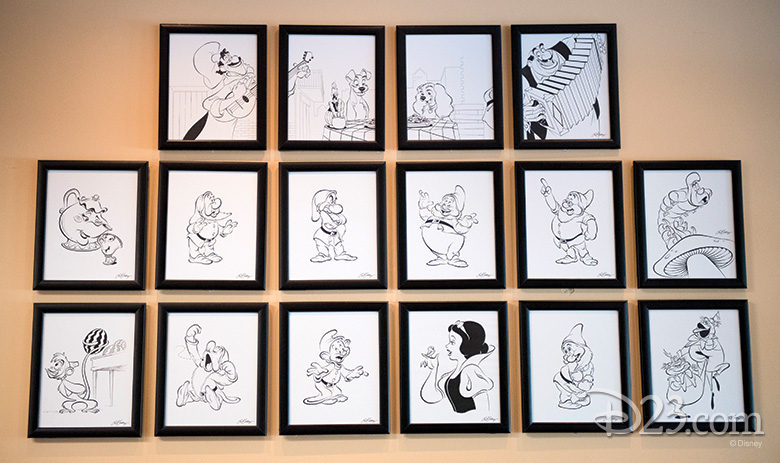 Dining in Character
Guests who went to D23 Expo 2015 and now dine at Mickey & Pals Market Café on Mickey Avenue will recognize these Eric Goldberg sketches that adorn one entire room of this eatery. The portraits are an homage to the celebrity portraits done at New York's Sardi's restaurant.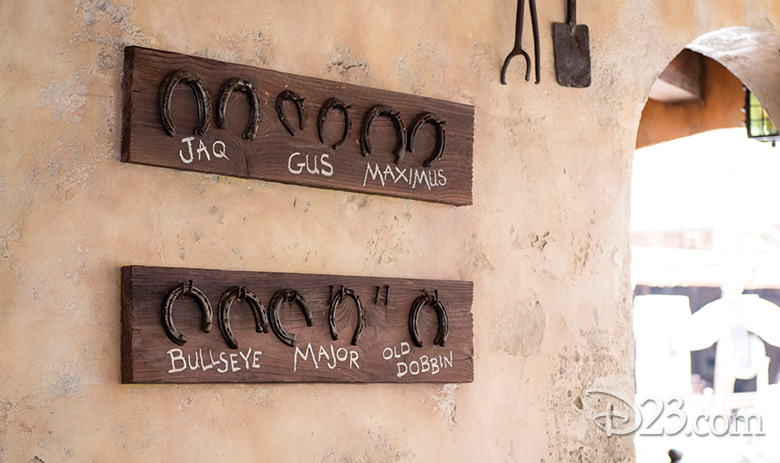 Horseshoes
In the queue for Pirates of the Caribbean: Battle for the Sunken Treasure, guests pass multiple boards featuring horseshoes that have been worn by some equine that have famous names in the Disney lexicon. These are just a few.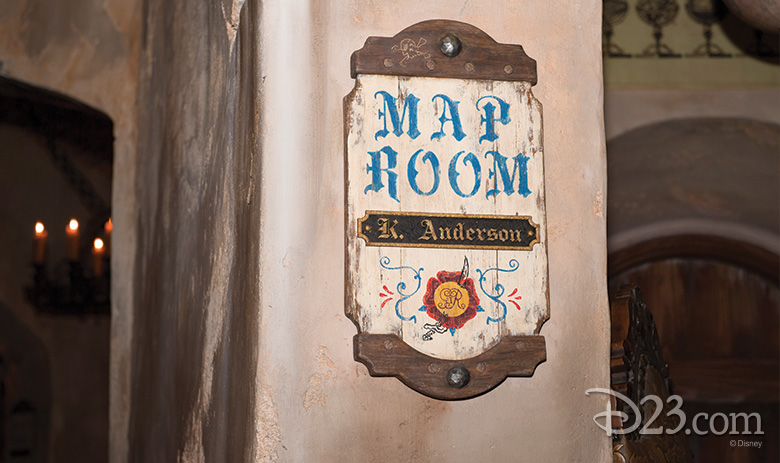 Mapping a Legend
While K. Anderson oversees the Map Room of Pirates of the Caribbean: Battle for the Sunken Treasure, Ken Anderson is a Disney Legend who worked on many Disney films and attractions, including concepts for the original Pirates of the Caribbean attraction at Disneyland.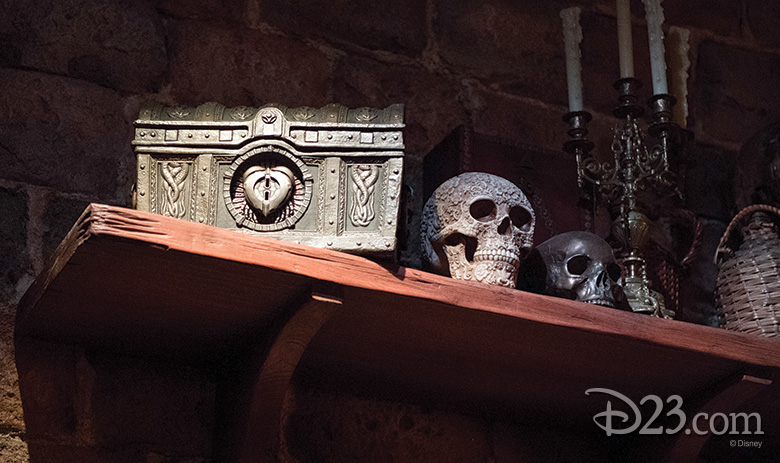 Dead Man's Chest
Look up in the queue of Pirates of the Caribbean: Battle for the Sunken Treasure, to see the Dead Man's Chest belonging to Davy Jones!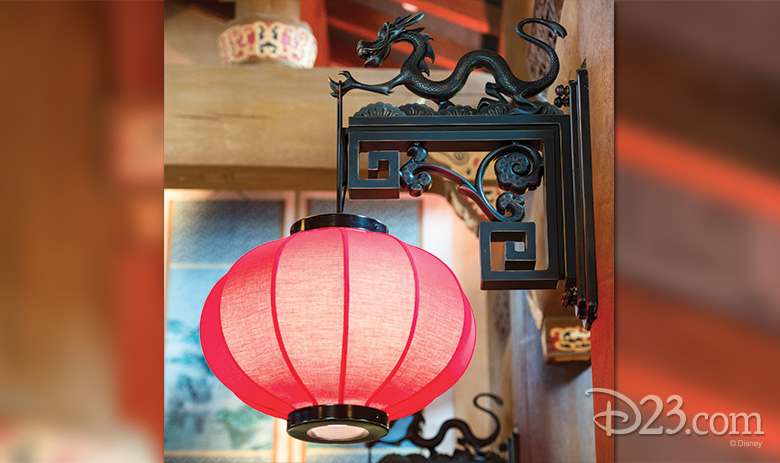 Mushu
Mulan's Mushu is one of the many characters to be found inside the rooms of the Wandering Moon Teahouse. Each has a different theme—and a different hidden character (look for Simba, Abu, Nemo, Chip 'n' Dale, and many more)!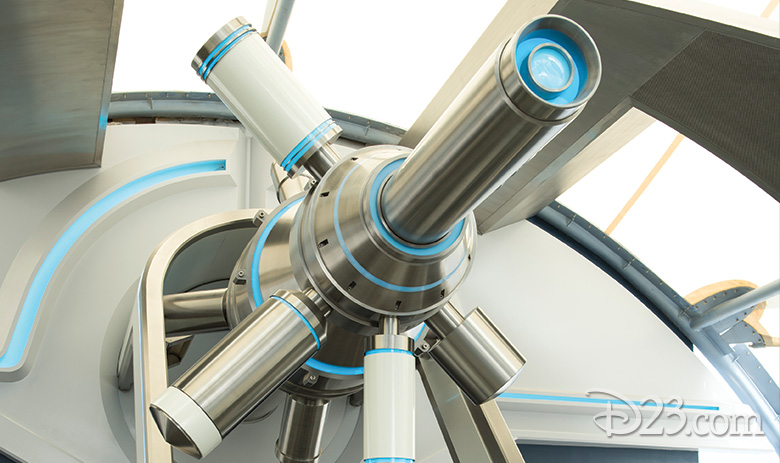 TRON
At the entrance to the TRON Lightcycle Power Run is a replica of the laser used to digitize Flynn in the film and transport him on the game grid.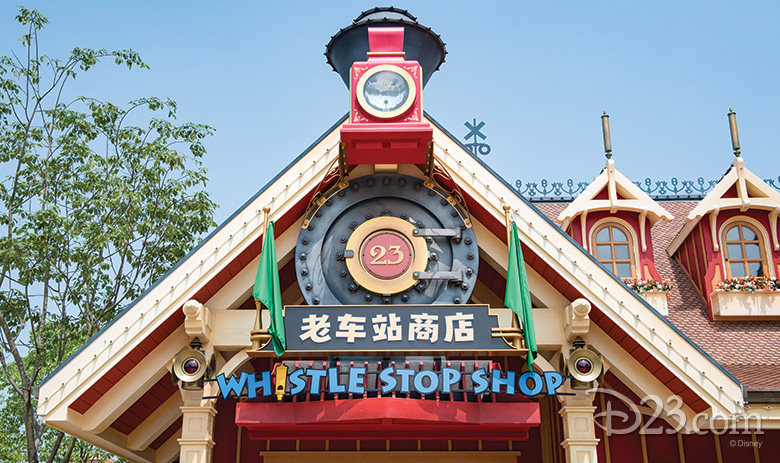 Are You 23?
And last but not least, the Whistle Stop Shop, located at the far end of Mickey Avenue, is No. 23. And, as all good D23 Members know, 1923 is the year Walt and his brother Roy would found what is now The Walt Disney Company. If the shop's name is familiar, you may recognize it as the title of the opening song from Robin Hood (1973).