Walt Disney often referred to Ken Anderson as his "Jack of All Trades." Over the years, Ken used his skills as architect, artist, animator, storyteller, and designer to masterful ends in several different areas of the Disney entertainment spectrum. Always focused on challenge and growth, Ken once said his desire was not so much to achieve, as to "be able to constantly improve."
Born in Seattle, Washington, on March 17, 1909, Ken attended the University of Washington and won a scholarship that allowed him to advance his studies in Europe. There, he earned a degree in architecture. Ken then returned to California to work as a sketch artist at Metro-Goldwyn-Mayer, where he contributed to such films as Greta Garbo's The Painted Veil.
In 1934, Ken was driving past the Walt Disney Studio when, on a whim, he pulled over to apply for a job.
The next thing he knew, he was working on Silly Symphonies; these included The Goddess of Spring and Three Orphan Kittens, which won an Academy Award® for Best Short Subject (Cartoons).
His first feature assignment was as art director for Snow White and the Seven Dwarfs; to help other animators visualize the film's settings dimensionally, Ken built models of the Dwarfs' cottage. Even Dopey's memorable wiggling ears were inspired by his own ability to do so.
Ken went on to serve as art director on Pinocchio, Fantasia, and The Reluctant Dragon. While working on Song of the South, he contributed technical innovations related to the film's combination of live-action footage and animation; he later improved upon these techniques as animation art director for Pete's Dragon.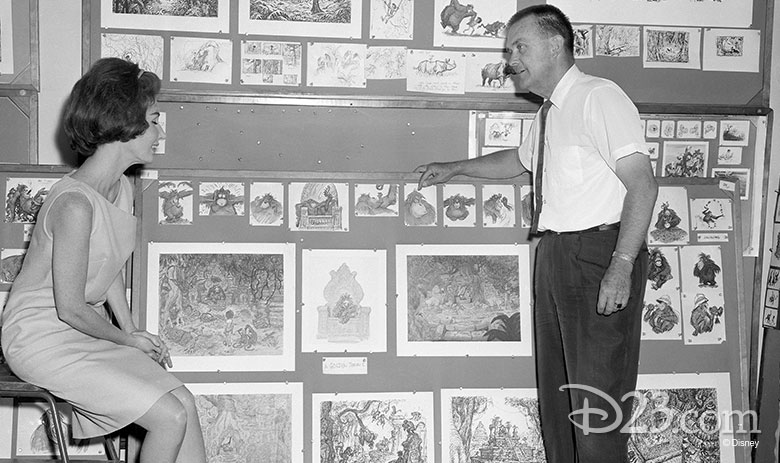 Among Ken's character creations were the villainous Shere Khan in The Jungle Book, as well as the playful dragon Elliott in Pete's Dragon. His impressive roster of Disney credits also includes story contributions to Melody Time, Cinderella, and The Jungle Book, and his color styling greatly influenced Alice in Wonderland. Ken's layouts were pivotal to the staging and design of Peter Pan and Lady and the Tramp. He also led the production design of Sleeping Beauty, One Hundred and One Dalmatians, and The Aristocats.
During the 1950s, Walt tapped Ken's knowledge of architecture, perspective, and art direction to help realize Disneyland. His concept drawings and design work contributed to such popular Fantasyland attractions as Peter Pan's Flight, Mr. Toad's Wild Ride, and Storybook Land.
After 44 years with the Company, Ken retired in 1978. He continued to work with Walt Disney Imagineering on special projects, including the proposed Equatorial Africa Pavilion for Epcot Center, which he developed in collaboration with author Alex Haley.
Ken Anderson passed away on January 13, 1993, in La Cañada Flintridge, California.