Shanghai Disneyland's Enchanted Storybook Castle Honored for its Design
Though the Shanghai Disney Resort is still under construction, its Enchanted Storybook Castle has already been lauded for its innovative design and technology practices. Walt Disney Imagineering was given the American Institute of Architects' Technology in Architectural Practice Award for its successful implementation of Building Information Modeling, which uses three-dimensional design and provides a virtual representation of the actual building to be built.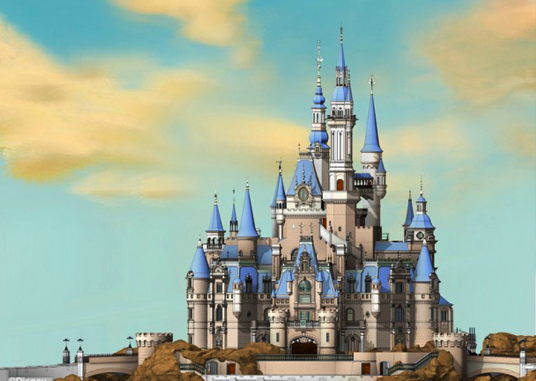 The photo above offers a two-dimensional look at the castle that will stand at Shanghai Disneyland.
---

Save the Date!
Be sure to mark these upcoming Disney events on your calendar:
D23 and Walt Disney Archives


Summer and Fall 2014
D23 Disney Fanniversary Celebration


September 27


D23 Member Night at Aladdin on Broadway


October 11


From the Vaults: Sleeping Beauty


November 8


Walt Disney Studios and Archives Tour


November 11


The Hunchback of Notre Dame VIP Experience


November 22-23


Destination D: Attraction Rewind at Disney's Contemporary Resort in Walt Disney World


Through January 4, 2015


Treasures of the Walt Disney Archives, presented by D23: The Official Disney Fan Club at the Museum of Science and Industry, Chicago


August 14-16, 2015


D23 Expo 2015 returns to Anaheim, California
Television


September 29


Phineas and Ferb—"Lost in Danville" premieres on Disney XD at 7:30 p.m. ET/PT.


October 13


Star Wars Rebels premieres on Disney XD at 9 p.m. ET/PT.


October 20


Kirby Buckets debuts on Disney XD at 8 p.m. ET/PT.
Parks


September 1, 9, 12, 14, 16, 19, 21, 23, 26, and 28; and October 2, 3, 5, 9, 10, 13, 16, 17, 19, 21, 23, 24, 26, 28, 30, and 31


Mickey's Not-So-Scary Halloween Parties at Magic Kingdom Park


September 26, 30; October 3, 6, 8, 10, 14, 17, 20, 22, 24, 27, 29, and 31


Mickey's Halloween Party at Disneyland Resort


November 7, 10, 13, 14, 16, 20, 21, and 30; and December 2, 4, 5, 7, 9, 11, 12, 14, 16, 18, and 19


Mickey's Very Merry Christmas Parties at Magic Kingdom Park


Studios




October 10


Alexander and the Terrible, Horrible, No Good, Very Bad Day opens in theaters.


November 7


Big Hero 6 opens in theaters.


December 25, 2014


Into the Woods opens in theaters.


March 13, 2015


Cinderella opens in theaters.


June 19, 2015


Inside Out opens in theaters (along with the short Lava).
---

Finding Nemo Submarine Voyage To Reopen at Disneyland Park September 27
After an extended refurbishment, Finding Nemo Submarine Voyage will reopen on September 27. The attraction has been refreshed and repainted, a process that necessitated draining 5 million gallons of water from the lagoon. The Disneyland Resort worked closely with the Orange County Water District to treat and store the water (which was later refilled), a process that was first used at Disney California Adventure to prepare for World of Color.
---
Watch Danny Elfman Read From Nightmare Before Christmas
The acclaimed musician and composer Danny Elfman created the score for Tim Burton's The Nightmare Before Christmas and also served as Jack Skellington's singing voice in the film. The Disney Parks Blog shared a video of Elman's visit to Haunted Mansion Holiday, where he recorded a special reading from the film.
---
Go Behind the Scenes of Haunted Mansion Holiday
The Disney Parks Blog shared the video above, giving Disney fans a sneak peek at the Haunted Mansion's annual transformation into Haunted Mansion Holiday. Members of the Disneyland Resort Creative Team share their favorite parts of the annual holiday makeover. We're amazed they could each choose only one!
---

Pete's Dragon Cast Members Announced
The Walt Disney Studios has announced that Oakes Fegely and Oona Laurence will star in a modern reinvention of Pete's Dragon. Fegely will portray the title character, while Laurence will play Natalie, a role created for this new iteration of the 1977 musical, which combined live-action and animation.
---

Big Hero 6 Lands at Disney Store
Action figures, electronic accessories, plush dolls, and apparel are among the many items you can now purchase from Disney Store in anticipation of the November 7 release of Walt Disney Animation Studios' Big Hero 6. You'll find Baymax, Hiro, and Honey Lemon, along with the film's other colorful characters, at a Disney Store near you or online.
---

May the Force Be With Your Favorite College Sports Team
A new collection of apparel and accessories allows fans to show their school pride and their love for the Star Wars saga. More than 50 schools are represented in the collection, currently available at retailers like Kohls and Old Navy.
Read More. ►
---
Watch A New Clip From Alexander and the Terrible, Horrible, No Good, Very Bad Day
The Walt Disney Studios' feature Alexander and the Terrible, Horrible, No Good, Very Bad Day follows 11-year-old Alexander as he experiences the most terrible and horrible day of his young life—and soon learns that he's not alone when his mom, dad, brother, and sister all find themselves living through their own terrible, horrible, no good, very bad day. The film hits theaters October 10, but in the meantime, check out this latest clip from the film.
---

Full List of Disney Infinity (2.0 Edition) Power Discs Revealed
The 2.0 Edition of Disney Infinity is now available in stores. In advance of this, Disney Interactive announced a full lineup of 82 Power Discs, the circular and hexagonal discs that allow gamers to customize their play experiences in the game.
Read More. ►
---

New Personalized Marvel Action Figures are "Super Awesome"
Hasbro and 3DPlusMe have announced "Super Awesome Me," a personalized 3-D printing experience that allows kids (of all ages!) to become one of their favorite characters, Captain America or Iron Man. As part of the Marvel Super Hero September campaign, fans can visit an in-store scanning station where a special 3-D scanner captures their likeness to create a model, which can ultimately turn into a one-of-a-kind 12-inch action figure. For more information or to locate a participating retailer, visit SuperAwesomeMe.com.
---

Last Chance To Be Part of Legends of Frontierland: Gold Rush
The interactive experience that allows guests and cast members alike to be part of the story, Legends of Frontierland: Gold Rush, is coming to a close on September 27. The story will feature a big finish, so the citizens of Frontierland and its rival, Rainbow Ridge, are planning special events and surprises throughout the final day. Visit the Disney Parks Blog for the latest details on September 27.
---

New iPhone 6 Cases Coming to D-Tech on Demand at Downtown Disney Marketplace
A new iPhone necessitates a new Disney-themed phone case—or several. The Disney Parks Blog reports that D-Tech on Demand is offering cases for the new iPhone 6 at its location in the Marketplace Co-Op at Downtown Disney Marketplace at Walt Disney World. Beginning in October, the D-Tech on Demand team will also offer select iPhone 6 cases at additional Walt Disney World and Disneyland Resort retail outlets; and iPhone 6+ cases will arrive at the Marketplace Co-Op location later this fall.
---

First Look at PANDORA Jewelry Coming to Disney Parks
This fall, PANDORA Jewelry will launch a collection of .925 sterling silver and 14K gold charms inspired by beloved Disney characters. The collection will feature 16 items that have been created specifically for Disney Parks—and that will only be available for purchase in the Parks, as well. The Parks-specific charms include a Minnie Sparkling Ear Hat dangle and a "Mickey-Mania" charm made from sterling silver with red, light yellow, black, and white enamel. And the can't-miss item from the collection is, of course, a charm bracelet to house your new Disney-themed treasures. The other items from the collection will be available in select retail locations at Disney Parks and at PANDORA stores across North America.