By Beth Deitchman
The Year of the Pig is nearly upon us, and Shanghai Disney Resort is hosting an unforgettable Chinese New Year celebration from January 19–February 19. Guests from near and far can experience an abundance of offerings and activities that celebrate Chinese customs and, thanks to a little Disney magic, will create fun new memories for families and friends of all ages.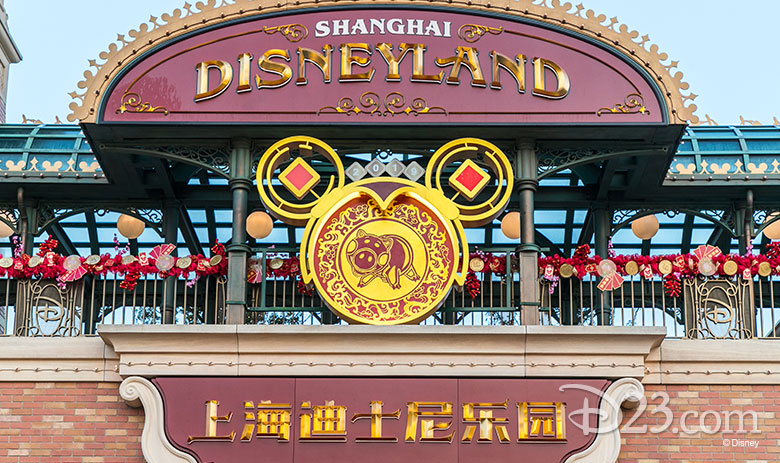 Decorating one's home for the holiday is a time-honored Chinese New Year tradition, and Shanghai Disney Resort will also dress its most festive best. Look for shades of red and gold throughout Shanghai Disneyland, along with vibrant Mickey lanterns, Chinese couplets, floral garlands, peach flowers, paper decorations, and more throughout the resort. You'll also want to keep an ear out for Chinese New Year melodies that complete the immersive New Year experience for guests.
On Mickey Avenue, favorite characters will don their newest Chinese New Year costumes to take pictures together in front of special New Year-inspired photo backdrops. In addition to Mickey and his pals, Duffy, ShellieMay, Gelatoni, and StellaLou, be sure to spot Goofy in his God of Fortune costume, adding extra energy and excitement to the festivities.
And in honor of the Year of the Pig, one of our favorite porcine pals—Hamm from the Toy Story films—will be in the spotlight, signifying luck and good fortune. In the Garden of the Twelve Friends, the pig zodiac will also be adorned with golden coins and red couplets, creating a special photo opportunity for guests. A beautiful archway and spinning centerpiece in the Gardens of Imagination will also help create happy holiday memories as guests pose for pictures with family and friends.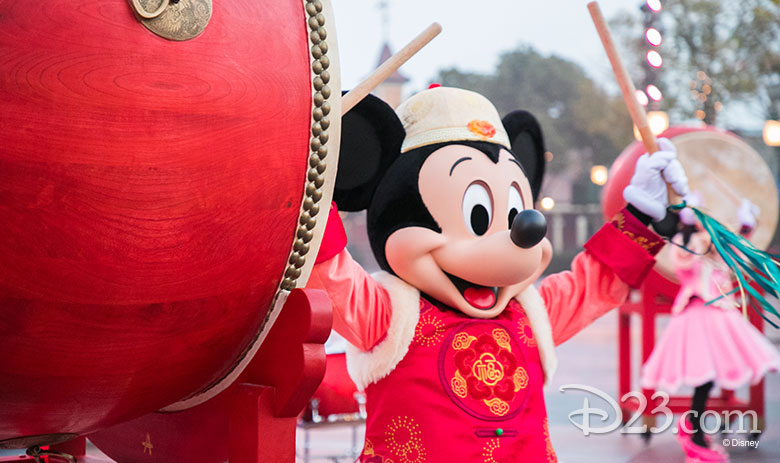 On select evenings at the Resort, the nightly showing of Ignite the Dream: A Nighttime Spectacular of Magic and Light will be topped off with the Chinese New Year 2019 Firework Celebration: A Feast of Love and Light. Look to the skies on January 25–26, every day from February 4–10, and on the Lantern Festival on February 19. Every morning during the celebration, Mickey and Minnie will preside over a customary drum ceremony near the Storytellers Statue to bring good fortune and happy wishes to the start of the day. Mickey and his pals will also gather in Celebration Square throughout the day for a special high-energy performance of Shanghai Swing that just might inspire guests to swing along.
The Garden of the Twelve Friends transforms for the holiday into the Wishing Garden, where guests can write their New Year wishes on wish cards and hang them in special locations around the garden area to send out their hopes and dreams for a prosperous year ahead.
At the Wishing Star Market in Disneytown, a special Chinese New Year carnival will feature traditional Chinese snacks, festive décor, charming photo locations, and the Wishing Star Skating Rink, where guests will glide their way to memories that will last a lifetime.
For the first time ever, on February 4 and 5, guests visiting Once Upon A Time Adventure at Enchanted Storybook Castle will hear a Shanghainese narration of the attraction's opening scenes. The new soundtrack was recorded by Pan Hong, who previously provided the attraction's Mandarin voiceover.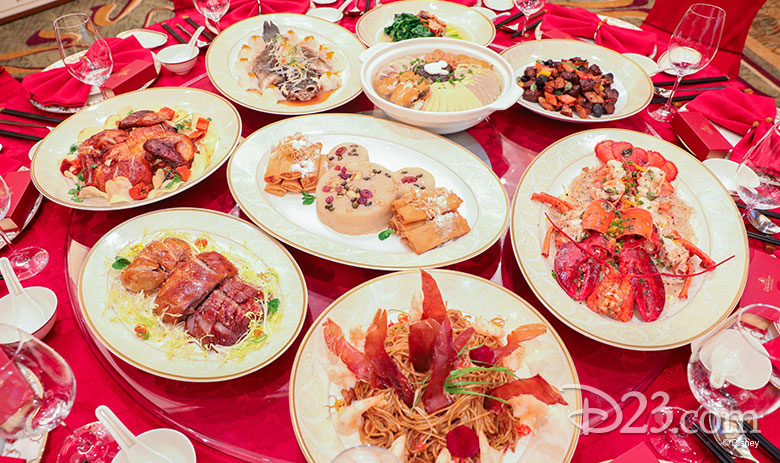 The celebration for the senses extends to the taste buds, and the Resort has planned special reunion dinners on February 4 and 5. Families and friends can gather for this longstanding tradition in the Cinderella Ballroom at the Shanghai Disneyland Hotel, where the festivities include special activities for children and a live screening of the Chinese New Year Gala on televisions throughout the ballroom.
Lumière's Kitchen in the Shanghai Disneyland Hotel hosts a Chinese New Year Feast from February 3–10, featuring a magnificent buffet and photo opportunities with Disney friends. There are also festive food offerings in Shanghai Disneyland throughout the celebration at Wandering Moon Restaurant, the Royal Banquet Hall, Remy's Patisserie, and Il Paperino.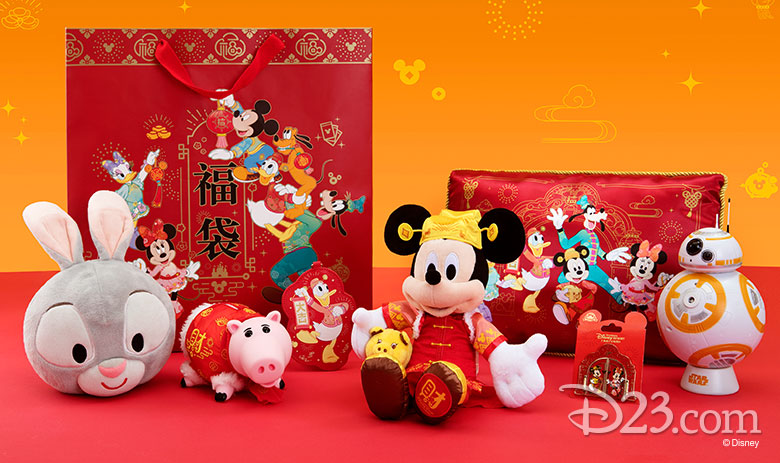 Guests will come home with lasting memories from this year's Chinese New Year celebration, but there will also be more than 40 limited-edition Chinese New Year merchandise items that might be impossible to resist. The new Chinese New Year merchandise collection takes inspiration from customary colors and symbols in the Chinese culture. Vibrant red and gold hues reflect joy and prosperity, while the golden pig, lantern designs, couplets, gold ingots, and other traditional elements help create a diverse array of holiday gift choices. Plus, Lucky Bags are back this year, filled with exclusive holiday merchandise inspired by Hamm the pig. Among the must-have items are plushes, fashionable fleeces, dazzling Minnie headbands, limited-edition Chinese New Year Pins, and so much more.
The festivities begin this Saturday, January 19. Visit ShanghaiDisneyResort.com for more information.