By Courtney Potter
Tokyo Disneyland to Debut Enchanting "New Fantasyland" in Spring 2020
If you've been following News Briefs (and D23.com in general) for a while, you know we've been happily anticipating some incredible new additions coming to Tokyo Disneyland… and with this week's big announcement, we now have an opening day to circle on our calendar! "New Fantasyland," a new area featuring the Enchanted Tale of Beauty and the Beast attraction and the indoor Fantasyland Forest Theatre, will open to guests on April 15, 2020!
Guests will soon be able to immerse themselves in a "tale as old as time" upon entering Belle's village—which features Maurice's Cottage, Gaston's fountain, restaurants, and shops. Towering high above the forest is Beauty and the Beast Castle, which houses Enchanted Tale of Beauty and the Beast, an attraction where guests join a musical adventure in vehicles that dance in rhythm to the music from the animated film. Deeper into the forest sits Fantasyland Forest Theatre, the first full-scale indoor theater at Tokyo Disneyland.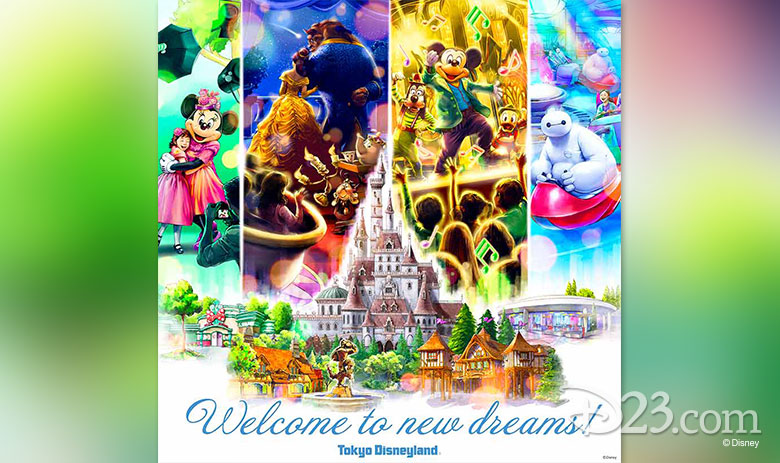 Other brand-new additions in Tomorrowland and Toontown will open on the same day; on The Happy Ride with Baymax, guests can join their own personal healthcare companion for an exciting journey. Meanwhile, popcorn enthusiasts will love The Big Pop, an outer space-themed popcorn shop also coming to Tomorrowland… and for the first time ever at Tokyo Disney Resort, guests will be able to meet Minnie Mouse in person at Minnie's Style Studio in Toontown. Stay tuned for more info on all things Tokyo Disney Resort in the coming months!
D23 and Walt Disney Archives


September 21, 2019


D23's Magical Screening Series: Indiana Jones and the Temple of Doom at Walt Disney World


September 28, 2019


D23's Magical Screening Series: Indiana Jones and the Temple of Doom on the Lot


October 1, 2019


Freeform's Second Annual Halloween House at the Hollywood Athletic Club, Los Angeles


October 4, 2019


The Muppets Take Manhattan—Exclusive Screening in Manhattan
October 13, 2019
D23 Heads to the Hollow


October 21, 2019


The Official Walt Disney Studios Tour—Presented by D23
October 21, 2019
D23's Sip & Stroll at Epcot


October 29, 2019


D23's Mostly Ghostly Halloween on The Walt Disney Studios Lot


November 14, 2019


D23's Behind-the-Scenes Experiences: A Day at the Studio Lot


January 17, 2020


Get VIP Tickets to Disney's Frozen The Hit Broadway Musical


January 31, 2020


Disney's Aladdin the Hit Broadway Musical VIP Tickets


August 9, 2020


Adventures by Disney Rhine River Cruise Presented by D23
Parks


August 16, 20, 23, 27, 30; September 2, 6, 8, 10, 13, 15, 17, 20, 22, 24, 27, 29; October 1, 3, 4, 6, 8, 10, 11, 14, 15, 17, 18, 20, 21, 24, 25, 27, 29, 31; November 1, 2019




Mickey's Not-So-Scary Halloween Party at Magic Kingdom park


August 29—November 23, 2019
2019 Epcot International Food & Wine Festival


September 17, 19, 22, 24, 26, 29, 2019; October 1, 3, 6, 8, 10, 13, 15, 17, 20, 22, 24, 27, 29, 31, 2019




Oogie Boogie Bash – A Disney Halloween Party at Disney California Adventure park




November 8, 11, 12, 14, 15, 17, 19, 21, 22, 24; December 1, 3, 5, 6, 8, 10, 12, 13, 15, 17, 19, 20, 22, 2019


Mickey's Very Merry Christmas Party at Magic Kingdom park
November 29—December 30, 2019


2019 Epcot International Festival of the Holidays




Studios




October 18, 2019


Maleficent: Mistress of Evil opens in U.S. theaters


November 22, 2019


Frozen 2 opens in U.S. theaters


December 20, 2019


Star Wars: The Rise of Skywalker opens in U.S. theaters


March 6, 2020


Onward opens in U.S. theaters


March 27, 2020


Mulan opens in U.S. theaters


May 29, 2020


Artemis Fowl

opens in U.S. theaters




Television




September 1—30, 2019


Freeform's 30 Days of Disney


September 16, 2019


Dancing with the Stars kicks off newest season on ABC (8

—

10 p.m. EST)
October 1-31, 2019
Freeform's 31 Nights of Halloween
November 5, 2019
ABC airs The Wonderful Word of Disney Presents The Little Mermaid Live! (8—10 p.m. EST)
Disney Channel's Elena of Avalor Sets Season Three Premiere
That's right: Fan-favorite Disney Channel animated hit Elena of Avalor is coming back for a third season, beginning next month. Read up on what you can expect for Princess Elena—who's almost ready for her queen-ly crown!—and all her pals (including some amazing guest stars) by clicking here.
See This Year's Haunted Mansion Holiday Gingerbread House Come to Life…
The artisans at the Disneyland Resort Central Bakery have outdone themselves once again, with a monstrously mesmerizing gingerbread house for 2019's Haunted Mansion Holiday, celebrating the Haunted Mansion's 50th anniversary. And much like in years past, as the team set to work creating the house inside the attraction's Grand Hall, they got some amazing footage of the entire process. Check it out, above!
If you're unable to visit Disneyland Resort during the thrills and chills of Halloween Time this fall, and are worried you might miss seeing (and smelling!) the gingerbread house in person, fret not—it'll be delighting foolish mortals through early January 2020.
First Look at Ride Vehicles for Epcot's Guardians of the Galaxy: Cosmic Rewind
There's so much to look forward to at Epcot in the next few years, what with the park about to celebrate Walt Disney World Resort's 50th anniversary in a really big way. Construction is already underway on the Guardians of the Galaxy: Cosmic Rewind attraction, and we recently got an up-close look at its colorful new ride vehicles. See them for yourself via the clip, above.
Guardians of the Galaxy: Cosmic Rewind is a family-friendly storytelling coaster that will feature a groundbreaking ride system with vehicles that rotate 360 degrees—and can even do a reverse launch. This "OmniCoaster" ride system will direct your eyes to what's happening around you; instead of whizzing by the action, the system will fully immerse you in the attraction's story from the minute you take off. Plus, your adventure starts in the "Galaxarium," an amazing planetarium-like exhibition that explores the similarities and mysteries of the formation of Earth's galaxy and Xandar. You'll be invited to learn more about Xandar's treasures—until the moment when the Guardians of the Galaxy arrive, and adventures across the cosmos ensue!
Look for more Cosmic Rewind scoop as we soar ever closer to the attraction's 2021 opening.
Behind the Scenes with New Epcot Forever Nighttime Spectacular
Speaking of Epcot, and yet another ridiculously cool thing to look forward to: The park will soon debut a brand-new nighttime spectacular, and our pals at the Disney Parks Blog just posted the tuneful behind-the-scenes clip that Disney Parks, Experiences and Products Chairman Bob Chapek shared with the Hall D23 audience during D23 Expo 2019. See (and hear) a bit of the magic Epcot Forever has in store, above.
Premiering in just a few weeks, Epcot Forever is an all-new, limited-time spectacle of fireworks, music, lighting, lasers, and choreographed special effects kites. (Sounds amazing, right?) The show takes viewers on a journey through the past, present, and future of Epcot—featuring a memorable collection of songs that paint a colorful picture of the park, with a look towards all the magical possibilities still to come…
If you're planning a trip to Walt Disney World Resort this fall, don't miss Epcot Forever—beginning October 1 at World Showcase!
Add Some Arendelle Aqua to Your Closet with New Frozen-Inspired Collection
Fans of Frozen are sure to melt for an all-new color collection now available at Disney Parks worldwide (or online at shopDisney.com)… Find out more about the Arendelle Aqua line—featuring headwear, accessories, and men's and women's apparel—right here at D23.com.
Extended Sneak Peek at Freeform's Party of Five
Fall isn't the only time when amazing new TV shows hit the proverbial airwaves. Case in point: Just last week, Freeform announced that their highly anticipated drama Party of Five will debut on Wednesday, January 8, 2020. This reimagined series follows the five Acosta children as they struggle to survive as a family unit after their parents are suddenly deported back to Mexico. Check out a special extended look at the show, above.
In a new iteration by original Party of Five creators Amy Lippman and Christopher Keyser, the beloved story of a young family bound by adversity will be retold through the lens of current-day themes and cultural conversations. The series stars Brandon Larracuente as Emilio, Emily Tosta as Lucia, Niko Guardado as Beto, and Elle Paris Legaspi as Valentina—with Bruno Bichir and Fernanda Urrejola as the Acosta parents. Mark those calendars!