By Zach Johnson
If you're anything like us, you're ready to eat your heart out at the Epcot International Food & Wine Festival! Underway since August 29 at Walt Disney World Resort, the annual celebration, running through November 23, is once again offering an array of unforgettable, unique dishes and drinks that are guaranteed to make your mouth water. But we're not going to sugarcoat it: There is a lot to do, eat, and see. So, with that in mind, sink your teeth into our comprehensive guide to the annual festival. Bottoms up!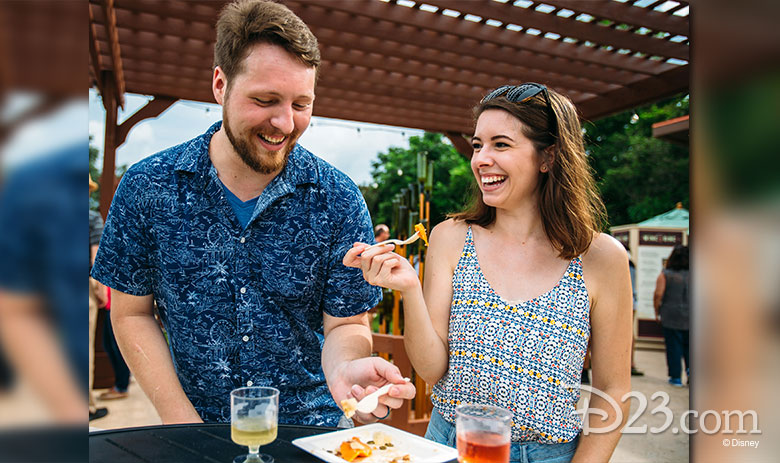 Why, We Only Live to Serve
More than 30 individual Global Marketplaces are offering delicious dishes, desserts, fine wine, craft beer, spirits, and other beverages during this year's festival, located throughout World Showcase and Future World. Enjoy this Foodie Guide detailing the menus and locations, as well as the gluten-friendly, vegetarian, and kid-approved items.
(V) indicates vegetarian items
(GF) indicates "gluten/wheat friendly" items
(KA) indicates kid-approved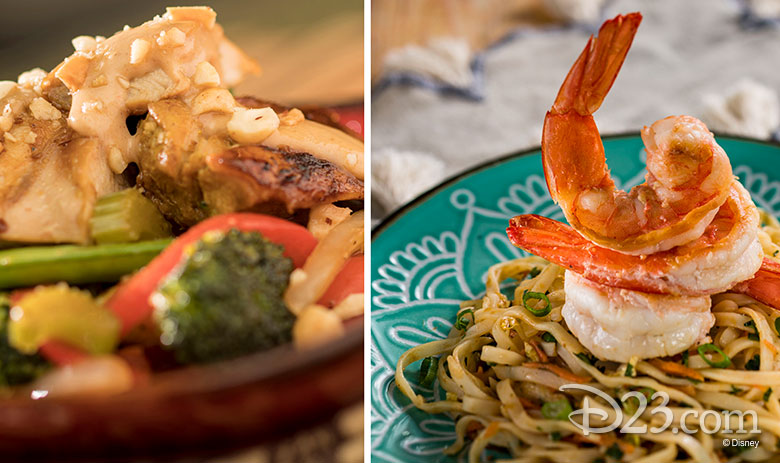 Thailand (Located near Disney Traders)
Food:
Marinated Chicken with Peanut Sauce and Stir-fried Vegetables (KA)
Shrimp and Cold Noodle Salad
Red Hot Spicy Thai Curry Beef with Steamed Rice
Beverage:
Singha Lager
Maison Willm Réserve Gewürztraminer, Alsace
Australia (Located near Port of Entry)

Food:
Grilled Sweet-and-Spicy Bushberry Shrimp with Pineapple, Pepper, Onion, and Snap Peas (GF)
Roasted Lamb Chop with Sweet Potato Purée, Bushberry Pea Salad, and Pistachio-Pomegranate Gremolata (GF)
Deconstructed Pavlova with Pastry Cream, Citrus-macerated Berries, and Lemon Myrtle Meringue (KA) (GF) (V)
Beverage:
Coopers Brewery Original Pale Ale
Hope Estate "Wollombi Brook" Semillon, Hunter Valley
Franklin Tate Estates Chardonnay, Margaret River
3 Rings Shiraz, Barossa Valley
Wine Flight also available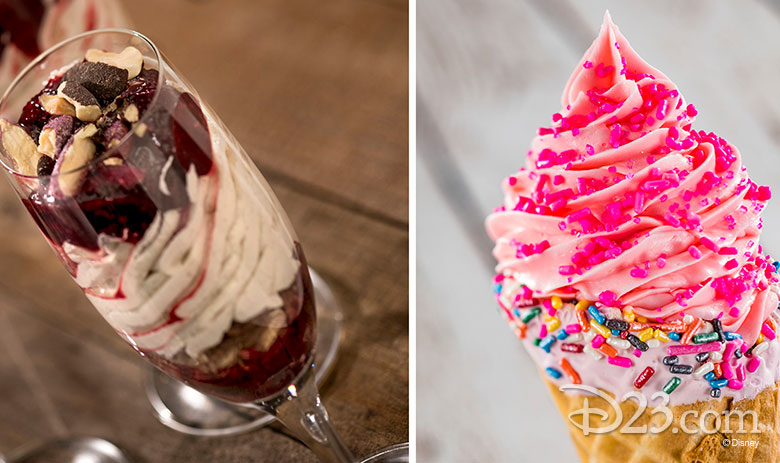 Shimmering Sips (Located near Port of Entry)
Food:
Banana Almond Soft-serve Sundae made with Blue Diamond Almond Breeze® Almondmilk, fresh Berries, and Chocolate Almond Streusel (V) (KA)
Cheesecake Trio: Raspberry, Chocolate, and New York-style Cheesecake Bites (V) (KA)
Shimmering Strawberry Soft-serve in a Waffle Cone (V) (KA)
Beverage:
Tropical Mimosa with Sparkling Wine and Passion Fruit, Orange, and Guava Juices
Key Lime Mimosa with Key Lime Sparkling Wine and Cranberry Juice
Blood Orange Mimosa with Sparkling Wine and Blood Orange Juice
Frozen Mimosa featuring White Claw Natural Lime Hard Seltzer
Moët & Chandon Impérial Brut, Champagne
Dom Pérignon Brut, Champagne
Veuve Clicquot Brut Rosé, Champagne
Mimosa Flight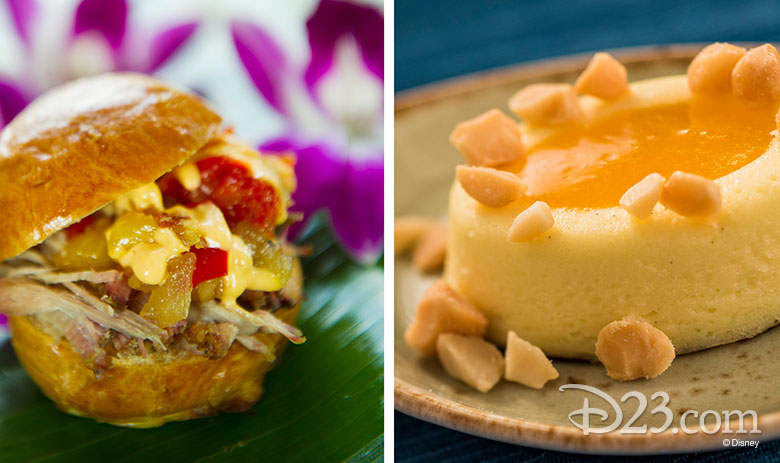 Hawai'i (Located near Refreshment Port)
Food:
Kāalua Pork Slider with Sweet-and-Sour DOLE® Pineapple Chutney and spicy Mayonnaise (KA)
Grilled Tuna Tataki with Seaweed Salad, Pickled Cucumbers, and Wasabi Cream inspired by AULANI Disney Vacation Club® Villas, Ko Olina Hawai'i
Teriyaki-glazed SPAM® Hash with Potatoes, Peppers, Onions, and spicy Mayonnaise
Passion Fruit Cheesecake with Toasted Macadamia Nuts (KA) (GF) (V)
Beverage:
Maui Brewing Company Bikini Blonde Lager
Florida Orange Groves Sparkling Pineapple Wine, St. Petersburg, FL
AULANI Sunrise: Vodka, DOLE® Pineapple Juice, and Grenadine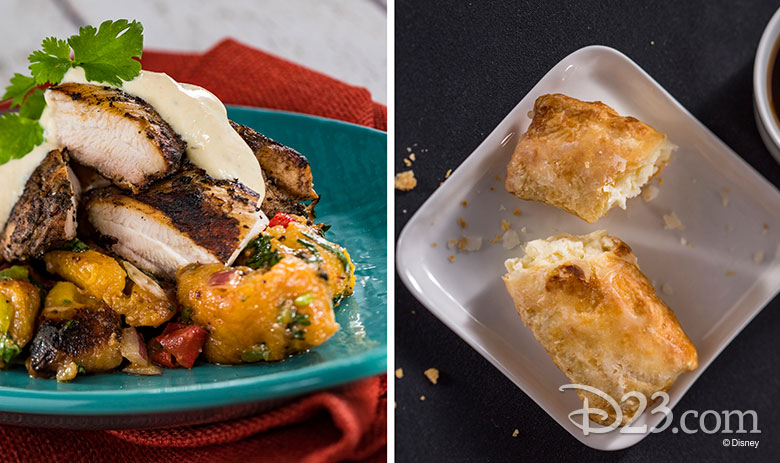 Islands of the Caribbean (Located near the Mexico pavilion)
Food:
Ropa Vieja Empanada with Tomato Aïoli (KA)
Jerk-spiced Chicken with Roasted Sweet Plantain Salad and Mango Chutney Yogurt (GF)
Quesito: Puff Pastry with Sweetened Cream Cheese and Guava Sauce (V) (KA)
Beverage:
Red Stripe Lager
Caribbean White Sangria
Frozen Mojito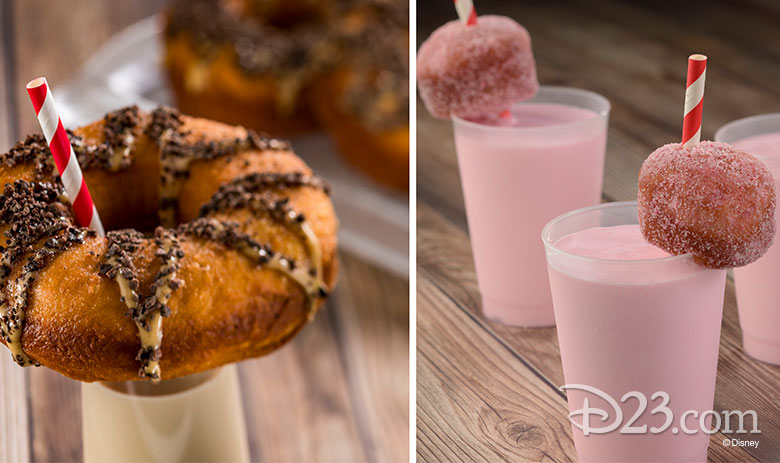 The Donut Box (Located near Test Track)
Food:
Sweet Corn Fritter with Fresno and Red Pepper Jelly (V)
Strawberry-dusted Yeast Donut Holes (V) (KA)
Beverage:
Strawberry Smoothie made with Blue Diamond Almond Breeze Almondmilk® (Non-Alcoholic) (KA)
Central 28 Beer Company Boston Cream Donut Ale, DeBary, FL
Black and White Coffee Cocktail garnished with a Fresh Yeast Donut with Chocolate Espresso Bean Crumbles
Cool Wash (Located near Test Track)
Assorted Coca-Cola® Slushies (non-alcoholic)
Coca-Cola® Orange Vanilla with St. Petersburg Gin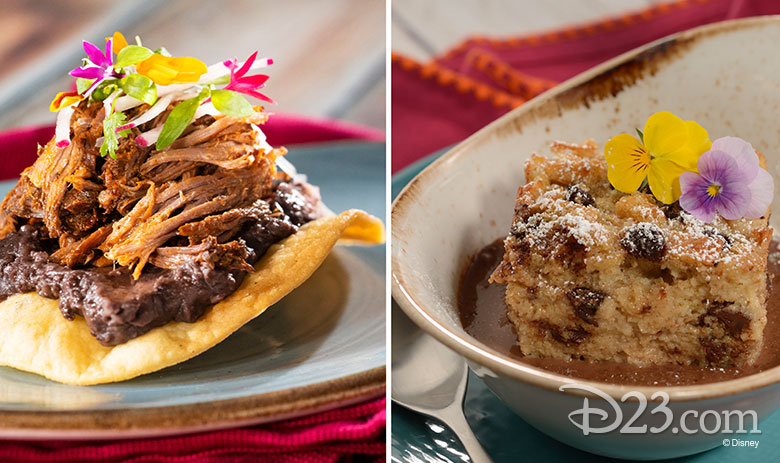 Mexico (Located at the Mexico pavilion)
Food:
Taco de Puerco: Shredded Pork Belly on a Corn Tortilla with Salsa Verde
Tostada de Carne: Braised Beef on a Corn Tostada with Mole Oaxaqueño and Chicharrón Dust
Capirotada de Chocolate: Chocolate Bread Pudding served with Chocolate Abuelita Crème Anglaise
Beverage:
Cerveza Por Favor: Mexican Craft Beer served with a Liqueur Floater
Mexican Sangria: Red Wine, Blackcurrant Liqueur, Citrus Juices, Strawberry Purée, and a hint of Rum
Clásica Reyes Margarita: 100% Agave Tequila, Ancho Reyes Liqueur, Lime Juice, and Agave Nectar served on the rocks with a Tajín Chile-Lime Powder Rim
Smokey Margarita: Mezcal Ilegal, Pineapple-Ginger Juice, Agave Nectar, 100% Agave Tequila and Ancho Reyes Liqueur served on the rocks with a spicy Salt Rim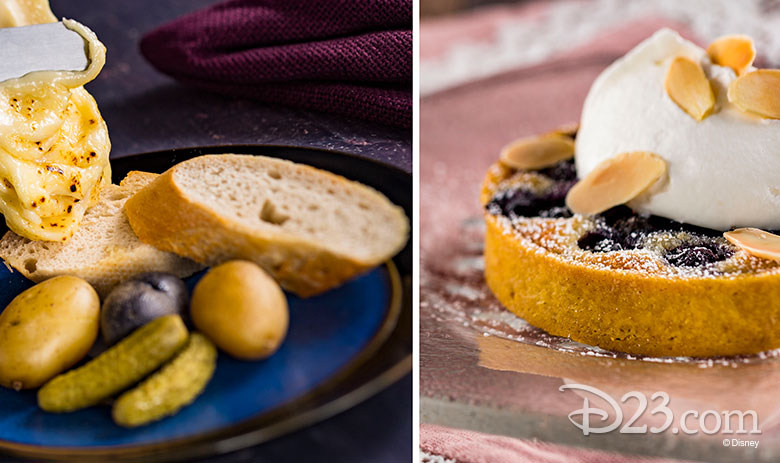 The Alps (Located at the Norway pavilion)
Food:
Warm Raclette Swiss Cheese with Baby Potatoes, Cornichons, and Baguette (V) (KA)
Venison Stew with Crushed Potatoes
Blueberry and Almond Frangipane Tart with Crème Fraîche and Blue Diamond® Almonds (V) (KA)
Beverage:
Domaine CARREL et Fils Eugène Jongieux Blanc
Cave De La Côte Rosé Gamay, Romand
René Favre Dôle, Chamoson
Frozen Rosé
Wine Flight also available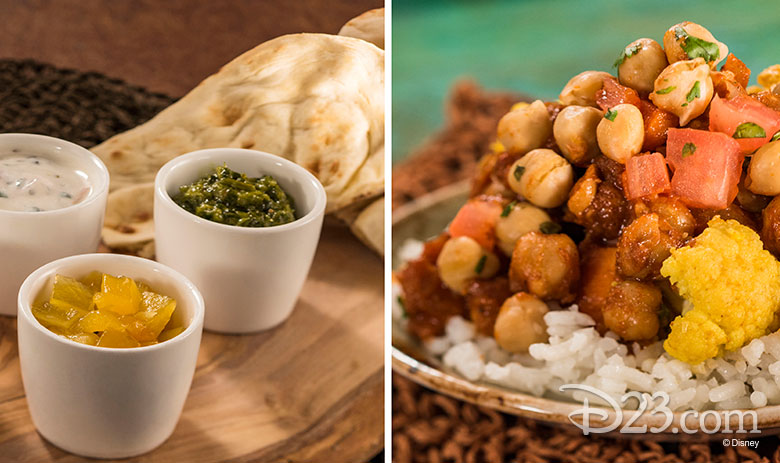 India (Located near the China pavilion)
Food:
Warm Indian Bread with Pickled Garlic, Mango Salsa, and Coriander Pesto Dips (V) (KA)
Madras Red Curry with Roasted Cauliflower, Baby Carrots, Chickpeas, and UNCLE BEN'S® Basmati Rice (V) (GF)
Korma Chicken with Cucumber Tomato Salad, Almonds, Cashews, and Warm Naan Bread
Beverage:
Mango Lassi (Non-Alcoholic) (KA)
Godfather Lager
Sula Chenin Blanc, Nashik
Sula Shiraz, Nashik
Mango Lassi with Sōmrus Chai Cream Liqueur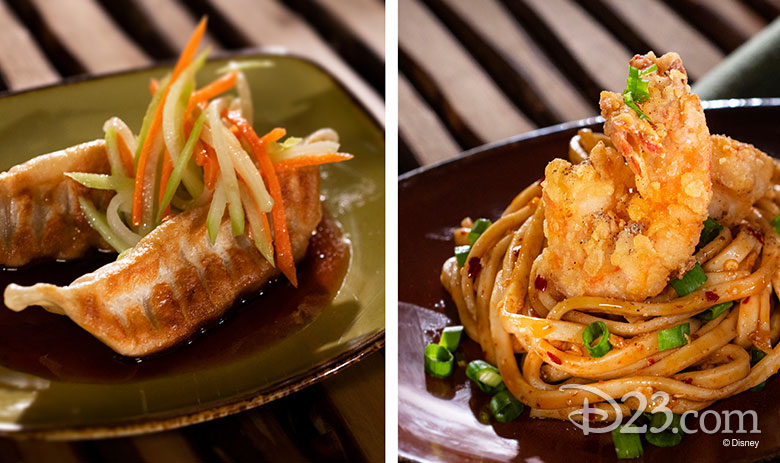 China (Located at the China pavilion)
Food:
Wuxi Spareribs
Chicken Dumplings with Chinese Slaw (KA)
Mala Chicken and Shrimp Bao Bun
Black Pepper Shrimp with Garlic Noodles
Beverage:
Mango Bubble Tea with Assam Black Tea and Milk (non-alcoholic)
Jasmine Draft Beer
Happy Peach: Peach Liqueur and Dark Rum
Kung Fu Punch: Vodka, Triple Sec, Mango Syrup and Orange Juice
Byejoe Punch: Chinese Bai Jiu Spirit, Lychee, Coconut and Pineapple Juice
Year of the Piggy: Light Rum, Triple Sec, Lychee Syrup, Lime Juice and Sprite®
Africa (Located near Refreshment Outpost)
Food:
Kenyan Coffee Barbecue Beef Tenderloin with Sweet Potato and Corn Mealie Pap and Kachumbari Slaw
Spicy Kenyan Vegan Githeri with White Beans, Pigeon Peas, Curry Rice Pilaf, and Kachumbari Slaw (V)
Piri Piri Skewered Shrimp with Citrus-scented Couscous
Beverage:
Tusker Lager
Cederberg Chenin Blanc, South Africa
Jam Jar Sweet Shiraz, Western Cape
Groot Constantia Pinotage, Constantia
Wine Flight also available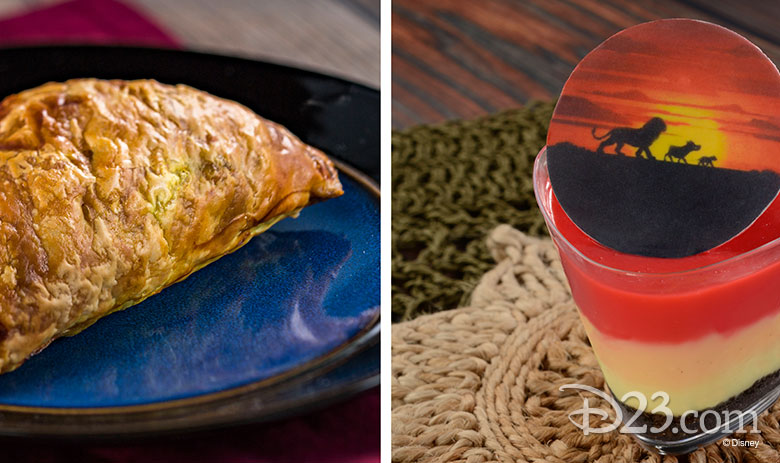 Refreshment Outpost (Located between the China and Germany pavilions)
Food:
Nigerian Meat Pie
No Worries Panna Cotta: Raspberry, Papaya, and Mango Panna Cotta with a Cookie Crumble Base topped with a Lion King White Chocolate (KA)
Beverage:
Savannah Smoothie: Coconut Milk, Agave, and Amarula Cream Liqueur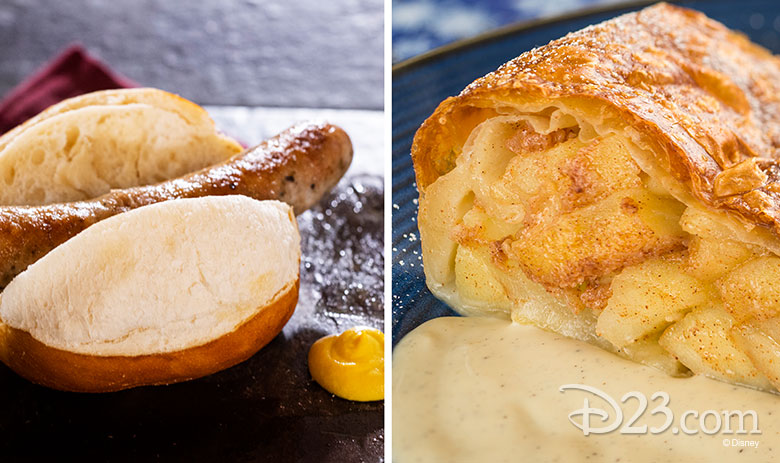 Germany (Located at the Germany pavilion)
Food:
Schinkennudeln: Pasta Gratin with Ham, Onions, and Cheese (KA)
Roast Bratwurst in a Prop & Peller® Pretzel Roll (KA)
Apple Strudel with Vanilla Sauce (V) (KA)
Beverage:
Weihenstephaner Festbier Lager, Freising
August Kesseler R Riesling Kabinett, Rheingau
J&H Selbach Bernkasteler Kurfürstlay Riesling Kabinett, Mosel
Selbach-Oster 2014 Zeltinger Sonnenuhr Riesling Spätlese, Mosel
Villa Wolf Pinot Noir, Pfalz
Riesling Flight also available
Brewer's Collection (Located at the Germany pavilion)
Beverage:
Weihenstephaner Festbier Lager, Freising
Hacker-Pschorr Hefe Weisse Naturtrüb
Schöfferhofer Hefeweizen Pomegranate Beer
Beer Flight also available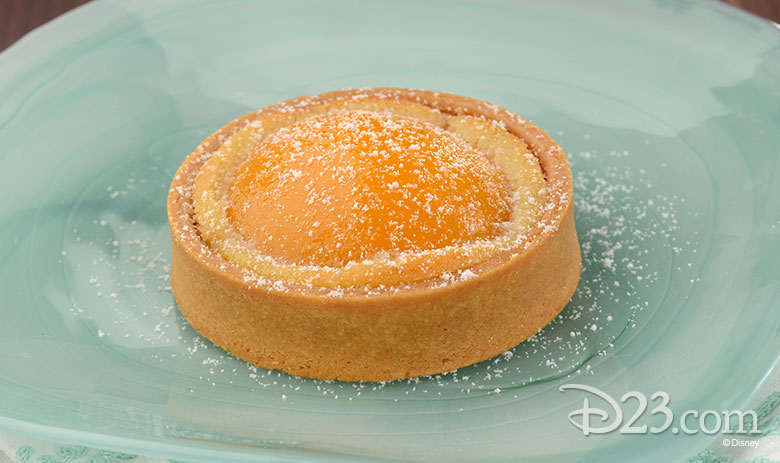 Sommerfest (Located at the Germany pavilion)
Food:
Frangipane Peach Tart (V) (KA)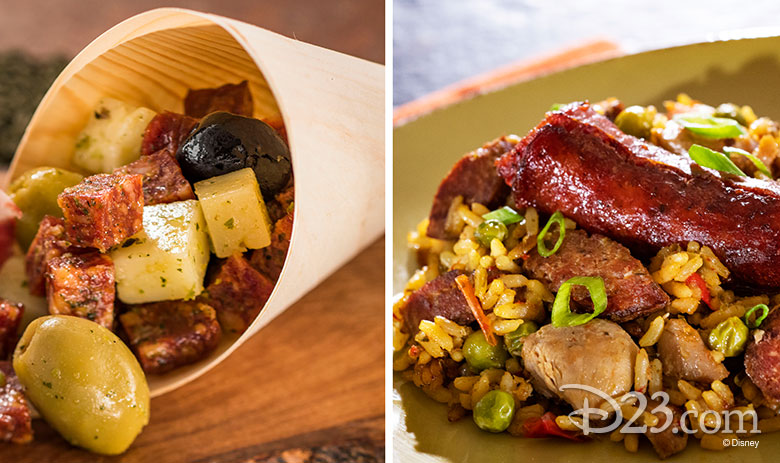 Spain (Located between the Germany and Italy pavilions)
Food:
Charcuterie in a Cone with a selection of imported Spanish Meats, Cheeses, and Olives with an Herb Vinaigrette
Spanish-style Paella with Botifarra and Roasted Chicken
Seafood Salad with Shrimp, Bay Scallops, Mussels, Extra Virgin Olive Oil, White Balsamic Vinegar, and Smoked Paprika (GF)
Beverage:
Lagar de Bouza Albariño, Rías Baixas
Casa Castillo Monastrell, Jumilla
Espelt Garnacha Old Vines, Catalonia
Wine Flight also available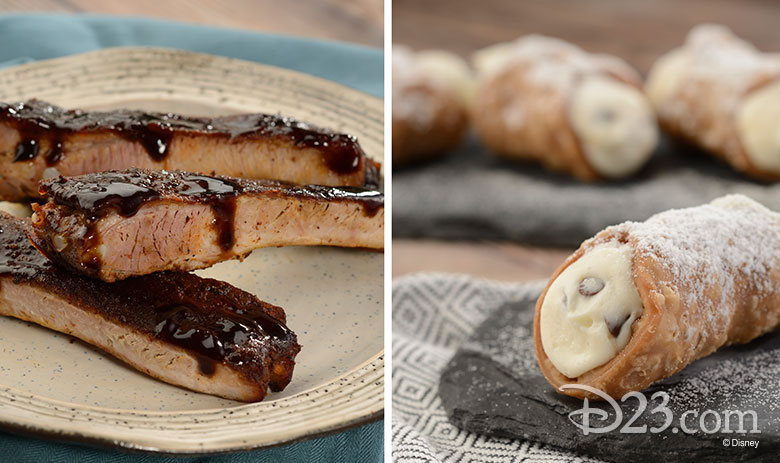 Italy (Located at the Italy pavilion)
Food:
Ravioli Carbonara: Parmesan and Pecorino Ravioli, Egg Yolk, Cream, and Bacon
Costine di Maiale: Balsamic-glazed and Oven-roasted Pork Ribs
Pollo: Crispy Chicken with Marinara Sauce (KA)
Traditional Sicilian Cannoli: Crisp Pastry filled with Sweet Ricotta, Chocolate, and Candied Orange
Chocolate-Hazelnut Cake: Vanilla Cake and Chocolate-Hazelnut Mascarpone Cream dipped in Chocolate (KA)
Beverage:
Peroni Nastro Azzurro Pilsner
Pinot Grigio, Santa Marina
Chianti, Gabbiano
Prosecco, Villa Sandi
Corbinello, Montegrande
Moscato Fior d'Arancio, Montegrande
Italian Margarita with Limoncello and Tequila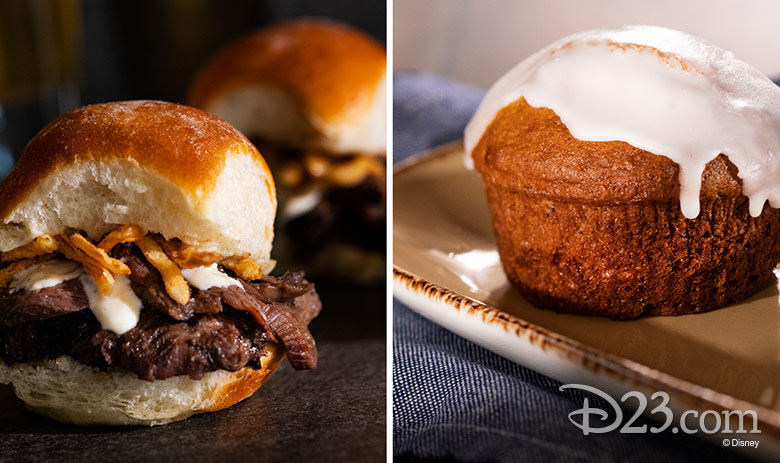 Hops & Barley (Located at The American Adventure)
Food:
New England Lobster Roll: Warm Lobster with fresh Herb Mayonnaise and Griddled Roll
New Brunswick Slider: Slow-braised Beef Brisket "Pot Roast-style" with Horseradish Cream and Crispy Fried Onions on a Potato Roll with Pickled Vegetables on the side
Freshly Baked Carrot Cake and Cream Cheese Icing (V) (KA)
Beverage:
North Coast Brewing Co. Blue Star Wheat, Fort Bragg, California
3 Daughters Brewing A Wake Coffee Blonde Ale, St. Petersburg, Florida
Heavy Seas AmeriCannon APA, Baltimore, Maryland
Angry Orchard Rosé Hard Cider, Walden, New York
Mer Soleil Reserve Chardonnay, Santa Lucia Highlands
Broadside Cabernet Sauvignon, Paso Robles
Beer Flight also available
Block & Hans (Located at The American Adventure)
Beverage:
Orlando Brewing Blonde Ale, Orlando, Florida
Goose Island 312 Dry Hopped Urban Wheat Ale, Chicago, Illinois
Lexington Brewing Company Kentucky Bourbon Barrel Ale, Lexington, Kentucky
Left Hand Brewing Milk Stout, Longmont, Colorado
Dogfish Head 60 Minute IPA, Milton, Delaware
McKenzie's Black Cherry Hard Cider, West Seneca, New York
Beer Flight also available
Fife & Drum (Located at The American Adventure)
Beverage:
Hanson Brothers Beer Company Mmmhops Pale Ale, Tulsa, Oklahoma
Funnel Cake (Located at The American Adventure)
Food:
Mini Funnel Cake topped with Vanilla Ice Cream and Mixed-berry Sangria Compote (V)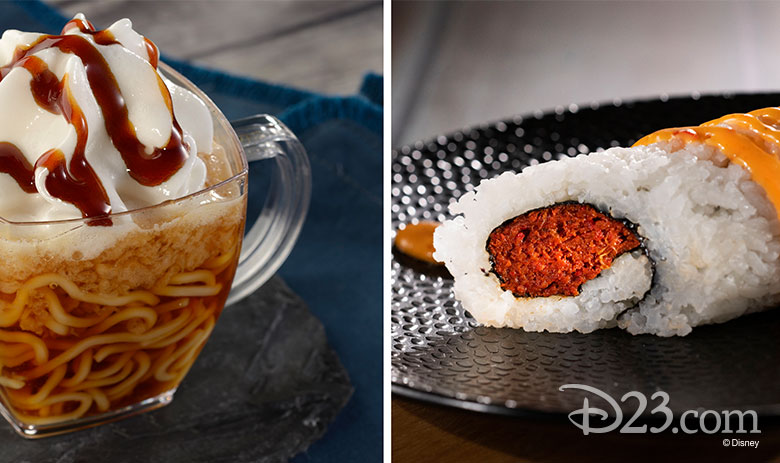 Japan (Located at the Japan pavilion)
Food:
Teriyaki Chicken Bun: Steamed Bun filled with Chicken, Vegetables, and a Sweet Teriyaki Sauce (KA)
Frothy Ramen: Chilled Noodles and Dashi Broth with a Light Foam topping
Spicy Roll: Spicy Tuna and Salmon Sushi Roll topped with Volcano Sauce
Beverage:
Kirin Draft Beer
Draft Sake
Nami Sake Cocktail: Sake, Gin and Blue Curacao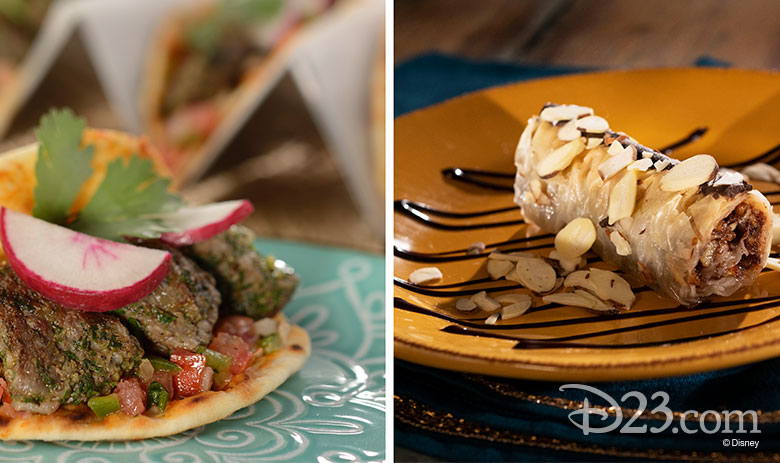 Morocco (Located at the Morocco pavilion)
Food:
NY Strip Steak Green Shermoula Flatbread with fresh Radish and Tomato Salsa
Spicy Hummus Fries with Cucumber, Tomatoes, Onions, Tzatziki, and Chipotle Sauce
Chocolate Baklava: Rolled Phyllo Dough with Toasted Almonds and Dark Chocolate Sauce
Beverage:
Casa Beer
Laroque Chardonnay, Carcassonne, Languedoc-Roussillon
Red Organic Sangria
Mimosa Royale: Sparkling Wine and Orange Juice topped with Orange Liqueur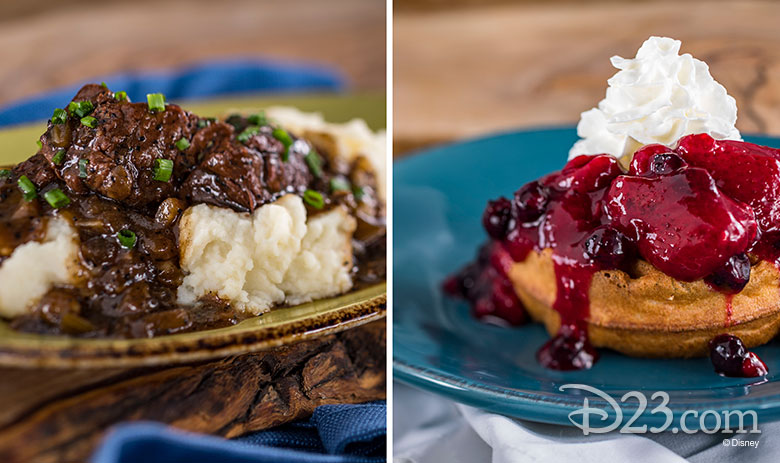 Belgium (Located between the Morocco and France pavilions)
Food:
Beer-braised Beef served with Smoked Gouda Mashed Potatoes
Golden Malted® Belgian Waffle with Warm Chocolate Ganache and Whipped Cream (V) (KA)
Golden Malted® Belgian Waffle with Berry Compote and Whipped Cream (V) (KA)
Beverage:
Leffe Blonde Belgian Pale Ale
Bernardus Witbier
Delirium Red Fruit Beer
Stella Artois Hard Cidre
Chilled Coffee featuring Godiva Chocolate Liqueur
Beer Flight also available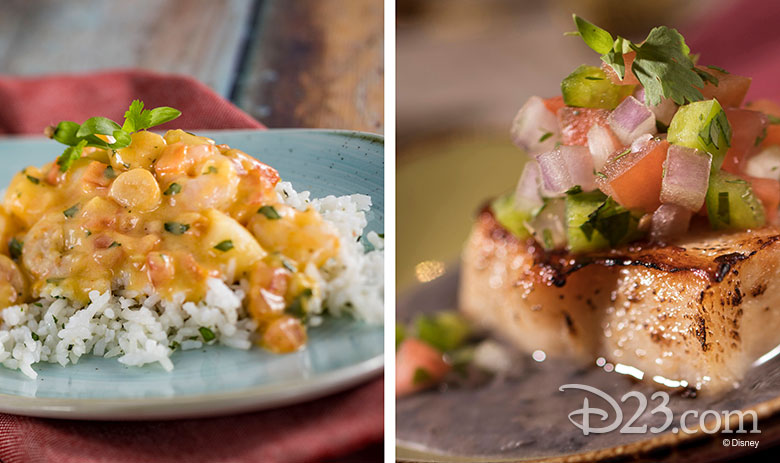 Brazil (Located between the Morocco and France pavilions)
Food:
Moqueca: Brazilian Seafood Stew featuring Scallops, Shrimp, and White Fish with Coconut-Lime Sauce and Steamed Rice
Crispy Pork Belly with Black Beans, Tomato, and Onions (GF)
Pão de Queijo: Brazilian Cheese Bread (GF) (V) (KA)
Beverage:
I.A. Beer Company Barbossa Black Beer, Doral, Florida
Quinta de Azevedo Vinho Verde, Portugal
Quinta do Crasto Douro Tinto, Portugal
Frozen Caipirinha featuring LeBlon Cachaça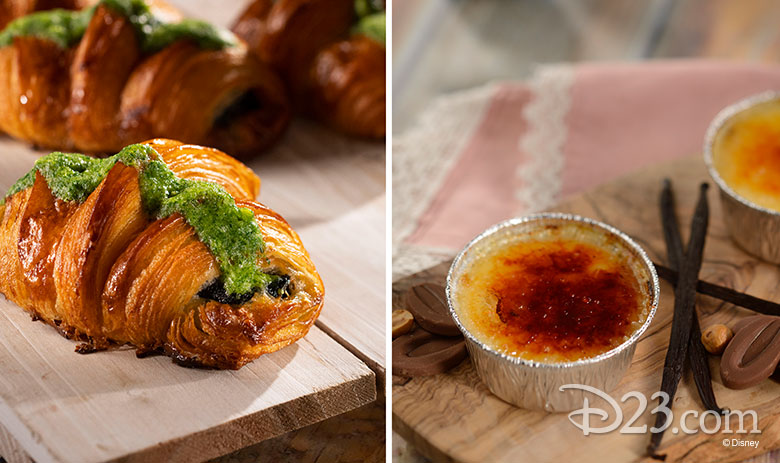 France (Located at the France pavilion)
Food:
Fondue Savoyarde: Fondue of Imported Cheeses and Chardonnay served with Croutons (V)
Croissant aux Escargots: Escargot Croissant with Garlic and Parsley
Boeuf Braisé à la Bordelaise, Pomme Dauphine: Beef Braised in Cabernet Sauvignon with Red Onions and Puffed Potatoes
Crème Brûlèe: Crème Brûlèe with House-made Chocolate Hazelnut Cream (V) (GF) (KA)
Beverage:
Kronenbourg 1664 Pale Lager Draft
Chardonnay, Maison de France
Cabernet Sauvignon, Village la Tourelle, Bordeaux
Kir à la Grenade: Sparkling Wine with Monin Pomegranate Syrup
La Passion Martini Slushy: Vodka, Grey Goose Le Citron, Cranberry, and Passion Fruit Juice
Evian Water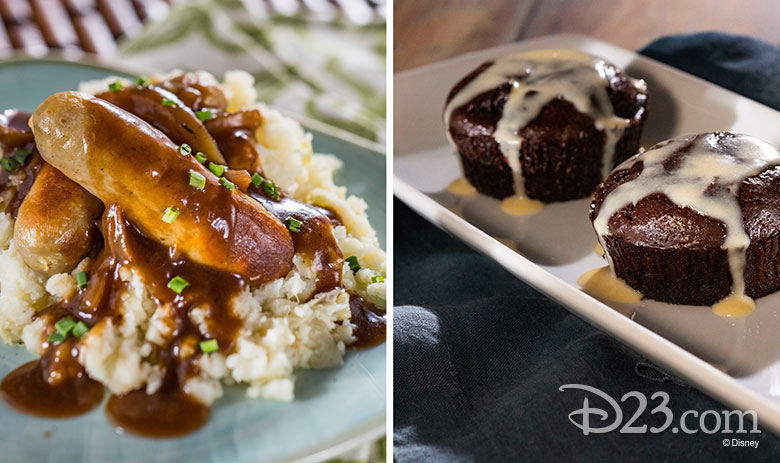 Ireland (Located at the U.K. pavilion)
Food:
Roasted Irish Sausage with Colcannon Potatoes and Onion Gravy
Warm Irish Cheddar and Stout Dip with Irish Brown Bread (V)
Warm Chocolate Pudding with Irish Cream Liqueur Custard (V)
Beverage:
Brehon Brewhouse Killanny Red Ale
Bunratty Meade Honey Wine
Guinness Baileys Shake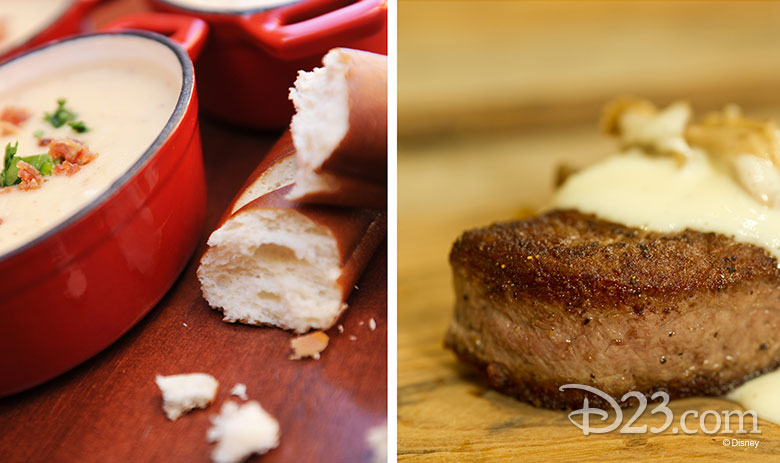 Canada (Located at the Canada pavilion)
Food:
Canadian Cheddar and Bacon Soup served with a Pretzel Roll
"Le Cellier" Wild Mushroom Beef Filet Mignon with Truffle-Butter Sauce (GF)
Beverage:
Collective Arts Brewing Saint of Circumstance Citrus Blonde, Hamilton, Ontario
Château des Charmes Vidal Icewine, Niagara-on-the-Lake
Château des Charmes Merlot, St. David's Bench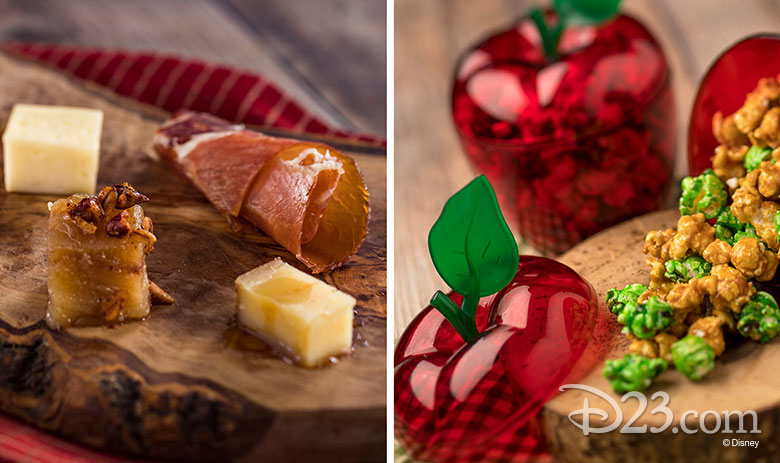 Appleseed Orchard Wine Bar (Located near Le Cellier Steakhouse)
Food:
Charcuterie and Cheese Plate featuring Burton's Maplewood Farm Applejack Brandy Barrel Aged Maple Syrup
Beverage:
Forge Cellars Dry Riesling Classique, Seneca Lake
Conundrum Red Blend, California
Amavi Cellars Syrah, Walla Walla Valley
tenshən Rhône Style White Blend, Central Coast
Lang & Reed Wine Company Cabernet Franc, North Coast
Frog's Leap Zinfandel, Napa Valley
Kurt Russell's Gogi Wines Pinot Noir, Santa Rita Hills
Wine Flights also available
Appleseed Orchard Cider Bar (Located near Le Cellier Steakhouse)
Food:
Caramel-Apple Popcorn (KA)
Beverage:
Frozen Apple Pie (non-alcoholic) (KA)
I.A. Beer Company Apple Trappe Belgian-Style Tripel Ale, Doral, Florida
Playalinda Brewing Co. Apple Pie Beer, Titusville, Florida
Sea Dog Brewing Co. Green Apple Ale, Clearwater, Florida
Ciderboys Lemon Cello Hard Cider, Stevens Point, Wisconsin
Collective Arts Brewing Cherry Apple Hard Cider, Hamilton, Ontario, Canada
Woodchuck Hard Cider Spiced Apple, Middlebury, Vermont
Apple Blossom Sky: Fanta® Apple, Ginger Beer, Floodwall Apple Brandy, Burton's Maplewood Farm Applejack Brandy Barrel Aged Syrup and Mini Marshmallows
Beer Flight also available
Cider Flight also available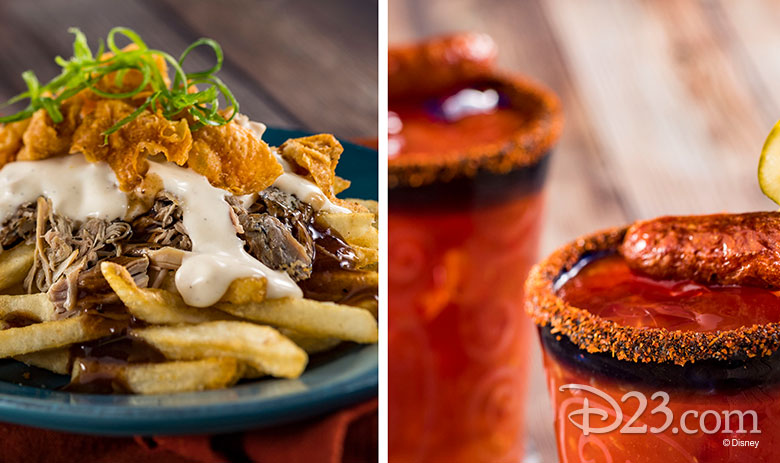 Refreshment Port (Located near the Canada pavilion)
Food:
Duck Confit Poutine with Fig Demi Sauce and Brie Cheese Fondue
DOLE Whip® Pineapple Soft-serve (V) (KA)
Beverage:
DOLE Whip® Pineapple Soft-serve with Bacardi Coconut Rum
Dragon Berry Refresher featuring Bacardi Dragon Berry Rum
Barbecue Bloody Mary with Smoked Garlic Sausage and House-made Pickle Skewer served with a Mustard and Barbecue Rub Rim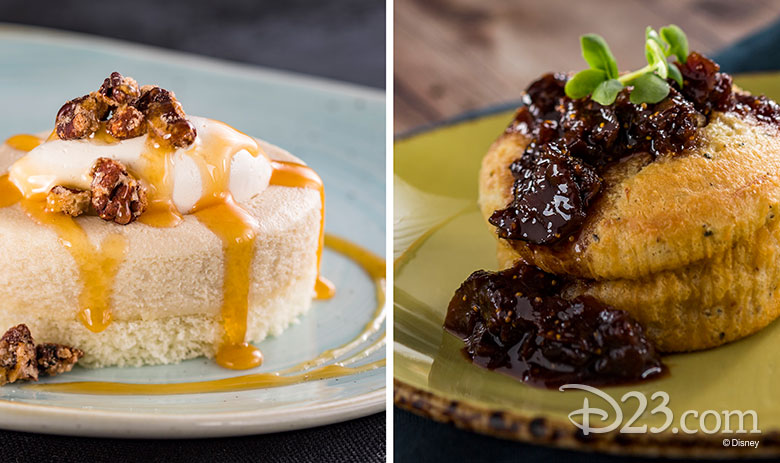 The Cheese Studio Hosted by Boursin® Cheese (Located at Future World West)
Food:
Braised Beef "Stroganoff" with Tiny Egg Noodles, Wild Mushrooms, and Boursin® Garlic and Fine Herbs Cheese Sauce (KA)
Black Pepper Boursin® Soufflé with Fig Marmalade (V)
Maple Bourbon Cheesecake with Maple Bourbon Cream, Caramel, and Pecan Crunch (V)
Beverage:
Florida Orange Groves Winery Sparkling Blueberry Wine, St. Petersburg, Florida
La Crema Pinot Gris, Monterey
Domaine Saint André de Figuière Rosé, Côtes de Provence
Alta Vista Estate Malbec, Mendoza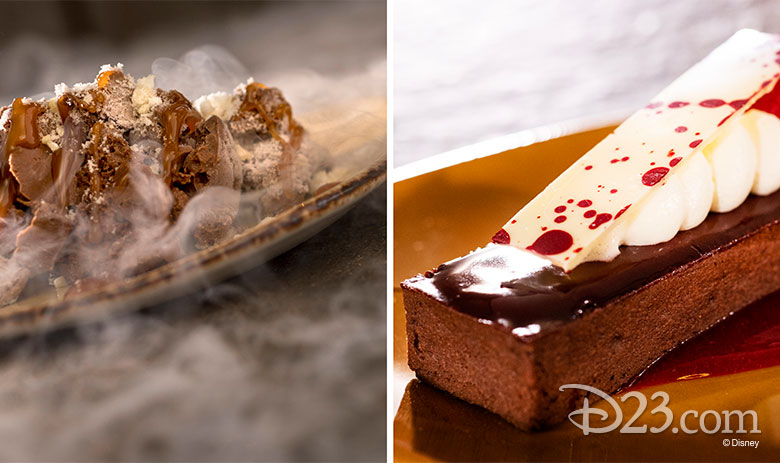 The Chocolate Studio (Located at Future World West)
Food:
Liquid Nitro Chocolate-Almond Truffle with Warm Whiskey-Caramel (GF)
Dark Chocolate Raspberry Tart with Whipped Cream (KA)
Beverage:
Twinings® Pumpkin Spice Chai Tea and Chocolate Shake (non-alcoholic) (KA)
Banfi Rosa Regale Sparkling Red, Piedmont
Daou Vineyards Cabernet Sauvignon, Paso Robles
Croft Fine Ruby Port, Portugal
Twinings® Pumpkin Spice Chai Tea Frozen Cocktail with Caramel Vodka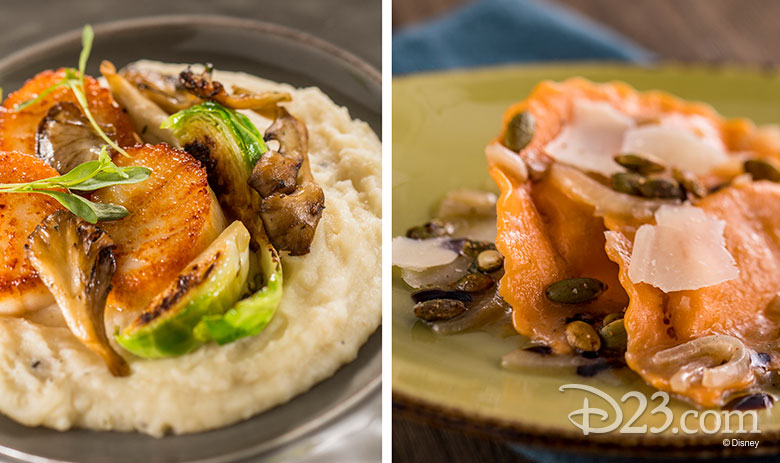 The Wine & Dine Studio (Located at Future World West)
Food:
Seared Scallops, Truffled Celery Root Purée, Brussels Sprouts, and Wild Mushrooms
Butternut Squash Ravioli with Brown Butter Vinaigrette, Parmesan, and Pumpkin Seeds (V) (KA)
Trio of Artisan Cheese (V)
Gorgonzola with Cow and Sheep's Milk
Artigiano Aged Balsamic & Cipolline Onion
Italico
Artist Palette of Wine and Cheese: Trio of Artisan Cheese paired with Reata Chardonnay, Rainstorm Silver Linings Pinot Noir Rosé, and Spellbound Petite Sirah
Beverage:
Reata Chardonnay, Sonoma Coast
Rainstorm Silver Linings Pinot Noir Rosé, Oregon
Spellbound Petite Sirah, California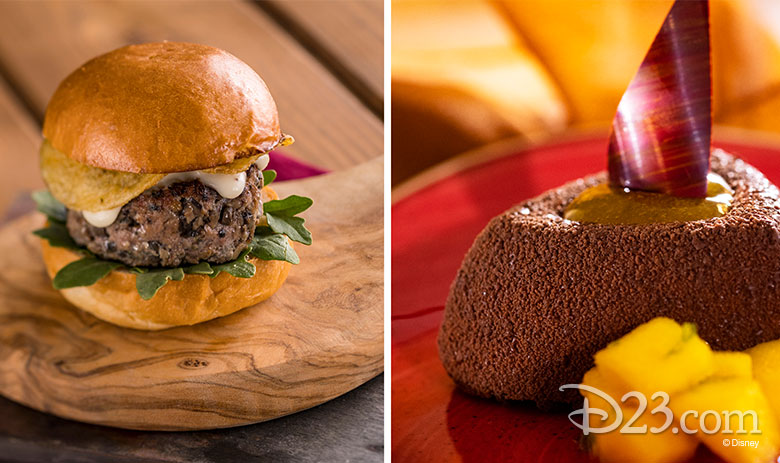 Flavors from Fire Hosted by ESPN's College GameDay (Located at Future World West)
Food:
The Steakhouse Blended Burger: Blended Beef and Mushroom Slider with Brie Cheese Fondue, Arugula, and a Truffle and Blue Cheese Potato Chip on a Brioche Bun
Smoked Corned Beef with Crispy Potatoes, Cheese Curds, Pickled Onions, and Beer-Cheese Fondue
Charred Chimichurri Skirt Steak on a Smoked Corn Cake with Pickled Vegetable Slaw and Cilantro Aïoli
Chocolate Picante: Dark Chocolate Mousse with Cayenne Pepper, Paprika, and Mango-Lime Compote
Beverage:
Bell's Brewery Porter, Comstock, Michigan
Edmeades Zinfandel, Mendocino County
Swine Brine featuring Jim Beam Bourbon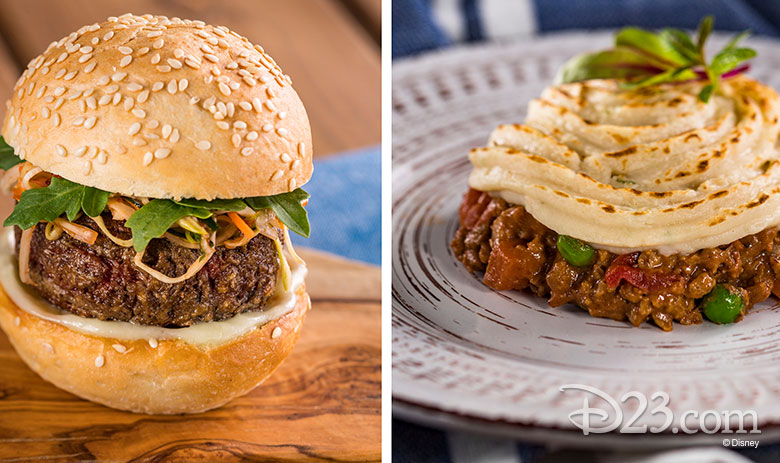 Earth Eats Hosted by Impossible™ Foods (Located at Future World West)
Food:
The Impossible™ Burger Slider with Wasabi Cream and spicy Asian Slaw on a Sesame Seed Bun (V)
Impossible™ Cottage Pie: IMPOSSIBLE™ Ground Meat with Carrots, Mushrooms, and Peas topped with Mashed Cauliflower, White Beans, and Mozzarella (V)
Beverage:
suja® organic kombucha green apple
suja® organic kombucha pineapple passionfruit
suja® organic kombucha mixed berry
suja® organic kombucha Flight also available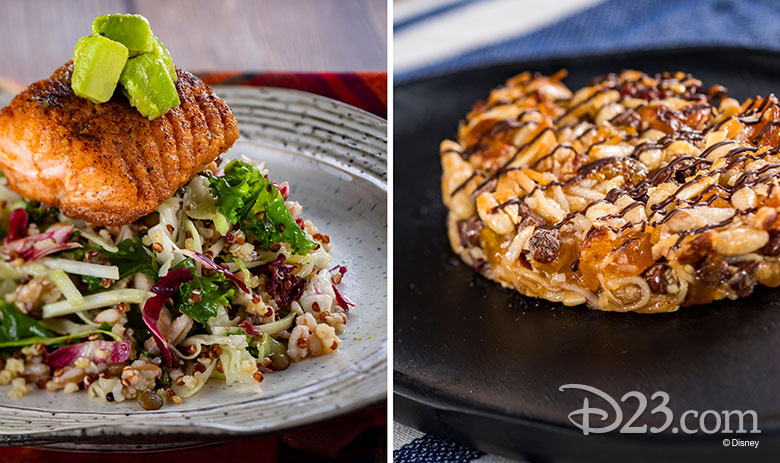 Active Eats (Located at Future World West)
Food:
Loaded Macaroni & Cheese with Nueske's® Pepper Bacon, Cheddar, and Leeks (KA)
Spice-crusted Verlasso® Salmon with UNCLE BEN'S® Quinoa & Ancient Grains Medley, Crushed Avocado, and Sherry Vinegar (GF)
Fruit and Nut Energy Snack: House-made mixture of Apricots, Almonds, Pecans, Coconut, Puffed Rice, and Chocolate Chips (V) (GF) (KA)
Beverage:
I.A. Beer Company HRD WTR Key Lime Hard Sparkling Water, Doral, Florida
L'Ecole No. 41 Chenin Blanc Old Vines, Columbia Valley, Washington
Evolution by Sokol Blosser Pinot Noir, Willamette Valley, Oregon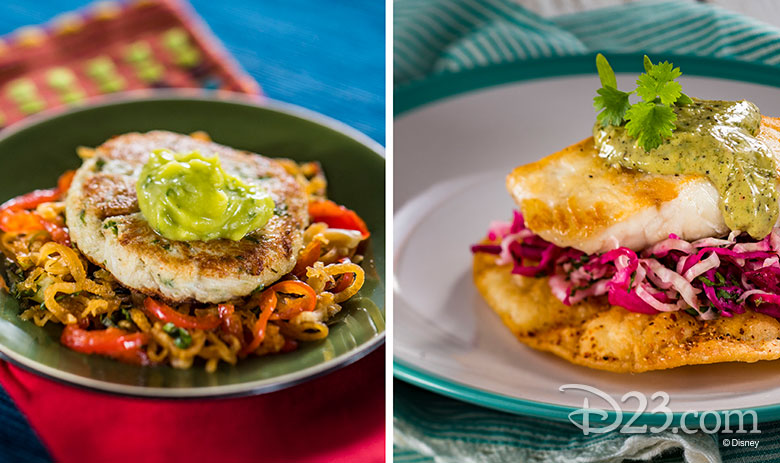 Coastal Eats (Located at Future World West)
Food:
Lump Crab Cake with Napa Cabbage Slaw and Avocado-Lemongrass Cream
Baked Shrimp and Scallop Scampi Dip with Sourdough Baguette
Pacifico True Striped Bass Tostada with Slaw and Fire-roasted Tomatillo Sauce
Beverage:
Short's Brewing Co. Mule Beer, Elk Rapids, Michigan
A to Z Wineworks Pinot Gris, Oregon
ROCO Gravel Road Pinot Noir, Willamette Valley, Oregon
The Chocolate Experience: From Bean to the Bar Hosted by GHIRARDELLI®
Chocolate Company (Located near the Land pavilion)
Beverage:
GHIRARDELLI® Drinking Chocolate (non-alcoholic)
Banfi Rosa Regale Sparkling Red, Piedmont
Sunshine Seasons (Located inside the Land pavilion)
Food:
Vanilla Gelato Sundae with GHIRARDELLI® Hot Fudge or Caramel Drizzle, Whipped Cream and Sprinkles (KA)
Joffrey's Coffee & Tea Co. (Located throughout the park)
Beverage:
Future World East:
Açaí Surprise: Frozen Wild Berry and Açaí with Grey Goose Vodka
Canada:
Citrus Sunrise: Frozen Orange and Pineapple Juice with Grand Marnier
Nitro Cold Brew
America:
Whisky Adventure: Frozen Lemon and Fireball Cinnamon Whisky
Odyssey:
Chai-quila: Iced Chai Tea with Avion Espresso Tequila
Get Face Time with Your Favorite Foodies
Throughout the festival, Epcot will roll out the red carpet for gourmet VIPS. Check the schedule to find out when you can meet world-renowned chefs and personalities such as Aarti Sequeira, Alex Seidel, Allen Susser, Andrea Robinson, Andrew Zimmern, Anthony Lamas, Ashley Coggins, Jessica Tantalo, Bob Getchell, Brad Farmerie, Brad Kilgore, Brian O'He, Bronwen Weber, Bryan Voltaggio, Buddy Valastro, Carla Hall, Cat Cora, Celina Tio, Claudia Sandoval, Clay Conley, Dan Pashman, Dana Herbert, David Burtka, David Gremmels, David Guas, Derek Paradise, Emily Ellyn, Erika Cline, Erin Hedley, Fabio Viviani, Graham Elliot, Gus Herman, Huda Mu'min, Jamie Deen, Jamie Simpson, Jason Goodenough, Jehangir Mehta, Jennifer Bushman, Jennifer Denlinger, Jennifer Hill Booker, Jeremy Ford, Jet Tila, Jill Ramsier, Jose Camey, Joe Murphy, John Robinson, Justin Wangler, Kate Jacoby, Keegan Gerhard, Kenny Gilbert, Lisa Wilk, Maneet Chauhan, Masaharu Morimoto, Matt Lewis, Max McCalman, Mette Dahlgaard Jensen, Michael Tiva, Mike Kravanis, Pam Smith, Patrick Steele, Paula DaSilva, Piero Premoli, Rabii Saber, Rich Landau, Richard Blais, Richard Capizzi, Rick Bayless, Robert Irvine, Rock Harper, Ron Rupert, Ryan Vargas, Sarah Fioroni, Scott Paul, Shanna O'Hea, Shaun O'Neale, Steven Meese, Tonda Corrente, and Tony Mantuano.
Guests can also meet Walt Disney World chefs Aaron Brown, Alex Vacher, Alicia Sherrill, Ally Parisi, Angie Chung, Andrew Turner, Andy Larkin, Bayron Sagastume, Brad Scholten, Brian McLaughlin, Brian Merritt, Candie Stone, Christine Weissman, Courtney Slack, Crystal Saunders, Damon Lauder, Daniel Rogers, Daniel Sicilia, Danny Ginther, David Nguyen, David Njoroge, Dee Foundoukis, Denny Roach, Douglas Cox, Edson Cetoute, Emily Peksun, Ernesto Zendejas, Ernie Haverkorn, Faithy Harris-Dowdell, Glenn O'Brien, Jarrod Pearman, Jason Stricker, Jeffrey Bliss, Jerry Helminksi, Jessi Sudsa-nguan, John Clark, John Prieto, Julia Thrash, Katie Gross, Ken Kamimura, Kevin Chong, Kevin Downing, Kimi Holt, Lori Tiritilli, Marco Chaves, Matt Avery, Meredith O'Connor, Michael Craig, Nanor Harboyan, Nicholas Crispino, Nick Martin, Nikkolas Burton, Noah French, Olivier Saintemarie, Oscar Estrada Cardona, Phoolsuk Duffy, Renzo Barcatta, Rob Alvarado, Rob McNeelege, Roberto Rivera Otero, Ronald Haubner, Samad Benzari, Sean Miller, Shangao Xu, Stephie Permuy, Steven Rivera, Tjetjep Sudiswa, Tony Marotta, Tyler Schmitt, Valarie Enters, Vincenzo Vaccaro, and Yoly Lazo Colon. Guests can also meet chefs Ryan Blanchard and Carolyn Portuondo from Aulani, a Disney Resort & Spa; chefs Sum Law and Danny Leung from Hong Kong Disneyland; chef Gerald Vaux from Disneyland Paris; chef Jean-Marc Viallet from Disneyland Resort; and chefs John Ni and Tony Wang from Disney Shanghai Resort.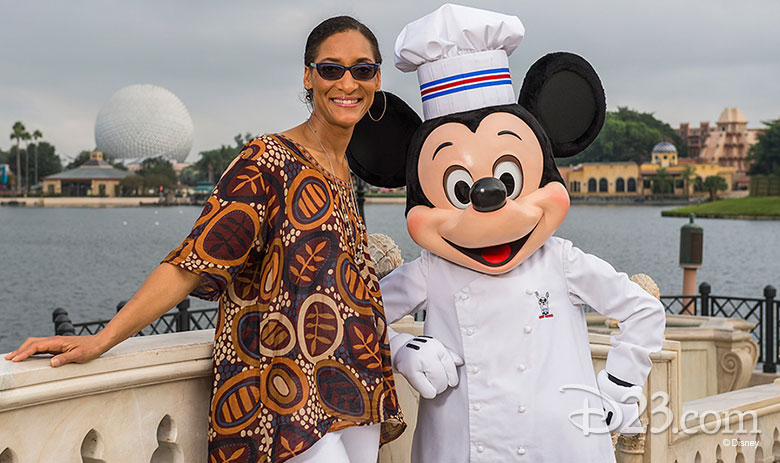 On select Sundays between 11:30 a.m. and 1:30 p.m., for $139 per guest, plus tax (gratuity included), you can enjoy a brunch, a Q&A, and a meet and greet with a celebrity chef at World ShowPlace Events Pavilion. Dates and special guests include:
September 1: Jamie Deen
September 8: Carla Hall
September 15: Fabio Viviani
September 22: Richard Blais
September 29: Robert Irvine
October 6: Buddy Valastro
October 13: David Burtka
October 20: Andrew Zimmern
October 27: Cat Cora
November 10: Graham Elliot
November 17: Aarti Sequeria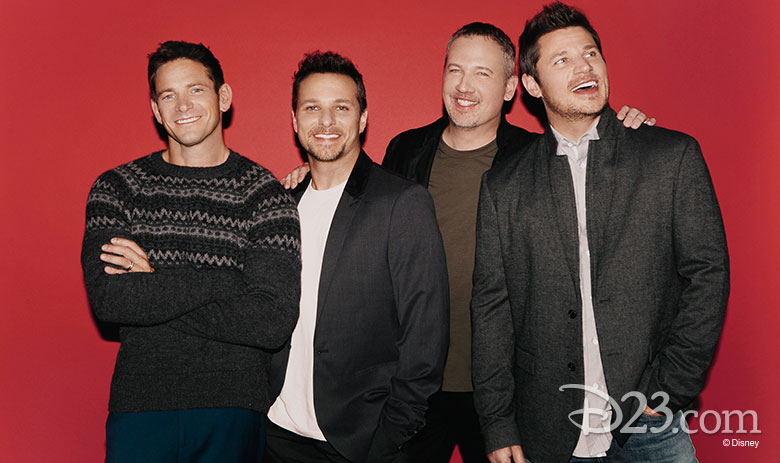 Feel the Beat—While You Eat!
Every day, you can enjoy the sounds of the popular Eat to the Beat Concert Series at America Gardens Theatre at World Showcase. Showtimes from Sunday through Thursday are 5:30 p.m., 6:45 p.m., and 8 p.m., while showtimes on Fridays and Saturdays are 6:30 p.m., 7:45 p.m., and 9 p.m. Dates and performers are listed below:
August 29–31: Plain White T's
September 1–2: Sawyer Brown
September 3–4: MercyMe
September 5–6: Grace Kelly
September 7–8: Zach Williams
September 9–10: Lauren Daigle
September 11–12: Jimmie Allen
September 13–15: Tiffany
September 16–17: Smash Mouth
September 18–19: Everclear
September 20–22: STARSHIP featuring Mickey Thomas
September 23–24: Postmodern Jukebox
September 25–26: Blue October
September 27–29: Mark Wills
September 30–October 2: Sugar Ray
October 3–4: Taylor Dayne
October 5–6: INDIA
October 7–9: 98°
October 10–11: Boyce Avenue
October 12–13: Southern Avenue
October 14–15: Kenny G
October 16–17: 38 Special
October 18–20: Baha Men
October 21–22: Billy Ocean
October 23–25: Sheila E.
October 26–27: High Valley
October 28–30: Hanson
October 31–November 1: Sheena Easton
November 2–3: Kris Allen
November 4–6: Boyz II Men
November 7–8: The Hooters
November 9–11: Big Bad Voodoo Daddy
November 12–14: Joey Fatone and Friends, feat. Chris Kirkpatrick and Ryan Cabrera
November 15–16: BBMak
November 17–18: Spanish Harlem Orchestra
November 19: DCappella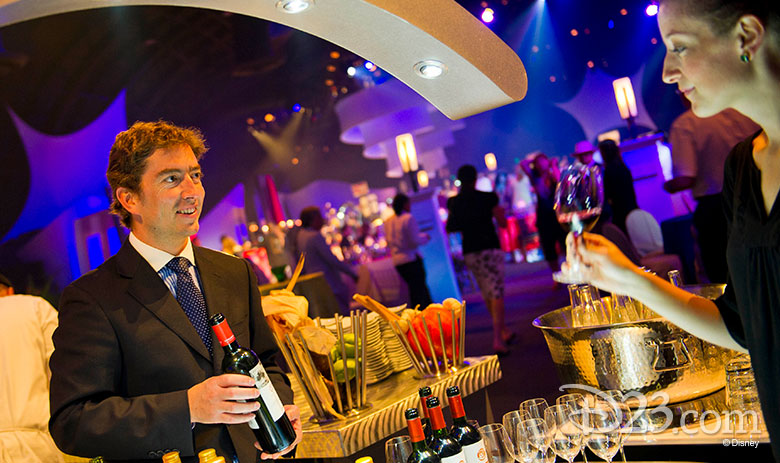 Learn From the Masters
The World ShowPlace Events Pavilion will host a series of demonstrations and experiences. On select Mondays and Thursdays at 12 p.m., chefs and beverage experts will teach hands-on culinary lessons ($45 per guest, plus tax). Each 75-minute guided, interactive experience will offer a multi-sensory smorgasbord, from whipping up sweet treats and savory snacks to sampling cocktails, spirits, and wines. For $19 per guest, plus tax, on select Sundays, Mondays, Thursdays, Fridays, and Saturdays at 4:30 p.m., you can sample adult beverages at a 45-minute seminar, where sommeliers, cicerones, and other beverage experts will share their tips and tricks. For $29 per guest, plus tax, on Sundays, Mondays, Thursdays, Fridays, and Saturdays at 2:30 p.m., you can learn the fundamentals of food and beverage pairings from a notable chef. And for $19 per guest, plus tax, on select Fridays and Saturdays at 12:30 p.m., chefs will impart years of kitchen wisdom while cooking up a special delicious dish in a 45-minute demonstration, helping you sharpen your skillset as you also savor the exquisite flavors.
Guests of all ages can learn how to roll sushi-inspired confectionary creations with a real Disney chef at Sunshine Seasons at the Land pavilion. Offered daily between 3:30 and 5:30 p.m., for just $10 per guest, this family-friendly culinary workshop will teach guests how to transform their favorite sweet treats into masterful maki- or nigari-style rolls by replacing traditional sushi ingredients with gummies, fun strips, and crisped rice!
Want to feel like the big cheese? Then don't miss the chance to ripen your cheese acumen in one of seven seminars! Dates, seminar themes, and hosts are listed below:
September 14: New World Cheeses and Old World Wines, hosted by Max McCalman
September 28: Mediterranean Cheeses and Wines, hosted by Tonda Corrente
October 5: Great British Cheeses and Ales, hosted by Max McCalman
October 12: Italian Cheeses and Wines, hosted by Erin Hedley
October 19: French Cheeses and Wines, hosted by Max McCalman
October 26: The Great Cheeses and Wines of the Western United States, hosted by David Gremmels
November 9: Season's Best Cheeses and Wines, hosted by Max McCalman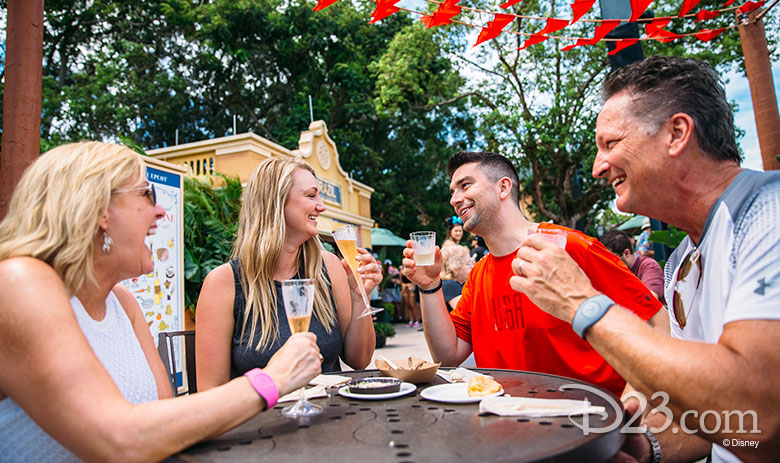 Get Your Gameday Grub On
Enjoy a tailgate tasting, hosted by ESPN's Monday Night Football, at World ShowPlace Events Pavilion, every Sunday from September 8 through November 17. During this 45-minute program, enjoy a flight of three sample-sized food items and a complementary beverage tasting, inspired by the cities playing in the Monday night game each week. You'll even get to learn how to make these dishes at home. Dates and games include:
September 8: Denver Broncos vs. Oakland Raiders
September 15: Cleveland Browns vs. New York Jets
September 22: Chicago Bears vs. Washington Redskins
September 29: Cincinnati Bengals vs. Pittsburgh Steelers
October 6: Cleveland Browns vs. San Francisco 49ers
October 13: Detroit Lions vs. Green Bay Packers
October 20: New England Patriots vs. New York Jets
October 27: Miami Dolphins vs. Pittsburgh Steelers
November 3: Dallas Cowboys vs. New York Giants
November 10: Seattle Seahawks vs San Francisco 49ers
November 17: Kansas City Chiefs vs. Los Angeles Chargers
Dine and Dash (and Dine Again)
From October 31–November 3, RunDisney will host its annual Disney Wine & Dine Half Marathon Weekend, presenting everything from a Disney Fall Feast 5K to a Disney Two Course Meal Challenge. Enjoy a cornucopia of Disney entertainment at the races, then celebrate with an after-hours Post-Race Party—exclusively for runners and their guests!