By Courtney Potter
Dwayne Johnson and Emily Blunt go on a not-so-little expedition, and High School Musical: The Musical: The Series gets a sneak-peek simulcast… Read more, along with other news from around Disney, in this week's news briefs!
It's Here: Jungle Cruise Debuts its Brand-New, First-Look Trailer!
It was a truly glorious morning, for we were gifted with the very first official trailer for Disney's Jungle Cruise, starring Dwayne Johnson and Emily Blunt! For a first (or perhaps 81st) viewing, click on the clip above…
Inspired by the famous Disneyland theme park ride, Jungle Cruise is an adventure-filled, Amazon-jungle expedition starring Johnson as a charismatic riverboat captain and Blunt as a determined explorer on a research mission. The film also stars Edgar Ramirez and Jack Whitehall, with Jesse Plemons and Paul Giamatti.
Directed by Jaume Collet-Serra; produced by John Davis, John Fox, Dwayne Johnson, Hiram Garcia, Dany Garcia, and Beau Flynn; and executive produced by Doug Merrifield, Jungle Cruise sails into U.S. theaters on July 24, 2020.
Save the Date!
Be sure to mark these upcoming Disney events on your calendar:
D23 and Walt Disney Archives
October 13, 2019
D23 Heads to the Hollow
October 14, 2019
Be Among the First to See Disney's Maleficent: Mistress of Evil!


October 21, 2019


The Official Walt Disney Studios Tour—Presented by D23
October 21, 2019
D23's Sip & Stroll at Epcot


October 29, 2019


D23's Mostly Ghostly Halloween on The Walt Disney Studios Lot


November 14, 2019


D23's Behind-the-Scenes Experiences: A Day at the Studio Lot


January 17, 2020


Get VIP Tickets to Disney's Frozen The Hit Broadway Musical


January 31, 2020


Disney's Aladdin the Hit Broadway Musical VIP Tickets


August 9, 2020


Adventures by Disney Rhine River Cruise Presented by D23
Parks
August 16, 20, 23, 27, 30;
September 2, 6, 8, 10, 13, 15, 17, 20, 22, 24, 27, 29; October 1, 3, 4, 6, 8, 10, 11, 14, 15, 17, 18, 20, 21, 24, 25, 27, 29, 31;
November 1, 2019


Mickey's Not-So-Scary Halloween Party at Magic Kingdom park


August 29—November 23, 2019
2019 Epcot International Food & Wine Festival
September 17, 19, 22, 24, 26, 29, 2019;
October 1, 3, 6, 8, 10, 13, 15, 17, 20, 22, 24, 27, 29, 31, 2019


Oogie Boogie Bash – A Disney Halloween Party at Disney California Adventure park


November 8, 11, 12, 14, 15, 17, 19, 21, 22, 24;


December 1, 3, 5, 6, 8, 10, 12, 13, 15, 17, 19, 20, 22, 2019


Mickey's Very Merry Christmas Party at Magic Kingdom park
November 29—December 30, 2019
2019 Epcot International Festival of the Holidays
December 5, 2019
Star Wars: Rise of the Resistance opens at Disney's Hollywood Studios
January 17, 2020
Star Wars: Rise of the Resistance opens at Disneyland park


March 4

—

June 1, 2020
Epcot International Flower & Garden Festival at Walt Disney World Resort



Studios




October 18, 2019


Maleficent: Mistress of Evil opens in U.S. theaters


November 22, 2019


Frozen 2 opens in U.S. theaters


December 20, 2019


Star Wars: The Rise of Skywalker opens in U.S. theaters


March 6, 2020


Onward opens in U.S. theaters


March 27, 2020


Mulan opens in U.S. theaters


May 29, 2020


Artemis Fowl

opens in U.S. theaters




Television


October 1-31, 2019
Freeform's 31 Nights of Halloween
November 5, 2019
ABC airs The Wonderful Word of Disney Presents The Little Mermaid Live! (8—10 p.m. EST)
November 8, 2019
High School Musical: The Series airs on ABC, Disney Channel, and Freeform (8 p.m. EST)
November 8, 2019
The Rocketeer premieres on Disney Channel (11 a.m. EDT), Disney Junior (5 p.m. EDT), and DisneyNOW
November 16, 2019
Big City Greens Kicks Off Season Two on Disney Channel (9:30 a.m. EST/PST)
Sneak Peek at Disney+'s High School Musical: The Musical: The Series
In just a matter of weeks, we'll get to meet the newest crop of Wildcats when Disney+'s High School Musical: The Musical: The Series debuts… Hear from the show's cast and producers about what's in store—for original High School Musical fans and new viewers alike—in the brand-new sneak peek, above.
But that's not all: If you were hoping to see an episode of the show a little early, those prayers have been answered! On Friday, November 8, at 8 p.m. EST, our pals over at ABC, Freeform, and Disney Channel will air a special telecast of the series' premiere episode. Mark those calendars, because trust us—you do not want to miss the tuneful, heartfelt hilarity.
Starring a multitalented cast, High School Musical: The Musical: The Series follows a group of drama students and faculty members at East High, the Utah high school where the original High School Musical was filmed. Over the course of 10 episodes, these characters count down from auditions to opening night of their school's first-ever production of High School Musical: The Musical. Budding romances bloom, faltering friendships flare up, and harsh rivalries explode as the group experiences the truly transformative power that only high school theater can provide.
High School Musical: The Musical: The Series premieres on Disney+ when the streaming services launches November 12!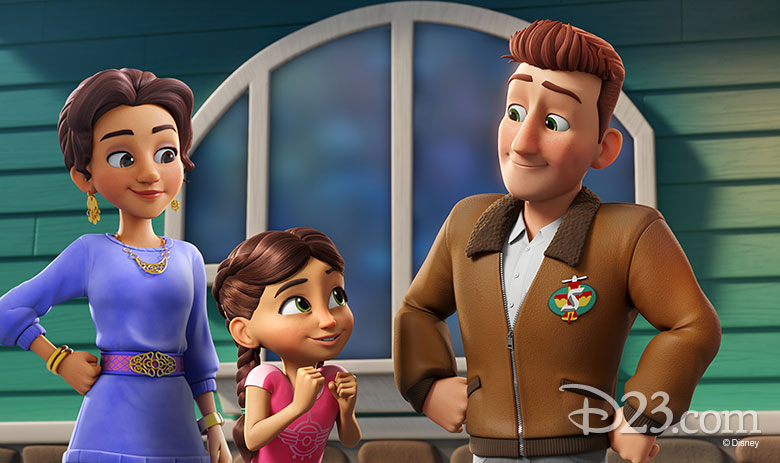 Disney Junior's The Rocketeer Announces Premiere Date
If you read D23.com with any regularity, you know we have a soft spot for Disney's 1991 action-adventure The Rocketeer. (Read up on star Billy Campbell's memories from the making of the film right here.) So it should come as no surprise that we're ridiculously excited for Disney Junior's new animated series based on the fan-favorite film. And as of this week, we have a premiere date!
The Rocketeer—a brand-new, comedic adventure series—follows a young girl named Kit Secord, who takes to the skies to protect her community after becoming the surprise recipient of a rocket-pack that gives her the incredible ability to fly… and it'll debut on Friday, November 8, on Disney Channel (11 a.m. EDT), Disney Junior (5 p.m. EDT), and DisneyNOW. Inspired by Dave Stevens' beloved superhero comic books, and the Walt Disney Pictures feature film, the series features the voices of Kitana Turnbull (A Series of Unfortunate Events) as Kit, and Kathy Najimy (Hocus Pocus) and original Rocketeer star Campbell as her parents, Sareena and Dave Secord.
Set in the idyllic small town of Hughesville, each episode of The Rocketeer is made up of two 11-minute stories that follow Kit as she embarks on a high-flying adventure to help save her community and its residents from (suitably hilarious) trouble. As with most superheroes, Kit has a team to help her pull off her heroic adventures and keep her identity hidden from the masses. Her best friend Tesh (voice of Callan Farris, Gabby Duran & the Unsittables) serves as Ground Control when Kit takes to the skies, and is also the inventor of the hi-tech gadgets and upgrades for her rocket-pack… and her grandfather, Ambrose Secord (voice of Frank Welker), works at the Hughesville Airport and serves as her mechanic. Upcoming guest stars include Marlo Thomas (That Girl), Annie Potts (Toy Story 4), D'Arcy Carden (The Good Place), Phylicia Rashad (Disney and Pixar's upcoming Soul), and many more.
Don't miss your chance to meet Kit this November!
A New Onward Trailer, and it's Chris Pratt- & Tom Holland-Approved!
We wholeheartedly enjoy Chris Pratt and Tom Holland; honestly, we'd watch them reading a deli menu if it came down to it. Luckily, it hasn't; not only can we look forward to them starring together in Disney and Pixar's Onward, but we were also—just this week—gifted with a hilarious video of the pair watching the latest Onward trailer for the very first time. See their reaction (and check out the trailer, if you haven't already) by clicking here.
New Pixar-Themed Alaska Airlines Plane Goes to Friendship and Beyond
Taking to the skies is getting a whole lot friendlier… In tribute to Pixar Pier at Disney California Adventure park, Alaska Airlines just revealed a special-edition plane appropriately named "Friendship and Beyond at Disneyland Resort"! Take a gander at the plane's colorful makeover—featuring Woody, Buzz Lightyear, Jessie, and the friendly green Aliens—in the new clip, above.
This is the sixth specially painted plane from Alaska Airlines over the last 20 years, and it gives guests the opportunity to enjoy some Disney fun even before they arrive at the parks! The inaugural flight departed earlier this week from Seattle—with a stop in San Francisco for a special gate ceremony, and then on to its arrival in Orange County. The aircraft's design was a collaboration between Alaska Airlines, Disneyland Resort, and Pixar Animation Studios, and it's now flying throughout Alaska's route network.
And here are some fun facts: The exterior of the plane required more than 2,800 work hours, and took 24 days to complete—using 50 gallons of paint in 44 primary colors and custom shades. Perhaps you'll be joined by Woody and friends on your next Alaska flight!
The Owl House: Announcements from New York Comic-Con!
There's a highly anticipated new animated series coming soon to Disney Channel… and now we know when to officially expect the fun! At last week's massive New York Comic-Con, stars of The Owl House—Wendie Malick (voice of Eda), Sarah-Nicole Robles (voice of Luz), and Alex Hirsch (voice of King)—were joined by creator/executive producer Dana Terrace and art director Ricky Cometa for a free-wheeling panel… at which they not only debuted a special first-look clip from the series (see above!), but also announced its premiere date: January 2020!
The Owl House follows Luz, a self-assured teenage girl, as she stumbles upon a portal to a magical realm—where she befriends rebellious witch Eda and tiny warrior King. Despite not having magical abilities, Luz pursues her dream of becoming a witch by serving as Eda's apprentice at the Owl House, and ultimately finds a new family in an unlikely setting. Season one guest stars are set to include Matthew Rhys, Isabella Rossellini, Mae Whitman, Tati Gabrielle, and Bumper Robinson. Look for The Owl House on both Disney Channel and DisneyNOW.
Freeform's Kickoff to Christmas Begins November 1
It's true—we haven't yet enjoyed the chills and thrills of Halloween. But in our estimation, it's never too early to start planning for some holiday fun. And our good pals over at Freeform are commencing said holiday fun—in a big way—when Kickoff to Christmas begins Friday, November 1!
This year's Kickoff programming event includes two new Freeform originals: Turkey Drop, a brand-new Thanksgiving-themed movie (debuting Saturday, November 23, at 9 p.m. EST/PST) starring Olivia Holt from Marvel's Cloak and Dagger, and Wrap Battle—a holiday gift-wrapping competition series, premiering Monday, November 25, at 9 p.m. EST/PST, hosted by comedian Sheryl Underwood (The Talk) and featuring Carson Kressley (RuPaul's Drag Race) and Wanda Wen (founder of fine stationary and luxury paper brand Soolip) as judges.
But that's not all: Kickoff to Christmas will also include fan-favorite movies such as Frozen, Home Alone, Miracle on 34th Street, The BFG, and so much more. Check out the full schedule by clicking here.
ICYMI: Joachim Rønning Talks Maleficent: Mistress of Evil
The further adventures of Disney's iconic antihero begin October 18, when Maleficent: Mistress of Evil opens in theaters… and to celebrate, director Joachim Rønning (Pirates of the Caribbean: Dead Men Tell No Tales) recently gave D23 an inside look at his filmmaking process. Find out what went into creating an epic adventure for the big screen by clicking here.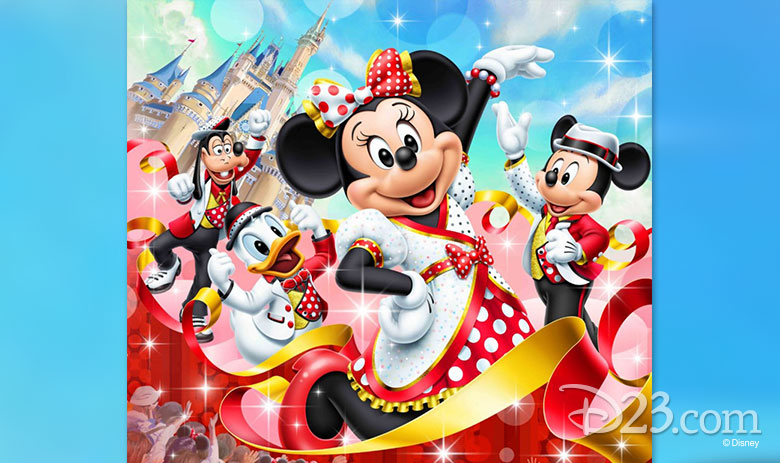 "Very Very Minnie!" Coming to Tokyo Disneyland This January
Should you find yourself jetting off to Japan for a vacay early next year, you'll be very excited—especially if you're a fan of Minnie Mouse (and obviously, who isn't?)—to learn of some brand-new fun in store this spring at Tokyo Disney Resort.
From January 10 to March 19, 2020, Tokyo Disneyland park will feature "Very Very Minnie!"—a brand-new event featuring special entertainment, merchandise, and menu items all themed to that world-renowned style icon herself, Minnie Mouse! Showbase, the theater in Tomorrowland, will showcase It's Very Minnie!; in this brand-new musical revue, Minnie and all her Disney pals will be dressed in adorable costumes—and they'll not only perform a new song created especially for this show, but also a cavalcade of favorite Disney tunes. Meanwhile, Very Minnie Remix—a mini parade featuring both new music and nostalgic nods to past park entertainment—will delight guests all along the parade route. If you're feeling hungry, make sure to check out the special Minnie-themed menu at the Eastside Café, or the exclusive tapioca drink inspired by Minnie's signature polka dot dress… and don't forget all the Minnie-themed decoration that'll be highlighted throughout the park!
"Very Very Minnie!" will also help usher in Tokyo Disneyland's newest character greeting area, Minnie's Style Studio—the very first Disney character greeting location featuring the "leading lady" herself, as well as her magical fashion creations! The Style Studio dots start to rock, proverbially speaking, in April 2020