By Zach Johnson
Maleficent: Mistress of Evil is no fairy tale, in the words of Michelle Pfeiffer's Queen Ingrith… but it is a worthy sequel to Maleficent, a film that grossed over $750 million worldwide after its May 2014 release. The main cast is back, starring Angelina Jolie as Maleficent, Elle Fanning as Aurora and Sam Riley as Diaval. In addition to Pfeiffer, newcomers to the franchise include Chiwetel Ejiofor as Conall and Ed Skrein as Borra.
Recently, the aforementioned actors joined co-star Harris Dickinson (Prince Philip) and director Joachim Rønning at the film's global press conference in Beverly Hills, where they enchanted us with stories from the set and shared their personal connections to the next chapter in this captivating story. "As a filmmaker, it was important for me to make something original and to take Maleficent to the next level," said Rønning, who was fresh off directing another sequel, Walt Disney Studios Motion Pictures' Pirates of the Caribbean: Dead Men Tell No Tales, when he signed on to helm Maleficent: Mistress of Evil. All the while, Rønning never lost sight of "what's important to the fans."
The sequel picks up several years after the events of the first film and continues to explore the complex relationship between Maleficent and Aurora. After Prince Philip proposes to her, Aurora—now Queen of the Moors—hopes to unite their neighboring kingdoms once and for all. It's a noble ambition—one complicated by the fact that Maleficent disapproves of their impending union. (Queen Ingrith seemingly does, too, although she would never tell the couple.) Following a tense dinner between the two families, Aurora and Maleficent spend some time apart, giving them both a chance to discover who they are without each other—and, ultimately, where they are meant to be.
Jolie was particularly proud to revisit her role. "I've been through different things in my life, and I was so happy to feel strong again and to have some fun," she said. "I adore being her. There's just something about her. I'm very proud to be associated with her." For that reason, she was excited to discover what makes Maleficent… Maleficent. "We're not here just to exist," Jolie said. "You have to know what you stand for, what you're willing to fight for—even die for. And if you live that way, then whatever pain comes with it, whatever sacrifice comes with it, you embrace it, and it actually fills you with purpose."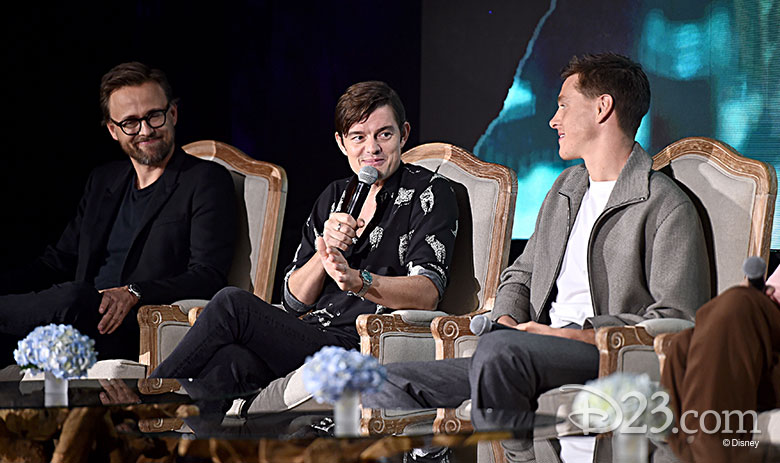 Before you flock to your local movie theater to see the film—faster than Maleficent or Diaval can flap their wings!—enjoy these five stories from the global press conference:
1. Family dynamics are more complicated than ever. "I think Maleficent questions whether she's good enough to be a mother—and whether she is her mother," said Jolie, whose character raised Aurora (albeit in the shadows). "We go through this period in the middle of the film where everybody is really focusing on their differences." But, along the way, "There's a real push to say, 'This is now how it should be; this is not how to live. Diversity makes us stronger. There is a better way forward. We have to come together.'"
2. Heroes and villains aren't so easily defined. "What I loved is that [the first film] played in this gray area. It talked about good versus evil," Pfeiffer said, "and that all of us have a little bit of everything in us." Aurora is the "strongest and wisest" of them all, Pfeiffer argued, since she leads with love no matter the circumstance. "My character is really brilliant and diabolical, but I wouldn't consider her terribly wise… Without getting too cerebral about the whole thing, nobody behaves that way unless they're incredibly damaged on some level. She just doesn't wear it on her sleeve, I guess. And in some ways, what she resorts to is really, truly, at the end of the day, out of a very deep fear."
3. Aurora isn't the only one who warms Maleficent's heart. "We've become sort of surrogate parents to Aurora," Riley said of his and Jolie's characters. "Diaval is one of the only ones who is brave enough to contradict Maleficent and some of her behaviors, or suggest a means of being more polite… We had a lot of fun playing this sort of thing."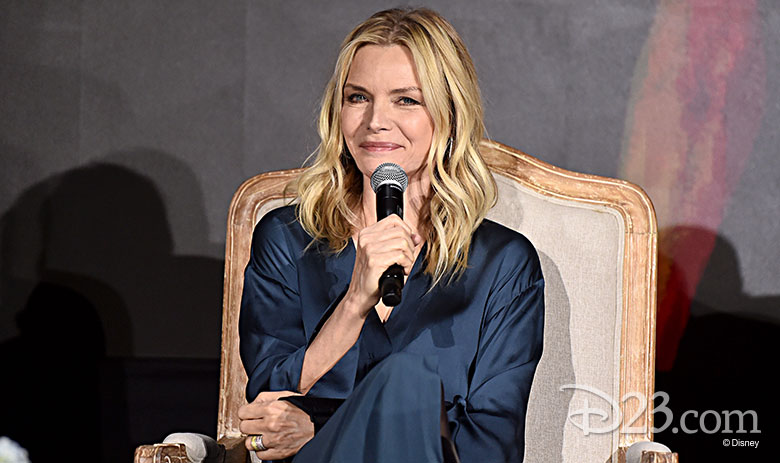 4. Hair and makeup were key in telling the story visually. Costume designer Ellen Mirojnick created distinct looks for the three women at the heart of the story. Her department included agers, buyers, cutters, dyers, jewelry makers, prop designers and textiles artists, and her team was responsible for dressing nearly 600 extras as villagers. Meanwhile, hair and makeup designer Paul Gooch oversaw a department of 44 artists. In addition to doing hair and makeup for the principal and supporting cast, he and his team got hundreds of extras camera‐ready. (Jolie's look was conceptualized by her personal makeup artist, Toni G., who also worked on the first film.) "The first makeup test I did was 10 and a half hours; we got it down to about four and a half hours by the end," Skrein said. "Going through that every morning—that process of putting on the cheekbones, the ears, the skin, the claws, finishing with the contact lenses—you've gone through a complete physical transformation. You are physically informed by that." The only issue, he recalled, is he had to "be a little bit careful with locking horns" during action scenes. Laughing, Jolie reminded him, "Your horns almost got me that one time!"
5. Empowerment is a major theme. "Maleficent is disapproving of Prince Philip, but we know love wins," Fanning said. "Aurora stands up to Maleficent, which is a such a strong moment in the film; I think it might be shocking for fans to see that, because Aurora is taking charge of her own life—but with kindness." Similarly, Prince Philip has to convince his parents that uniting two seemingly different kingdoms is not only right—it's the only way forward. "It's difficult when you're going up against your own parents," Dickinson said. "That's something he struggles with continuously." Aurora is his chosen family, and his loyalties lie with her: "He strives for change and just tries to support her."
Maleficent: Mistress of Evil opens in theaters October 18, 2019.