By Courtney Potter
Disneyland readies a brand-new daytime parade, and Disney Channel announces a premiere date for ZOMBIES 2… Read more, along with other news from around Disney, in this week's news briefs!
Brand-New Magic Happens Parade Debuts February 28 at Disneyland Park
Those of you who followed along with our coverage of D23 Expo 2019 (and thank you, if so!) may recall—during the Disney Parks, Experiences, and Products panel on the final day—that an all-new parade for Disneyland Resort was announced, by way of an amazing musical number from triple-threat performer (and past winner of Dancing with the Stars) Jordan Fisher… and now, we know when that parade will premiere!
Magic Happens, a daytime spectacular that's set to wind its way down Main Street, U.S.A., at Disneyland park, will step off beginning February 28; celebrating awe-inspiring, fan-favorite moments of magic at the heart of Disney stories, the parade will feature an incredible new musical score and a specially created song, co-written by viral/Broadway sensation Todrick Hall! (Expo attendees were treated to a preview of said song from Fisher.)
Save the Date!
Be sure to mark these upcoming Disney events on your calendar:
D23 and Walt Disney Archives
December 14, 2019
Lunch with a Disney Legend: Tom Nabbe
December 14, 2019
D23's Merriest Mixer at Walt Disney World
January 8, 2020
D23 Gold Member Mixer in Kapolei, Hawai'i


January 17, 2020


Get VIP Tickets to Disney's Frozen The Hit Broadway Musical


January 31, 2020


Disney's Aladdin the Hit Broadway Musical VIP Tickets


August 9, 2020


Adventures by Disney Rhine River Cruise Presented by D23
Parks
November 8, 11, 12, 14, 15, 17, 19, 21, 22, 24;


December 1, 3, 5, 6, 8, 10, 12, 13, 15, 17, 19, 20, 22, 2019


Mickey's Very Merry Christmas Party at Magic Kingdom park


November 8—January 6, 2020


Holidays at the Disneyland Resort
November 29—December 30, 2019
2019 Epcot International Festival of the Holidays
January 17, 2020
Star Wars: Rise of the Resistance opens at Disneyland park
January 17—February 24, 2020
Epcot International Festival of the Arts
January 17—February 9, 2020
Lunar New Year returns to Disney California Adventure park
February 28—April 21, 2020
Disney California Adventure Food & Wine Festival returns to the Disneyland Resort


March 4

—

June 1, 2020
Epcot International Flower & Garden Festival at Walt Disney World Resort



Studios




December 20, 2019


Star Wars: The Rise of Skywalker opens in U.S. theaters


March 6, 2020


Onward opens in U.S. theaters


March 27, 2020


Mulan opens in U.S. theaters


May 29, 2020


Artemis Fowl

opens in U.S. theaters




Television


December 13, 2019 (8-8:30 p.m. EST)
Disney Channel Holiday Party @ Walt Disney World premieres on Disney Channel and DisneyNOW
December 25, 2019 (10 a.m.—12 p.m. EST, 9—11 a.m. CST/MST/PST; airtimes vary, check listings)
Disney Parks Magical Christmas Day Parade airs on ABC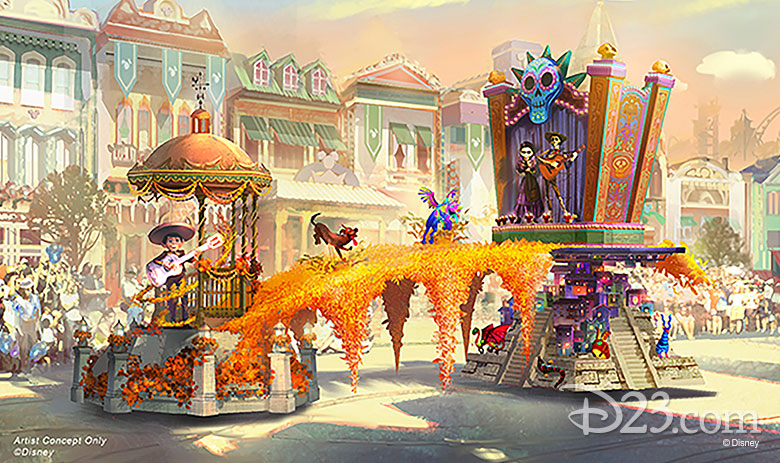 Several brand-new floats will make their bow in Magic Happens, including a look at Anna and Elsa exploring the mysteries of the enchanted forest from Walt Disney Animation Studios' Frozen 2; Moana on her voyager canoe, and Maui on his own magical island, from the 2016 film; and Miguel (appearing in person for the first time!) with his Ernesto de la Cruz guitar from Coco.
Keep your eyes peeled for more information about Magic Happens as it becomes available—and mark those calendars for its late-February debut!
ZOMBIES 2 Premiere Date Announced
If you've had a hankerin' to return to Seabrook—location of the hugely popular Disney Channel Original Movie ZOMBIES—you'll be thrilled to learn that its much anticipated sequel has officially received a premiere date! Read up about when you can expect to see ZOMBIES 2 right here at D23.com.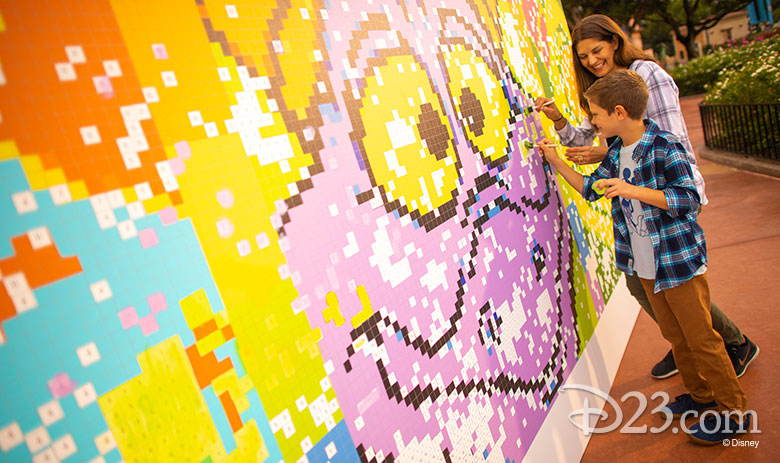 Epcot International Festival of the Arts: Just-Announced News You Can Use!
Epcot's first festival of the new decade kicks off in just a few weeks' time—so it stands to reason they'd be keen to reveal some updated info. The 2020 Epcot International Festival of the Arts, which begins January 17, has added several fantastic performers to its popular Disney on Broadway Concert Series at America Gardens Theatre… here's the completed rundown:
Jan. 17, 20, 21, and 24 – Kissy Simmons and Alton Fitzgerald White (The Lion King)
Jan. 18, 19, 22, and 23 – Heidi Blickenstaff (The Little Mermaid) and Gavin Lee (Mary Poppins)
Jan. 25 – Special performance featuring Simmons, White, Blickenstaff, and Lee
Jan. 26, 28, 29; Feb. 1, 2, 5, and 6 – Kara Lindsay (Newsies) and Kevin Massey (Tarzan)
Jan. 27, 30, 31, Feb. 3, 4, 7, and 8 – NEW! Liana Hunt (Newsies) and Adam Jacobs (Aladdin)
NEW! Feb. 9 – Special performance featuring Lindsay, Massey, Hunt, and Jacobs
Feb. 10, 12, 13, 18, 19, 22, and 23 – Ashley Brown (Mary Poppins) and Josh Strickland (Tarzan)
Feb. 11, 14, 15, 16, 17, 20, and 21 – NEW! Syndee Winters (The Lion King) and NEW! Michael James Scott (Aladdin)
NEW! Feb. 24 – Special performance featuring Brown, Strickland, Winters, and Scott
For more information on all things Festival of the Arts—including how to reserve a special Disney on Broadway Dining Package—visit ArtfulEpcot.com.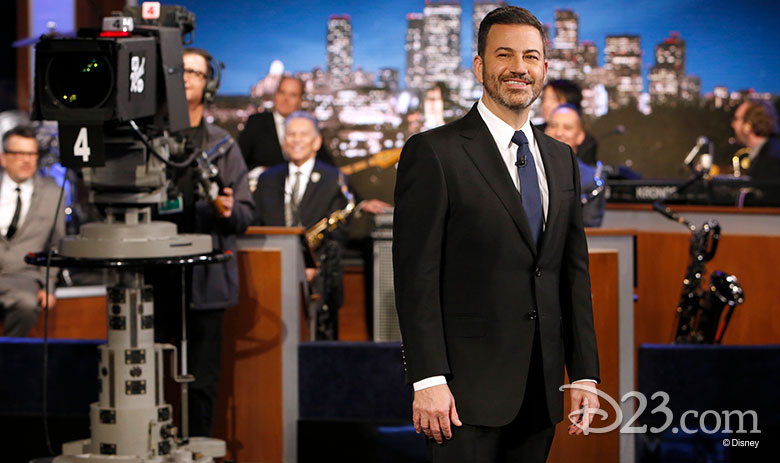 Jimmy Kimmel Live After Darth: A Star Wars Special Premieres December 16
Over the years, Jimmy Kimmel has welcomed cast members from several Star Wars films for some hilariously freewheeling fun on his late-night couch… but with the final film in the Skywalker saga, Star Wars: The Rise of Skywalker, coming so very soon to theaters, he's stepping it up an Endor-sized notch.
Jimmy Kimmel Live! will welcome director J.J. Abrams and stars Daisy Ridley (Rey), John Boyega (Finn), Oscar Isaac (Poe Dameron), Billy Dee Williams (Lando Calrissian), Anthony Daniels (C-3PO), Naomi Ackie (Jannah), Kelly Marie Tran (Rose Tico), and Keri Russell (Zorii Bliss) for a special primetime show—Jimmy Kimmel Live After Darth—on Monday, December 16, at 10 p.m. ET/PT; we may not know exactly what to expect from the special, but we're sure it'll be as entertaining as all get out.
Look for Star Wars: The Rise of Skywalker in theaters beginning December 20.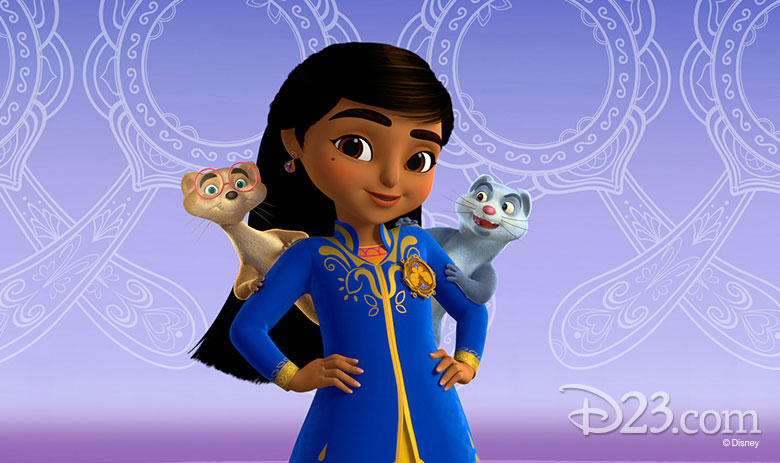 Mira, Royal Detective Gets Second Season Ahead of Spring 2020 Debut
Alert the animation-loving kidlets in your life—Disney Junior has ordered a second season of Mira, Royal Detective ahead of its spring 2020 debut! The news was announced just this week during a special advance screening of the series in Burbank, California.
Set in the magical Indian-inspired land of Jalpur, the series follows the brave and resourceful Mira (voice of Leela Ladnier), a commoner who is appointed to the role of royal detective by the queen and travels throughout her kingdom to help royals and commoners alike. Along for the ride are Mira's friend Prince Neel (voice of Kamran Lucas), creative cousin Priya (voice of Roshni Edwards), and comical mongoose sidekicks Mikku and Chikku (voices of Kal Penn and Utkarsh Ambudkar, respectively). The series is set to take young viewers on adventures that highlight critical thinking and encourage deductive reasoning; each episode features two 11-minute stories that celebrate the cultures and customs of India by incorporating authentic storytelling, music, food, fashion, language, art, and dance.
Stay tuned for more information on Mira, Royal Detective as it becomes available!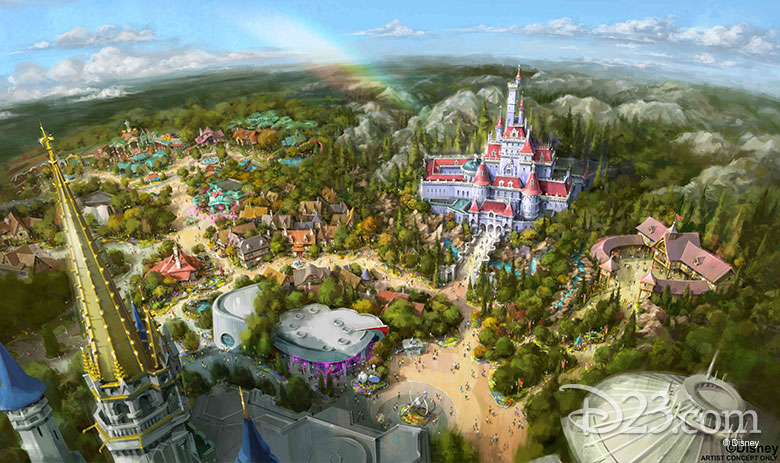 Here's Your Guide to Tokyo Disneyland's Expansion Fun
Guests traveling to Tokyo Disneyland this coming spring are in for a real treat… They'll get to experience a ton of amazing new offerings, from the worlds of Beauty and the Beast, Big Hero 6, and more! D23 has a look at what those lucky guests can expect beginning April 15; take a spin through the news by clicking here.
Tickets Now On Sale for Cirque du Soleil's New Disney Springs Production
Walt Disney World Resort is, as we know, positively replete with unique, memorable entertainment options. But those options don't end once you leave one of the parks—far from it. At Disney Springs, you'll soon be able to witness Cirque du Soleil's extraordinary artistry in a whole new, Disney-fied way…
Just this week, our friends at Disney Parks Blog revealed the name of the new show—Drawn to Life—and announced that tickets are now on sale! Drawn to Life follows the story of Julie, a courageous and determined girl who discovers an unexpected gift left by her late father: an unfinished animation piece. Guided by a surprising pencil, she embarks on an inspiring quest sprinkled with her Disney childhood memories. Through this journey, she learns to imagine new possibilities and animate the story of her future.
Drawn to Life is the product of a collaboration between Cirque du Soleil, Walt Disney Animation Studios, and Walt Disney Imagineering—and will open for previews March 20, with its official debut on April 17. Reserve your tickets now by visiting DisneyWorld.com/Cirque.
ICYMI: All of Disney's Golden Globe and Critics' Choice Nominations
Yes, it's true—awards season has begun! And as we head towards the first year of the new decade (boy, does time fly or what?), we're ever so excited to note that a host of Disney TV series and films received nominations for both the Golden Globes® (chosen by the Hollywood Foreign Press Association) and the Critics' Choice Awards. See the list by clicking here.