By Beth Deitchman
Next spring, guests will experience a host of new offerings coming to Tokyo Disneyland as part of the largest expansion of the park since it first opened. From a new area themed to Beauty and the Beast in Fantasyland and a most joyous ride with Baymax in Tomorrowland, to an incredibly fashionable spot to greet Minnie in Toontown, there'll be so much to discover in the park. Last week, Oriental Land Co., Ltd. revealed new details about what we can expect to see and do, beginning April 15, 2020.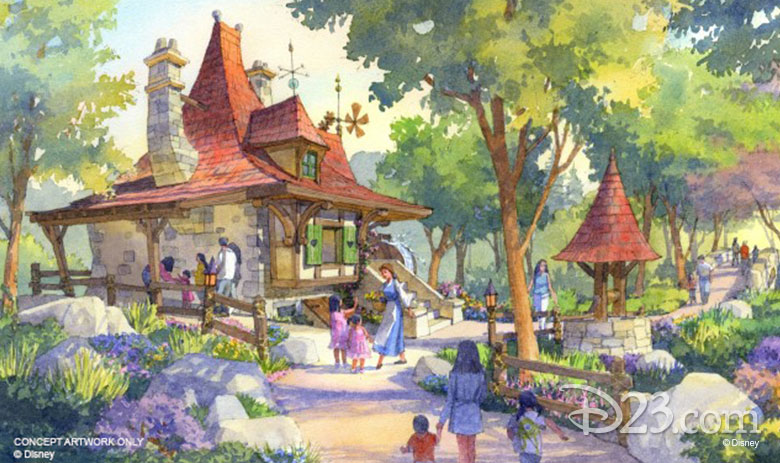 New Ways to Experience the Tale as Old as Time in Fantasyland
Guests will enter the new Beauty and the Beast-themed area at the entrance to Belle's village; Maurice's Cottage will mark guests' arrival (and will be home to Disney FASTPASS machines). Gaston surely would be pleased to see a fountain dedicated to him standing at the village's center. As guests stroll through Belle's world, they'll walk past La Taverne de Gaston restaurant and the Village Shoppes (of course, there's a bookstore!) until they ultimately reach the forest where Beauty and the Beast Castle looms—and Enchanted Tale of Beauty and the Beast awaits!
Enchanted Tale of Beauty and the Beast is housed within the nearly-30-meter tall castle, and the attraction invites guests to board magical cups that "dance" in rhythm to the animated film's iconic music. As they become immersed in the truly "enchanted tale," guests will dance with the dishes and cutlery, glide over the ice alongside Belle and Beast, and encounter even more magical moments and surprises while they watch to see if Belle and Beast find love before the last petal falls from the enchanted rose.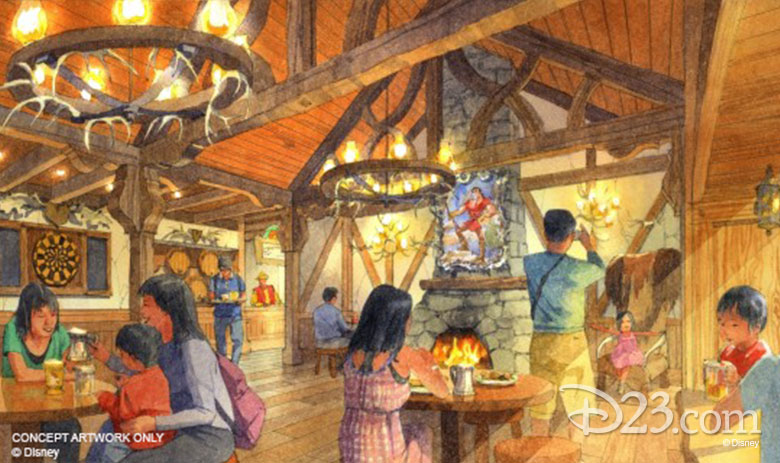 Guests will want to bring an appetite worthy of Gaston when they arrive to the counter-service restaurant La Taverne de Gaston. The décor is inspired by the tavern in Disney's Beauty and the Beast, with a large portrait of Gaston hanging over the fireplace and trophies celebrating his many accomplishments also on display.
Next door, LeFou's snack shop will offer smaller bites, including apple-caramel churros, a new flavor for Tokyo Disneyland.
In the Village Shoppes, guests will notice many nods to the animated film, including a rolling ladder in La Belle Librairie bookshop; the candlesticks and dishware that may be found decorating Little Town Traders; and the dresses and clothier's tools that will be seen within Bonjour Gifts. And within those exquisite shops, approximately 100 different types of special merchandise will be available for purchase, featuring motifs from the film such as Belle dancing with Beast, as well as the enchanted rose.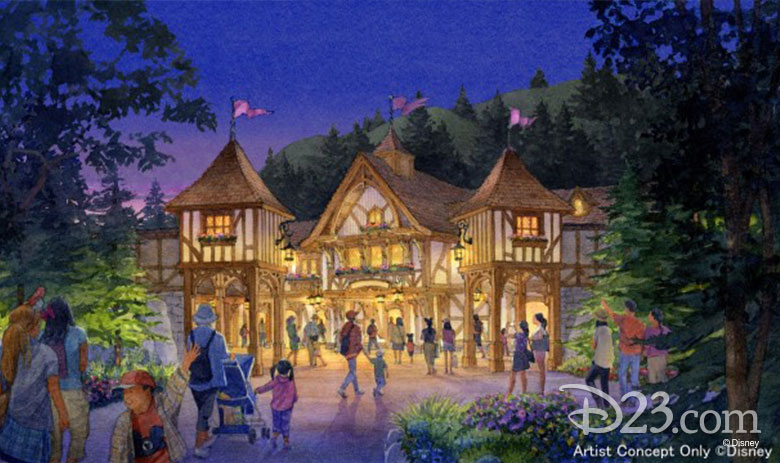 A Spectacular New Show in a Fairytale-Inspired Venue
The design for Tokyo's first indoor theater, Fantasyland Forest Theatre, was inspired by the forest. As guests prepare to experience the original Tokyo Disneyland show Mickey's Magical Music World, they'll be surrounded by beautiful tapestries and murals that celebrate the forest and the woodland creatures of classic Disney animation, and the theater will be lit by rustic chandeliers that give the appearance of candlelight.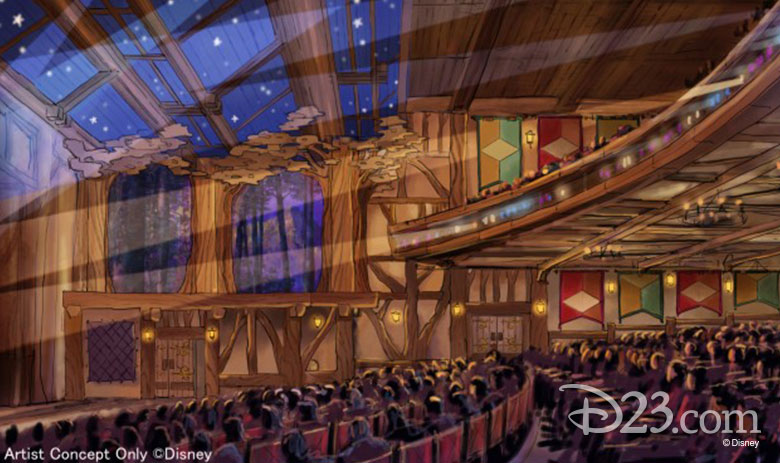 Mickey's Magical Music World takes Mickey, Minnie, Donald, and Goofy deep into the forest, where they come upon a giant music box with a large golden key. When Mickey and his friends turn the key, the doors to the music box open, revealing favorite Disney characters such as Snow White, Pinocchio, and Woody, along with favorite Disney songs. But when the last door opens and no music is heard, Mickey and the gang embark on a search for the missing song, along the way encountering characters from Disney films that include The Jungle Book, The Lion King, The Little Mermaid, and Peter Pan.
Big Fun Themed to Big Hero 6 in Tomorrowland
Tokyo Disneyland will debut the world's first rotating ride attraction themed to the film Big Hero 6. The Happy Ride with Baymax has one goal: to make people happy. In Walt Disney Animation Studios' beloved film, brilliant young inventor Hiro Hamada learned from Baymax—his robotic personal healthcare companion—that the first step to making people healthy is to make them happy. From the up-tempo music to the attraction's wild and unexpected twists, we have no doubt that The Happy Ride with Baymax will do just that.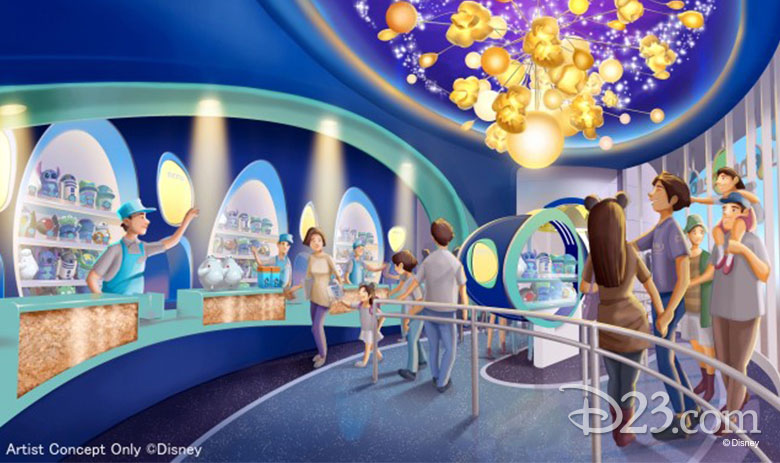 Pop in to Tomorrowland for a Delicious Snack
After a spin on The Happy Ride with Baymax, guests can give their happiness levels another boost at The Big Pop—a shop completely dedicated to popcorn. Located right next to The Happy Ride with Baymax, The Big Pop is themed to outer space, with a huge popcorn chandelier hanging from the starry ceiling, an homage to the "big bang" that created the universe. Popcorn will be available in a variety of buckets, and will be offered in three flavors: Cookie & Cream, Caramel & Cheese, and Strawberry Milk.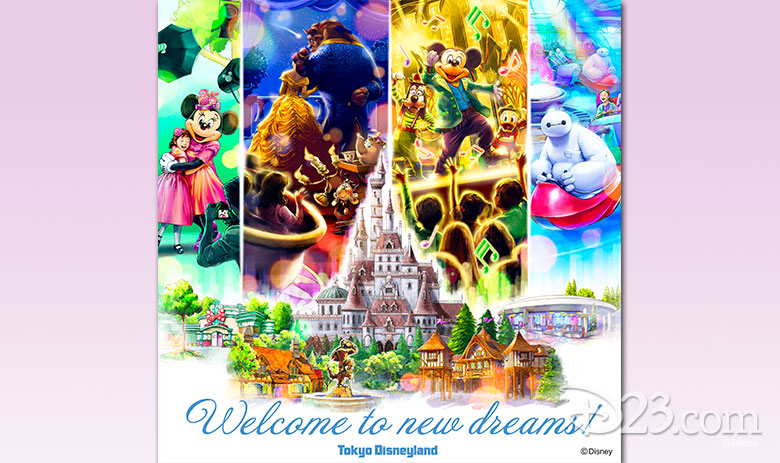 Meet Minnie in Style, Over in Toontown
Minnie's Style Studio marks the first time that guests will be able to meet Minnie Mouse in her own greeting facility in the very studio where she designs, creates, and photographs her newest fashions. Magazine covers featuring Minnie will be on display in lobby, which leads to the office where Minnie draws her original designs. Guests will see the workroom where Minnie's designs take shape and become outfits, before meeting the designer herself in the photo studio.
Fashionista that she is, Minnie will wear her latest design when she greets guests. She'll change her look every season, and we've heard that her spring look will feature a hat and a dress with a floral design.
The big expansion will also bring special merch to the park, featuring two different design schemes. A look with the new facilities' distinctive and dazzling logos will appear on T-shirts, caps, neck straps, and more; while a second design will feature Mickey showing his own excitement over the opening of these incredible new experiences. We totally understand where he's coming from—and we know where we want to go next April!