By Jocelyn Buhlman
If you've visited Batuu, you know there's a lot to do, from building your own lightsaber to jamming out to DJ Rex's tunes in Oga's Cantina. But while you're exploring the galaxy far, far away, have you ever considered joining the Resistance? Starting December 5 at Disney's Hollywood Studios in Orlando, Florida, you can be part of our favorite band of rebels when you experience Star Wars: Rise of the Resistance at Star Wars: Galaxy's Edge.
The setup is classic: You're on the secret Resistance base when Rey appears with a warning transmission for you—the First Order is here! You need to get off Batuu. You board an I-TS to fly out of danger… but the First Order is too quick. Trapped on a Star Destroyer full of stormtroopers, First Order officers, and—gulp—a very angry Kylo Ren, it's up to you to find an escape pod and get out of danger! Fortunately, you've got some help from some new faces—plus Finn, who (lucky for you) was already on the Star Destroyer as part of a secret mission.
If the concept of this attraction gets your little Star Wars-loving heart racing, keep reading, because we've rounded up seven of the most interesting facts about this groundbreaking new attraction.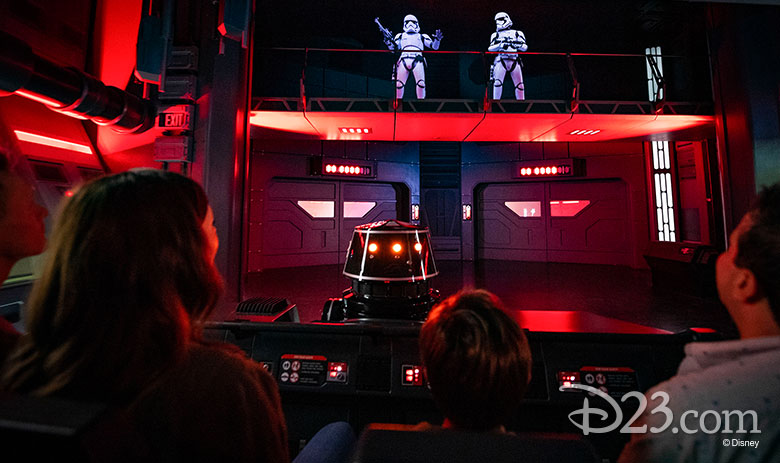 1. It's one of the most technologically advanced Disney Parks attractions of all time.
From the moment you set foot in the queue until you exit your ride vehicle, the world of Star Wars comes to life in front of your very eyes. As Doug Chiang, vice president and executive creative director of Lucasfilm, explains, "One of the biggest challenges that we had was: How do you re-create the world of Star Wars into an attraction?"
The answer? High tech wizardry on an intergalactic scale. The attraction itself combines multiple ride systems, including a new simulator experience that gives the sensation of falling from space to crash land on Batuu. Additionally, the trackless ride vehicles acting as your transport through the menacing Star Destroyer are some of the most advanced ever used in a Disney attraction, with a sleek, low profile and the ability to move in all directions.
And what's a Star Wars story without characters? Disney A-1000 Audio-Animatronics® figures depicting iconic characters appear throughout the attraction so that you can adventure alongside some of your favorites. The goal? Create a cinematic Star Wars story of your very own: "More and more, our guests want to lean into these stories; not just be a spectator," explains Scott Trowbridge, Star Wars portfolio creative executive, Walt Disney Imagineering. Star Wars: Rise of Resistance sets out to do just that—create a full experience with fans like us as the center of the story.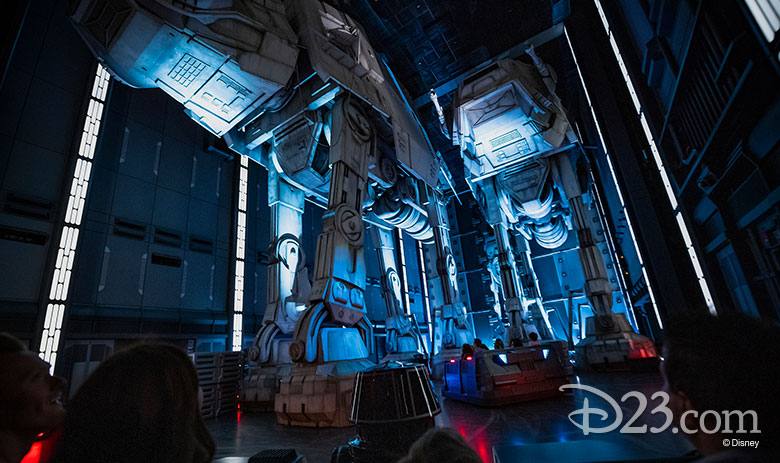 2. It's a 360° experience.
John Larena, executive creative director, Walt Disney Imagineering, explains, "Star Wars: Rise of the Resistance is an immersive experience like you've never been on before, with fully realized blaster bolts in midair, holograms, AT-ATs… this is truly a 360-degree attraction." What does that mean? Well, it means that no matter where you look, you'll be part of the action. Each aspect of the ride is designed to get your heart racing—from stumbling into a room housing towering AT-AT walkers to fleeing across a Star Destroyer from Kylo Ren's wrath. Larena likens the feeling to the exhilaration of Star Wars: A New Hope: "It touches on a feeling of exploration—the same feeling that drove Luke Skywalker to join Ben Kenobi on a crazy mission to Alderaan. We're going to call on you to be brave."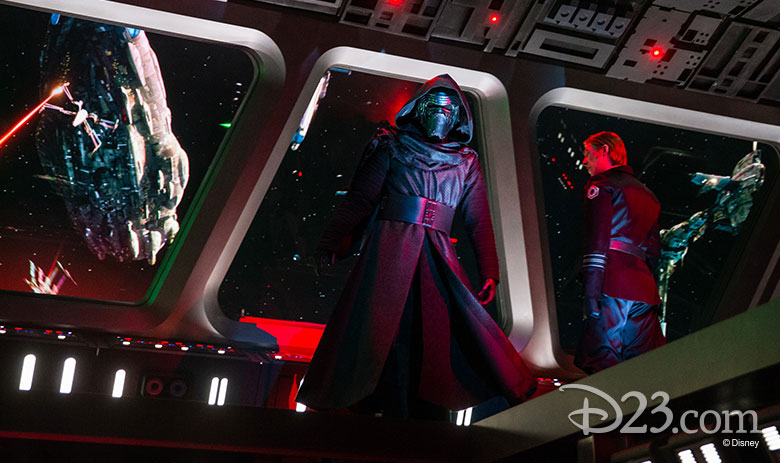 3. This adventure takes place in between The Last Jedi and Rise of Skywalker.
This attraction represents a special collaboration, explains Chiang: "The Lucasfilm design team and the Walt Disney Imagineering design team worked together seamlessly as one team, essentially." Together, the teams crafted an original story that flows perfectly into the timeline of Star Wars films: Jumping into the action after the battle of Crait in Star Wars: The Last Jedi (which you can also experience for yourself during a certain sequence in Star Tours: The Adventures Continue), this attraction bridges the gap between 2017's The Last Jedi and this month's Star Wars: The Rise of Skywalker.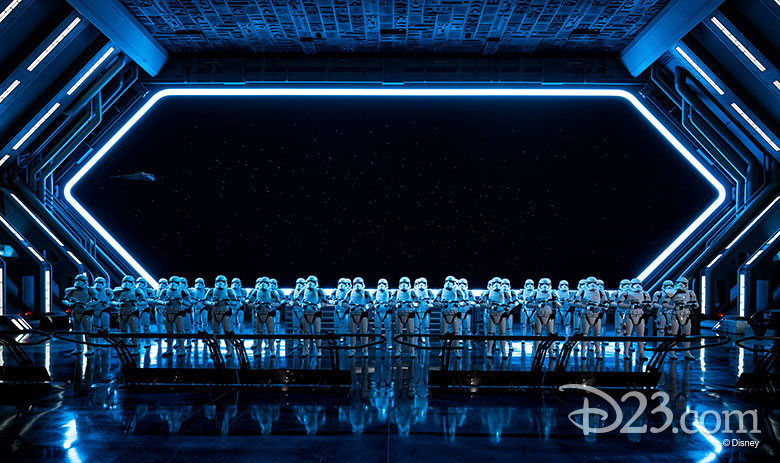 4. The Hangar Bay features an impressive 50 stormtroopers.
The now-iconic image of stormtroopers lined up inside the Star Destroyer's Hangar Bay has already gone viral—and for good reason! The Hanger Bay features an intimidating display of 50 stormtroopers, lined up to observe you after your I-TS has been taken by the First Order. The stormtroopers must be seen to really appreciate the impact—you'll understand why Finn wanted to leave the First Order and never look back! According to Chiang, creating such an impactful scene was important to Lucasfilm and Walt Disney Imagineering: "You have the spectacle and scope of cinema, and yet the grounding of a real-life theme park."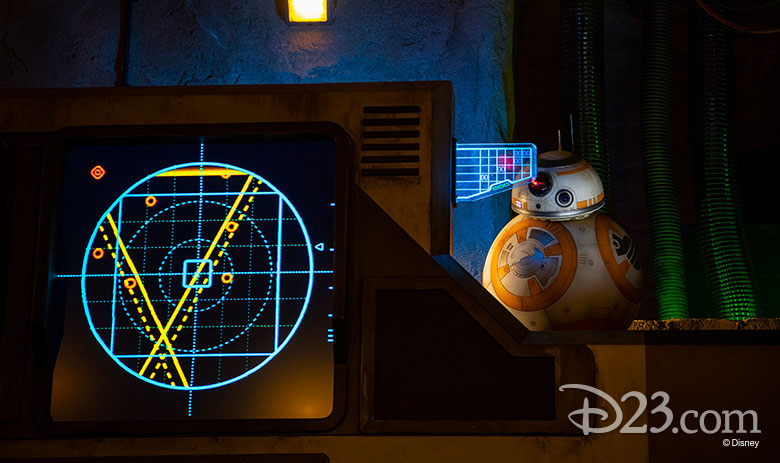 5. You'll see some familiar faces
You're greeted by BB-8's cheerful beeps in the briefing room, before a hologram of Rey appears to give you the news: The Resistance Base on Batuu is compromised. You must flee to General Organa's secret base before the First Order catches you… if only it were that simple! In your adventures to escape the First Order, a host of Star Wars characters are there to help you along the way: Poe Dameron, Finn, and Nien Nunb. Not all familiar faces are friendly, though: If you run into Kylo Ren and General Hux, be prepared for trouble.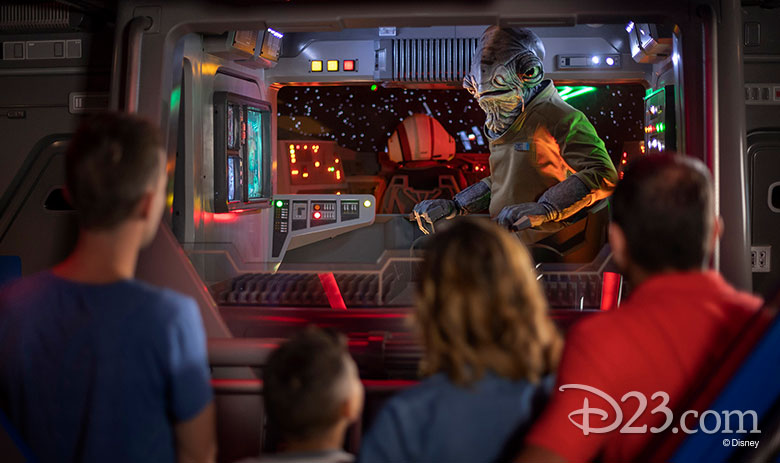 6. And meet some new allies!
The fishy-faced Mon Calamari species has held a special place in the hearts of Star Wars fans for some time, whether we're quoting Admiral Ackbar or peeking in on the Mon Calamari working away in the Star Tours: The Adventures Continue queue. Now we have a new Mon Calamari friend to add to our faves—Lieutenant Bek, an original character created just for the attraction. Assigned to help us escape the First Order, you rely on Bek throughout the attraction to guide you to safety!
Along with Bek, you also get some help from a First Order astromech-turned-ally, R5, who pilots your vehicle as you race to escape the Star Destroyer. "He's very reactive to whatever is happening around you," Larena tells us—so pay attention to where that droid is looking, because you never know where he'll drive your transport next.
7. …Plus, more surprises are in store!
There's no doubt that you're here because you're ravenous for any information you can get on Star Wars: Rise of Resistance, but we have a word of advice for anyone looking to read all they can on the groundbreaking attraction: Let some of it be a surprise! Walt Disney Imagineering and Lucasfilm have been hard at work creating a cinematic experience like no other—so save some surprises for your next visit, when you get the chance to be the next Star Wars hero. "It's very important that you feel like you're in the movie," Larena tells us. "The way you experience the attraction will be very different from the way your friends and family will."
Star Wars: Rise of the Resistance opens December 5 at Disney's Hollywood Studios and January 17 at Disneyland Resort. For more of our Star Wars: Galaxy's Edge coverage, click here.