OVERVIEW
Sit down for an intimate lunch with Disney Legend Tom Nabbe perched high on the third deck bow of the scenic Paddlefish Restaurant at Disney Springs in Walt Disney World, Florida, and learn about Tom's nearly 50-year career in Disney's theme parks!
DETAILS
The last time Tom paid to get into a Disney Park was July 18, 1955—the first day Walt Disney opened his new Park to the public. Tom was a rusty-haired 12-year-old, enjoying his day at Disneyland. The very next day he landed a job as a "newsie," hawking The Disneyland News to Main Street, U.S.A. guests. In 1956, Walt Disney recognized the Tom Sawyer in a young Nabbe, and he became, in his words, "the luckiest boy in the world." One job requirement was that Tom had to keep a C average in school. So, every quarter, the boy brought his report card directly to Walt for inspection. It was perhaps the hardest part of playing the character.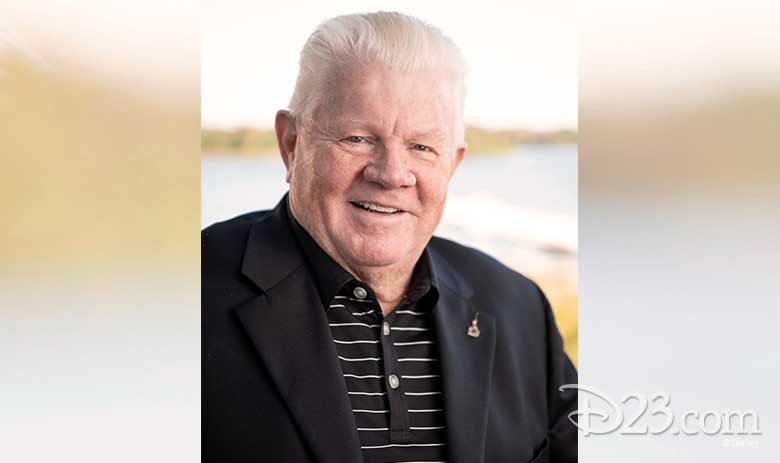 After outgrowing the role of Tom Sawyer, Tom went on to manage other attractions, and by 1971, he was transferred to the newly opened Walt Disney World in Orlando, where he started as manager of the Monorail. He also helped in the opening of Disneyland Paris. Forty-eight years later, in June 2003, 60-year-old Tom retired from his job as manager of distribution services at Walt Disney World. He was the last working member of Club 55, a group of original Disneyland cast members named for Disneyland's inaugural year and for their chief qualification of membership—a paycheck from Walt Disney dated 1955. In 2005, during Disneyland's golden anniversary, Tom was named a Disney Legend.
On Saturday, December 14, a limited number of D23 Gold Members will be treated to an intimate three-course luncheon with Tom in a private dining space at the Paddlefish Restaurant at Disney Springs. During this exclusive event, D23 Members will have a special opportunity to hear Tom's stories firsthand.
Plus, a very limited number of tickets will be available for guests to dine with Tom at the Disney Legend Table.
This one-of-a-kind event will also include an exclusive gift created just for you!
The event will begin at 12:30 p.m. at Paddlefish Restaurant and will last until approximately 2:30 p.m. Check-in will open at 12:15 p.m. at the Paddlefish. Please do not arrive before 12:15 p.m.
This special lunch experience also includes admission to D23's Merriest Mixer at Walt Disney World earlier that morning in Disney Springs! Click here for more details.
NOTES
D23 Gold and Gold Family Members may reserve a ticket for themselves and one (1) guest.
There are a limited number of tickets available. D23 Members must log in by using their D23.com Gold Member account information when reserving tickets. D23 Members who do not bring their membership card and tickets will not be admitted to the event.
All Guests under age 18 must be accompanied by a parent or legal guardian to attend this D23 event.
Ticketed Members and guests who do not attend the event forfeit their place as well as all experiences, benefits, and gifts associated with the event. D23 Members must be present or guests will not gain admittance to event.
All D23 Events are subject to change without notice. There are strictly no cancellations or refunds, and tickets are not transferable.
Video or audio recording of any kind will not be permitted during the presentation.
PLEASE BE ADVISED: Filming, photography, and other recording will take place at Paddlefish Restaurant during the event you will be attending. By entering the premises, you irrevocably consent to and authorize  Disney Worldwide Services, Inc., its affiliates, successors, and assigns (collectively "Disney"), to photograph you, make sound recordings of you, and use such photographs and recordings throughout the world, for any purpose whatsoever in perpetuity, including, but not limited to, television broadcasts and home entertainment products, including, but not limited to, home video and DVD. All such photographs and sound recordings will be the sole property of Disney.