By Beth Deitchman
Talk about an E-ticket attraction—and we experienced all of it from our seat in Hall D23 at Disney Expo 2019! This morning, during an exciting presentation led by Disney Parks, Experiences and Products Chairman Bob Chapek, an unbelievable array of new experiences and updates were revealed—from a new port of call for Disney Cruise Line to the first-ever attraction inspired by Mary Poppins at Epcot. It was a morning filled with Disney magic, complete with a surprise appearance by Disney Legend Dick Van Dyke.
Nearly 7,000 fans filled Hall D23 to hear from Chapek, who was happy to detail how Disney is bringing to life the next generation of immersive storytelling—and ensuring that guests are in the starring role.
"It was Walt's vision for our theme parks to be places where Disney stories come to life in amazing ways, and with the world's most creative and talented team of artists and dreamers, there's no shortage of inspiration," Chapek said.
To begin today's presentation—always one of the most highly anticipated events at D23 Expo—Chapek returned to where it all began: animation. From Snow White to Frozen, guests can experience our classic characters and stories at theme parks around the world, and today Chapek revealed new details about the next generation of animated stories at Disney Parks.
Magic Happens Parade at Disneyland Park
Next spring, the new Magic Happens parade will make its way down Main Street, U.S.A. at Disneyland park. The parade will feature stunning floats, beautiful costumes, and beloved Disney characters from Moana, Coco, Sleeping Beauty, and more—with Mickey Mouse and his friends leading the way. In addition to an energetic score, Magic Happens will feature a new song produced in partnership with singer-songwriter Todrick Hall. Today, multitalented performer (and winner of Dancing with the Stars' Season 25) Jordan Fisher got our toes tapping and gave us a sneak peek of the song.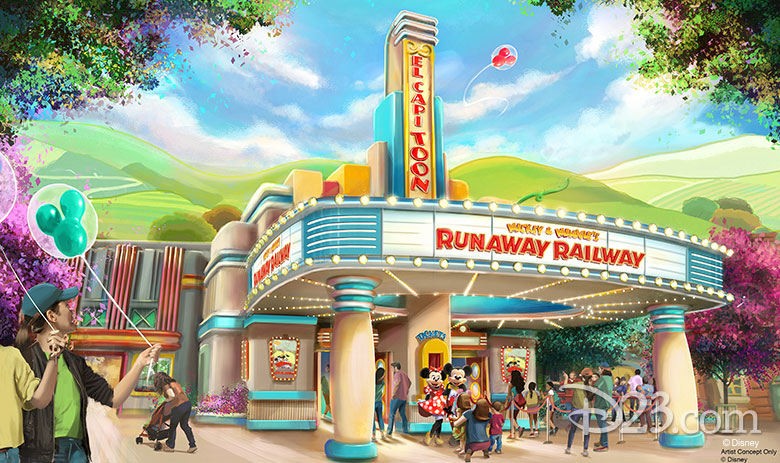 Mickey & Minnie's Runaway Railway
Reminding fans in Hall D23 that Disney Parks, Experiences and Products never forgets that "it was all started by a mouse," Chapek had updates for fans about the first ride-through attraction starring Mickey Mouse and Minnie Mouse, Mickey & Minnie's Runaway Railway, coming to Disney's Hollywood Studios at Walt Disney World Resort in 2020 and Disneyland in 2022. The attraction will take guests on a journey inside the wacky and unpredictable world of Disney Channel's Emmy® Award-winning Mickey Mouse cartoon shorts, and Chapek promised it will feature a stunning "surprise twist." In Mickey's Toontown at Disneyland, you'll find the attraction at the El CapiTOON Theater—where Mickey and Minnie's new short, "Perfect Picnic," is about to premiere. And, reminiscent of the magic guests experience at Hollywood's legendary El Capitan Theatre, visitors to El CapiTOON can experience a special exhibit created by the Toontown Hysterical Society featuring costumes and props from the toon world. Then, after you enter the cartoon world of Mickey and Minnie, Goofy will be your engineer as you embark on the train ride of a lifetime.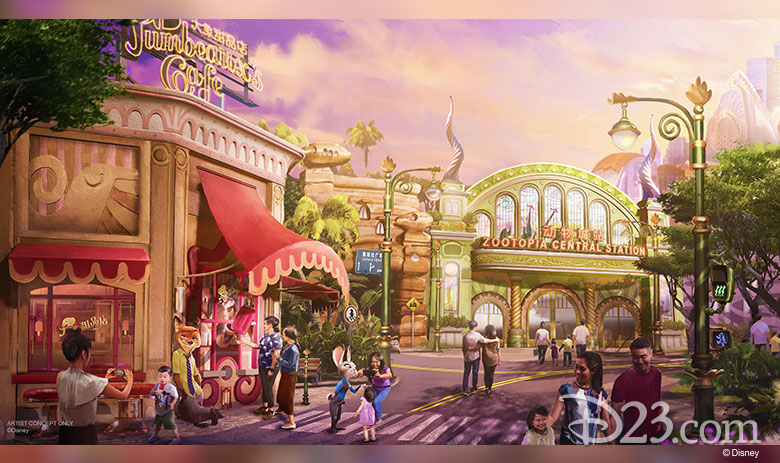 Zootopia at Shanghai Disney Resort
Today we heard more details about the brand-new land, which will feature a major attraction that combines our unparalleled storytelling with the latest technology, new merchandise, and dining options that you won't find anywhere other than Zootopia. We can't wait to "try everything" that the themed land coming to Shanghai Disney Resort has to offer.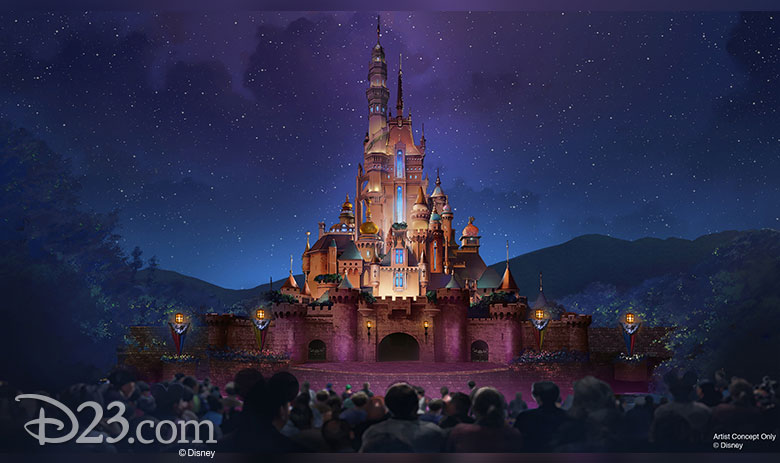 Celebrating Animated Stories at Hong Kong Disneyland
When the centerpiece of Hong Kong Disneyland is completely transformed, the Castle of Magical Dreams will honor 13 beloved Disney heroines. And nods to each are part of the castle's design: Look for adornments such as Snow White's apple, Cinderella's coach, and Belle's rose while you're strolling by the castle, or enjoying the new daytime show and nighttime spectacular that will take place at the stunning locale. And speaking of transformations, the castle will be home to a new Bibbidi Bobbidi Boutique where young princes and princesses will have the opportunity to become even more regal.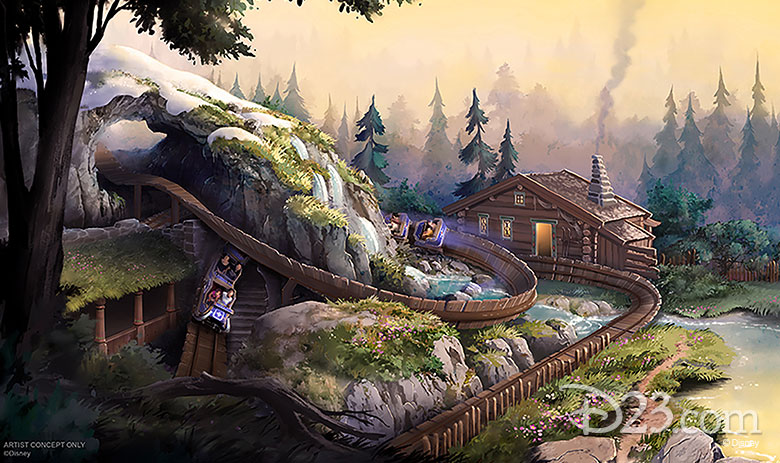 In some of the cooler news of the morning, Chapek revealed that guests will be able to "let it go" at Hong Kong Disneyland and step into the world of Frozen and experience all of its sights, sounds, cuisine, and traditions. The new coaster attraction, Wandering Oaken's Sliding Sleigh, will take guests on a winding journey through the kingdom, and the popular family attraction Frozen Ever After comes to the park, as well. Guests will also experience a beautiful "winter-in-summer" day, courtesy of Elsa and her magical powers.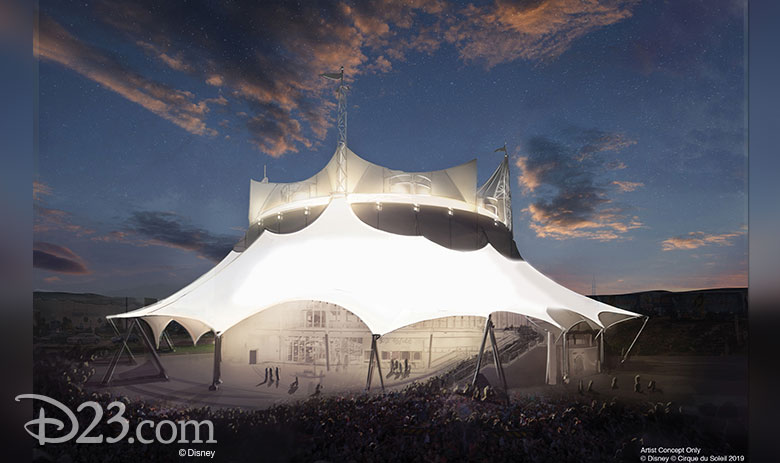 First Cirque du Soleil Show Celebrating Walt Disney Animation Studios
Walt Disney Imagineering, Walt Disney Animation Studios, and Cirque du Soleil are partnering to bring an incredible, first-of-its-kind show to Disney Springs. "This is destiny," said Cirque du Soleil director Michel Laprise, who joined legendary Disney animator Eric Goldberg to announce the new show today in Hall D23.
So many of Disney's most compelling and memorable experiences have come from blending different art forms, and this show promises to be no different. The team from Cirque du Soleil visited Disney parks, The Walt Disney Family Museum, the Walt Disney Archives, and Walt Disney Animation Studios to design the show. In addition to the breathtaking choreography and visuals Cirque du Soleil is known for, the new show will also feature music that integrates beloved Disney themes and music.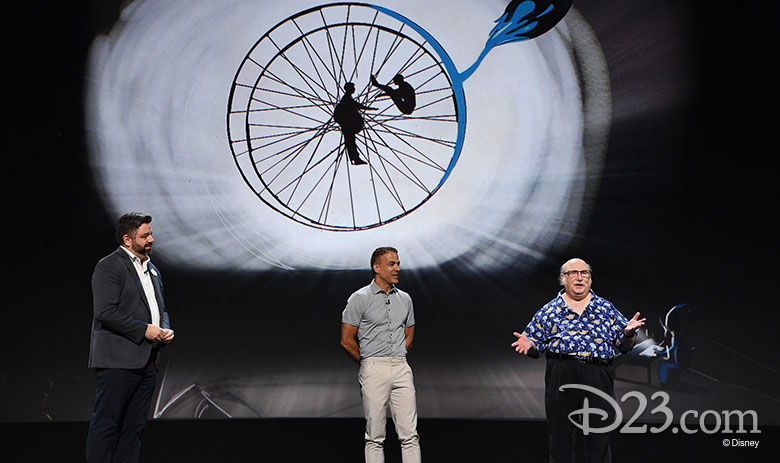 Goldberg teased a little about the story, which centers on a young girl whose father is a Disney animator who finds a way to send his daughter on a magical journey of self-discovery through a world of animation. The story is very personal to Goldberg, whose own children grew up surrounded by Disney animation, and he is thrilled to part of this exciting new show. "I admire how the team really came to us and tried to understand what we do, how we do it, and really what makes Disney animation special and unique," he said. Previews are set to begin March 20, 2020, leading up to the world premiere of the new show on April 17.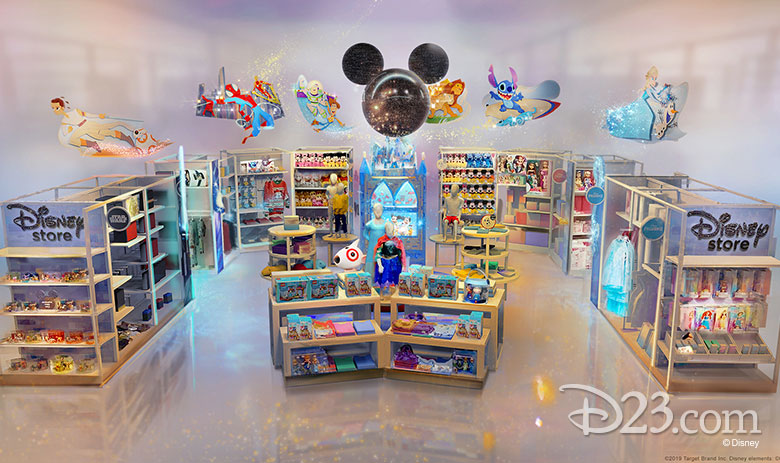 Disney store at Target
Bullseye, Target's adorable mascot, made a surprise appearance on the Hall D23 stage to help reveal that Target and Disney will come together with a creative retail collaboration that encompasses experiential retail and merchandising—including the launch of 25 Disney stores within select Target stores nationwide on October 4, with 40 additional locations opening by October 2020. The "shop-in-shop" will feature an enhanced Disney assortment of more than 450 items, including more than 100 products that were previously only available at Disney retail locations.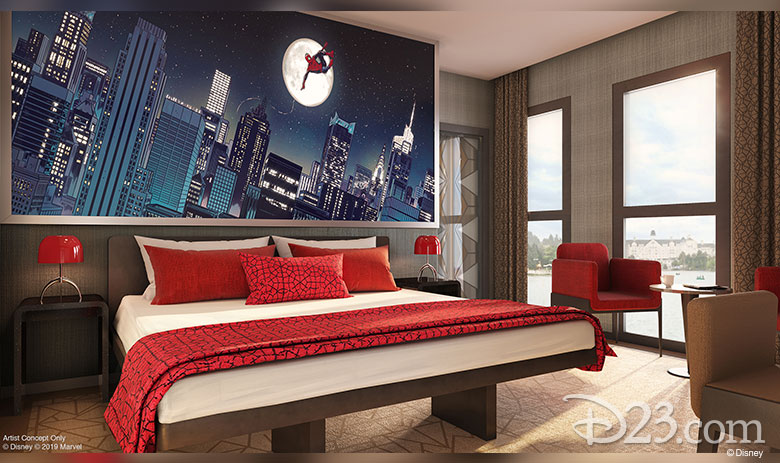 Disney's Hotel New York—The Art of Marvel
"We've already shrunk you down to the size of a toy. We brought you to the edge of the galaxy. And now we're going to give you super powers," Chapek told the delighted crowd in Hall D23. When Disney's Hotel New York – The Art of Marvel opens next summer, it will celebrate 80 years of Marvel art and the artists. Guests will find Marvel art at every turn throughout the hotel, where more than 300 pieces will be on display. Guest rooms will include one-of-a-kind themed suites featuring favorite Super Heroes, who will also meet their fans in a dedicated space within the hotel.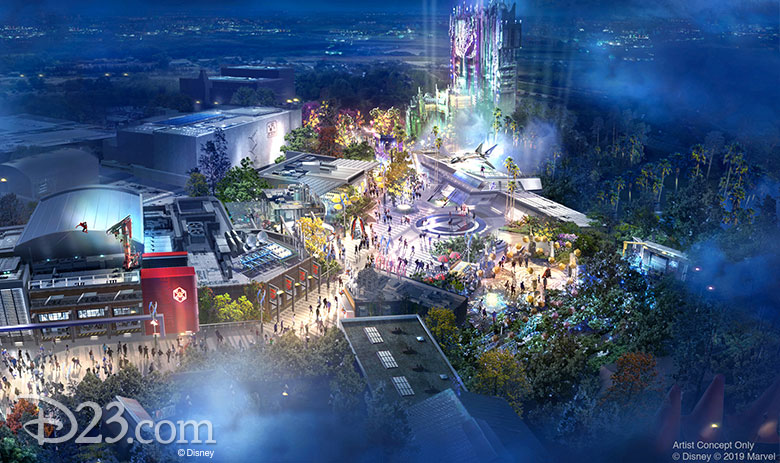 New Details About Avengers Campus
Both of the immersive lands coming to Disney California Adventure and Disneyland Paris will be linked together in a global story, as the Avengers set out to recruit the next generation of Super Heroes. "In some ways, these new campuses are like the Avengers themselves: a group of diverse individuals who have teamed up for the same purpose," Scot Drake, creative executive, Walt Disney Imagineering, detailed today. We're ready to volunteer our services and step up, suit up, and team up!
At Disney California Adventure, the Worldwide Engineering Brigade, aka "WEB," will house the first Disney ride-through attraction to feature Spider-Man. In this brand-new experience, guests will take a test spin on the "Web Slinger" vehicle and sling webs just like Spidey, as you help him collect Spider-Bots that have run amok.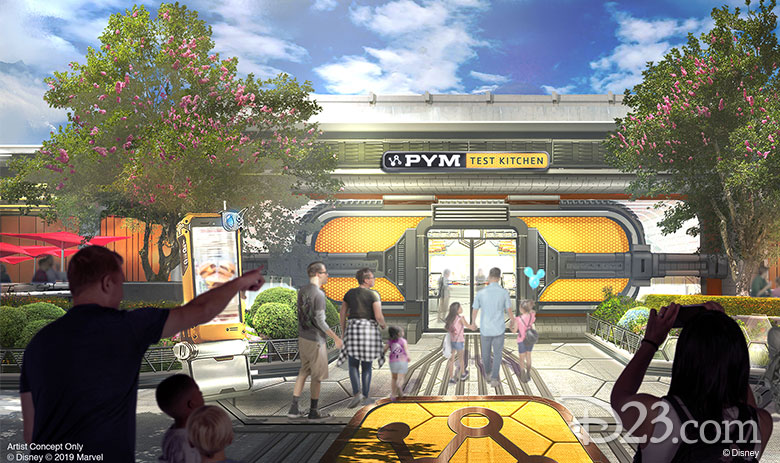 After you've worked up an appetite, you'll want to stop by the Pym Test Kitchen, where Pym Technologies uses their latest innovations to grow and shrink food. And all around the campus you'll encounter heroes such as Black Widow, Ant-Man and The Wasp, Doctor Strange, the Guardians of the Galaxy, Super Heroes from Wakanda and Asgard, and Iron Man.
These will open next year in Anaheim as part of phase one, but today Chapek also revealed that a new E-ticket attraction is already planned to open later in phase two. Guests will be able to step on board a Quinjet and fly alongside the Avengers in an epic adventure to Wakanda and beyond on the upcoming attraction that will feature an all-new, innovative ride system.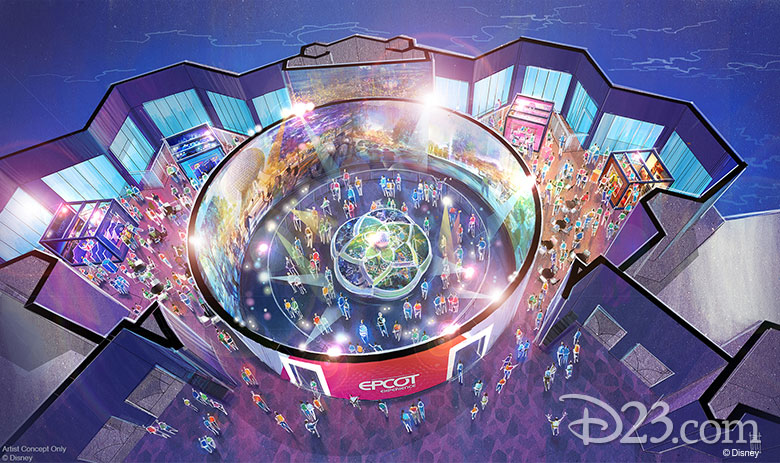 Epcot's Amazing Transformation
"Every inch of every park should be magical, and that's why I'm so excited about this transformation," Chapek shared. Disney fans can look forward to more attractions for the whole family, more of their favorite stories, and even more shade, he said—the latter evoking a huge laugh from the crowd.
Zach Riddley, Walt Disney World Portfolio Executive for Walt Disney Imagineering, told Disney fans that his personal goal is to inspire the next generation of children as he was inspired by his first trip to Epcot so many years ago. "I can remember being amazed by fruit that can sing, spiraling journeys through time and space, undersea cities, and a little purple dragon," he said, adding that what stuck with him were the ideals that embody Epcot most: the power of hope, the power of possibility, and the power of wonder.
Today we learned that Epcot will be comprised of four neighborhoods and filled with new experiences rooted in authenticity and innovation that take you to new destinations, where the real is made fantastic in a celebration of curiosity, hands-on wonder, and the magic of possibility: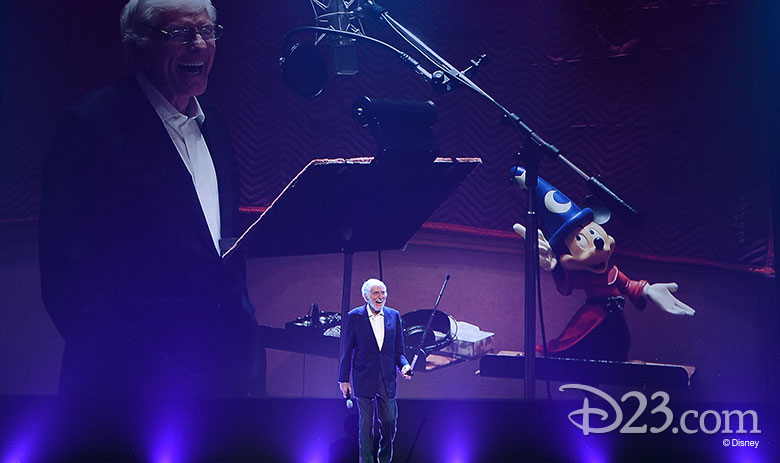 World Showcase
In a moment that none of the 6,800 fans in Hall D23 will ever forget, Disney Legend Dick Van Dyke joined Chapek on the Hall D23 stage to reveal that World Showcase will welcome the first attraction inspired by Mary Poppins in Cherry Tree Lane, which will join the United Kingdom pavilion as an entirely new neighborhood. Following a heartfelt standing ovation from the crowd, Van Dyke shared why he believes the film is still so dear to the hearts of so many. "What made it was 'Uncle Walt.' Walt Disney was a creative genius who looked at the world through a child's eyes," Van Dyke said.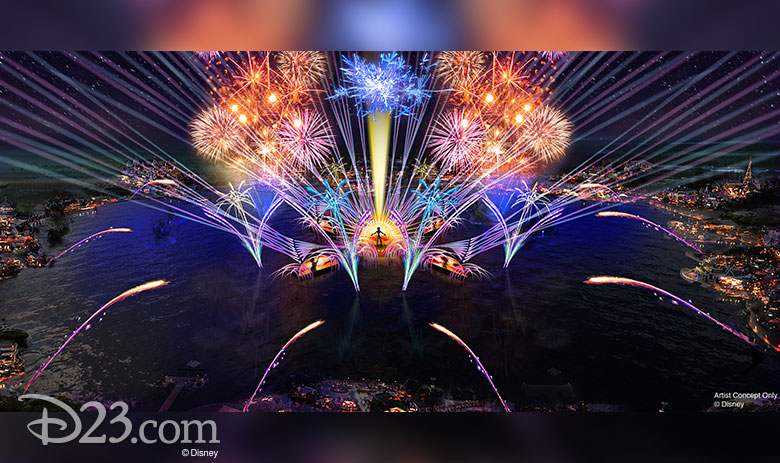 The new nighttime spectacular HarmonioUS will follow the limited-time run of Epcot Forever and will be the largest ever created for a Disney park.
The magnifique plans for the France pavilion include the much-anticipated attraction Remy's Ratatouille Adventure, as well as a delicious new restaurant called La Crêperie de Paris, both coming to Epcot in summer 2020. The classic Impressions de France film will be joined by an all-new Beauty and the Beast Sing-Along in January 2020.
The Canada pavilion will be home to Canada Far and Wide in Circle-Vision 360, which will debut in January 2020 with new scenes and a new story.
In the China pavilion, Wondrous China will take guests on a spectacular journey across China, filmed and presented in a completely seamless 360-degree digital format.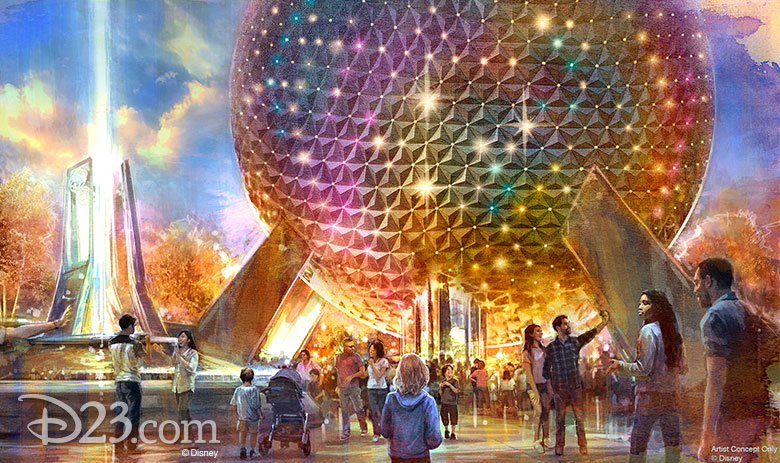 World Celebration
New magic is coming to the iconic Spaceship Earth, which will remain a voyage through time as the journey transforms with new scenes reflecting the universal nature of the human experience. A new guide and all-new narration will focus on the storytelling that brings people together.
Epcot's signature festivals will have a home base in a new pavilion that will offer a stunning view of World Showcase—and the distinctive three-level structure will be an especially wonderful vantage point from which to witness the park's nighttime spectacular.
Dreamer's Point will also offer spectacular views and will feature lush gardens, a wishing tree, an interactive new fountain, and a new statue that pays homage to Walt. "You all know that Epcot was Walt's dream," Chapek said, "and we all imagine him along with us, looking out from this very spot."
World Nature
Guests visiting this neighborhood will meet and play with magical, living water, which has a mind of its own in the new attraction Journey of Water, Inspired by "Moana."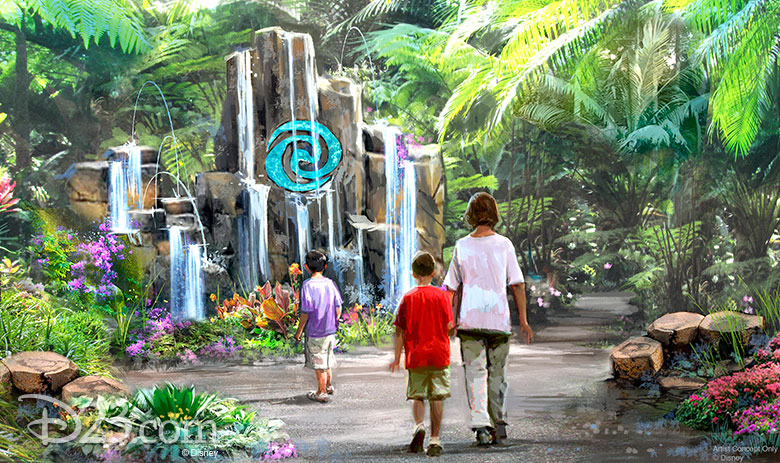 The new film Awesome Planet showcases the spectacular beauty, diversity, and dynamic story of the planet. It's coming to The Land pavilion in January 2020.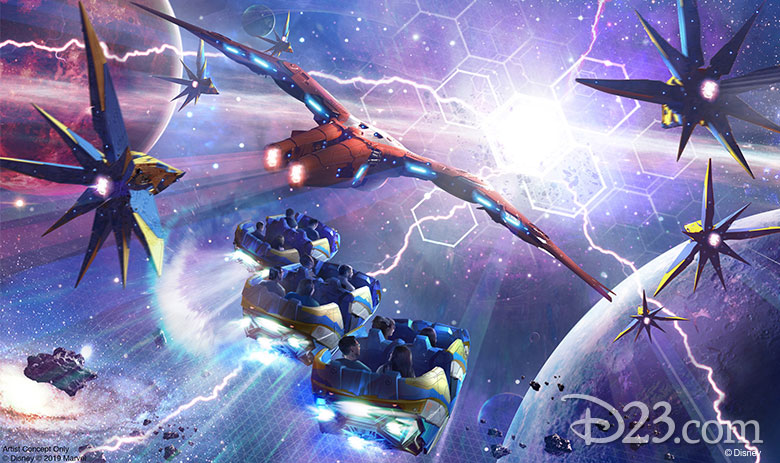 World Discovery
The new and thrilling family-friendly attraction Guardians of the Galaxy: Cosmic Rewind will feature the first-ever reverse launch into space. "It's going to be awesome," Chapek said, as he announced the new coaster, which rotates to focus on the action, wherever it might be.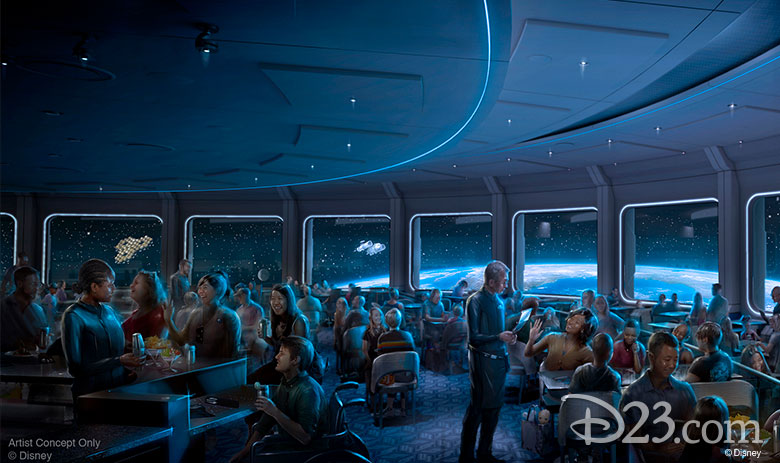 The new restaurant Space 220 takes its name from its distance above earth. Departures begin this winter for the out-of-this-world culinary experience where you'll also be able to take in daytime and nighttime views of Earth from 220 miles up.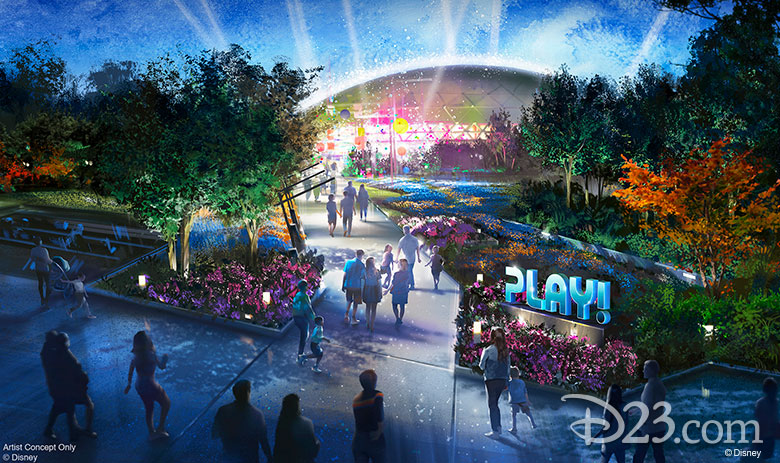 PLAY! Pavilion will invite guests to discover a city bursting with games, activities, and experiences that will connect them with family, friends, and favorite Disney characters like never before. We're especially excited to join in an epic water balloon fight with Huey, Dewey, Louie, and Webby when the pavilion opens (in time for Walt Disney World's 50th anniversary).
And in celebration of Epcot's incredible transformation, the park will debut a new signature anthem. Today award-winning composer Pinar Toprak gave D23 Expo attendees a preview of her beautiful melody.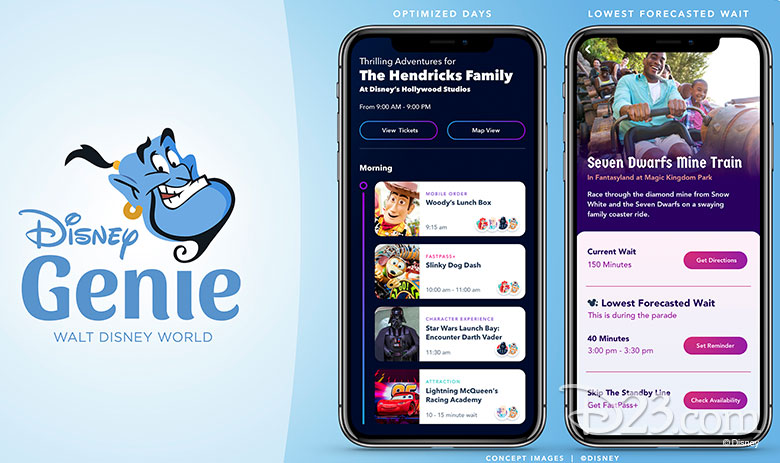 Walt Disney World Resort's 50th Anniversary
The party is coming to all four parks at Walt Disney World Resort, and we can look forward to highly anticipated attraction openings and new entertainment, special food and beverages, merchandise, and more.
Planned to debut in late 2020, Disney Genie is a revolutionary new digital offering that will enhance the way guests plan for and experience a trip to Walt Disney World Resort. Disney Genie will make planning easier and more fun by providing guests customized itineraries geared to princesses, thrill seekers, foodies, families, and more. Guests will even be able to tell Disney Genie what they want to experience, and it will quickly evaluate millions of options to present them with an optimal day.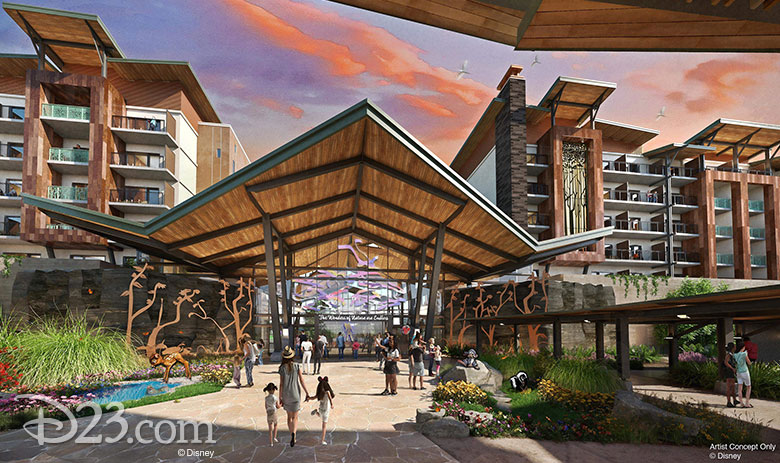 Reflections: A Disney Lakeside Lodge
Today, Chapek shared a new look at the hotel and proposed Disney Vacation Club resort that draws inspiration from the wonders of nature and artistry of Walt Disney.
Star Wars Galactic Starcruiser
Prepare for the ultimate out-of-this-galaxy adventure! When guests board the Halcyon for a two-night adventure at Walt Disney World Resort, they'll depart together—as they would do on any cruise. But unlike most cruises, they'll live out their multi-day story as it interweaves with the Halcyon crew, fellow passengers, and "interesting" characters from a galaxy far, far away. You never know who you might encounter. And every window has a view that looks out into space.
The journey will feature incredible dining, a "spaceport" day on Batuu at Star Wars: Galaxy's Edge, and special activities—including an opportunity for both kids and grown-ups alike to learn how to wield a lightsaber.
We've got a really good feeling about this vacation experience, which will begin booking soon.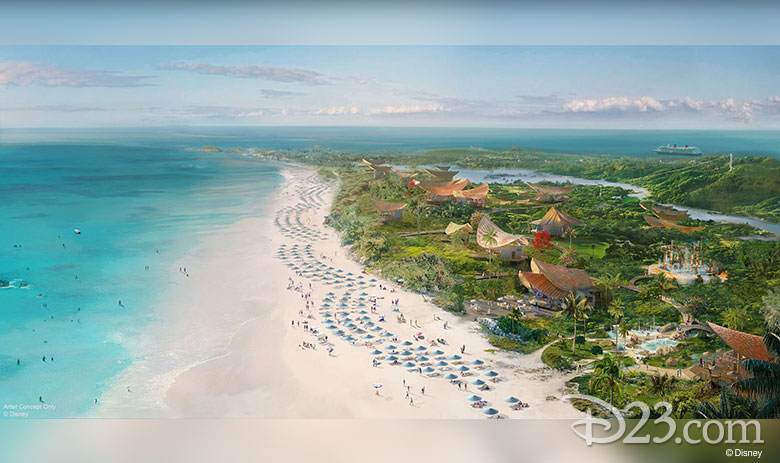 Disney Cruise Line (DCL)
Joe Rohde, portfolio creative executive for Walt Disney Imagineering, came to Hall D23 to share plans for DCL's new port of call, which was announced today. Lighthouse Point will be located on the breathtaking island of Eleuthera and will celebrate both the stories of the Bahamas and the natural environment of Lighthouse Point itself. Rohde and the team at WDI are working with local artists and cultural experts to create a unique destination that is rooted in Bahamian culture and filled with Disney magic. "The end result will be a place not like any other—not a replica of some old Bahamian town, not a pirate fantasy, but a dreamlike landscape of adventure by the sea, where art and nature combine with Disney magic to create a destination that can only exist in one place: here at Lighthouse Point," Rohde said. He also noted that Disney will be directly involved in conservation efforts to preserve and protect the environment.
Three new ships are coming to the Disney Cruise Line fleet, and today Chapek announced the name of the first of the trio, which will first set sail in January 2022: the Disney Wish. Rapunzel will grace the stern of the new ship, which will feature an expansive atrium inspired by the beauty of a Disney fairy tale.
Today's presentation culminated with a video featuring several young people whose lives were changed as the result of wishes granted by Disney as part of its ongoing relationship with Make-A-Wish. They joined Disney characters on stage for a spectacular finale.
"Thank you for helping us celebrate hope, magic, and the power of a wish to change a life—and the world," said Chapek to bring the morning to a spectacular close. "Because after all, we're all here because of one man's wish to build a place where both he and his daughter could have fun together. And look what that's led to: millions of families around the world brought together by the magic of Disney and millions of magical memories that last a lifetime."