By Courtney Potter
New Rogue One Trailer to Air During Rio Olympics, This Thursday!
UPDATE: The new Rogue One trailer is here!
The torch has been lit, and athletes from around the globe have descended on Rio for the 2016 Summer Olympics! If that wasn't exciting enough, get this: During this Thursday's live Olympic coverage, Disney and Lucasfilm will premiere an all-new trailer for Rogue One: A Star Wars Story!
We can't tell you exactly when it'll air, but we do know it'll be sometime during NBC's live event coverage throughout the day (and into the evening) of Thursday, August 11. And something tells us it'll be worth waiting for. (The bonus, of course, will be catching some thrilling highlights from beach volleyball, swimming, and women's gymnastics in the meantime… )
Don't forget: Rogue One: A Star Wars Story hits theaters on December 16!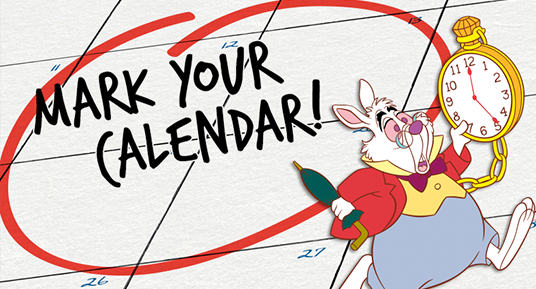 Save the Date!
Be sure to mark these upcoming Disney events on your calendar:
D23 and Walt Disney Archives


August 11


Enjoy Complimentary Tickets to a Special 3-D Advance Screening of Pete's Dragon


August 20


The Reluctant Dragon 75th Anniversary on the Lot


August 22


D23 Presents Aloha Aulani!


September 23


Lunch with a Disney Legend: Bill Sullivan


September 24


D23 Presents Bedknobs and Broomsticks: 45 Bewitching Years (Florida)


October 5


D23's Sip & Scream


October 5


D23 Behind-the-Scenes Experience: A Midnight Soirée at the Tower of Terror


November 19–20


D23 Destination D: Amazing Adventures


July 14-16, 2017


D23 Expo 2017


Studios




August 12, 2016


Pete's Dragon opens in theaters


September 23, 2016


Queen of Katwe opens in theaters


November 4, 2016


Doctor Strange opens in theaters


November 23, 2016


Moana opens in theaters


December 16, 2016


Rogue One: A Star Wars Story opens in theaters
Parks
September 2, 8, 11, 13, 16, 18, 20, 23, 25, 29, 30; October 2, 4, 6, 7, 10, 11, 13, 14, 16, 18, 20, 21, 23, 25, 27, 28, 30, 31
Mickey's Not-So-Scary Halloween Party at Walt Disney World Resort
September 23, 26, 28, 30
October 3, 5, 7, 10, 12, 14, 17, 19, 21, 24, 26, 29, 31
Mickey's Halloween Party at Disneyland Resort
September 2–October 29 (Friday and Saturday Nights, plus October 31)
Club Villain, special ticketed event at Disney's Hollywood Studios
September 14–November 14, 2016
Epcot International Food & Wine Festival
November 7, 8, 10, 11, 13, 15, 18, 27, 29; December 1, 2, 4, 6, 8, 9, 11, 13, 15, 16, 18, 22
Mickey's Very Merry Christmas Party at Walt Disney World Resort


Television




September 18


68th Emmy® Awards broadcast on ABC at 7 p.m. ET/4 p.m. PT

As Told By Emoji Goes "Bibbidi Bobbidi Boo"!
Yes, it's true—time for another installment of the impossibly adorable As Told By Emoji series from our friends over at Disney Interactive Media. For today's chapter, they've taken on Disney's 1950 animated classic Cinderella… Don't forget that you can get these very emojis on the mobile device of your choosing, just by playing Disney Emoji Blitz (available at the Google Play store and the iTunes App Store).
But that's not all: Cinderella As Told By Emoji heralds unparalleled access to all 11 Disney Princess films—and it's all to celebrate the upcoming 25th anniversary of Beauty and the Beast this fall! So keep your eyes peeled from September 6 through October 17 for your chance to bring your favorite Disney Princess film home.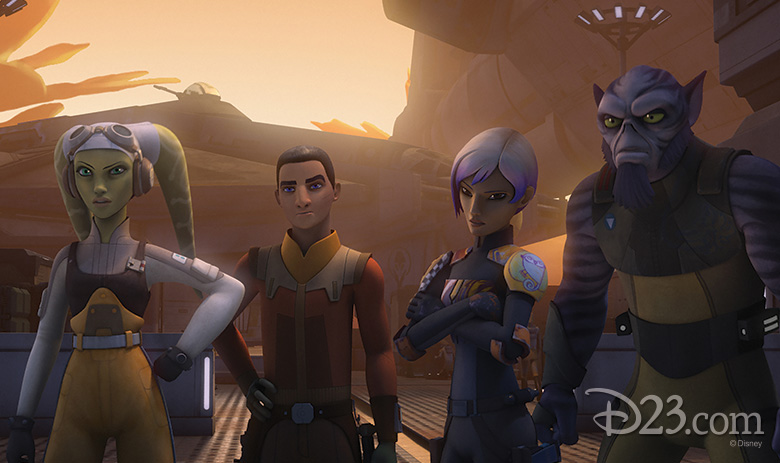 Star Wars Rebels Season 3 to Debut on September 24
We've got another tidbit of fantastic Star Wars news: Disney XD's critically acclaimed series Star Wars Rebels is returning for its huge third season on September 24. During the one-hour premiere event (from 8:30–9:30 p.m. ET) entitled "Steps Into Shadow," viewers will be introduced to several new characters…
Having established a secret base on Atollon, the Ghost crew—now led by a more powerful Ezra (Taylor Gray)—strengthens the rebel fleet by acquiring new resources and recruits eager to stand against the Empire. However, the Imperial efforts to eliminate the rebellion are now being led by the coldly analytical Grand Admiral Thrawn (new addition Lars Mikkelsen), whose insights make him a threat unlike any they have faced before. Plus, Ezra and Sabine (Tiya Sircar) take on new roles and challenges as the rebels prepare for their biggest mission yet… a direct assault on the Empire!
Star Wars Rebels also stars Freddie Prinze Jr. as Kanan, Vanessa Marshall as Hera, Sam Witwer as Darth Maul, David Oyelowo (soon to be seen in Disney's Queen of Katwe) as Agent Kallus, and—new this season—Tom Baker (Doctor Who) as Bendu. Need to catch up? Look for Star Wars Rebels Season Two on Blu-ray® and DVD beginning August 30.
Leap Into Adventure with New Moana Trailer
"Light the torch, find your way, dive right in…" Disney's Moana won't reach our proverbial shores 'til Thanksgiving—but thankfully, we have an all-new trailer to help tide us over! Check out the new clip (featuring a taste of the soundtrack provided by Broadway superstar Lin-Manuel Miranda, Pacific musician Opetaia Foa'i, and composer Mark Mancina), above…
Walt Disney Animation Studios' Moana follows an adventurous teenager (Auli'i Cravalho) who sails out on an action-packed, life-altering voyage to save her people. Also starring Dwayne Johnson, Jemaine Clement, Nicole Scherzinger, and Alan Tudyk, Moana arrives at a cineplex near you on November 23.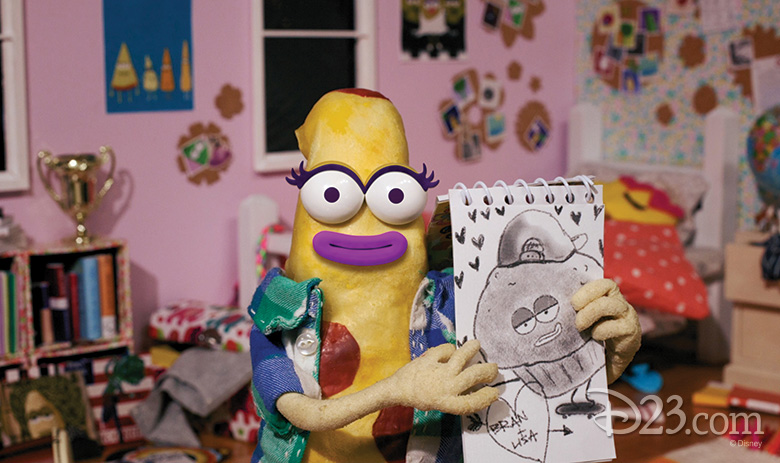 Disney Channel Debuts "Free Period": Original Short-Form Movies
They're a unique collection of short-form stories, told from a family-friendly perspective… and they're now available on both the Disney Channel app and the Disney Channel YouTube page!
"Free Period" is Disney Channel's all-new collection of original short-form movies—12 in all—from up-and-coming content creators including actor Kent Boyd (Teen Beach Movie), acclaimed choreographer Christopher Scott (So You Think You Can Dance), and Imagen Award-winning director Francisco Lorite and producing partner Freddy Rodriguez (Six Feet Under). The films offer a diverse range of genres, from irreverent comedy to mystery adventure, and some very unique visual styles; they'll roll out daily now through Thursday, August 18. Fire up your nearest mobile device and check 'em out!
Your Chance to Win a Trip to the Epcot International Food & Wine Festival
Ever wanted to check out the amazing food and beverages (and fun!) available at Epcot's legendary International Food & Wine Festival? Well, good news: You could win a trip to the festival from ABC's The Chew; they're looking to send one winner and three guests to stay in the middle of all the magic from October 5–9! Find out how to enter by watching the clip, above. You have until September 2 to throw your hat into the ring…
The 21st annual Epcot International Food & Wine Festival will feature some totally major culinary stars—including Graham Elliott, Geoffrey Zakarian, and Cat Cora—plus an amazing "Eat to the Beat" Concert Series with big-time music acts like Blues Traveler and Plain White T's! Learn more at the festival's page on DisneyWorld.com.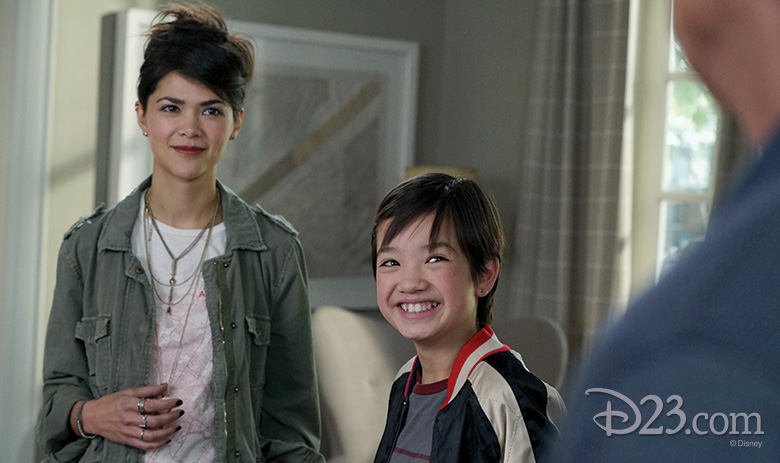 New Disney Channel Show from the Creator of Lizzie McGuire
So much amazing Disney Channel news this week, right? Well, here's more: Mere days ago, the network announced a brand-new show for kids and families. Andi Mack, created and executive produced by Terri Minsky—who also created one of Disney Channel's defining hit series, Lizzie McGuire—begins production this fall in Salt Lake City, Utah, with its eye on a 2017 premiere. Newcomer Peyton Elizabeth Lee will star in the title role; the series will also feature Lilan Bowden (Zombie Apocalypse), Lauren Tom (Friends), and Joshua Rush (Disney's The Lion Guard).
The show centers around Andi as she's about to celebrate her 13th birthday. However, when her quirky older sister Bex returns home with the hope of getting her life together, Andi's own life is turned upside-down… and she is left questioning everything she's ever known. Look for it on Disney Channel next year!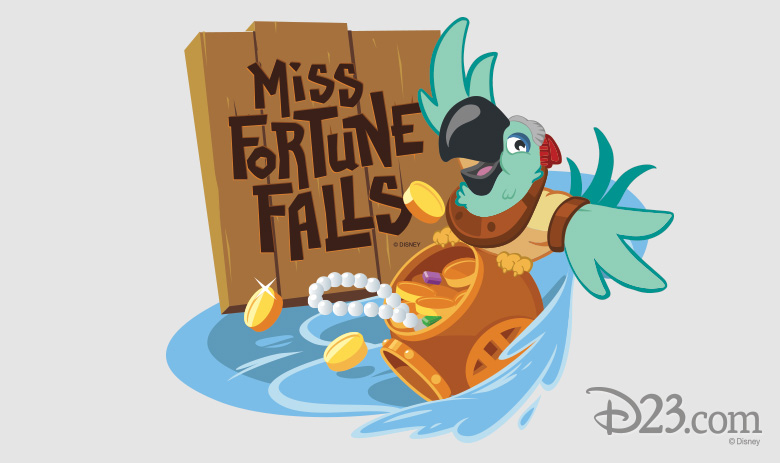 More Fun to Come at Disney's Typhoon Lagoon
There are two amazing water-based parks at Walt Disney World—Typhoon Lagoon and Blizzard Beach—and inside their gates are some of the best (not to mention most fun) ways to keep cool on your vacation. Now, a brand-new attraction is coming to Typhoon Lagoon, and it'll be ready to ride in spring 2017.
Miss Fortune Falls is a family-style raft attraction that will takes guests on a journey through the fabled Captain Mary Oceaneer's past. Legend has it that Captain Oceaneer, an awesome treasure-hunting heroine, traveled across the seas collecting artifacts before she became stranded at Typhoon Lagoon many years ago by a rogue storm. Guests will board rafts and ascend to the top of the attraction before plunging into a white-water expedition, where they will be able to spot some of the treasures the good captain has gathered from around the globe. With its two full minutes of adventure, Miss Fortune Falls will be among the longest attractions at both Disney water parks. Stay tuned for more info as it becomes available, me hearties!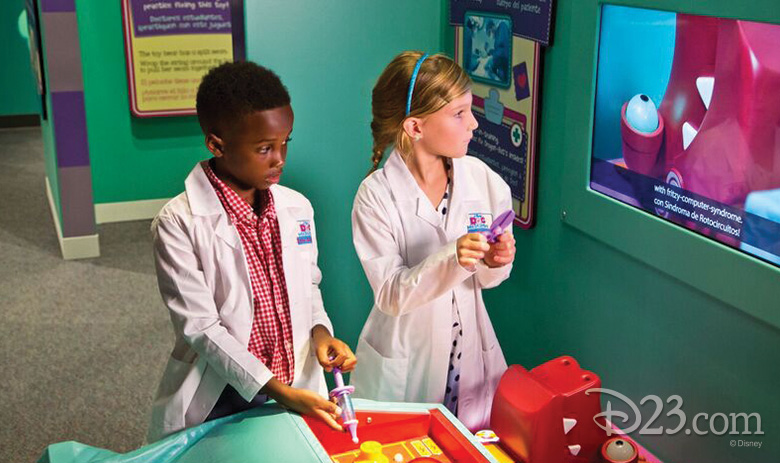 "Doc McStuffins: The Exhibit": Open Now at World's Largest Children's Museum
"The doc is in," and she's coming to a town near you! Disney Junior is bringing its popular Doc McStuffins to communities around America in a first-ever touring museum exhibit based on the Peabody Award-winning television series! "Doc McStuffins: The Exhibit" just opened at The Children's Museum of Indianapolis (the world's largest museum for kids), and will travel to other museums around the country next year.
The exhibit is designed to model "care and compassion" for kids between the ages of 2 and 7, all through immersive activities that reinforce the importance of health and wellbeing. The bilingual (English/Spanish) interactive exhibit transports kids (and families) into Doc's iconic backyard clinic and the McStuffins Toy Hospital, where they'll don a white doctor's coat, "scrub in" (learning the importance of washing hands to avoid germs), and assist on an "operation" of a toy dragon robot.
Keep your eyes peeled for more info on the exhibit's travels as we head into 2017.