By Beth Deitchman
In Elena of Avalor: Scepter Training with Zuzo, the new short-form series debuting Saturday on Disney Junior, the young princess' royal education continues. As Elena learns to lead her kingdom, she must also learn to master her magic scepter and its new-found powers—and that isn't as easy as one might think.
The writer of these new shorts, Manuel Jesse Nieto Jr., can relate to a challenge. The debut of the new short-form series—his first official writing credit—is the culmination of a 16-year journey that began while he watched the 2002 Oscars®. He'd watched the awards telecast for as long as he can remember, but something clicked for him that year. "The very next day I signed up for my very first screenwriting class, and I fell in love with the whole process," Nieto shares.
While working a day job in Southern California's Inland Empire, Nieto honed his new craft by night. He also became involved with the National Association of Latino Independent Producers (NALIP) and volunteered his time at their annual conference for several years. It was at one such event that Nieto heard words of inspiration from The Middle executive producers DeAnn Heline and Eileen Heisler. The prolific TV writers shared stories from their days as production assistants, and Nieto was struck to hear about their humble beginnings. "That was the first time I really realized that I could do it," he thought.
In 2009, Nieto was one of just 10 writers accepted for the National Hispanic Media Coalition's Television Writers Program. It was in that immersive five-week program that he met someone who would play a pivotal role in his quest to write for television: Silvia Olivas, who now serves as co-executive producer and story editor of Elena of Avalor. When she told Nieto about the series that would introduce Disney's first Latina princess, he knew that he wanted to be a part of it. He joined the Elena of Avalor crew as production secretary, and soon climbed the ladder to writer's assistant, then apprentice writer, and finally writer of Elena of Avalor: Scepter Training with Zuzo. He is now a writer on Disney Television Animation's recently announced new series, The Owl House, set to debut on Disney Channel in 2019.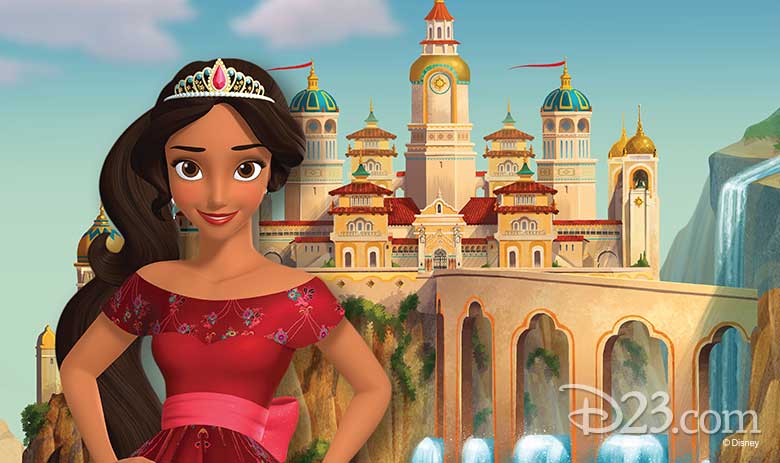 Nieto credits the Elena of Avalor creative team including Olivas, creator/executive producer Craig Gerber, and co-producer/supervising director Elliot Bour for their guidance. "I was lucky to be surrounded by such great talent on my first Disney Television Animation project. Silvia taught me so much about how I want to act in a writers' room: listening, bringing up positive feedback even when you're suggesting changes," he says. "I learned from Craig to focus not only on the job, but the people. And Elliot showed me how to use visual elements to tell a story. I look for that now when I'm writing."
Through writing for Elena and helping her grow as a character in the short-form series, Nieto has learned a lesson or two himself, he admits. "Elena is learning that it's OK to make mistakes and not get something right the first time. It's OK to stumble, then you can change things the way that you'd like to see them," Nieto says. "At the end of the day, she knows where she comes from and she knows that her family is the most important thing in her life. I feel like writing for her in these shorts, she's the one who ended up teaching me."
Elena of Avalor: Scepter Training with Zuzo debuts this Saturday, February 24, on Disney Junior (11:25 a.m. ET/PT and 11:55 a.m. ET/PT). The shorts will also be available same day in the DisneyNOW app and on Disney Junior YouTube.