By Beth Deitchman
Life has always been like a hurricane on DuckTales, and in a brand-new episode of the animated series that just premiered on Disney XD, love has a similarly dramatic effect on Donald Duck. This morning marked Daisy Duck's DuckTales debut, and it was love at first sight for Huey, Dewey, and Louie's uncle. While there's much to love about Donald, from his jaunty sailor's cap to, shall we say, his tempestuous personality, Daisy first was smitten by his smooth singing voice—and we're not quacking a joke. It turns out that Donald's distinctive vocals sound very different to Daisy than they do to us. Take a gander in the clip below:
Donald's big number, "Hear My Voice," was performed by Dominic Lewis, who wrote the song's melody and serves as DuckTales' composer. Executive producer Matt Youngberg and co-executive producer/story editor Francisco Angones tapped Lewis to serve as Donald's singing voice so that we might hear our feathered hero the way that Daisy hears him. Lewis tells D23 that it wasn't a major stretch to find his inner duck and help bring to life the magical moment that Donald and Daisy's romance takes flight. "I think everybody has a bit of Donald in them—very sweet, but can kind of explode at any point," he laughs. "I think—and my wife would probably agree—I'm an extremely sensitive person. That aspect of it was very easy to channel… Emotional stuff tends to come way easier to me than more general songs."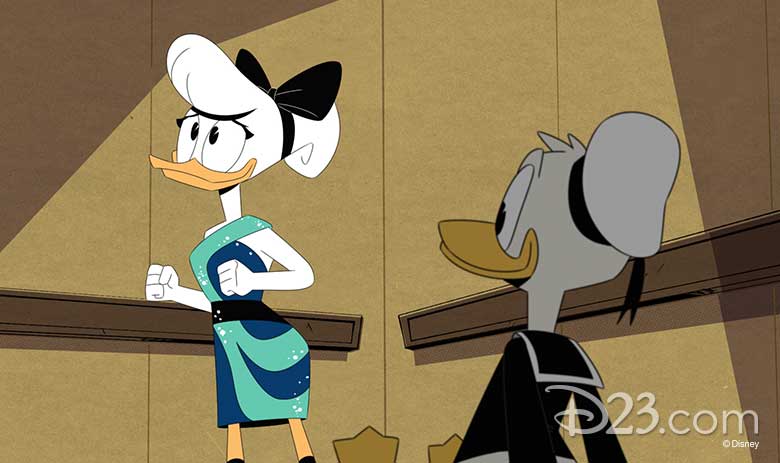 The heartfelt lyrics were penned by Madison Bateman, a staff writer on DuckTales, before Lewis began writing the melody—a departure for the composer, who typically begins his creative process with the music. Youngberg and Angones had already given Lewis a sense of what direction the song should take, but after he received the lyrics, Lewis recalls, "Just reading the words, I could hear the rhythms just come straight off the page."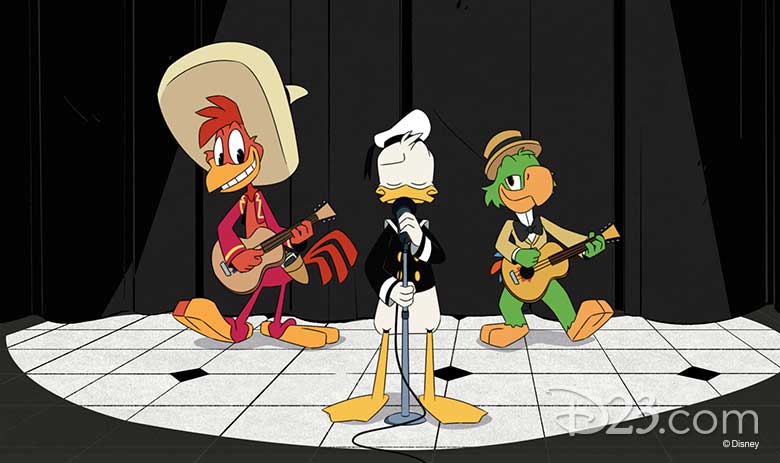 The Three Caballeros play an important role in the episode, titled "Louie's Eleven," as the trio hopes to impress Duckburg's most popular tastemaker, Emma Glamour—voiced by Bebe Neuwirth—and make it on to her coveted "it list." Louie plans an elaborate break-in to move the Three Caballeros past the many obstacles that stand between them and Emma Glamour—one of which happens to be her no-nonsense party planner, Daisy.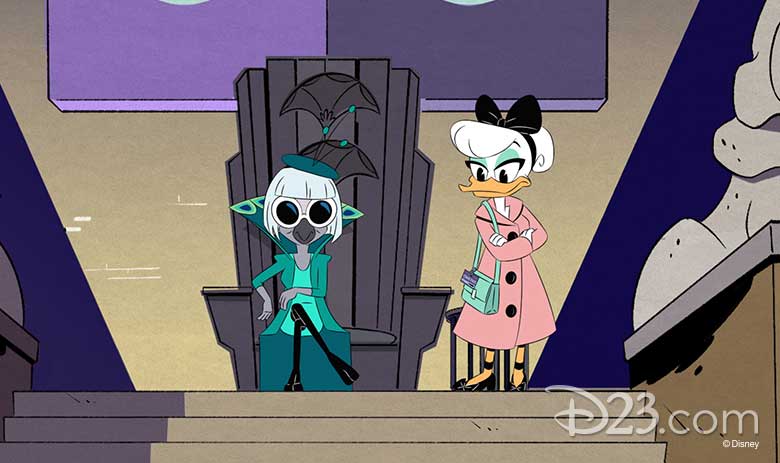 It was a given, Lewis explains, that "Hear My Voice" feel like a song the Three Caballeros would perform but also have a modern vibe. He recalls, "We brainstormed the idea and [decided on] something that was very moving and started out as a ballad, but is also true to today's reggaetón or Latin-influenced music." The song is also reminiscent of some of the great Disney standards, and that's by design, Lewis shares, noting, "It had to have that Disney sparkle to it."
Composing for DuckTales is a musical duck blur in the best possible sense, explains Lewis, whose credits include The Man in the High Castle and Disney Junior's The Rocketeer. "That's why I love this show. Every single episode I have to pull from a different genre and mix genres," he notes. "Louie's Eleven" features a particularly wide range of musical styles. "I got to do that kind of caper-y Ocean's Eleven-type stuff—'heist-y,' kind of cool, jazz-influenced and hip hop-influenced stuff for the mission. Then you've got the kind of source music for the party—the house music in the background. You've got 'Hear My Voice' and you've also got the kind of Vegas-inspired [music that accompanies an amazing show of talent from Dewey]," Lewis details. This variety constantly inspires Lewis, who is able to draw upon infinite influences and instrumentations to compose a score that accompanies the ducks to the desert, the jungle, or anywhere the animators can imagine. "It's great," he emphasizes. "I can pull from my favorite classical composers, I can pull from my favorite pop artists or hip hop for everything. It's just a really great smorgasbord of stuff."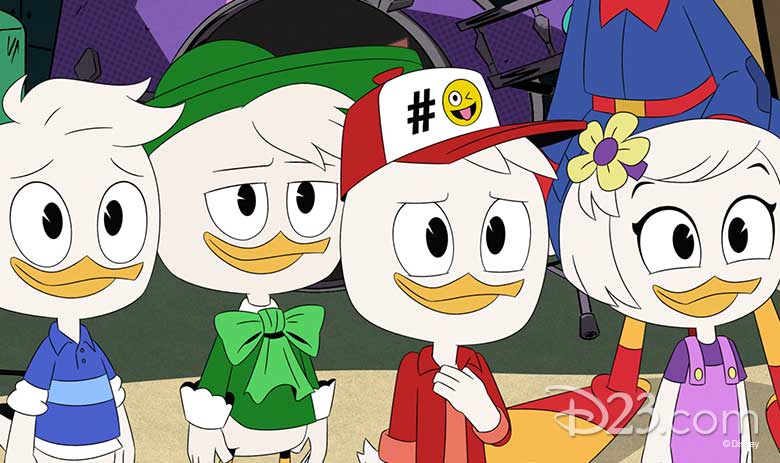 Of course, the job is even more satisfying for Lewis because he's a lifelong DuckTales fan. He and the Disney Television Animation music team had been looking for the perfect opportunity to collaborate when DuckTales came along. "That's my childhood—it's who I am," Lewis shares, and he signed on immediately. "That's what's great about the show: Every single person who works on the show does it because they were so in love with it as a child and they want to make the best show they can."
As he sets out to compose for each episode, Lewis says it's easy to get his creative ducks in a row and begin scoring. "As soon as you get into the episode you're like, 'OK, I'm in,'" he says, crediting the writers and animators, led by Youngberg and Angones, for the amazing content from which he draws so much inspiration. He shares, "If I'm honest, I think if I had a dial, my home dial, that 'zero' would be set at DuckTales. I think that's where I'm set. That's where I've been programmed."