By Andie Hagemann
The fate of the world depends on… a teenager?
The all-new, original animated comedy Hailey's On It! follows Hailey (voiced by Auli'i Cravalho), a risk-averse but resourceful teenager from Oceanside, California, on a mission to complete every item on her long list of challenging—and oft impractical—tasks in order to save the world. In the process, she is pushed outside of her comfort zone and discovers her true strength and inner greatness.
From performing in a school musical to tackling every ride at the county fair, or facing her complicated, and ever-growing feelings for her best friend Scott (voiced by Manny Jacinto), Hailey is always facing new challenges, and more opportunities to conquer her fears. But she has outgoing Scott and Beta (voiced by Gary Anthony Williams), an artificially intelligent operating system from the future, to lean on and keep her on track.
"[Hailey and Scott] are two opposites that are perfectly aligned for each other," says Devin Bunje, co-creator and executive producer. "He is the perfect best friend that helps pull her out of her shell, but she's also there to help him think twice before he does something too crazy."
Co-creator and executive producer Nick Stanton adds, "We wanted to have the characters grow and change throughout the series. We know she's going to accomplish great things, but how that journey happens was an interesting question for us [to answer]."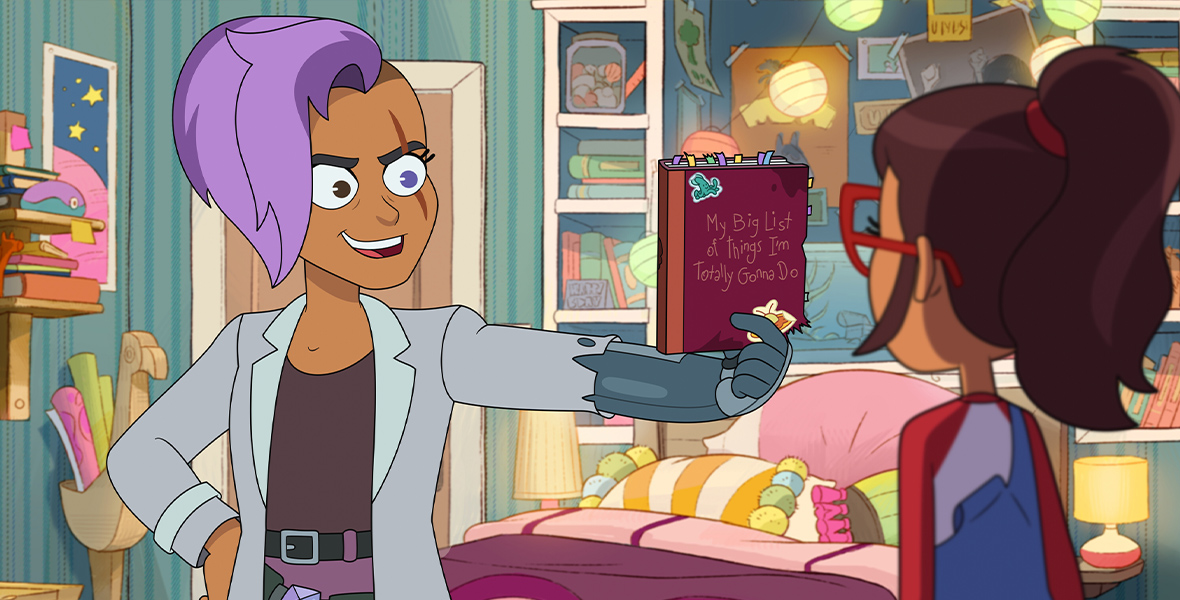 Don't expect Hailey's "big list" to be chock-full of fantastical situations. Stanton teased an upcoming episode (one of his favorites thus far) where Hailey attempts to throw a "cool party"—one of the goals on her list. "The entire episode is set in Hailey's backyard," he says. "When one of the popular girls brings a game, things become tense and using a limited setting [was a fun challenge]."
Bunje adds his favorite moments are when Hailey is a little too boastful after accomplishing a task. "[In one scene], she grabs Scott's soda can and shoots it like a basketball but misses and it explodes so she jumps on it and stabs it," he continues with a laugh.
Hailey's On It! features music from varying genres, from K-pop to musical theater to pop-rock to EDM, some of which inject hilarity into the series' storytelling. "We wrote the 'tunnel of love' song in our original pilot script, and Disney [connected us with] options for composers and songwriters," recalls Bunje. "Matthew Tishler and Andrew Underberg blew us away with their first take, which ended up in the show.
"Matthew and Andrew have the same comedic timing and [humor] as us," he continues. "It all just fits perfectly with the tone of the show—a little bit of funny, a lot of heart, and great music overall."
The series voice cast includes Cooper Andrews as Kai, Hailey's dad; Julie Bowen as Patricia, Hailey's mom; Josh Brener as A.C., Hailey's academic rival; Sarah Chalke as The Professor, a high-energy scientist from the future; Nik Dodani as Thad, Hailey's classmate; Judy Alice Lee as Becker, Scott's younger sister; Amanda Leighton as Kristine, the most popular girl in school; Joy Osmanski as Sunny, Scott's mom; and Nico Santos as Jonathan, Hailey's classmate.
The star-studded guest cast includes Brian Jordan Alvarez, Blake Anderson, Mick Foley, Jo Koy, Jack McBrayer, Bebe Neuwirth, Chris Parnell, Tim Robinson, Natasha Rothwell, Brandon Mychal Smith, Martin Starr, and Weird Al Yankovic.
Hailey's On It! premieres Thursday, June 8, at 8 p.m. ET/PT with two episodes on Disney Channel and Disney XD, and is available the next day on Disney+.