By Courtney Potter
That's right: It's almost "That Time of Year" when our friends from Arendelle—Queen Elsa and Princess Anna, mountain-man Kristoff, his trusty reindeer Sven, and everyone's favorite sunny snowman Olaf—return to the big screen in Walt Disney Animation Studios' brand-new featurette, Olaf's Frozen Adventure.
Premiering ahead of Disney•Pixar's Coco for a limited time beginning November 22, the featurette follows Olaf (voice of Josh Gad) as he embarks on a very merry important mission… It's the first holiday season since Arendelle's gates reopened—and Anna (voice of Kristen Bell) and Elsa (voice of Idina Menzel), with Kristoff's (voice of Jonathan Groff) keen assistance, are excited to host a big celebration for the kingdom. But when the townspeople unexpectedly leave early to enjoy their own holiday customs, the sisters realize they have no family traditions to delight in together. And so, ever-helpful Olaf sets out to comb the countryside with Sven for all the very best traditions and save this inaugural Christmas for his best friends.
D23 recently sat down with Olaf's Frozen Adventure's Emmy®-winning directors Kevin Deters and Stevie Wermers-Skelton (Prep & Landing); Oscar®-winning producer Roy Conli (Big Hero 6); songwriters Elyssa Samsel and Kate Anderson; and Olaf himself—Josh Gad—find out some frosty-fun stories from the making of the featurette.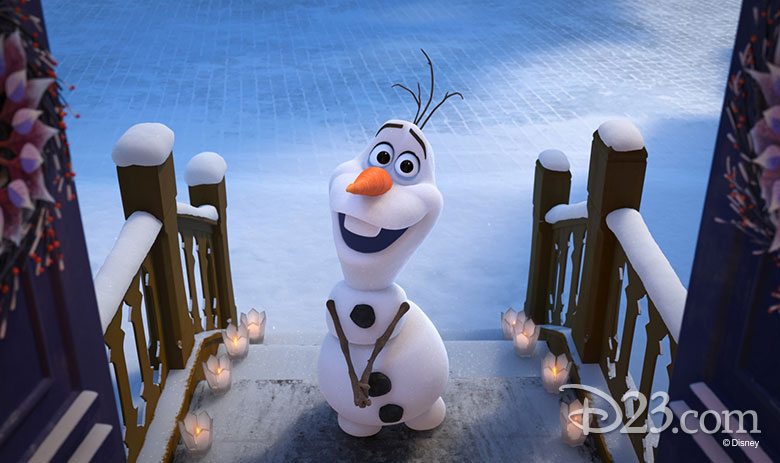 On what it was like to revisit Olaf, a character with universal appeal…
"Going into the booth and tapping into the sheer innocence and naiveté of this snowman is one of my favorite things to do," admits Josh. "He's so pure and he's so untainted, and he has such a wide-eyed approach and take on life that it really is unbelievably fun to tap into that." Roy agrees, adding about Josh, "Talk about a guy who's all in! He embraces his character [and] knows him inside and out. So, it's really great when we get into recording with him, because you can let him go. Jac Schaeffer, who wrote the script, was always at the recording sessions. And when we would get into some of the comedic parts, Josh would start riffing, and Jac would start riffing, and [directors] Kevin and Stevie would start riffing—and there would be just this wonderful dialogue going back and forth, from the booth to the recording room. And it just made everything better."
On the unique visual details created by the filmmakers…
Says Kevin, "I think one thing that was interesting that our production designer Mike Giaimo—who also worked on Frozen—felt strongly about was how the story for Olaf's Frozen Adventure takes place after the original feature, obviously. And in the feature, Elsa and Anna are reunited, everybody's happy—and Mike felt like that sort of new dynamic of the relationship should be reflected in the basic approach to their new attire. So you'll notice that Anna and Elsa's outfits, their dresses and skirts and so forth—they're harmonious in terms of color. They complement each other, [including the] fabric, as opposed to the feature where they're quite different. So just in a subtle visual way, that's suggesting that they're 'together.' And it helps within our story, for Olaf's character—[he sees] that they may be 'together' for the holidays, but they're still not quite sure what that means. I thought that was a nice touch."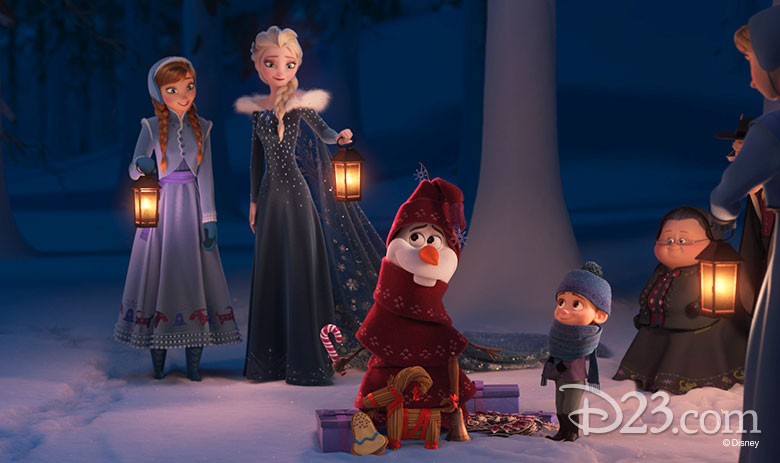 On getting to work within the "palette" of a global phenomenon like Frozen…
"We knew we had huge shoes to fill, because the music of Frozen was already a worldwide sensation," explains Elyssa—who, along with songwriting partner Kate Anderson, comes to Disney for the first time from the world of musical theater. "It is so beautifully epic, brilliant, and filled with heart. So when we were auditioning for the job, we got to hear the directors' incredible pitch—and we immediately we felt so inspired and had a thousand and one ideas for songs. They asked us to write one demo, but we wrote five, because we knew we really wanted to give our all."
Kate continues, "This opportunity was very meaningful to me on so many levels—one being that my sister, Kristin Anderson-Lopez, and brother-in-law Robert Lopez wrote the songs for Frozen and [helped] create that universe… and now Elyssa and I were being entrusted to continue it for the featurette. It was daunting, and yet everything I've ever dreamed of!"
On tackling a project with music for the first time…
"I had so much fun working on this," admits Stevie, who co-directed the animated holiday special Prep & Landing with Kevin in 2009. "It's so 'quintessential Disney' to be a musical, and it just really felt like, 'Wow, here we are working at Disney; we're making this thing that's a musical. This is what it's all about here, right?'… It was so great working with Elyssa and Kate, the songwriters—and songs are just a great way of storytelling, anyway… it was just a joy!
"And I've got to say, going to the scoring session a couple months ago, it really had that sort of Disney magic," she continues. "I got all goose-bumpy in the studio room when they were recording with the full orchestra. It was really cool and really special, and you realize, 'Oh, I'm a part of something bigger right now,' when you hear that music."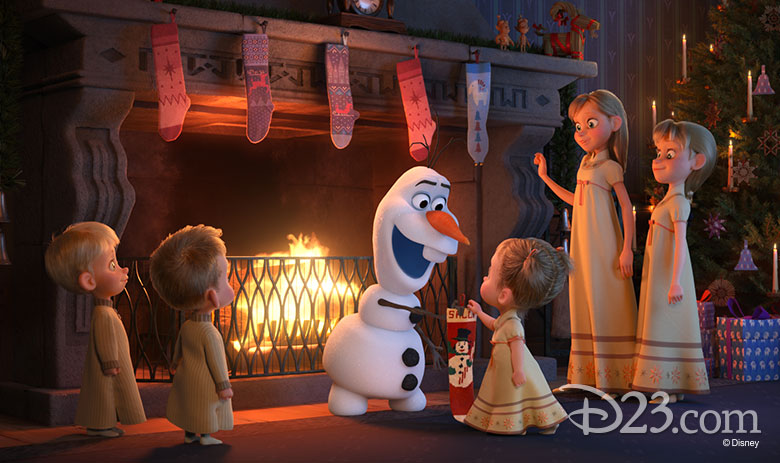 On seeing the featurette for the first time…
"When I came in and they showed me a rough cut of the film, and I heard that final song ["When We're Together"] between the sisters, I was in tears," said Josh Gad, who realized that Olaf's Frozen Adventure has an impact that is especially significant for a 21-minute featurette. "But by the time I left, I realized it was so much more than that. It really surprised me. Without giving away too much, this is truly a continuation of the Frozen story—and the back-story of these characters. The emotional through-line that connects us to the first film is a very powerful one. I think that's what surprised me the most. All of it was memorable, but that to me was the moment where I realized just how special this was."
Catch up with Olaf and his pals when Olaf's Frozen Adventure, featuring four brand-new songs, premieres in theaters around the U.S. on November 22!