By Jocelyn Buhlman
Star Wars: Galaxy's Edge opened at Disneyland in May, and has introduced us to the bright and bustling world of Batuu. While we've had our chance to pilot the Millennium Falcon, build our own droid, and even grab a drink at Oga's Cantina, we've been on the edge of our seats waiting to discover more about the mysterious Star Wars: Rise of the Resistance attraction that was previously announced to open this winter.
Well, intergalactic travelers, we have exciting news for you! Our friends at Disney Parks Blog just revealed the opening date for Star Wars: Rise of the Resistance at both Disneyland and Walt Disney World! If you're planning on visiting Walt Disney World on Walt Disney's birthday—December 5—you have the chance for a new way to celebrate! Star Wars: Rise of the Resistance will open at Disney Hollywood Studios on December 5, honoring the ultimate storyteller with the introduction of the most immersive and advanced attraction ever imagined at a Disney Park!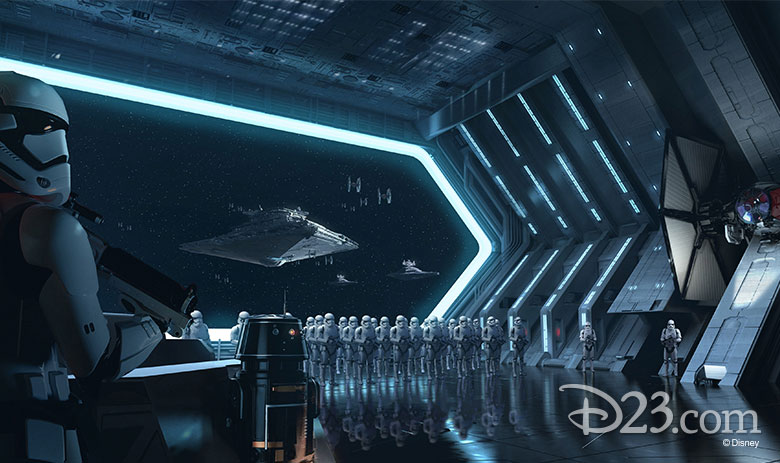 If you call Disneyland your home and can't wait to check out this attraction for yourself, don't worry. Mark your calendar for January 17, when Star Wars: Rise of the Resistance opens at Disneyland park to blur the lines between fantasy and reality.
Star Wars: Rise of the Resistance puts guests in the middle of a climactic battle between the dreaded First Order and our heroes in the Resistance. After being recruited to join Rey and General Organa at a secret base, you face unique challenges like being captured by a First Order Star Destroyer and protecting the secret base, always staying one step ahead of Kylo Ren.
We're already counting down the days until we can experience this thrilling new addition to Star Wars: Galaxy's Edge, but in the meantime, stay up-to-date with every piece of intergalactic breaking news right here on D23.com! Check out our full Star Wars: Galaxy's Edge series for every tip and trick you need to know when you're exploring Batuu.