By Andie Hagemann
Stars from Disney Junior television series Alice's Wonderland Bakery, Mickey Mouse Funhouse, and new series Eureka! along with more fan favorites celebrated the first-ever Disney Junior Fun Fest at Disney California Adventure in Anaheim, California, on Friday, April 29. "It's the first one of its kind, so it's really special to be a part of the original event celebrating animation that moves us, educates us, and that you can watch as family," said Harvey Guillén, who voices the role of Funny the Funhouse on Mickey Mouse Funhouse.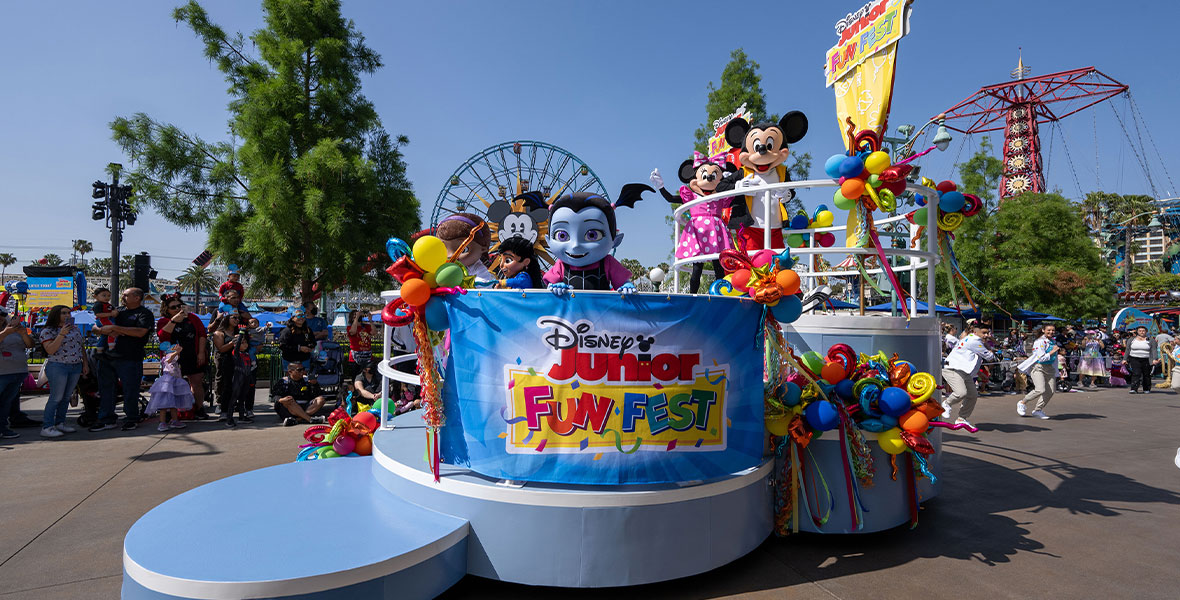 The festivities kicked off with a parade of Disney Junior stars welcoming fans into the park, leading guests to the Palisades Stage in Pixar Pier. Fun Fest also celebrated the 10th anniversary of Doc McStuffins with a special stage show incorporating fellow Disney Junior favorites and an adorable cake "crafted" by Minnie Mouse herself! In addition to all the fun-filled activities—including an "Unbirthday Party" with Alice, a sing-along, live performances, and dance parties—Disney Branded Television unveiled its upcoming slate of brand-new series coming to Disney Junior and Disney+ throughout 2024 including Hey A.J., Kindergarten: The Musical, RoboGobo, SuperKitties, and new short-form content Me & Mickey and Winnie the Pooh.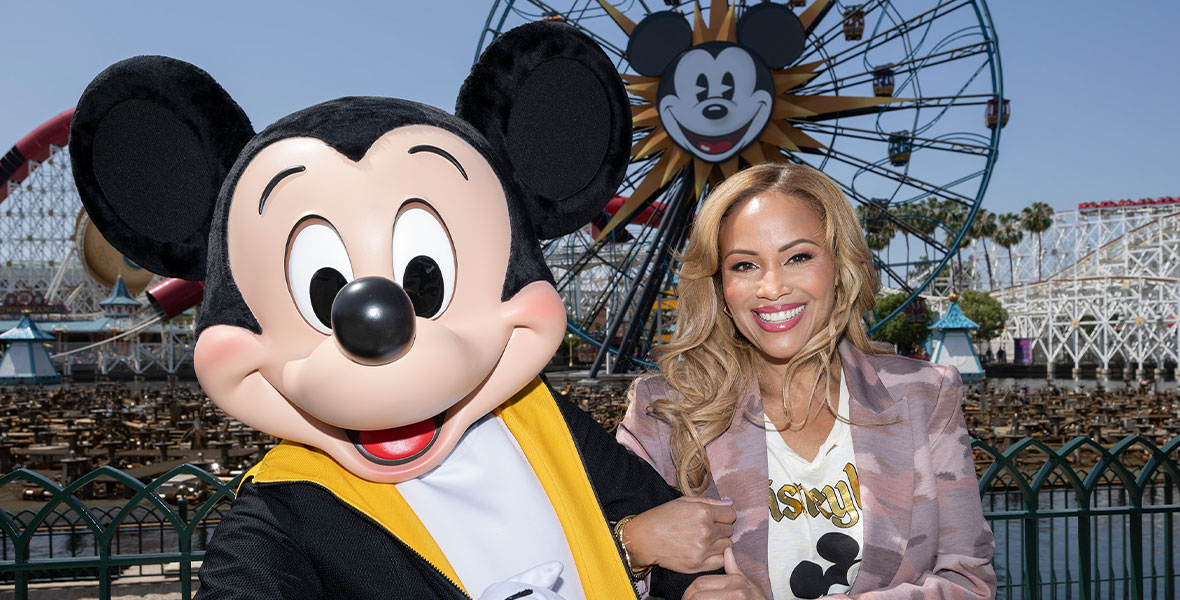 "Everything that we do, we have the responsibility to tell the stories that matter, and these stories resonate with kids around the world," said Ayo Davis, President of Disney Branded Television. "It's been very exciting, and I could not be more thrilled to share all the great shows coming out soon!"
John Stamos, who was unable to attend the celebration in person as he's filming the second season of Disney+ series Big Shot, announced in a video message to the crowd that he will appear on not one but twoDisney Junior series. Stamos will be voicing the role of Iron Man/Tony Stark in season two of Marvel's Spidey and his Amazing Friends. He will also be the voice of legendary pirate Captain Salty Bones in an upcoming special summer episode of Mickey Mouse Funhouse, which will premiere this August.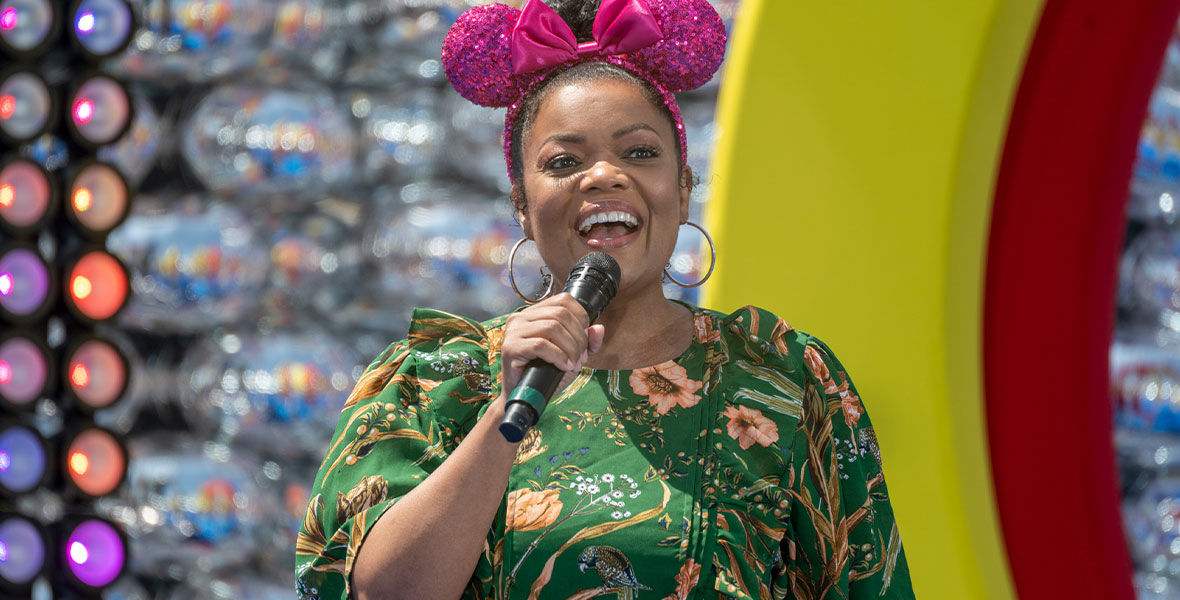 Friend of D23 Yvette Nicole Brown, who lends her voice to several Disney Junior series, including Alice's Wonderland Bakery, Elena of Avalor and The Chicken Squad, introduced her new series Firebuds from Emmy Award-winning creator and executive producer Craig Gerber. Brown will voice Chief Faye the firetruck when the show premieres this fall. "Today was really exciting—to talk about all these shows that we have been quietly recording," Brown said. She also teased that the second season of Big Shot will have plenty of ballyhoo and joyous moments in store.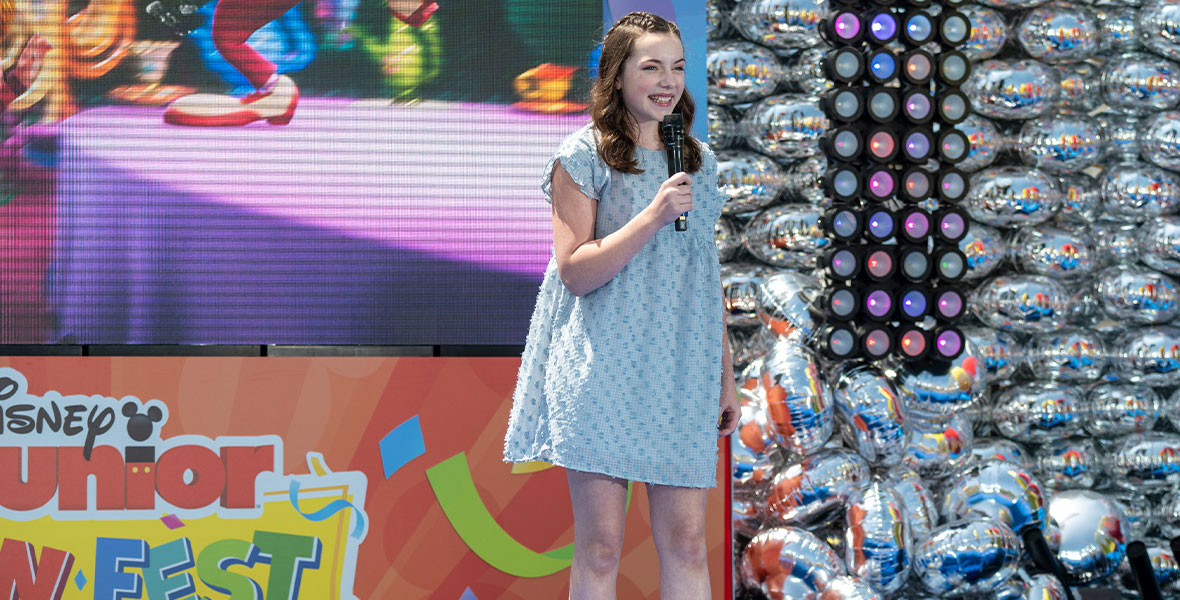 Libby Rue, voice of Alice on Alice's Wonderland Bakery, performed the show's theme song live for the crowd in between all the exciting announcements. "It was so much fun," Rue exclaimed. "I was a little nervous, but everyone out there was so amazing and a great crowd." During Disney Junior Fun Fest, it was announced that the fantastical hit series will return for a second season.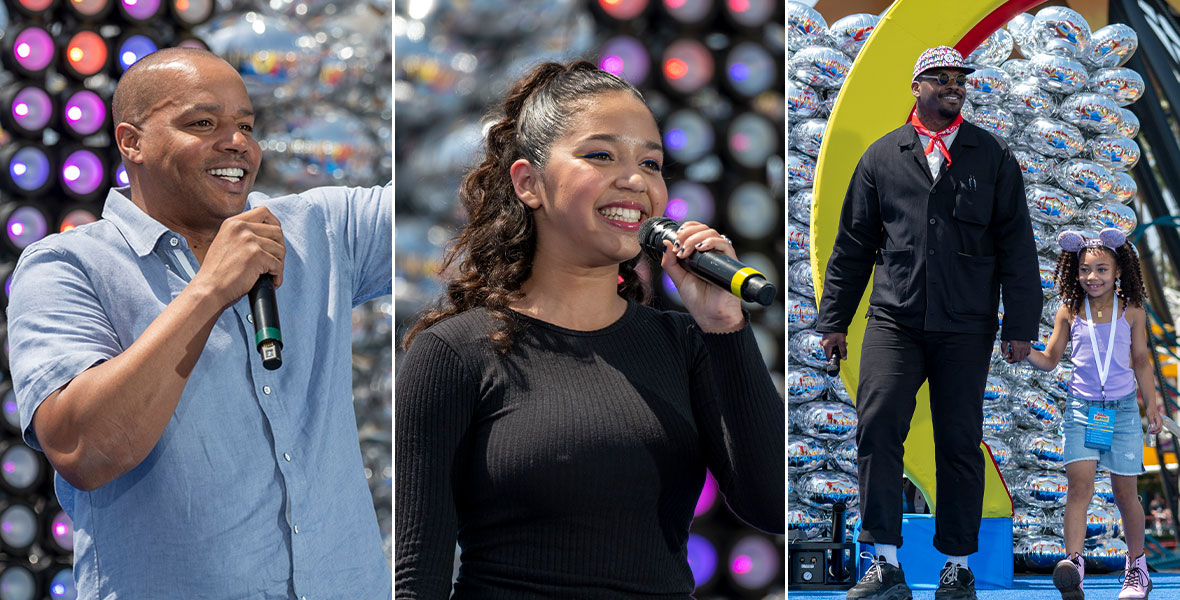 Rue's co-star Donald Faison, who is the voice of Harry the March Hare, shared his excitement about the upcoming season, as well as the joy of participating in Disney Junior Fun Fest, and added that Guardians of the Galaxy – Mission: BREAKOUT! would be the first attraction he would ride after Fun Fest concluded.
And as part of Alice's Wonderland Bakery, Faison said he would be remiss if he didn't mention his favorite Disneyland Resort treat: a Mickey Mouse ice cream bar. "When you walk down Main Street, U.S.A. and you see all those wonderful, delicious little candy shops, ice cream shops, cookie shops—that can't be beat," he said. "The best part is at the end of the night when you get to bring home all the sugar!"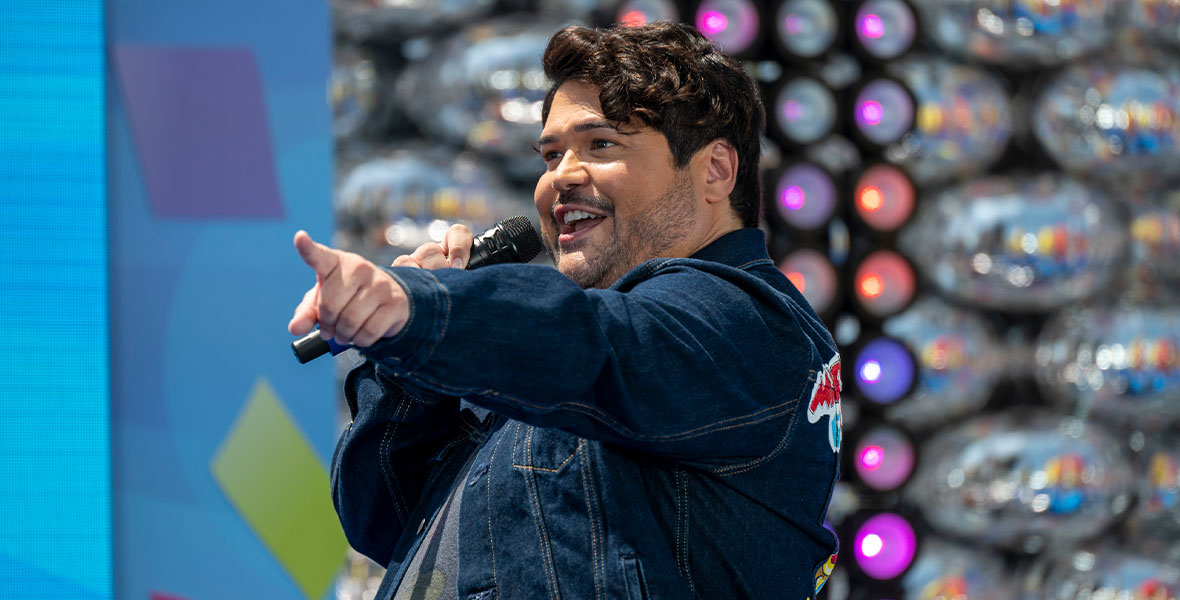 Disney Junior Fun Fest also included appearances by Ruthie Righi, who stars in the title role of Eureka!, and Martellus Bennett, executive producer of Hey A.J., which is based on his book of the same name. Righi shared a first look at her series ahead of its premiere on June 22. "Eureka! is about a girl living in the prehistoric fantastic world of Rocky Falls," Righi said. "She's bright-eyed, strong-willed, and trying to make the world a better place with her best friends, family, teacher, and her pet mammoth." Like Faison, Righi couldn't wait to get ahold of some Disney treats, and confessed Mickey Mouse beignets are her go-to snack while visiting the park. Bennett, who is a former Pro Bowler and Super Bowl Champion, was pumped to take the stage with his daughter, Jett, who inspired the book and series. He added that Hey A.J. appeals to the young and young at heart. "It's awesome; it's colorful; it's wonderous; and it's really funny," he said.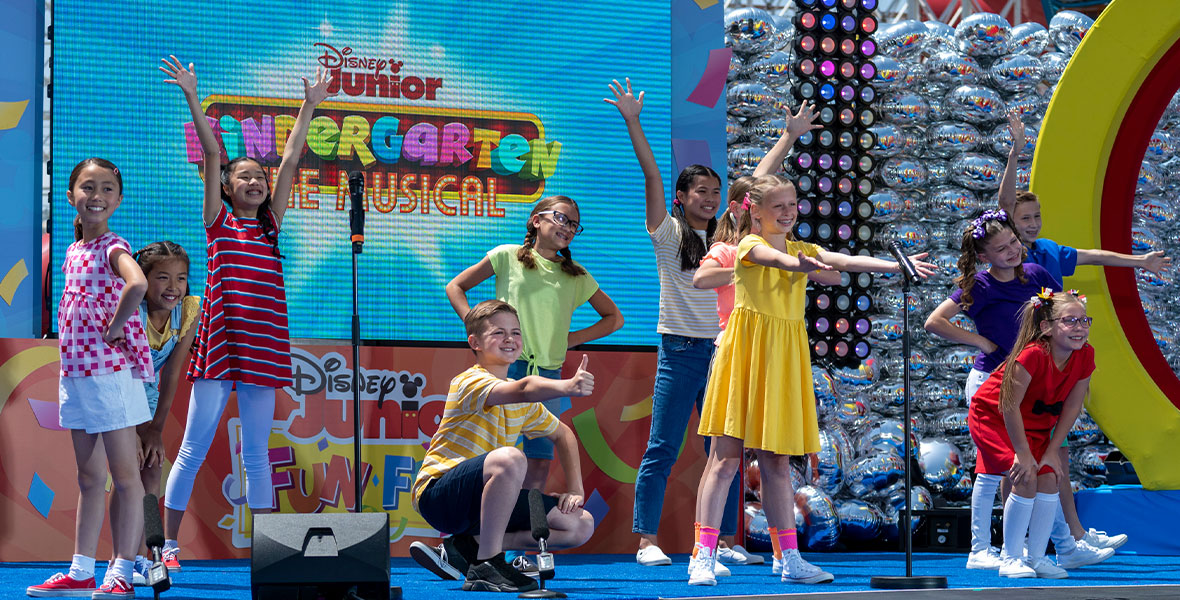 Disney Junior Fun Fest concluded with the Disney Junior Live! Sing Along and Disney Junior Live! Dance and Play, which brought guests to their feet to belt their favorite Disney Junior songs, and dance with Mickey Mouse, Minnie Mouse, Doc McStuffins, Elena, Mira, Vampirina, and many more pals!