By Nicole Nalty
Step right up and come on in, here's where the fun begins! D23 Gold Members threw on their best '90s threads and headed to The Walt Disney Studios lot for an epic throwback event celebrating The Disney Afternoon programming block, which ran from 1990 through 1997. The event kicked off in the historic Studio Theatre with an introduction from D23's Michael Vargo, who made sure to remind us to "woo-oo!" every time anybody said "DuckTales," which, as you can imagine, happened countless times throughout the awesome panels and presentations.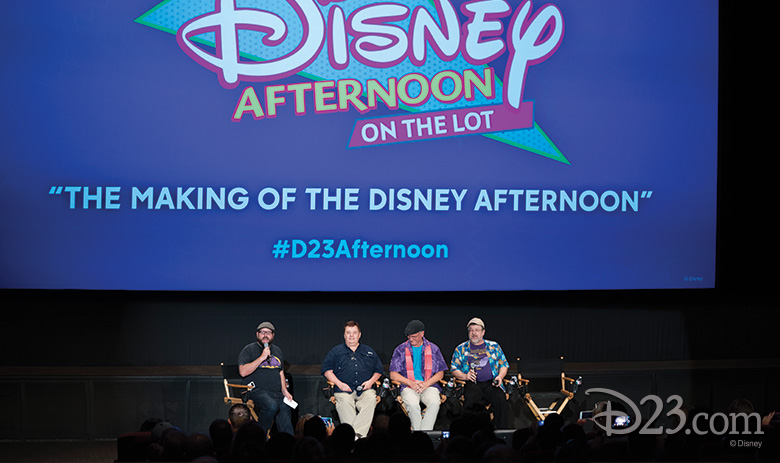 D23's Tyler Slater then introduced some of the magic makers behind The Disney Afternoon: Tad Stones, writer and producer for Disney's Adventures of the Gummi Bears, Chip 'n' Dale Rescue Rangers, and Darkwing Duck; Jymn Magon, who served various roles, from series creator and producer to writer and story editor, for such shows as Gummi Bears, DuckTales, Rescue Rangers, TaleSpin, Darkwing Duck, Goof Troop, and Quack Pack; and Mike Peraza, Disney artist and conceptual and layout designer for DuckTales, Rescue Rangers, Darkwing Duck, TaleSpin, and Goof Troop. These original creators were joined by DuckTales (Disney XD) co-producer Frank Angones, who moderated a fascinating discussion that revealed how the iconic programming block came to be. As with most Disney creations, these shows took many forms before they became what we know and love today. Chip 'n' Dale Rescue Rangers was almost called "Miami Mice" and was even considered as a spin-off of The Rescuers before the show found its perfect fit in the two chummy chipmunks.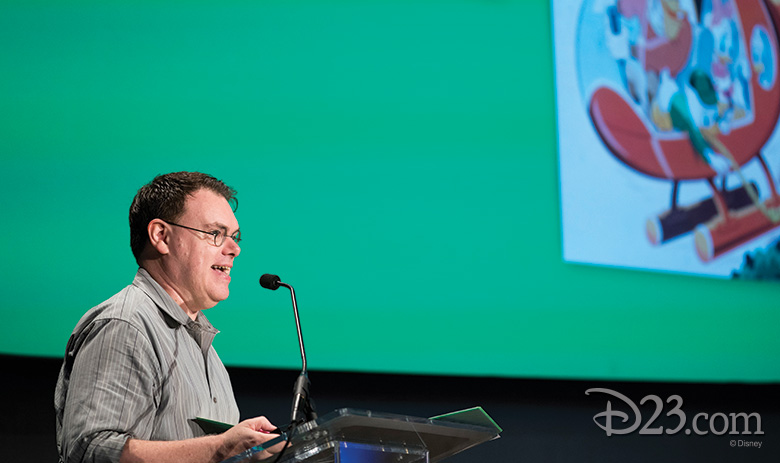 Disney author and historian Jim Fanning took us on a walk down memory lane (or should we say Afternoon Avenue) with a look at some of the ways Disney Afternoon jumped off the screen and into our world. Did you ever get to visit Baloo in his dressing room at Disneyland, or bring your lunch to school in an awesome Rescue Rangers lunch box?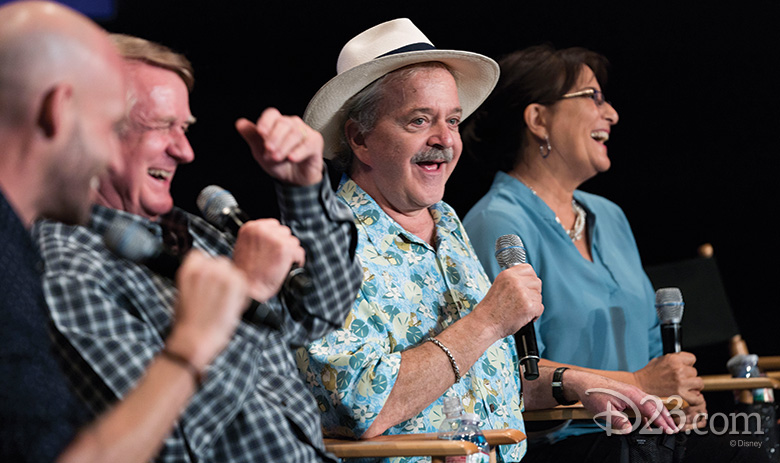 The voices behind some of these iconic characters––Jim Cummings (whose voice can be heard in every Disney Afternoon show) Katie Leigh (Gummi Bears, Darkwing Duck), and Disney Legend Bill Farmer (Goof Troop, Bonkers)––shared stories from their work on Disney Afternoon and even treated guests to a few lines in their characters' voices. Jim Cummings shared that the lines following Darkwing's trademark "I am the terror that flaps in the night" in each episode were improvised so often, that the script usually read, "I am the terror that flaps in the night, (and whatever Jim is going to say here)." The enlightening discussion was moderated by none other than the voice of Mickey Mouse himself, Bret Iwan!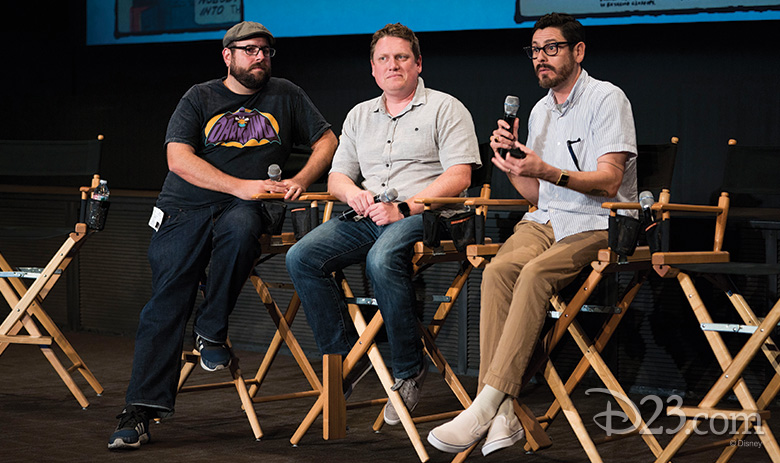 Then it was time to talk DuckTales (woo-oo!) with Matt Youngberg (executive producer), Frank Angones (co-producer/story editor), and Sean Jimenez (art director), part of the team behind the new series on Disney XD. The show––which premieres on September 23 (but you can watch the television movie here)––took inspiration from the original Carl Barks comics when developing its art style, and there are a plethora of nods and homages to the original series. Guests were then treated to an exclusive, never-before-seen clip from the show.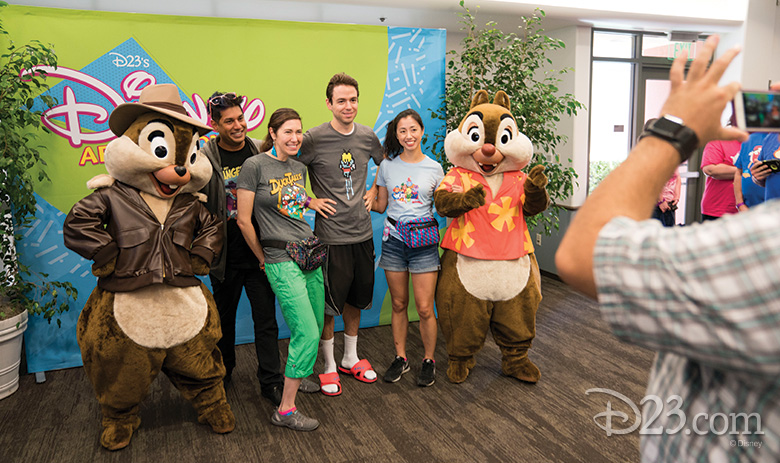 After a sing-along of some of our favorite Disney Afternoon theme songs (with "woo-oos" abounding), guests headed outside to enjoy some afternoon snacks (Mickey-shaped PB&Js, anyone?), an autograph session with the talent, and a special meet-and-greet opportunity with Chip 'n' Dale and Launchpad McQuack! D23 Members could also explore displays featuring Disney Afternoon merchandise curated by the Walt Disney Archives, jam to their favorite '90s tunes with a D.J., pose alongside fun photo ops depicting their favorite Disney Afternoon stars, and shop at the Disney Store.
As a special treat, each guest went home with a set of four placemats with original Disney Afternoon-inspired artwork by artist Mike Peraza.
Interested in attending a D23 event? See our current calendar here.