By Nicole Nalty
"We've just begun to dream" was the theme of a momentous day in Disney history as we celebrated the 35th anniversary of Epcot at Walt Disney World Resort. D23 joined in the celebration and kicked off this year's D23 Fanniversary with D23 Members from more than 30 states across the U.S. and four countries around the globe, who enjoyed an eventful day at Epcot.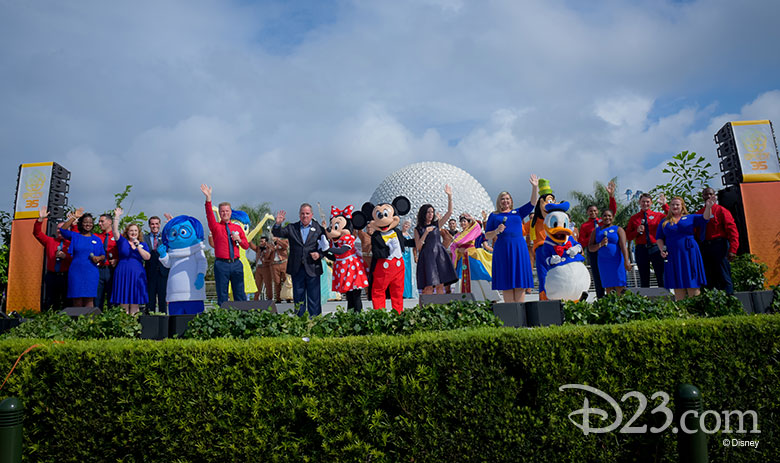 D23 Members had VIP viewing for the special anniversary ceremony on Sunday morning, held in front of the Fountain of Nations. Performances from treasured Epcot entertainers Mariachi Cobre and Voices of Liberty accompanied special remarks from Melissa Valiquette, vice president, Epcot, and George A. Kalogridis, president, Walt Disney World Resort, who shared memories of their favorite moments in Epcot, and excitement for what's to come for this beloved park. Of course, Mickey, Minnie, and many of their friends joined in for a festive finale, but the fun was just beginning for D23 Members…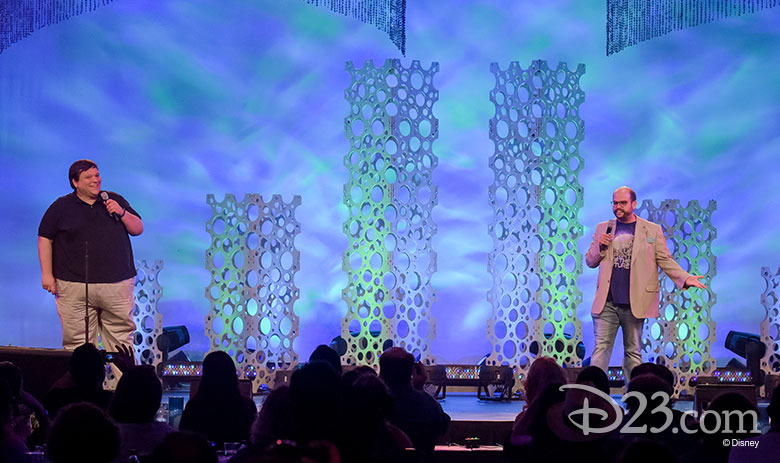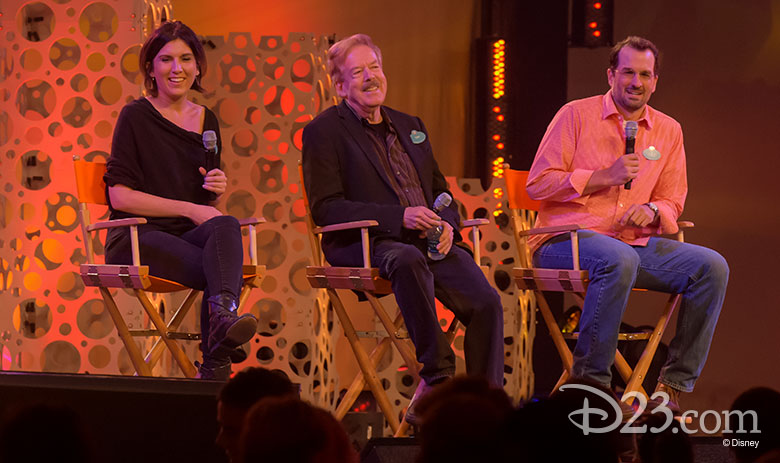 After the ceremony, guests were treated to a plethora of panels covering all things Epcot. Daniel Joseph, principal special effects illusioneer at Walt Disney Imagineering, and author and Disney historian Michael Crawford took us on a nostalgia-filled tour of Epcot Center Attractions of Yesterday from Horizons to Communicore. Walt Disney Imagineering Creative Director Jason Grandt, Show Writer Diana Brost, and Disney Legend Tony Baxter then took the stage to share 35 things you didn't know about Epcot… even with many Epcot experts in the house!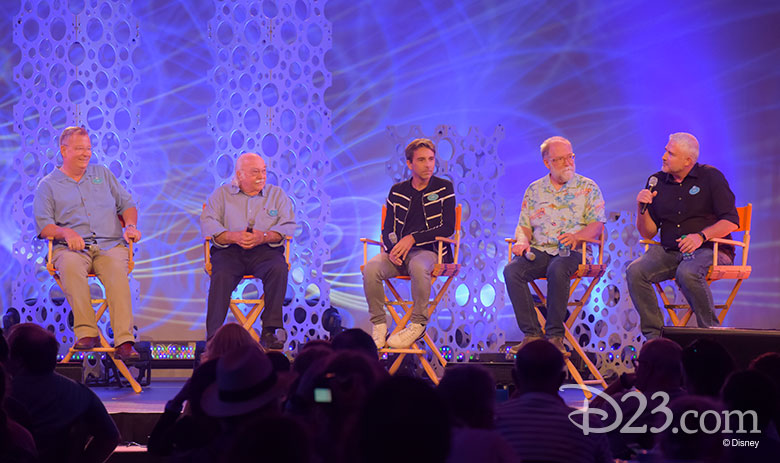 Following a touching introduction from Walt Disney World Resort Ambassadors Brandon Peters and Ken Facey, the "Epcot Dreamers and Doers" panel gathered, well, dreamers and doers––some of the creative minds behind Epcot (both then and now) and the folks who make magic every day in the parks with Disney fans: Jim MacPhee, senior vice president, Walt Disney World Parks; Rick Allen, general manager, Future World; Disney Legend Bill Sullivan; Imagineers Alex Wright, Wyatt Winter, Zach Riddley, and Jason Grandt; and former Imagineer Patrick Brennan. This special group shared an oral history of Epcot that included stories from before the park's creation as well as details about their work on what's yet to come. Guests were even treated to vintage photos of each panelist in Epcot!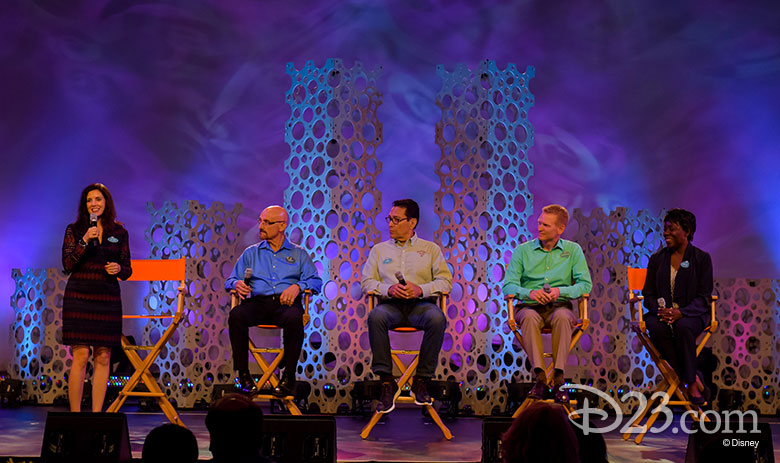 As evidenced by the morning's opening ceremony, entertainment has and always will be an important element in Epcot. Melissa Valiquette, vice president, Epcot took the stage with some of the magic makers who bring the park's entertainment to life every day: Randy Carrillo, leader, Mariachi Cobre; Christopher Stewart, general manager, Epcot Entertainment; and Show Directors Marsha Jackson-Randolph and Forrest Bahruth. Carrillo shared stories from the origins of Mariachi Cobre (he performed at Disneyland before Walt Disney World even opened!) and the group looked back on some entertainment offerings that haven't endured quite as long (remember Daredevil Circus Spectacular?).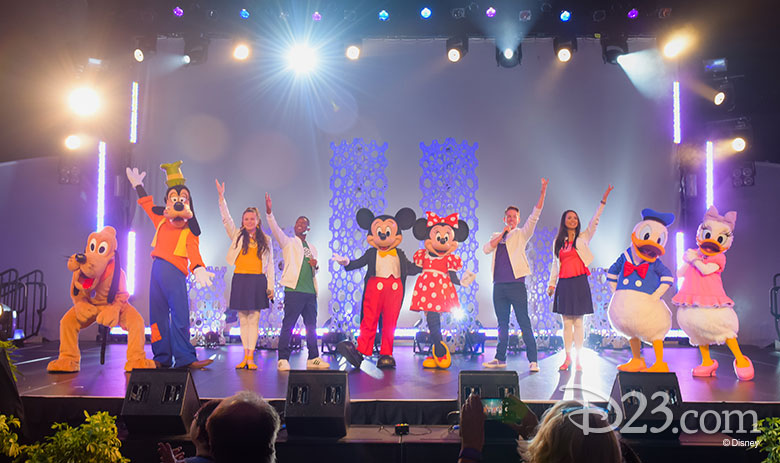 Then, Michael Vargo, vice president of D23, took the stage to introduce a special farewell moment, dedicated to Disney Legend Marty Sklar. Performers sang a magical medley of songs from throughout Epcot's history—from "Tomorrow's Child" and "One Little Spark" to "It's Fun to Be Free" and "We've Just Begun to Dream"—and were joined by Minnie, Mickey, Donald, Daisy, Goofy and Pluto. Guests were then welcome to shop commemorative anniversary merchandise at a D23 Member-exclusive location, and everyone left with a D23 lunch tote (from which guests earlier enjoyed a delicious boxed lunch), a canvas tote featuring the Epcot pavilion symbols, and a mini poster of stunning Epcot concept art.
The celebration continued as a select group of guests joined D23 for an exclusive progressive dinner around Epcot. Beginning in the Norway lounge (with a champagne toast by Melissa Valiquette) guests were treated to tastes from around World Showcase before heading to the GM Lounge above Test Track for a salad created with vegetables from Living with the Land, and everyone's favorite Canadian cheddar cheese soup from Le Cellier Steakhouse. The main event took place at The Living Seas Salon, where guests enjoyed surf and turf and a variety of desserts inspired by Epcot (including Norway's Skolebrød). Disney Legends Tony Baxter and Bob Gurr joined D23 Members, who each took home a special memento from the dinner event: a canvas print of a rare historical Epcot photo. But the evening's end was even sweeter: Guests enjoyed VIP viewing for IllumiNations: Reflections of Earth and a once-in-a-lifetime opportunity to walk through Spaceship Earth.
We've just begun to celebrate! Visit D23.com/Epcot35 for all things Epcot all month long. Happy Fanniversary!