By Jim Fanning
A beastly leading man, a bookworm princess, a brittle brood of supporting characters in a story confined to a dark castle. These unlikely elements make up one of the most well-known yet unlikely fairy tales ever—and only the magic of Disney animation could bring it to the screen with such unforgettable enchantment. As Beauty and the Beast (1991) celebrates its 25th anniversary, a look back at its development reveals an epic odyssey of creative discovery as twisting and turning as Belle's journey through the forest to the Beast's castle.
Ever Just the Same: Origins
Literary scholars trace the Beauty and the Beast legend back to ancient folklore of every culture, with the theme of a beastly groom and human bride almost as prevalent as the Cinderella story. "It's perhaps one of the last of the red-hot fairy tales," says producer Don Hahn. "It existed in the verbal culture of storytelling long before it was ever written down." Giovanni Straparola first recorded the Beauty and the Beast story in writing in 1550. Later versions, including two by Madam Le Prince De Beaumont and Madame Gabrielle de Villenuve, come from the French courts of the 1700s. Beaumont's version was published in France in 1756 and in England in 1783, and it is this retelling of the tale that became the most famous version. In the 1940s, Walt Disney gave serious consideration creating an animated feature inspired by this famous story. "Probably before Cinderella (1950), Walt asked us to read Beauty and the Beast and come up with some ideas for it," legendary animator Ollie Johnston once recalled. "The story guys may have done some work on it, but I never heard anymore about it." Years later, Walt confided to another top animator, Frank Thomas, that Beauty and the Beast was one of the stories he most longed to transform into an animated feature. But it never happened, apparently because of the restrictive nature of the tale. "This was a very challenging story to tell,''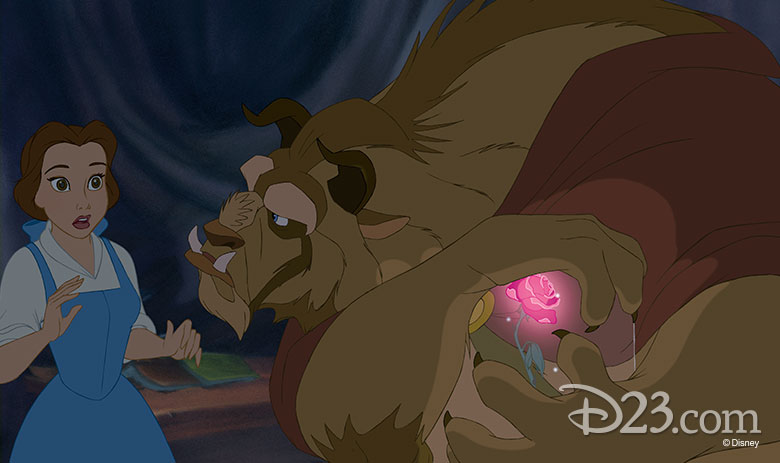 Don explains. "In the original fairy tale, Beauty's father goes to the castle and picks a rose. The Beast is enraged, throws him in a dungeon but agrees to let him go if he sends his daughter back in his place. She very passively follows her father's instructions, and the rest of the story is essentially about two people having dinner together every night with the Beast repeatedly asking her to marry him."
Once Upon a Time, in a Faraway Land: The Fairy Tale Moves Forward
The next effort to adapt this daunting tale came decades after Walt when Disney story artists Pete Young, Vance Gerry, and Steve Hulett created a 1983 treatment wherein Belle is aided by forest animals instead of animated objects. (Cogsworth would undoubtedly be mortified at the very idea.) In 1986, another story team took a crack at adapting the crackling good fairy tale, this time incorporating some elements from the famed 1946 live-action film directed by Jean Cocteau. In 1988, animation screenwriter Jim Cox prepared two treatments, setting the story in rural France and giving greater emphasis to the castle's animate but silent objects. Two scripts followed, one by Jim and the other by Gen LeRoy, featuring an overly complicated plot with such characters as three suitors and two sisters for Belle (Maurice would be more befuddled than ever if he had to deal with all that).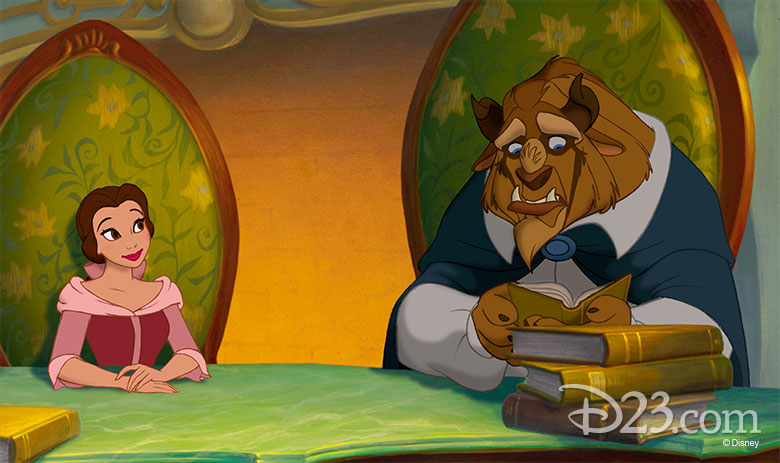 When Linda Woolverton was assigned as screenwriter, she began by reading—and then disregarding—the various versions of the original fairy tale. "We felt we needed to energize the story by creating more dramatic scenarios," notes Don Hahn, "and making our heroine move things forward by valiantly going to the castle on her own to fight for her father's release." "Belle is a strong, courageous woman," Linda once said of Disney's version of the Beauty. "She sacrifices herself for her father. There are great themes of passionate love in the story, almost operatic themes."
Song as Old as Rhyme: The Music and the Story
To create an animated fairy tale so fantastical that book-loving Belle herself would be entranced by it—full of "far off places, daring swordfights, magic spells, a prince in disguise"—a special approach was needed. So it was that in mid-1989, producer Don Hahn and a key group of artists journeyed to London for 10 weeks of development. The result of the London session, under the guidance of husband-and-wife animation team Richard and Jill Purdham, was a serious drama, conveyed through majestic art by production consultant-visual development artist Hans Bacher—and with no songs and precious little humor. It was decided to start from scratch, and first-time feature directors Kirk Wise and Gary Trousdale were recruited. By December 1989, with The Little Mermaid a smash in theaters, the decision was made to transform the burgeoning feature into a musical.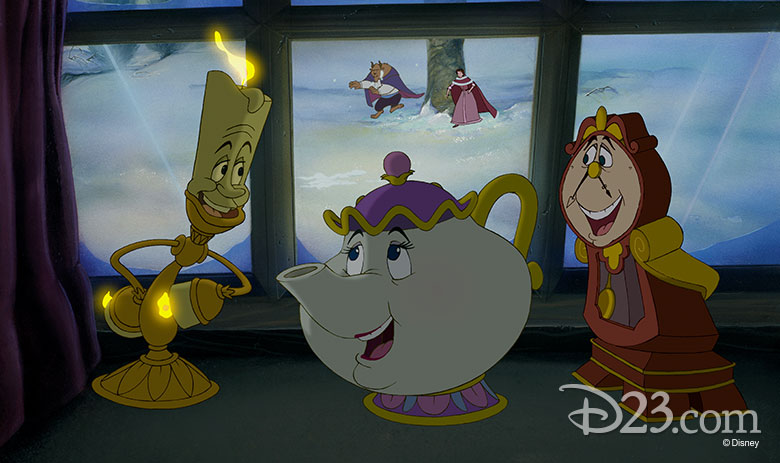 Linda Woolverton flew to Cold Spring, New York, to work with Mermaid lyricist/producer Howard Ashman on the placement of songs in a new story structure. "Before Howard came onto the project, the enchanted objects were not really leading characters," revealed Linda. "They just sort of floated around magically and didn't speak at all. Howard really needed the objects for the music and his greatest contribution was in bringing them in, giving them personalities and making them an important part of the story." Both Howard and his creative partner, composer Alan Menken, thought of each song as a chapter in the story. Their sophisticated use of song as story led to one of the most effective uses of musical storytelling in the film.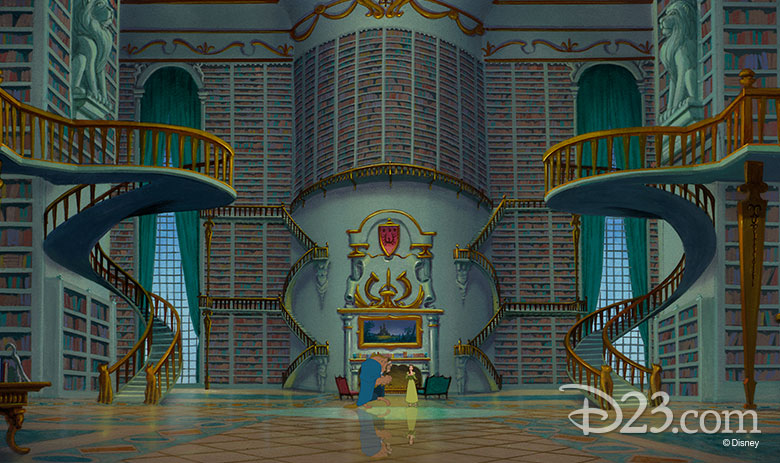 "The biggest issue to me was how the audience was going to really believe that Belle falls in love with the Beast," said Beast's supervising animator Glen Keane. "We didn't have that moment until we were about six months from being done. Howard Ashman wrote a song, 'Something There.' It was this moment where the Beast actually does something very unselfish and is sensitive to what Belle loves, which is reading. He gives her a library as a gift. As soon as that happened, suddenly Belle could really fall for the guy and the whole movie turned on that moment."
As with all the great Disney animated classics, powerful storywork, artful songs and music, and brilliant personality animation combined to make Beauty and the Beast an unforgettable cinematic narrative that for many people has become the version of the famous tale. "Doing your own version of Beauty and the Beast is as much a tradition as is the story itself," Don Hahn explains. "Part of the fun is that each generation and culture adapts this story to be its own. The themes—you can't judge a book by its cover, and beauty is only skin deep—are as relevant today as ever."
Read more about the creation of this classic in the Fall 2016 issue of Disney twenty-three.