By Courtney Potter
For some couples, a Disney-themed wedding is a dream come true… a fairy tale come to colorful life, replete with touches of their favorite Disney locations, characters, or stories. And what better fairy tale to emulate than Beauty and the Beast? Belle's iconic gown? A totally unique wedding look. That twirl around the Beast's ballroom? Inspiration for a "first dance." The fun and frolic of "Be Our Guest"? Who wouldn't want a reception that memorable?!
Turning your wedding into a "tale as old as time" is easier than you think, thanks to the brilliant minds at Disney's Fairy Tale Weddings—a division within The Walt Disney Company dedicated to creating all manner of Disney-related nuptials. In honor of Beauty and the Beast's 25th anniversary and D23's Fanniversary, we took a spin through the Disney Wedding collection to find some of their most spectacular Beauty-inspired details.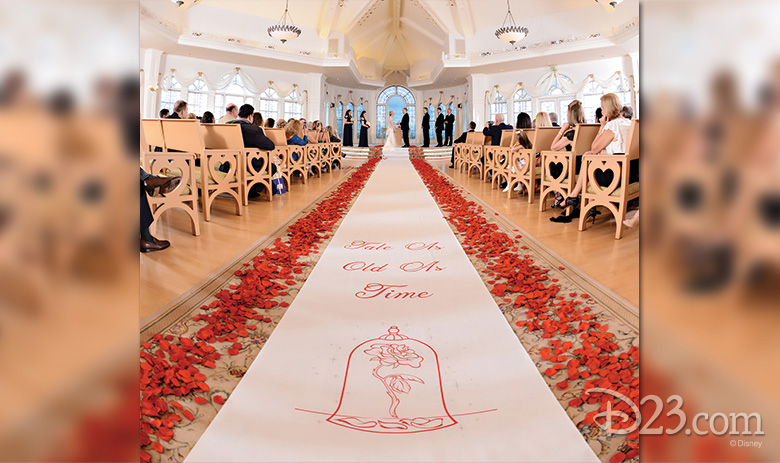 Through Disney's Fairy Tale Weddings, you can get married in the beautiful Wedding Pavilion at Disney's Grand Floridian Resort and Spa at Walt Disney World. Here, the bride and groom bring a touch of Beauty and the Beast flair with a themed runner and thousands of red rose petals.
This gorgeous Belle-inspired wedding dress was designed by Alfred Angelo and features a strapless dropped-waist bodice adorned with metallic embroidered lace, plus a beaded neckline and waistline. The glittery draped skirt is accented with delicate lace applique, all the way down through the chapel-length train. You'll truly feel like the belle of the ball!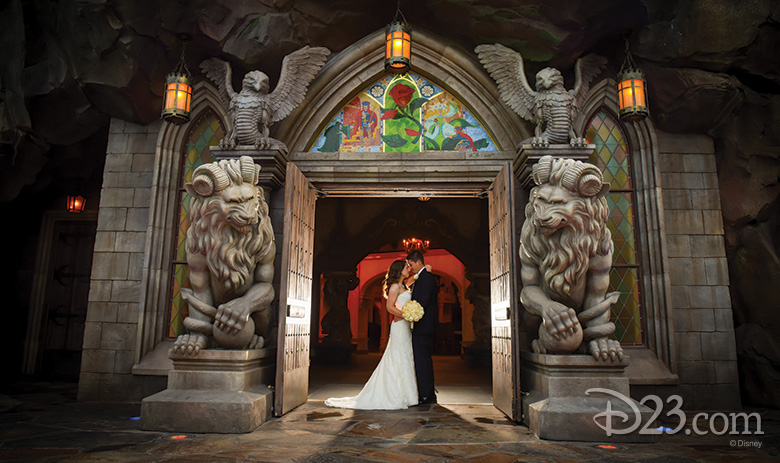 Think you can't tie the knot inside a park at Walt Disney World Resort? Think again! The sorcerers at Disney's Fairy Tale Weddings can make it happen! Here, a happy couple poses in front of the Beast-themed Be Our Guest restaurant inside Fantasyland at the Magic Kingdom.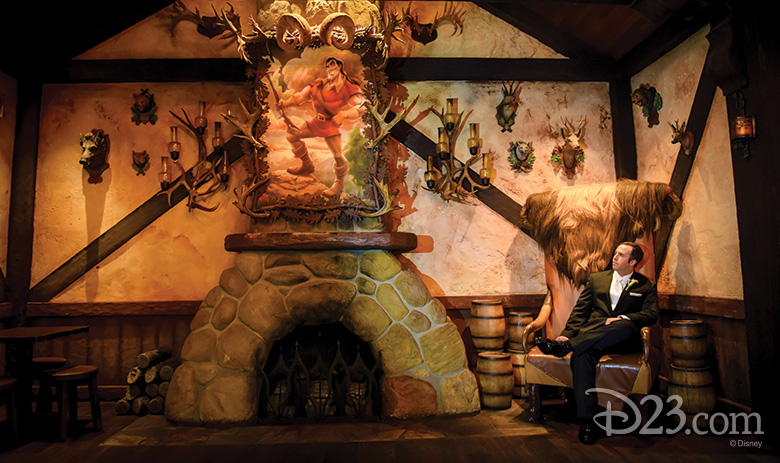 Maybe your husband is a "rugged" type—more like Gaston (and we mean that in a good way, don't worry!). Then why not have him pose for some wedding photos in a room themed after the man himself? He is known to use antlers in all of his decorating… and they make for quite memorable pics.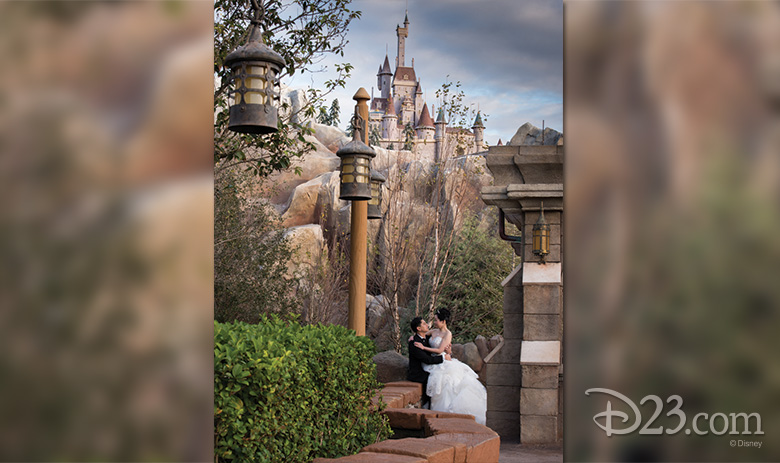 Here's another happy couple, outside of the Beast's castle at Fantasyland in the Magic Kingdom. Can you imagine showing your future children these photos? They might think you really are royalty!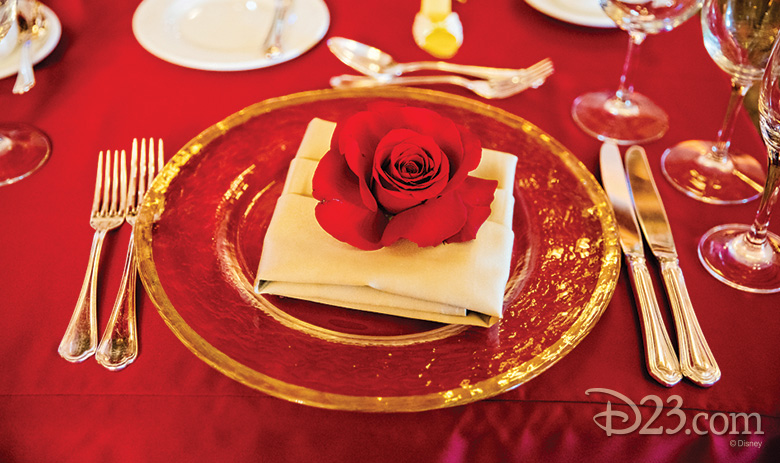 Once the ceremony is over—and all the photos have been taken—it's time to party! The Beast's "enchanted rose" comes to life as a beautiful place setting for a reception table. Note the gold-rimmed plates. Fit for a handsome, formerly enchanted prince and his intended? We think so!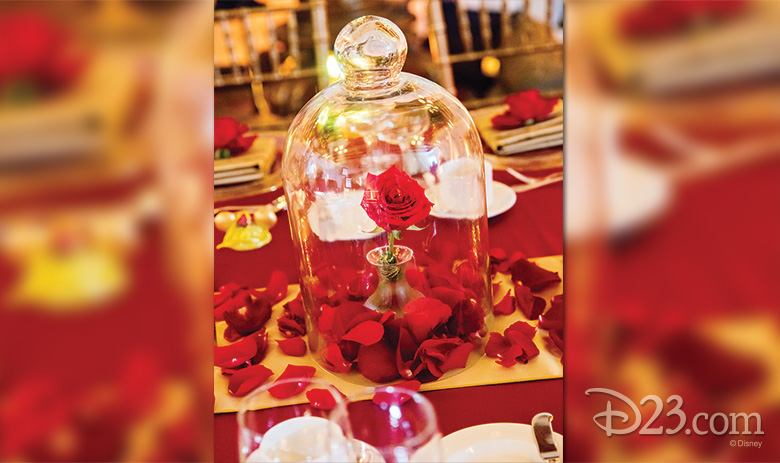 Speaking of… a centerpiece featuring a rose under a sparkling cloche bell is quite reminiscent of how the Beast kept his rose in the animated film.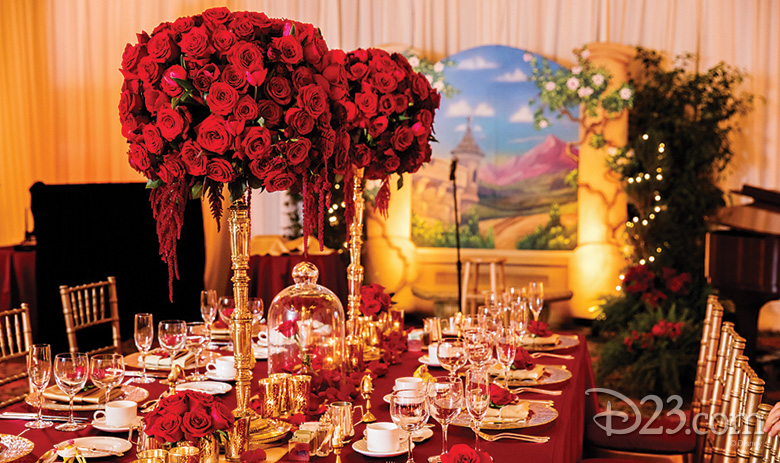 The opulent look for a reception table includes scores of ruby-red roses, and dining table accessories in shimmering gold.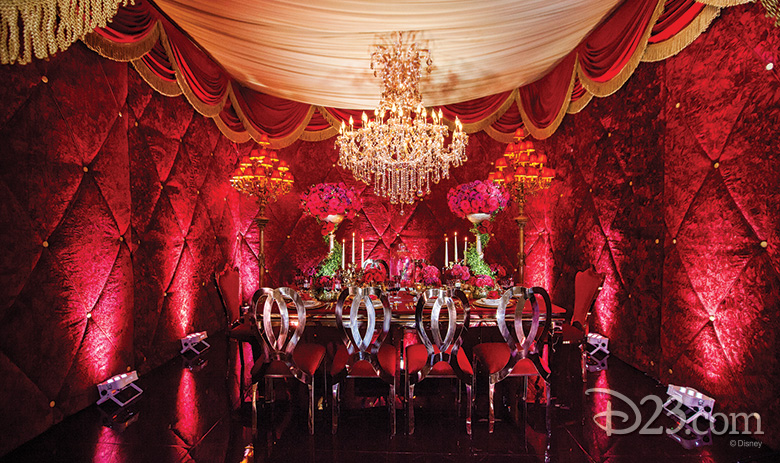 Talk about opulent! Disney's Fairy Tale Weddings put together this truly regal Beauty and the Beast-inspired wedding reception—where candelabras are a must, though they probably won't come to life like Lumiere. A different take on a glass-domed rose centerpiece brings everything together… including the grey stuff. (It's delicious!)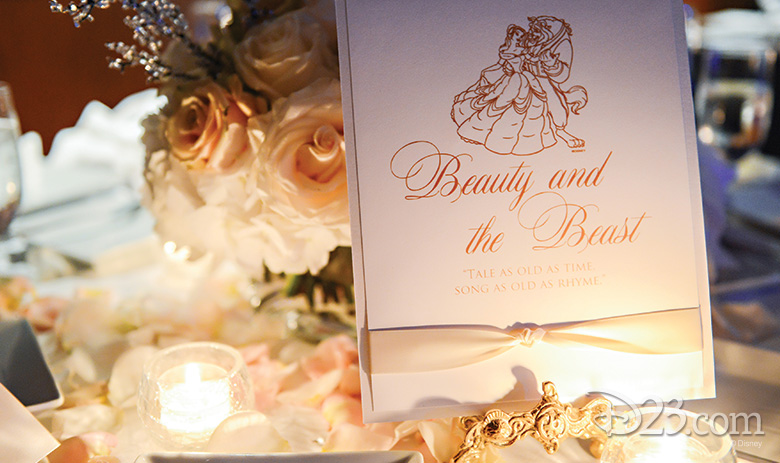 These Beauty-inspired touches are focused more on pinks, creams, and golds—with the animated couple making a special appearance…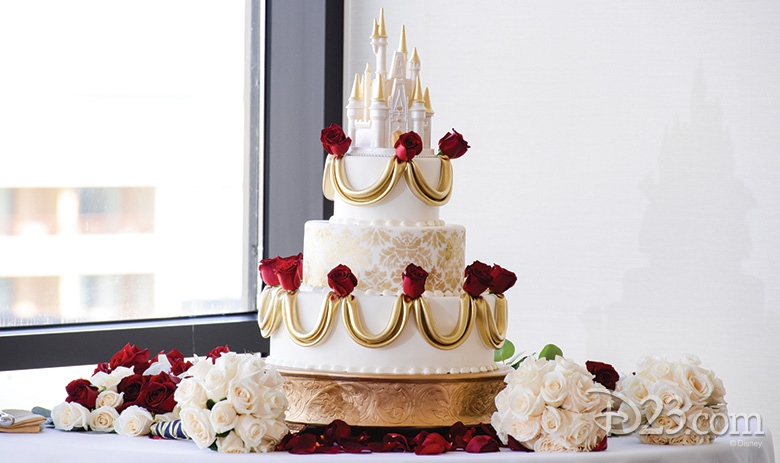 Of course a reception needs a cake—and this one continues on the gold and cream theme (with touches of rosy red), featuring a take on the Beast's castle as a topper.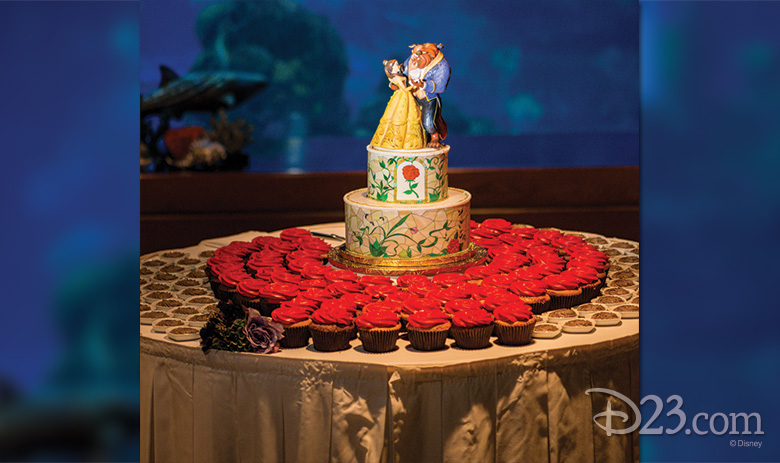 A unique version of the traditional wedding cake, this delicious Beast-ly dessert features a topper of the happy animated pair; a cake covered in the "stained glass" seen in the film; and cupcakes decorated to look like roses!
For more Beauty and the Beast-themed wedding revelations, check out the inspiration gallery at Disney's Fairy Tale Weddings!