By Courtney Potter
They've stitched, sewn, and hot-glued for months… and now, they're ready to show their creations to the world! We challenged D23 fans to create their very own Disney-inspired costumes and showcase them at this year's Mousequerade competition. The five-category contest covers a wide and wonderful spectrum of Disney fun—and the winner of each category gets a chance at true Expo glory… the Grand Prize title, as well as a cool $2,300 in cash! The 2017 Mousequerade, hosted by Disney's Jim Babcock, was judged by a three-member panel of enthusiastic, costume-loving celebrities: Ashley Eckstein, the voice of Ahsoka Tano on Star Wars Rebels and the creator of the super-cool Her Universe clothing line; Descendants 2 costume designer (and Project Runway alum) Kara Saun; and actress Yvette Nicole Brown (host of Cosplay Melee and costar of ABC's upcoming series The Mayor).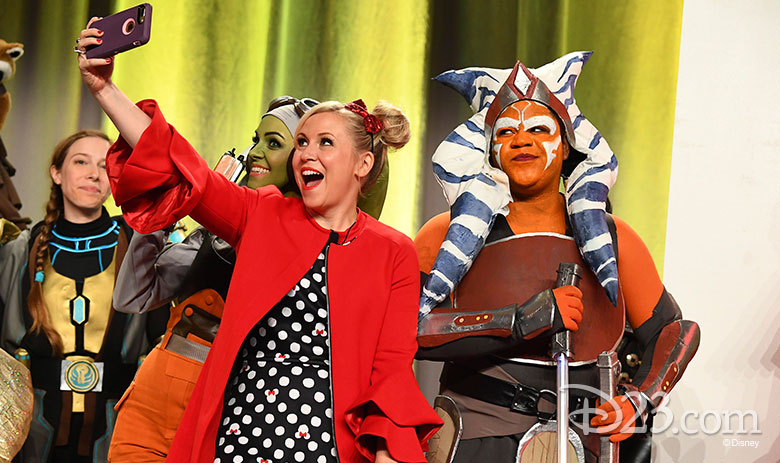 Fifteen entrants participated and were judged on quality and craftsmanship, overall concept and design, and showmanship and stage presence. Check out some of the most amazing looks from each category, and the eventual grand-prize winner, below!
"Once Upon a Costume": Disney Make-Believe & Fantasy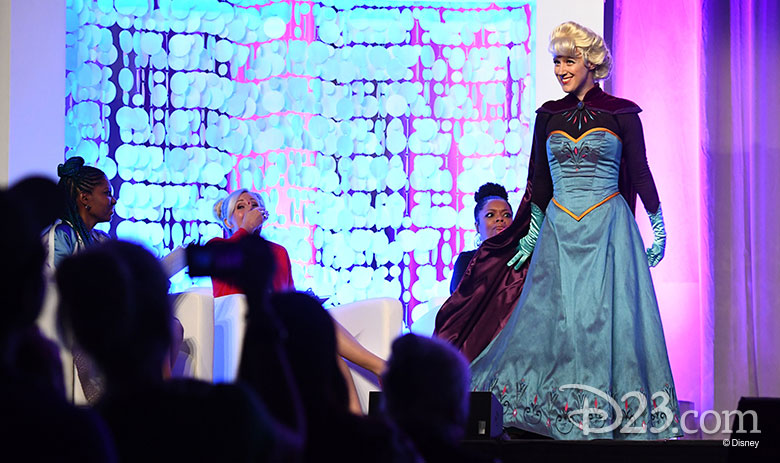 Maryna Matlock graced the stage as Queen Elsa of Arendelle in all her Frozen coronation finery. The detail work of her cape and dress was truly stunning!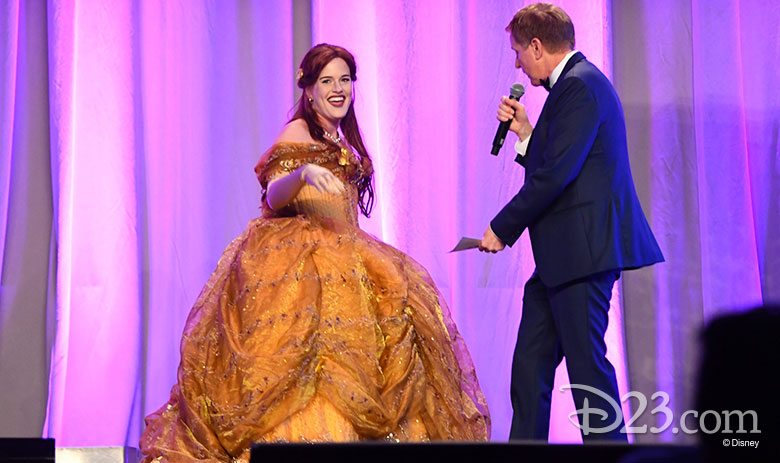 Katherine Damherst's beautiful ball gown perfectly evoked Belle from Beauty and the Beast. The design included a gigantic hoop skirt and layers of lace.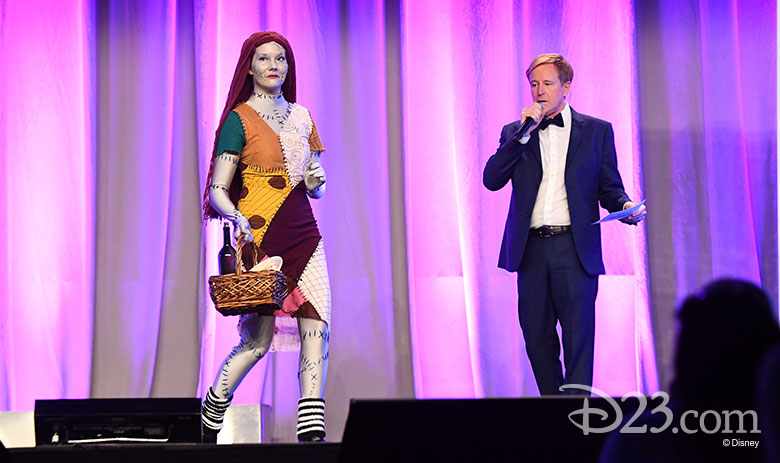 The category's winner, Heather Pike, looked like she stepped right out of Tim Burton's The Nightmare Before Christmas as Sally, Jack Skellington's lady love. Both makeup and costume were very "screen accurate!"
"World of Adventure": Adventurous Looks from the World of Disney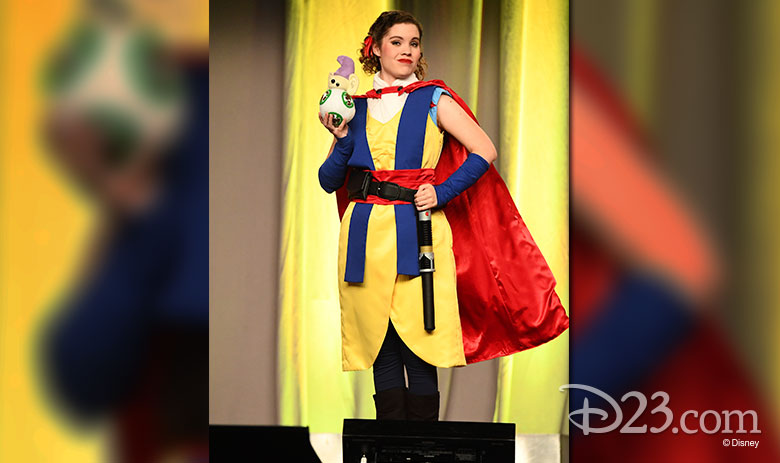 Kaytie Metcalf's entry, "This is Not the Dwarf You're Looking For," was an amazing mashup of Snow White and the Seven Dwarfs and Star Wars… complete with a little BB-8 dressed as Dopey.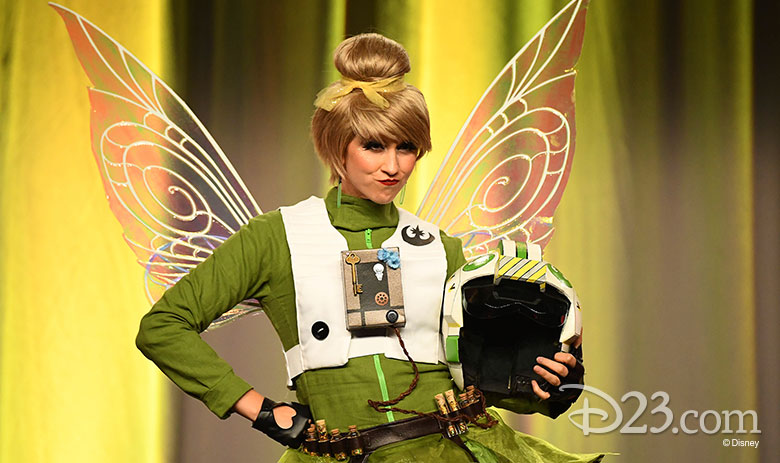 Speaking of Star Wars-based mashups, another favorite was Pixie Pilot Tinker Bell—as portrayed by Carla Robertson. We were particularly impressed by her fashion-forward boots and themed helmet.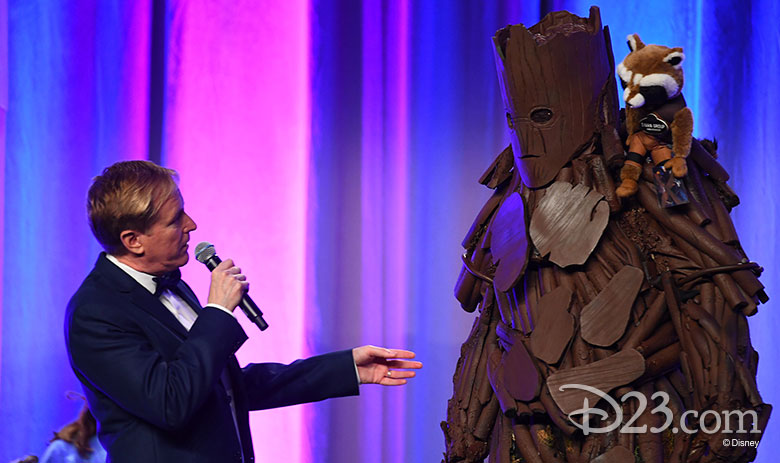 Joseph Queen was this category's big winner… and we could understand why! He channeled Groot from Guardians of the Galaxy with a costume made of hand-painted pool "noodle" floaties. He also entertained the audience with some appropriately adorable dance steps.
"Heroes and Villains": Fashionable Versions of Good vs. Evil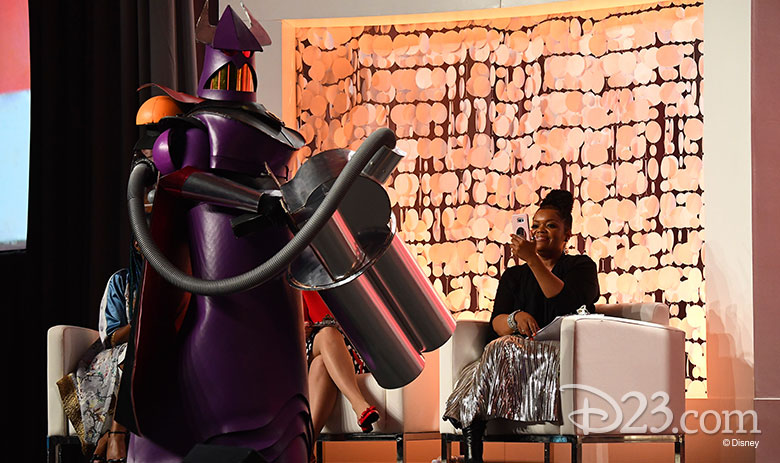 Davidson Sim wowed the crowd as Emperor Zurg, the sworn enemy of the Galactic Alliance and the arch nemesis of Buzz Lightyear, from Toy Story 2.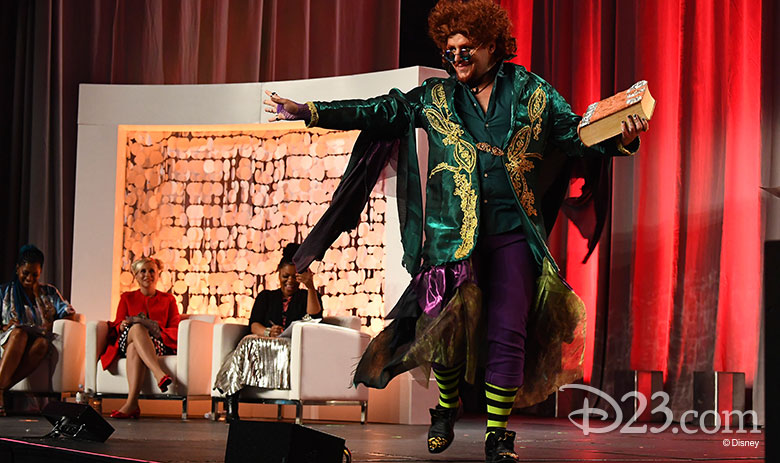 An audience favorite, Garret Engle took the stage by storm as a male version of Winnie Sanderson from Hocus Pocus.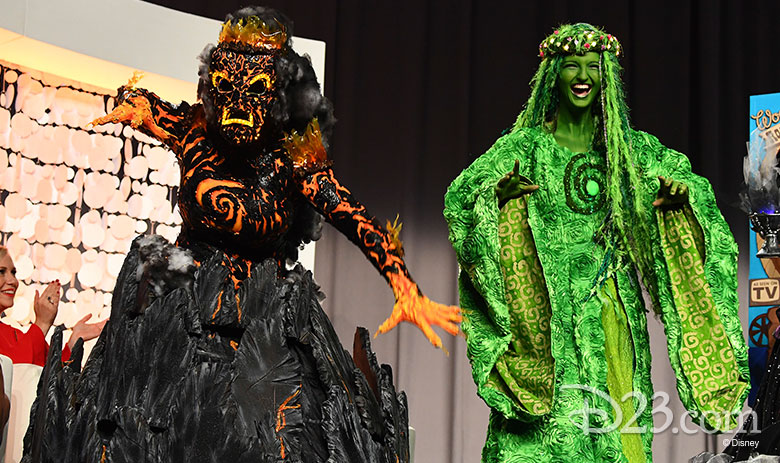 "This was a particularly hard category to judge," said Kara… but the eventual winner was Summer Allen and friend as Moana's Te Fiti and Te Kā. Both costumes were unbelievably intricate and impressive. The volcano was made of hand-sculpted foam—and even emitted smoke!
"Inspired by Disney": Bringing the Unique Creativity of Disney to Life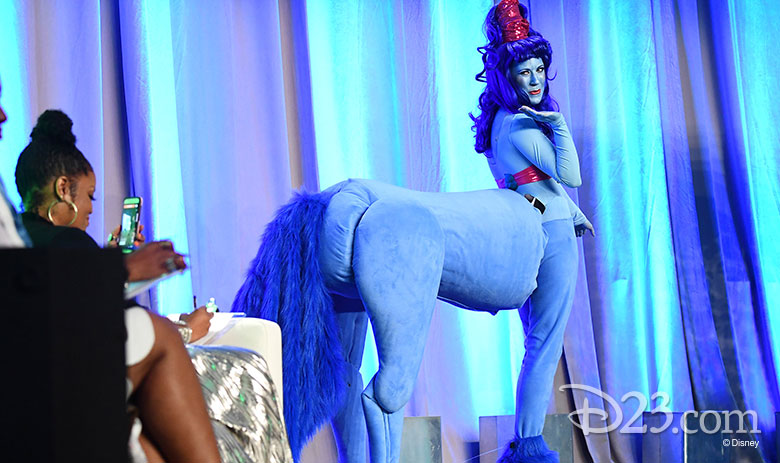 Ever wanted to see a centaur from Fantasia in person? Here's Claudia Stelmach as a beautiful version of the film's azure-hued mythical creature.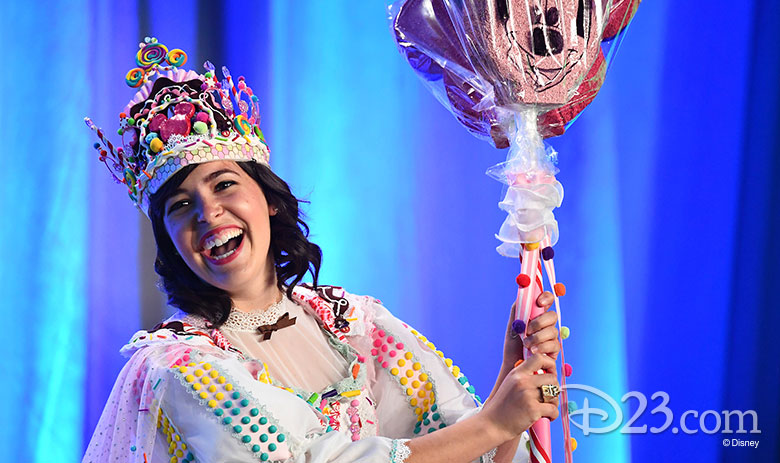 Milana Tucker took incredible inspiration from all the delicious candy available at Disney Parks and Resorts with her "Queen of Disneyland Candy Palace" gown. The detail work looked good enough to eat!
"Hold on to your hats and glasses!" This category's winner? Tina Elliott in "The Wildest Gown in the Wilderness," an almost-too-good-to-be-true wearable version of Big Thunder Mountain Railroad. The little train actually spiraled around her entire body.
"Cast of Characters": Disney Character Groups (Two or More Participants)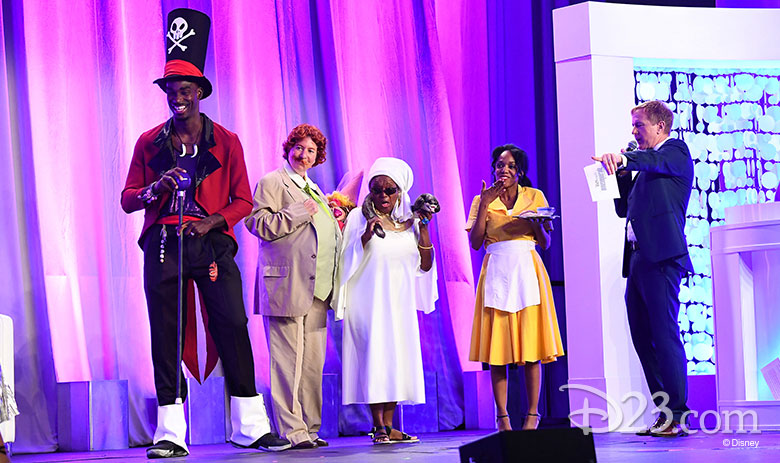 Pia Samuels and friends dressed as the cast of The Princess and the Frog—including Tiana (in her waitress garb), Mama Odie, and the evil Dr. Facilier.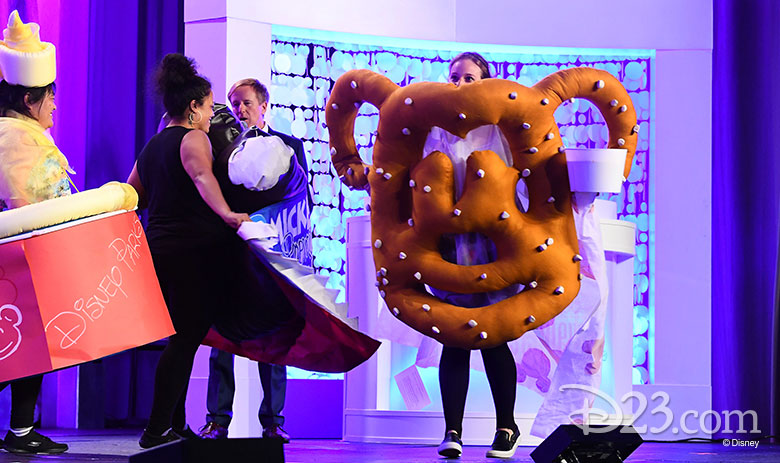 Katie Dwyer and her pals took to the stage as the "Cast of Delicious Disney," featuring a human-sized pretzel, ice cream sandwich, and Dole whip! And believe it or not, according all the judges, the costumes smelled as delicious as they looked.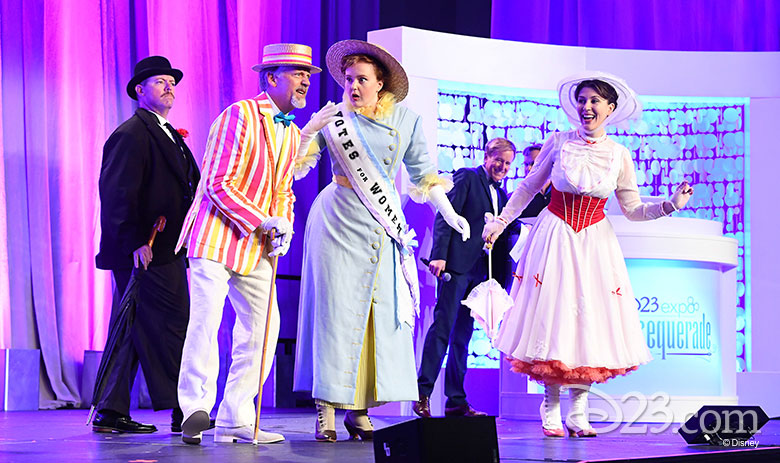 The "Cast of Characters" category winner was Leah D'Andrea-Lee and friends as Mary Poppins, Bert the Chimney Sweep, and Mr. and Mrs. Banks from Mary Poppins. Their presentation included a jaunty dance to "Supercalifragilisticexpialidocious"!
"Best of the Best" Grand Prize Winner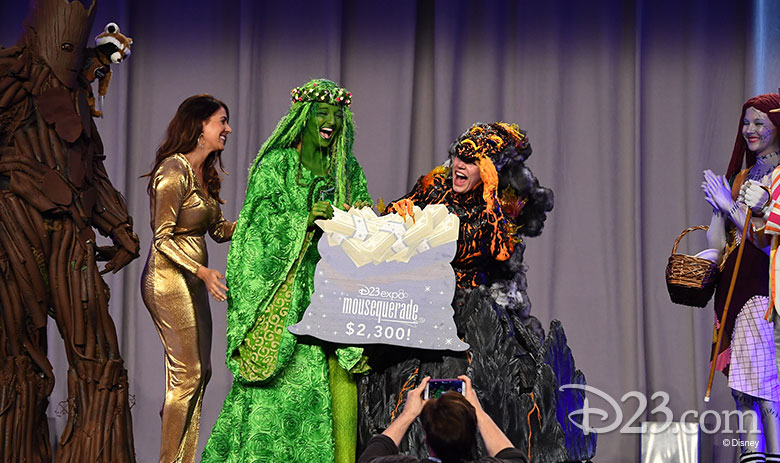 … And the winner of the big $2,300 grand prize? Yvette, Ashley, and Kara chose (drum roll, please) Summer Allen and friend as Moana's Te Fiti and Te Kā! A well-deserved win for some gorgeous, creative costumes.
Congrats to all of this year's Mousequerade participants!