Beth Deitchman
Disney fans are well aware of what can happen when you wish upon a star. Last night, American Idol's 10 final competitors took the stage to sing some of the most beloved Disney songs of all time, and hopefully, move one step closer to making their dreams come true during the series' first-ever Disney Night on ABC.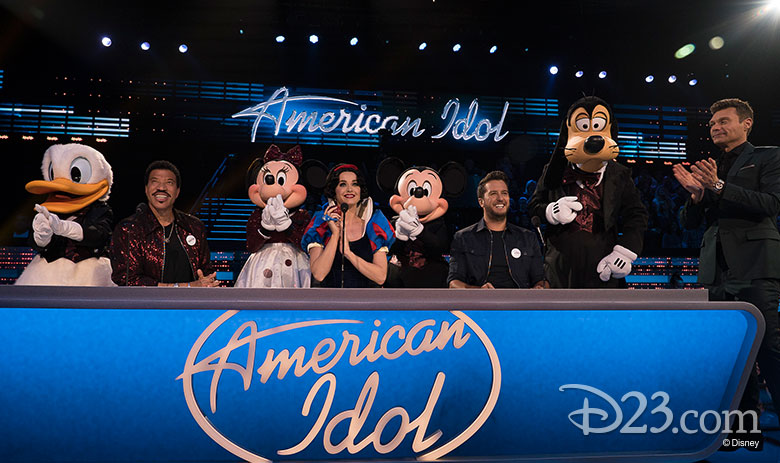 A very special "Fab Four" was on hand for the enchanting evening. Mickey, Minnie, Donald, and Goofy—dressed in their most sparkly, Hollywood best—cheered on the American Idol singers, checked out the view from the judges' table, and even took over the control booth at one point during the broadcast. The judges also added a little pixie dust to their attire, with Lionel Richie and Luke Bryan representing the Seven Dwarfs by wearing buttons that named them as "Happy" and "Dopey," respectively—while Katy Perry appeared to have raided Snow White's closet (and perhaps borrowed a pair of glass slippers from Cinderella).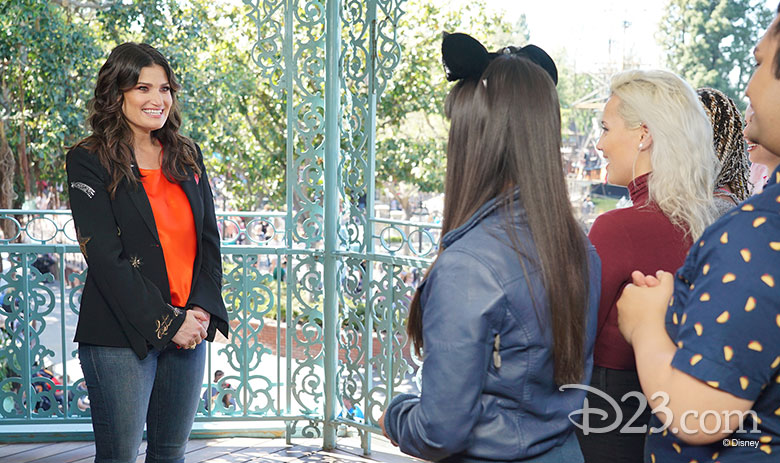 As they prepared for last night's performances, the contestants had a mentor worth melting for. The group traveled to the Disneyland Resort on Tuesday, where Idina Menzel met them at 21 Royal in Disneyland park to share her expertise with the aspiring Idols and help them shape their performances. "I think each one of us took something away from that," said Idol hopeful Maddie Poppie. "I changed the whole bridge of my song, based on what she told me, and I think [her mentoring] really made a difference." The contestants' visits to the Resort were made even more magical when each was surprised by a family member or friend, who joined them for a day to enjoy what was for many of the young performers a first visit to a Disney park.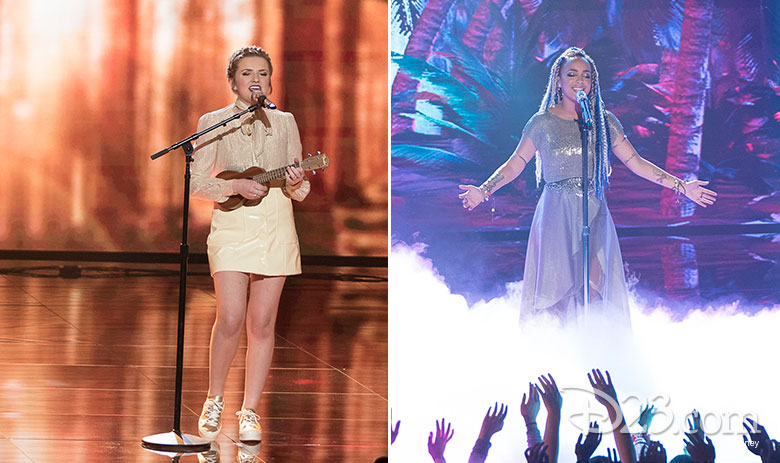 Maddie Poppe showed off her ukulele skills as she kicked off Disney Night with a rendition of "The Bare Necessities" from The Jungle Book, followed by Jurnee's heartfelt performance of Moana's "How Far I'll Go," which she said was influenced by the time she spent this week with her mother—who always inspires her to go farther as she pursues her dreams.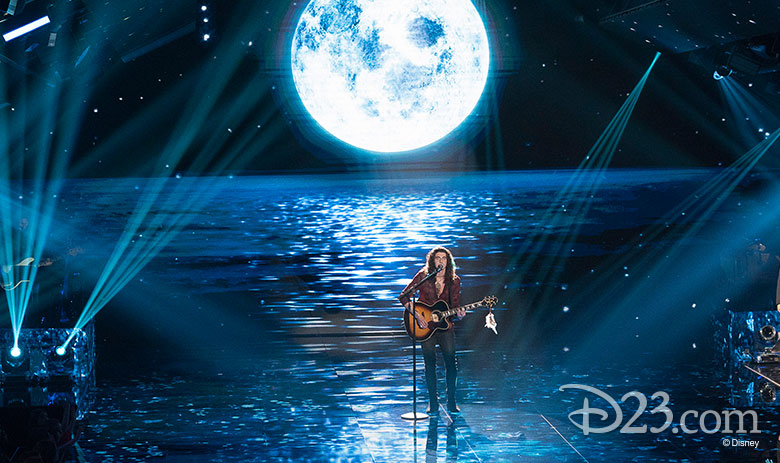 Cade Foehner reimagined "Kiss the Girl" from The Little Mermaid as an acoustic rock ballad, while Katy Perry referred to Ada Vox's majestic version of "Circle of Life" from The Lion King as another example of how she keeps "dropping the mic" with every performance.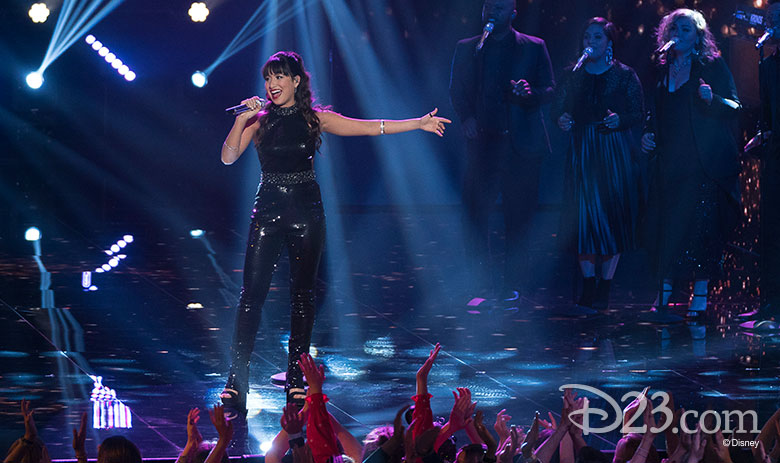 Michelle Sussett sang "Remember Me" in both English and Spanish, making for a truly unforgettable performance of Coco's signature song. Michelle's song choice was a nod to her family and friends back home in Venezuela, and Gabby Barrett was also thinking of someone special to her while she performed "Colors of the Wind" from Pocahontas, a song that she and her sister, Gypsy, both loved to sing together when they were younger.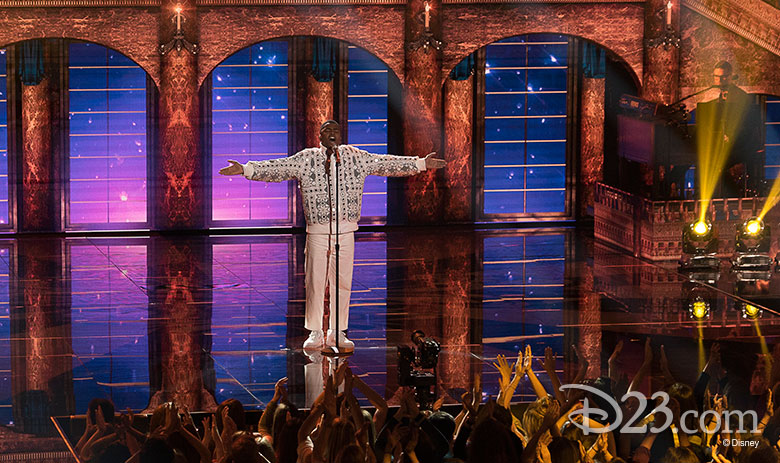 Michael J. Woodard showed his impressive range during his soulful performance of the title song from Beauty and the Beast, along with his ability to hold a note for a seemingly impossible length of time. He spent an unforgettable day at Disneyland alongside his grandmother, who surprised him on Main Street, U.S.A., by hiding under a massive bouquet of balloons.
Watching the Pixar Play Parade at Disneyland, Caleb Lee Hutchinson told Woody, Buzz, and the gang that he's their biggest fan, and he honored those beloved characters when he performed "You've Got a Friend in Me" from Toy Story during the live broadcast. Catie Turner looked like a princess, in her pink ball gown with an elegant up-do, and she sang like one, too, choosing "Once Upon a Dream" from Sleeping Beauty for her Disney Night number. The week was a high point in Catie's Idol journey. "My heart was full to a point that if I went home this week I would feel satisfied, because I had the best time with family, I had the best time with friends, and I got to go on rides and have Dole Whip—and I don't have Dole Whip back home—so I was content," she told us after the broadcast.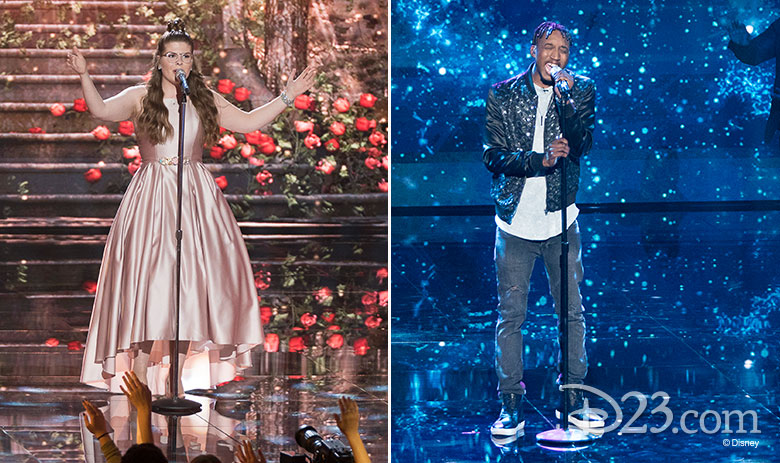 Dennis Lorenzo had never been to Disneyland until this week, and he had the bonus experience of enjoying the park with his young daughter, who was also visiting for the first time. Dennis sang "Can You Feel the Love Tonight" from The Lion King—a song that he explained takes him back to his own childhood and reminds him of his late father.
The judges seemed to enjoy Disney Night as much as the contestants did. "I'm a through-and-through Disney fanatic. I know all the songs, I was singing along. Some of them are written in my DNA," Katy Perry said. "The 'D' in DNA stands for 'Disney.'" Perry revealed that she's been to every Disney park except for Disneyland Paris—but she has plans to remedy that as soon as she can.
Disney Night marked the first-ever coast-to-coast simul-vote, with the results of the voting revealed at the end of the evening. American Idol said goodbye to Michelle Sussett, Ada Vox, and Dennis Lorenzo, but the three were all smiles when we spoke with them after the show. "The fact that I've made it this far means success for me," said Michelle, who says her Idol experience allowed her to find herself as an artist. "Every single day is a new opportunity to be better and improve yourself. You never stop learning. The learning process in the music industry and artistic world is infinite."