By Beth Deitchman
Along the shores of Walt Disney World's Lago Dorado, a jewel shines especially brightly this week with the opening of the Gran Destino Tower—the culmination of a multiyear reimagining of Disney's Coronado Springs Resort. Throughout the resort, whose name translates from Spanish, appropriately, to "crowned one," guests will find nods to the rich cultures and vibrant landscapes of Spain, Mexico, and the American Southwest. The new 15-story tower adds to the distinctive style of Disney's Coronado Springs Resort, where contemporary design and old-world traditions are seamlessly blended, and where the adventurous spirit of world travelers, innovative artists, and enchanting storytellers can be felt around every turn. In addition to the new 545-room tower, guests will also discover new restaurants, innovative technology, and so many spectacular details. Here are seven reasons why it is every Disney fan's "great destiny" to immerse themselves in the new Gran Destino Tower and check out what's new at Disney's Coronado Springs Resort: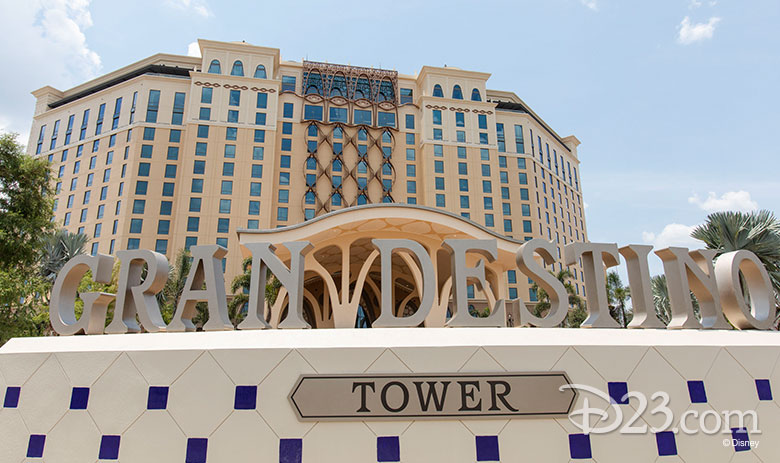 1. The Gran Destino Tower pays homage to a classic Disney film.
Initially begun in 1945—and finally completed in 2003—the surrealistic animated short Destino features striking, unconventional visual design. The Gran Destino Tower is equally whimsical, with a fresh, sophisticated color palate, dramatic nighttime lighting, eclectic patterns, and—of course—plenty of unexpected Disney touches.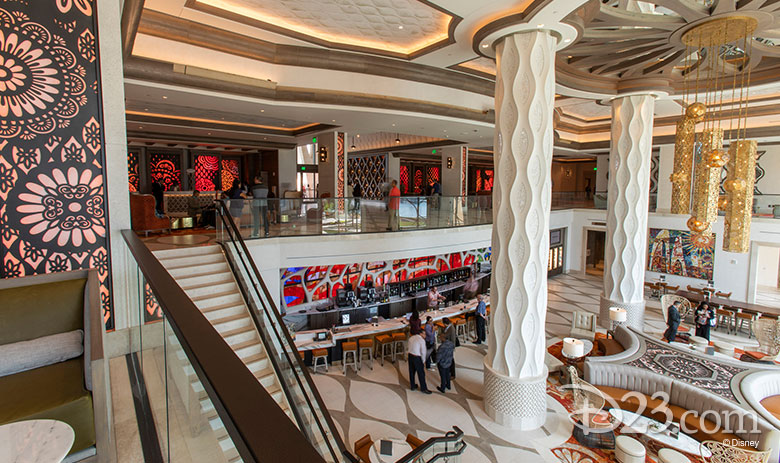 2. Guests will marvel at the intricate details of the tower's two-story lobby.
Designed in the Catalan Modernism style, the expansive lobby features intricate wooden screens with rows of Moorish hanging lanterns, as well as decorative bronze screens that are inspired by the patterns often seen in Spanish tilework (and give the lobby a warm and inviting glow).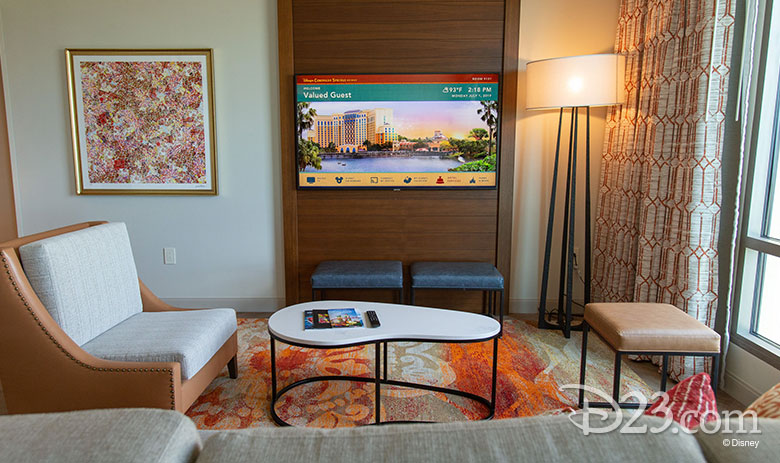 3. Old World touches—and the latest technology—in every guest room.
Each room boasts a wall covering that's inspired by Spanish tile medallions. But in addition to this artistic nod to a bygone era, the guest rooms are all equipped with a new interactive television system to enhance the guest experience during a stay. View PhotoPass images, enjoy favorite Disney content, stream from personal devices, or plan your next Disney adventure from the comfort of your room.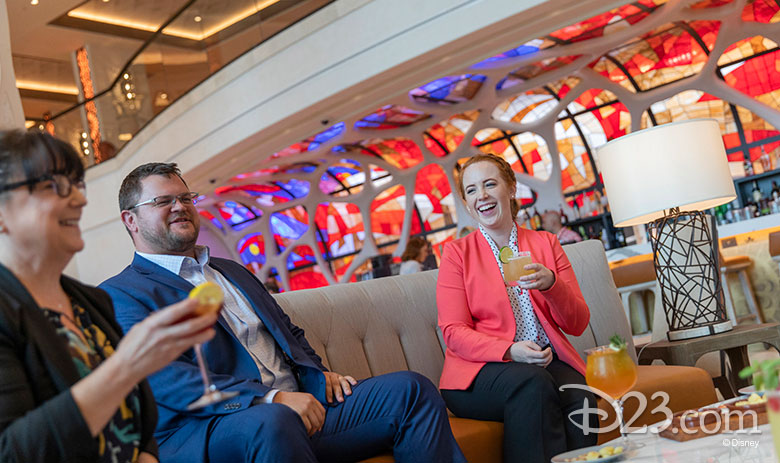 4. Café, Catalonia-style
Just off the lobby, the sunny Barcelona Lounge is a perfect spot to wile away the day, beginning with café-con-leche and pastries in the morning, and continuing into the later hours, as the early-morning espresso bar transitions to offer artisanal cocktails—some of which are created with the lounge's impressive collection of international gins. Be sure to try the signature orange- and saffron-infused Gran Gin Tonic. The lounge is also a treat for the eyes, with sculpted columns, a magnificent chandelier, and large murals (including art featuring Walt Disney and Mickey Mouse).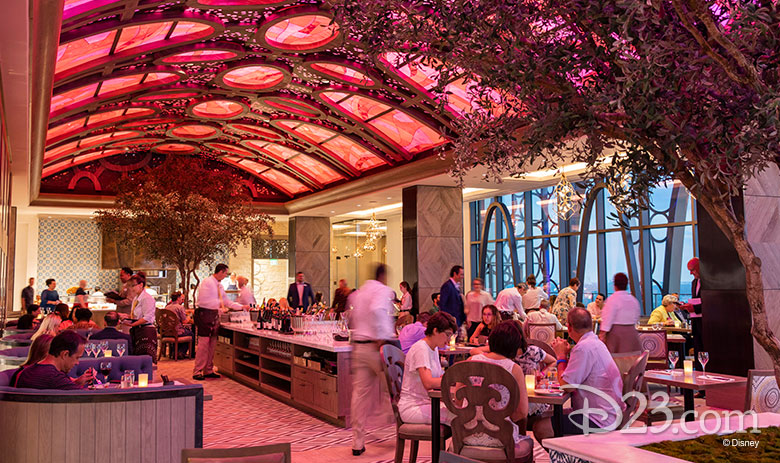 5. Tapas with a view.
In the 1920s and '30s, avant-garde writers and artists flocked to Tolédo. The Spanish city inspired their craft, and it now inspires Gran Destino Tower's dramatic rooftop restaurant, Tolédo – Tapas, Steak & Seafood. Under a spectacular ceiling with dramatic stained-glass accents, guests can enjoy a menu that's full of the most authentic tastes of Spain—from chuletón, a 32-ounce ribeye that's intended to be shared, to tapas, which are prepared in an onstage kitchen and include Spanish cheeses, charcuteríá, and small plates. The adjacent Dahlia Lounge offers Spanish wines and an extensive cocktail menu that complements the unforgettable décor, which is inspired by the short film. The name of the lounge is based on Destino's heroine, Dahlia, and the metal bell accents, ceiling coffers that may remind guests of flowing hair, and chandeliers resembling dandelions all hark back to the short, as well. Also look for Spanish Modernist patterns throughout Dahlia Lounge while you mix and mingle and enjoy great views 15 stories above Walt Disney World.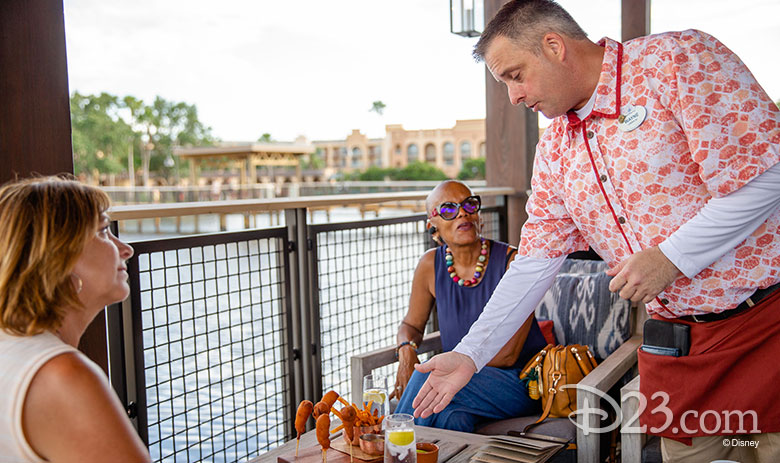 6. Libations on the Lake
A trio of crossings converge at Three Bridges Bar & Grill, which sits in the center of the lake at Villa del Lago, an "island" of one-story buildings at the Resort. Culinary offerings at the romantic, open-air setting include signature sangría pitchers, plates to share, as well as sandwiches and entrees—not to mention sweet sendoffs to the dining experience (with desserts that include a very familiar-shaped vanilla custard Mickey tart, with compressed pineapple and tropical sorbet). Guests may come for the lakefront ambiance, but they'll stay for the Spanish-American-inspired cuisine.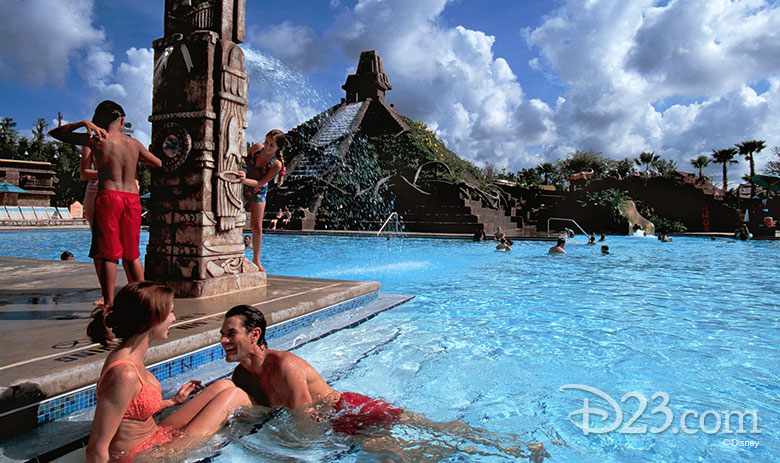 7. Can you dig it?
Just across the new bridges spanning Lago Dorado, guests will find the Dig Site—a can't miss aquatic area that's themed to Mayan ruins. A 50-foot replica of a Mayan pyramid towers over all, and the iconic Coronado Springs flow down its steps into an expansive pool, while a spitting Jaguar Slide provides thrills for guests of all ages. The Dig Site is also home to the Walt Disney World Resort's largest outdoor hot tub: You and 21 of your closest friends and family can partake in the fun. Water runs through Disney's Coronado Springs Resort—literally and figuratively. Water can be found in many of the design motifs, a natural complement to the resort's 15-acre lake, Lago Dorado, as well as the bubbling springs, flowing fountains, and sparkling lakes that continue to inspire artists and storytellers from all around the world today.
The many ways that Disney's Coronado Springs Resort celebrates water and the natural world bridge a rich and storied history with an exciting new legacy. And there is no better time than now to experience it for yourself.