By Courtney Potter
Bedknobs and Broomsticks reunited the creative team behind Disney's blockbuster Mary Poppins—including director Robert Stevenson; producer and writer Bill Walsh; co-writer Don DaGradi; art director Peter Ellenshaw; special effects technician Eustace Lycett; and the award-winning songwriting team of Robert B. and Richard M. Sherman. Based on characters from a novel by Mary Norton, the film follows eccentric spinster and amateur witch Eglantine Price, played by Angela Lansbury, as she hopes to use her newfound magical know-how to help England win the war against Nazi Germany. Along the way, we meet three London children (played by newcomers Ian Weighill, Roy Snart, and Cindy O'Callaghan) who've been evacuated from war-torn London and put into Eglantine's care, as well as her amusing, albeit totally bogus, professor Emelius Browne (Mary Poppins' David Tomlinson). Together, this unlikely "family" ventures into London's colorful Portobello Road, travels beneath the "beautiful briny sea," meets the lion king of the Lost Isle of Naboombu, and finally defeats invading German commandos by raising a ghostly army of historical armor.
All that "Substitutiary Locomotion" took a lot of technical sorcery to bring to life! The film employed an amazing technique—the sodium-screen vapor process—that was the precursor to today's "green screen" technology. First developed at The Walt Disney Studios by famed animator Ub Iwerks, the technique allowed filmmakers to combine live action with animation… as well as combine several layers of live action, in order to create special effects never before seen on the silver screen. Thanks to the good folks at the Walt Disney Archives, D23 can help uncover some of the mysteries behind Bedknobs and Broomsticks' use of the sodium-screen vapor process to film some of its most iconic scenes. Check out the exclusive images, below, showing the fully live-action scenes—as they were originally shot—alongside the final film frame.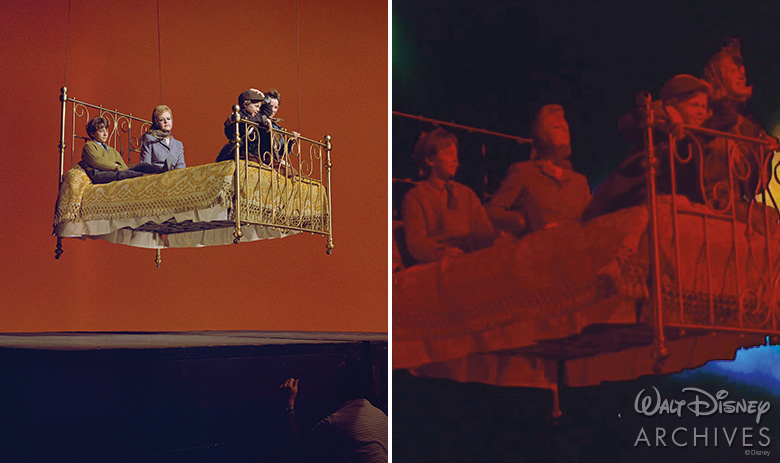 Cast members Angela Lansbury, Ian Weighill, Roy Snart, and Cindy O'Callaghan, traveling on the bed with the magic-infused bedknob! The yellow screen behind them allows filmmakers to shoot images on a special three-strip Technicolor film camera; inside, a prism would remove all the sodium light, leaving only the main image. That image could then be put into all manner of situations, both live-action and animated. Although the screen appeared yellow on set, photographs often show an orange color, since still photo cameras couldn't pick up the intense yellow.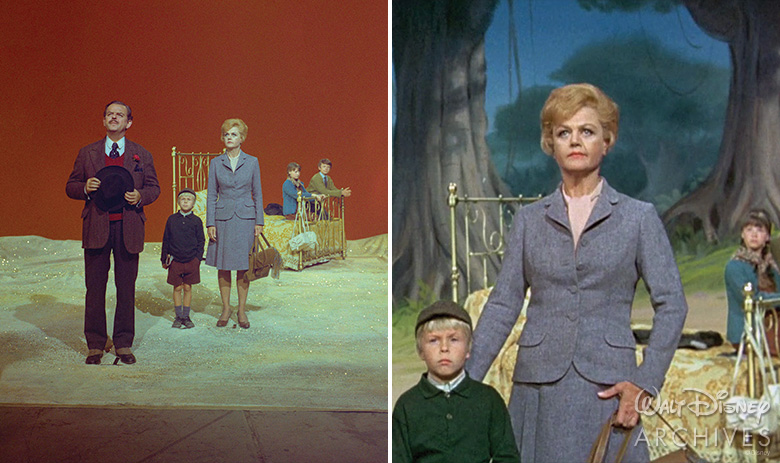 Here, the bed has landed on the Lost Isle of Naboombu, which was entirely animated—and featured all manner of talking animals!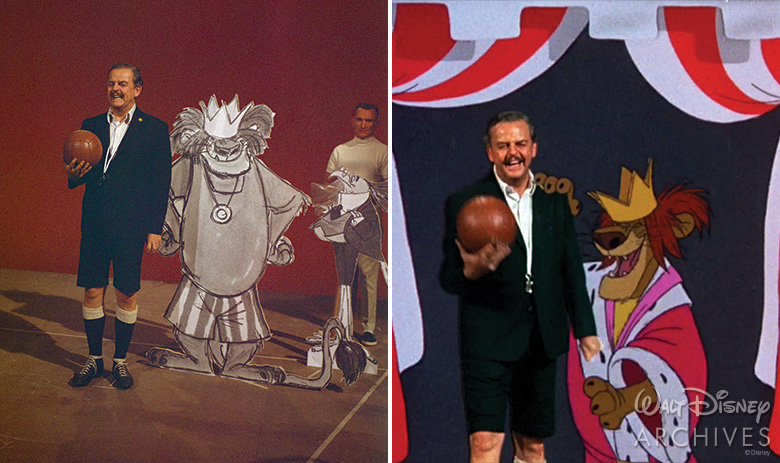 On Naboombu, Emelius is roped into refereeing a very strange soccer game… and in this image, you can see how stand-ins—human and non-human alike—filled in for the eventual animated images.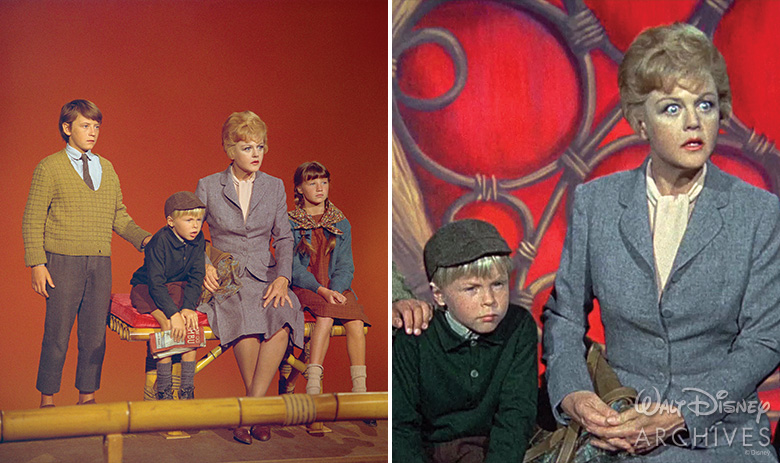 Eglantine and the children are looking on as Emelius tries to bring decorum to the Naboombu soccer game. The yellow screen behind them allowed the animators easier access to fill in their surroundings…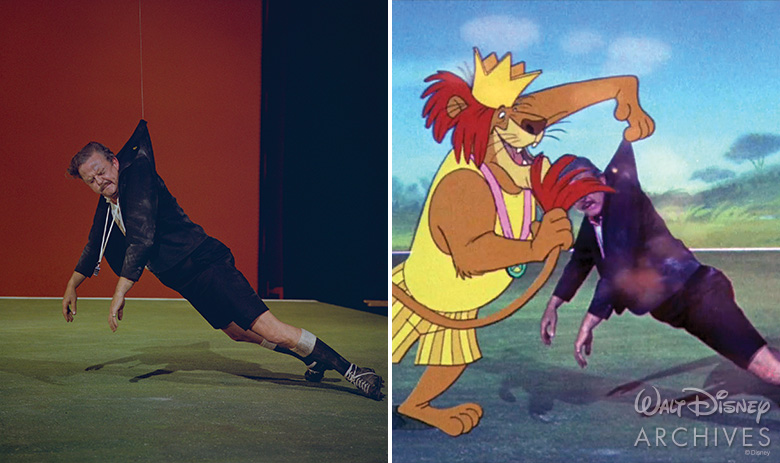 David Tomlinson's Emelius is lifted up by a string in the first photo… but eventually, the string becomes the lion king's hand!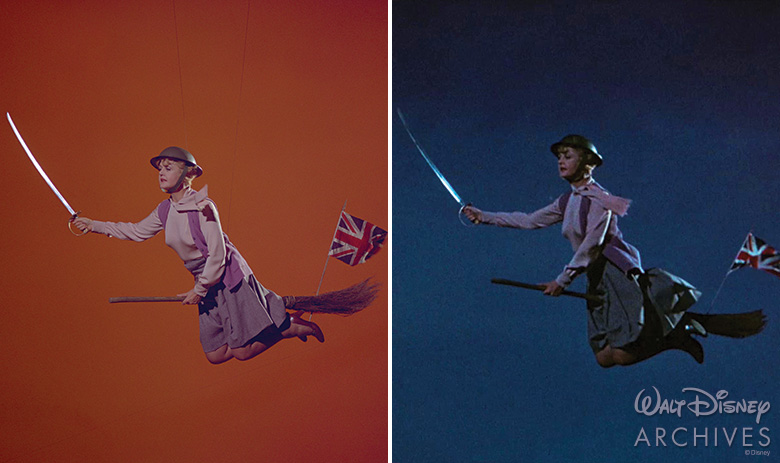 Once Eglantine manages to perfect her "Substitutiary Locomotion" spell—causing all the armor in her small coastal town's museum to come to life and face the Nazis—she takes to the air to make sure her army is winning.