By Courtney Potter
It's Official! Emily Blunt and Lin-Manuel Miranda to Star in Mary Poppins Returns
"Wind's in the east, there's a mist comin' in… like somethin' is brewin'—about to begin." For the last few months, we've been teased with the possibility of an all-new Mary Poppins film from Walt Disney Studios—and now, it's official! Mary Poppins Returns, to be directed by Oscar® nominee Rob Marshall, will "step in time" onto a movie screen near you on Christmas Day (December 25), 2018.
Starring Emily Blunt (Disney's Into the Woods) and Lin-Manuel Miranda (composer and star of Broadway's Hamilton), Mary Poppins Returns will draw from the wealth of material in P.L. Travers' seven additional novels that featured Mary Poppins. The film will take place in Depression-era London—when the books were originally written—and will follow a now-grown Jane and Michael Banks… who, along with Michael's three children, are visited by the enigmatic Mary Poppins (Blunt) following a personal loss. Through her unique magical skills, and with the aid of her street-lamplighter friend Jack (Miranda), she'll help the family rediscover the joy and wonder missing in their lives.
Just Keep Swimming with All-New Finding Nemo As Told By Emoji
Looking to get into the "swim" of things before Finding Dory dives into theaters on June 17? Our good pals over at Disney Interactive Media (read up on how the As Told By Emoji series is created here) have caught-and-released a new short to help you catch up! Finding Nemo As Told By Emoji follows emoji-fied versions of Dory, Nemo, Marlin, Crush, and all their fishy friends as they retell the story of Disney•Pixar's 2003 film.
Additionally, on Thursday, June 16 (the day before the big premiere), Dory's biggest fans will have an opportunity to see both movies back-to-back with "Dory After Dark"! More than 90 locations in North America will take part in this one-night-only event, when moviegoers will be treated to a late-night screening of Finding Nemo before joining a select few fans as the very first to see the much-anticipated new adventure. Guests will receive some fantastic Dory swag, and can even share their experience with custom Snapchat filters! Surf over to our friends at Oh My Disney to find out if "Dory After Dark" is happening in your area…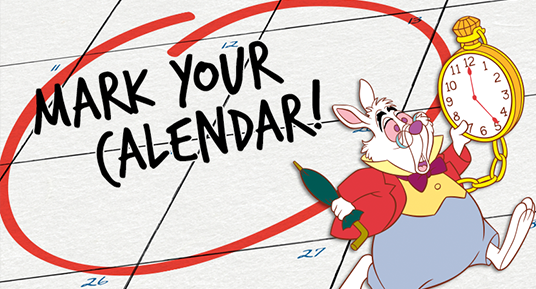 Save the Date!
Be sure to mark these upcoming Disney events on your calendar:
D23 and Walt Disney Archives


June 4


D23's Afternoon in the Sea: Finding Nemo


June 8


D23 Member Night at Newsies—On Tour in Salt Lake City, Utah


August 22-26


D23 Presents Aloha Aulani!


November 19-20


D23 Destination D: Amazing Adventures


Studios




June 17


Finding Dory opens in theaters.


July 1


The BFG opens in theaters.


August 12


Pete's Dragon opens in theaters.


November 23


Moana opens in theaters.


December 16


Rogue One opens in theaters.
Parks


June 16




Shanghai Disney Resort to open




June 17


Soarin' Around the World Debuts at Disney California Adventure and at Epcot


September 2, 8, 11, 13, 16, 18, 20, 23, 25, 29, 30 and October 2, 4, 6, 7, 10, 11, 13, 14, 16, 18, 20, 21, 23, 25, 27, 28, 30, 31




Mickey's Not-So-Scary Halloween Party at Walt Disney World Resort




November 7, 8, 10, 11, 13, 15, 18, 27, 29 and December 1, 2, 4, 6, 8, 9, 11, 13, 15, 16, 18, 22




Mickey's Very Merry Christmas Party at Walt Disney World Resort




Television




June 24


Adventures in Babysitting Premieres on Disney Channel at 8 p.m. EDT
Get Creative with Disney Art Academy for Nintendo 3DS
Artists and Disney fans, listen up! There's a new game for Nintendo 3DS, and it's right up your alley… Disney Art Academy, available now, features a wide variety of tools that teach players to draw more than 80 Disney and Pixar characters in 2-D. By working through multiple easy-to-follow lessons, characters like Mickey Mouse, Nemo from Finding Nemo, Elsa from Frozen, Buzz Lightyear from Toy Story, and Simba from The Lion King all come to life.
In Disney Art Academy, characters can be sketched or painted in a variety of ways; using art tools like pastels and paintbrushes, players can discover their "inner artist" and participate in lessons inspired by Disney art and animation. Each lesson guides players through a step-by-step progression to draw a single character. Find Disney Art Academy on sale now in stores; at the Nintendo eShop on Nintendo 3DS; and at Nintendo.com. Happy doodling!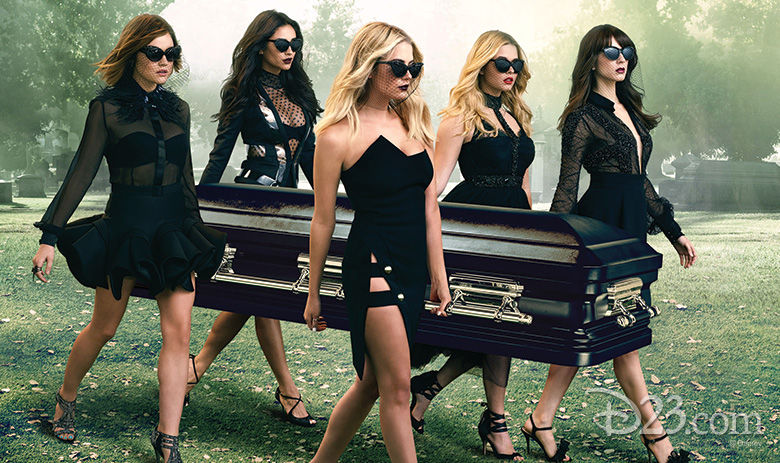 Pretty Little Liars' Season 7 Summer Premiere on June 20
The Liars are back—and it's about to get seriously suspenseful up in here. The Season 7 summer premiere of Freeform's hit original series Pretty Little Liars debuts on Tuesday, June 21, at 8 p.m. EDT. After Hanna's shocking abduction by "Uber A," the PLLs (and company) desperately race against the clock to save one of their own. But the only way to do it is… by handing over evidence of Charlotte's real murderer to "Uber A"! Consequently, the girls must decide what lines they're willing to cross—because once they do, there's no turning back.
Fans can catch up on where the Liars left off with Freeform's all-day marathon of Season 6, starting on June 21 at 11 a.m. EDT and running up to the premiere. Prepare to hashtag your way through summer!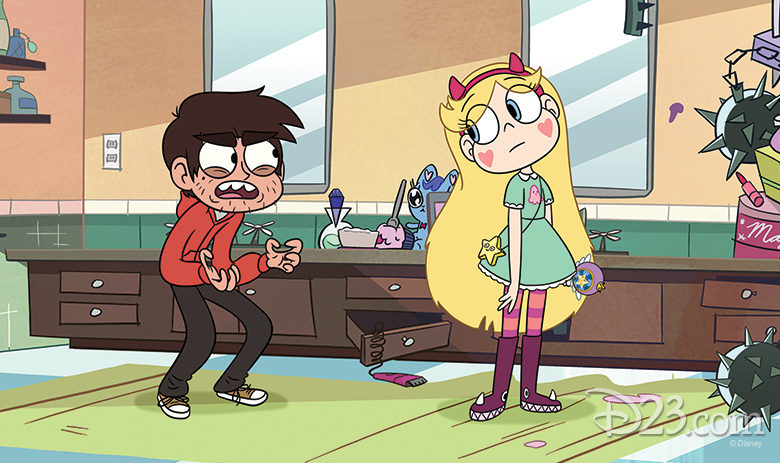 Star vs. The Forces of Evil: The Battle Begins Anew This Summer!
Disney XD's magically kooky, Annie Award®-nominated series Star vs. The Forces of Evil—starring The Middle's Eden Sher as the voice of Star Butterfly, the awesome teen princess from another dimension—begins its second season on Monday, July 11, at 10:30 a.m. EDT on Disney XD and the Disney XD app.
Season 2 uncovers the mythology around Star's Royal Magic Wand, her family history, and the powers she will someday fully possess. Additionally, Star and Marco's adventures get even weirder as they are introduced to new magical characters. Look for guest stars including "Weird Al" Yankovic, Mayim Bialik, Melissa Rauch (The Big Bang Theory), Zosia Mamet (Girls), and Nick Lachey (The Sing-Off); they'll be joining regulars Nia Vardalos (My Big Fat Greek Wedding), Jenny Slate (Zootopia), and Alan Tudyk (Trumbo). So mark your calendars… and also look for a series of eight Star original comics titled "Deep Trouble" to roll out in bookstores this fall!
New Look at Finding Dory… Plus "Just Keep Searching" on Google
Oh, it's so tantalizingly close—the opening of Finding Dory in theaters! Dory, Marlin, Nemo, and pals head from their home base in Australia to the coast of California in the new film… and this most recent first-look clip follows along as they meet up with Crush, the sea turtle, for another bumpy ocean-current ride! Check it out, dudes.
Plus, here's a fun tip: In a first-of-its-kind experiment with Google Search, anyone searching for Finding Dory on Google will be presented with new and exclusive content (videos, animated GIFs, images, etc.)—updated in real-time on both desktop and mobile. "Just Keep Searching" in these next few weeks; more content will be rolled out as we get closer to the film's debut.
Go Inside The Jungle Book: Alive With Magic at Disney's Animal Kingdom
Just this past weekend, Disney's Animal Kingdom at Walt Disney World Resort debuted their newest show! The Jungle Book: Alive With Magic is a dazzling re-telling of the Rudyard Kipling story (including your favorite songs from both the original 1967 animated film and the recent Jon Favreau-directed hit), told through the lens of authentic Indian culture.
The Jungle Book: Alive With Magic plays several times each night, right on the riverfront at Discovery Island—but only for a limited time. Huge barges teeming with singers, Indian musicians, and colorful performers take to the waters and boost the tale with music and song. And that's not all: Imagery from the 2016 blockbuster film is projected onto truly massive water screens right above the river. Sounds intriguing, right? Take a closer look with this recent behind-the-scenes video from Disney Parks, above.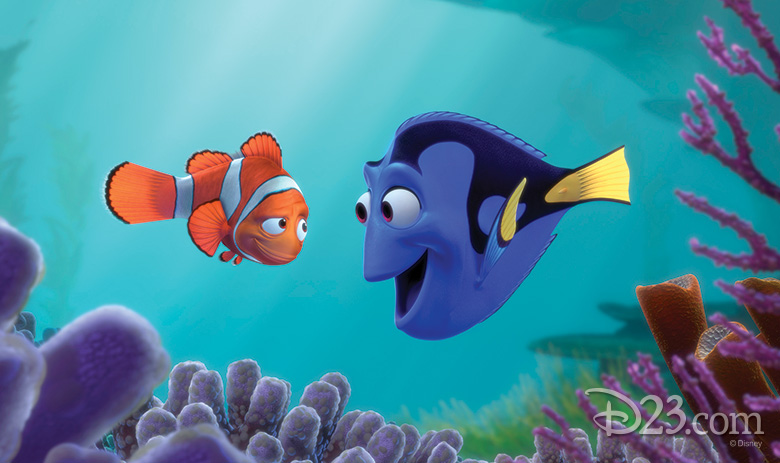 Freeform Celebrates Father's Day with "Funday" Marathon
Memorial Day has come and gone, which means summer is kicking into high gear! It also means Father's Day is around the corner—so what better way to celebrate your beloved dad than bonding over some classic Disney movies? Freeform's got just the ticket, with its weekend-long "Funday" Father's Day marathon coming this June.
You and dear ol' Dad (or the father-figure of your choosing) can check out films like The Princess and the Frog, Finding Nemo, Brave, and Snow White and the Seven Dwarfs throughout the weekend of Saturday, June 18, and Sunday, June 19. So check your local listings, stake out your favorite seats on the couch, and get ready to spend some quality time together. Yay, dads!