Meet Star Butterfly.
Star is a "fiercely awesome" high school girl
. . . who just so happens to be a magical princess from another dimension. On Star's 14th birthday, she receives an all-powerful magic wand from her parents—which proves to be a little difficult for Star to control. Star's Royal Parents send her to Earth to live with the Diaz family and their son Marco as "an exchange student" where she can master her wand safely away from the clutches of her arch-nemesis, Ludo, and his monstrous forces of evil. Viewers can begin tuning in to watch Star and her best friend, Marco, embark on dimension-hopping adventures when Star vs. The Forces of Evil premieres Monday, March 30, at 8 p.m. ET/PT on Disney XD.
This fiercely awesome princess was created by the fiercely talented Daron Nefcy (who also serves as executive producer), a 29-year-old Cal Arts graduate who was recently named one of Variety magazine's "10 Animators to Watch" as well as one of Forbes' "30 Under 30." D23 had the opportunity to attend a special screening of Star vs. The Forces of Evil hosted by Disney Television Animation (DTVA) and Women in Animation, followed by a Q&A with Nefcy; actress Eden Sher (of ABC's The Middle, who voices Star Butterfly); Lisa Salamone, senior vice president, Production, DTVA; Brooke Keesling, director, Animation Talent Development, DTVA; and Maija Burnett, the director of the Character Animation Program at Cal Arts.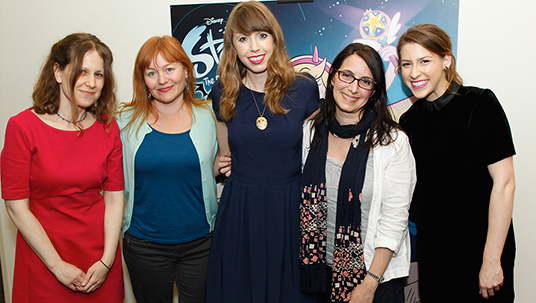 The panelists talked about the increase they've noticed in recent years in the number of women who are now working in animation. Burnett noted that at Cal Arts—the institution that counts John Lasseter, John Musker, and Brad Bird among its noted alumni—there has been a sea change. "The percentages, in terms of gender breakdown, have really flipped from 10 years ago. I think it was about 25 percent female, 75 percent male; and now that has reversed and it's 75 percent female and 25 percent male."
In fact, the idea for Star vs. The Forces of Evil was hatched while Nefcy was still a Cal Arts student. "I came up with Star in my third year at Cal Arts and she started as a sketch, just a drawing with the little heart cheeks and stuff," Nefcy recalled. The character and her world evolved over several years—Star was originally a bit younger and the magical powers weren't always real. But, Nefcy says, "I think there's a lot of me in Star. And I think when Eden came along some of Eden got in there, too. It's really awesome."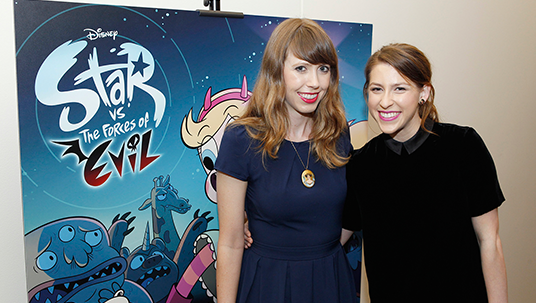 "Awesome" may not be a big enough word to describe how thrilled Sher is to be bringing Star to life with her voice. "I feel like she's like me without a filter," Sher jokes, remembering that she saw the character as a kindred spirit as soon as she read the first script. She marvels about Star, "Oh my god, she's just this crazy girl and she's not apologizing!" And Sher is having a blast voicing Star and helping the character evolve.
The character is anything but what you might expect from a royal princess—even one who can summon "laser puppies" (which are absolutely adorable… and maybe kind of dangerous?)—and that unpredictability is a big part of what makes Star unique. Nefcy explains, "What I like about Star personally is that she is girly. And she does kick ass. And she can do all these things and she's not just a tomboy, which is kind of nice." Nefcy adds, "She gets to make mistakes, which is important for any character. I really just set out to make a well-rounded character."
Nefcy's well-rounded character comes with one of the catchiest theme songs you've heard in a while:
According to Nefcy, choosing the song that serves as Star vs. The Forces of Evil's introduction was one of the most fun parts of developing the series. She and the DTVA music team started with a collection of music that Nefcy liked, along with some lyric ideas, and then listened to countless song submissions—and they listened to all of them blindly, without knowing the names of each artist they were hearing. "There were so many good ones," Nefcy remembers, but the submission they selected came from Brad Breeck, who also composed the theme for Gravity Falls. "I love that it sounds like a garage band," she professes.
Star vs. The Forces of Evil makes its official debut next week, but the series has already been renewed for a second season. The character developed a cult following after the series' opening title was previewed at last year's Comic-Con, inspiring hundreds of fan art pieces generated by people who responded to the character. Perhaps some of those people are future animators. For Nefcy, Star began with a sketch, "as most characters do." And that's a truth that's as enduring as the legacy of Walt Disney himself.