Noel Coward once described actor David Tomlinson as looking like a "very old baby." David himself said, "I may look like a disappointed spaniel, but by nature I am cheerful." "Cheer" is what David spread to many a Disney audience with his performances in such Disney movies as the Oscar®-winning Mary Poppins in 1964, The Love Bug in 1969, and Bedknobs and Broomsticks in 1971.
Of the more than 50 motion pictures he appeared in during his career, however, his most popular role was as the rigid and positively clueless father George Banks in Mary Poppins. As Ed Weiner wrote in TV Guide, "Of all the movie moments we hold dear from childhood and revisit most often with our children on video, Tomlinson as a changed and suddenly life-loving George Banks happily singing 'Let's Go Fly a Kite' is one of the sweetest."
Born David Cecil MacAlister Tomlinson on May 7, 1917, in Henley-on-Thames, England, he left school to serve with the Grenadier Guards beginning in 1935. A year later, he took a job as a clerk in London and dabbled in amateur theater at night. While playing the bridegroom in a 1939 tour of Quiet Wedding, David was spotted by director Anthony Asquith and, subsequently, cast as best man in the play's 1940 film adaptation opposite Margaret Lockwood.
David put his fledgling motion picture career on hold during World War II to serve as a flight lieutenant in the Royal Air Force. After the War, he resumed acting with such films as The Little Hut with David Niven; Three Men in a Boat, directed by fellow Legend Ken Annakin; and Up the Creek with Peter Sellers.
David, bent toward the humorous, once said, "Personally, I wouldn't want to go near Hamlet. Far too serious."
He was cast in Mary Poppins after Walt Disney saw his stage performance in Ring of Truth at the Savoy Theatre. The role won him a Hollywood film editors' award for "best performance by an actor making his debut in American motion pictures."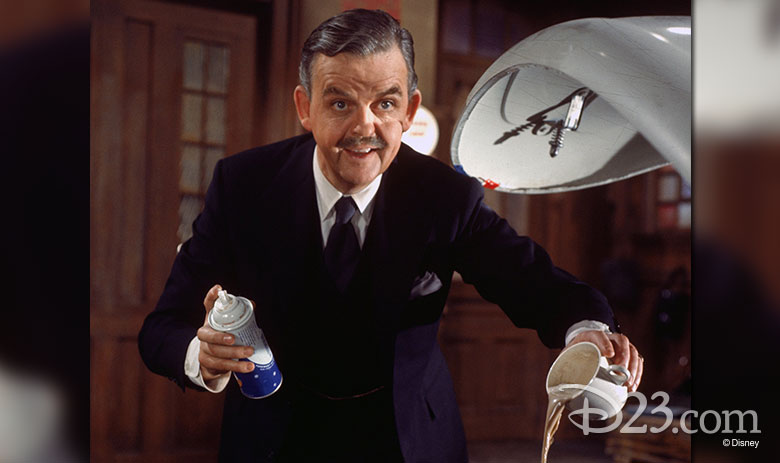 David went on to play the evil Thorndyke in The Love Bug; it was an about-face for the actor, who usually played respectable, good-natured types. Later he served as the humbug professor of magical arts, Emelius Brown, in Bedknobs and Broomsticks with Angela Lansbury.
David Tomlinson passed away on June 24, 2000 in London, England.