Award-winning actress Angela Lansbury is everyone's cup of tea. And while she is probably best known to television audiences as Jessica Fletcher in the long-running detective series Murder, She Wrote, it's her performance as Mrs. Potts, the enchanted teapot in the animated classic Beauty and the Beast, that Disney fans cozy up to most.
When the film was released in 1991, film critic Leonard Maltin called Lansbury's performance "…just charming." He continued: "She expresses such warmth. To convey that with just your voice… there's something tremendously appealing about the character and the way she plays it."
Born in London, England, on October 16, 1925, Angela began to study acting at the Webber-Douglas School of Dramatic Art until World War II forced her family to escape the London Blitz and emigrate to the United States.
In New York, she enrolled in the Feagin School of Dramatic Arts and, at 16, earned her first professional job performing in a Montreal cabaret act. Her family eventually relocated to Los Angeles, and, in 1944, director George Cukor cast the 17-year-old actress as the Cockney maid in Gaslight. The role not only won her a contract with Metro-Goldwyn-Mayer, but also an Academy Award® nomination for Best Supporting Actress.
A year later, Angela received a second Oscar® nomination for her performance as a music-hall singer in The Picture of Dorian Gray.
From there, she went on to make more than 40 films, including State of the Union with Spencer Tracy, The Harvey Girls with Judy Garland, and The Manchurian Candidate, for which she received her third Oscar nomination. She even played Elvis's mother in 1961's Blue Hawaii.
In 1966, Angela won the first of her five Tony® Awards for her performance as Mame Dennis in the hit musical Mame. She dazzled Broadway audiences with her interpretation of the madcap title role, displaying, for the first time, the full range of her extraordinary talents. Angela made her musical comedy motion picture debut in 1971, mesmerizing audiences as the delightful apprentice witch, Eglantine Price, in Disney's fantasy Bedknobs and Broomsticks.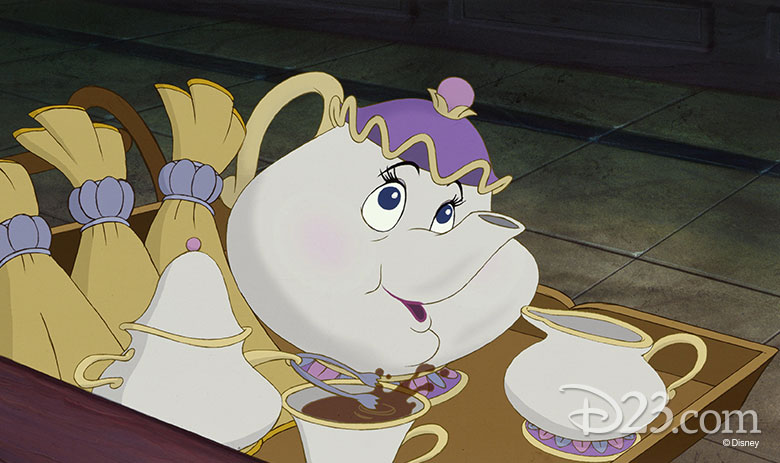 Twenty years later, Angela returned to Disney for Beauty and the Beast, in which she sang the Academy Award-winning title song of the same name. She encored as Mrs. Potts in Disney's 1997 direct-to-video sequel Beauty and the Beast: The Enchanted Christmas as well as the video game Kingdom Hearts II in 2006. Angela later served as a segment host for the Studio's millennial animated classic Fantasia 2000, introducing Stravinsky's Firebird Suite.
Angela's achievements on stage, screen, and television are too numerous to recount, but include six Golden Globes and eighteen Primetime Emmy® nominations. She is the recipient of the National Medal of the Arts, the Kennedy Center Honors, and was named a Commander of the Order of the British Empire by Queen Elizabeth II in 1994.