This summer, D23 Members had the chance to snap a selfie of their Disney Side to win an incredible prize package:
a vacation to Disneyland Resort and D23 Expo 2015!
Hundreds of entries poured in featuring members in homemade costumes, buried in piles of plush Disney critters, and even sporting tattoos of their favorite characters, but alas, there could be only one winner. The lucky D23 Member randomly selected was Karla Amaya from South Gate, California!
Karla's winning photo: herself as the Queen of Hearts.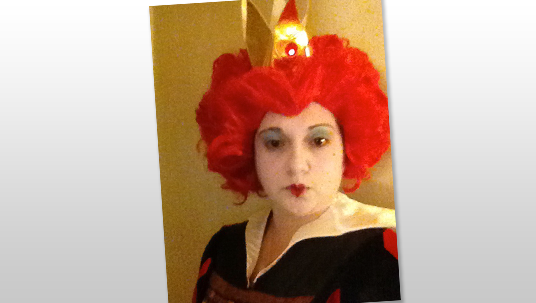 "My Queen of Hearts photo shows my creative Disney Side, the child in me,"
. . . says Karla. "She's such a mischievous person, and is anything but ordinary."
Karla couldn't believe she won when she got the email notifying her of her prize. She's never been to D23 Expo before, and she can't wait to see what's in store for 2015 and be surrounded by everything Disney! Plus, she's looking forward to taking in as many rides and attractions as possible at Disneyland next August. "It doesn't matter how old you are, Disneyland is the happiest place on earth!" says Karla.
We couldn't resist showing you some of our other favorite entries. Enjoy this gallery of our 23 favorite Disney Side selfies!