By Andie Hagemann
The Belcher family is ready to get the patty started!
The zany animated family will make their big screen debut when 20th Century Studios' The Bob's Burgers Movie premieres exclusively in theaters on Friday, May 27. An adaptation of the long-running Emmy®-winning series, the animated feature film is full of musical numbers, adventure, mystery, and hysterical hijinks.
The story begins when a ruptured water main creates an enormous sinkhole right in front of Bob's Burgers, blocking the entrance indefinitely and ruining the Belchers' plans for a successful summer. While Bob (voiced by H. Jon Benjamin) and Linda (voiced by John Roberts) struggle to keep the business afloat, the kids try to solve a mystery that could save their family's restaurant.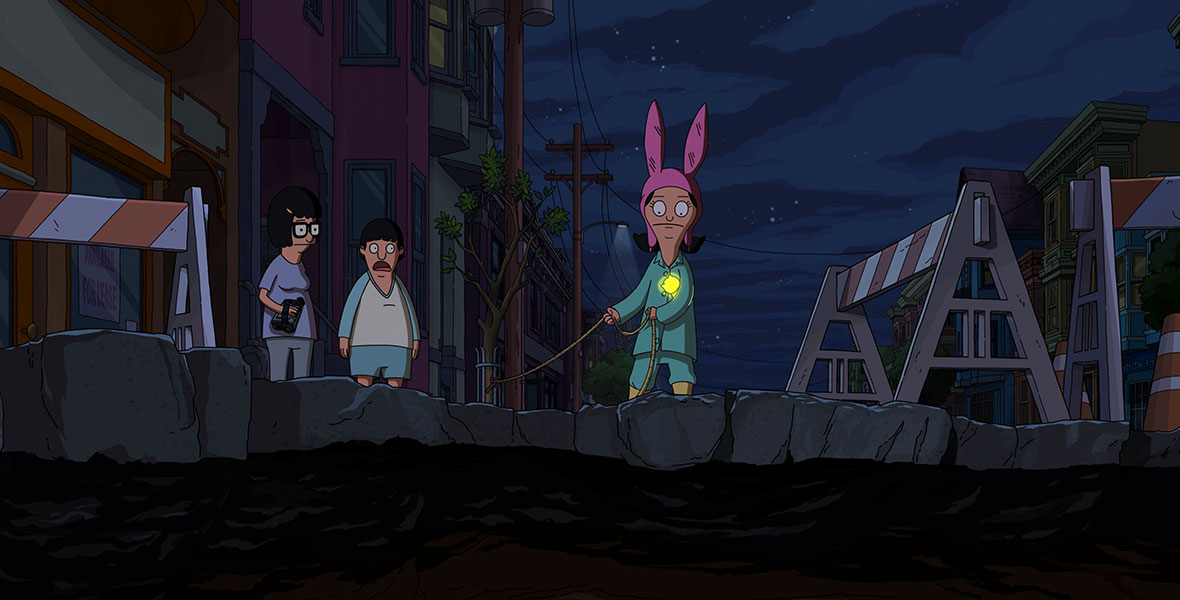 All your burning questions will be answered in The Bob's Burgers Movie, including the elusive backstory behind Louise Belcher's beloved pink bunny ears. "I did feel honored that Louise would have such a heavy storyline throughout this very special event," Kristen Schaal (voice of Louise) said during a virtual press junket. "This is something that a lot of the fans and I have been waiting for." Meanwhile the other Belcher siblings are consumed with big life moments of their own. Tina (voiced by Dan Mintz) can't decide if she wants to ask Jimmy Jr. (voiced by Benjamin) to be her summer boyfriend, while Gene (voiced by Eugene Mirman) is eager to take his musical career to the next level. "He is very excited to try to put on a big show and also enthrall the world with his innovation in music," Mirman added.
Music is a huge part of The Bob's Burgers Movie. Director, writer, and producer Loren Bouchard said the musical numbers were a perfect way to make the film feel big and spectacle-like to differentiate it from the TV series. Fan favorite Easter eggs, like the infamous "Burger of the Day" board, will of course have prominence in the feature film. "In the movie, there's one on the board and then there's one mentioned in the very first scene that basically gives birth to the entire first number," Bouchard said. "The first song all comes from Linda pitching to Bob a very long burger of the day name—which feels like our daily life [brainstorming burger names]."
The inspiration behind those sizzling dance moves throughout The Bob's Burgers Movie came from none other than writer and producer Nora Smith. Bouchard said, "Nora would videotape herself dancing in her kitchen and Bernard could take that and draw it so beautifully. All the dancing you see comes from these two right here; no training." Smith interjected, "I forced a lot of me dancing on people. I've filmed a lot of videos… and I try to never watch them again."
While the film includes plenty of nods to the TV series, if you're new to the Bob's Burgers universe, there's no need to binge all 12 seasons before seeing the movie. "We knew that we had to try to make our fans happy and make people who are not our fans, but are perfectly fine people as well, happy," Smith said. "We were trying to not make it too chock-full of inside references and we wanted people to come at it fresh and still enjoy all the characters."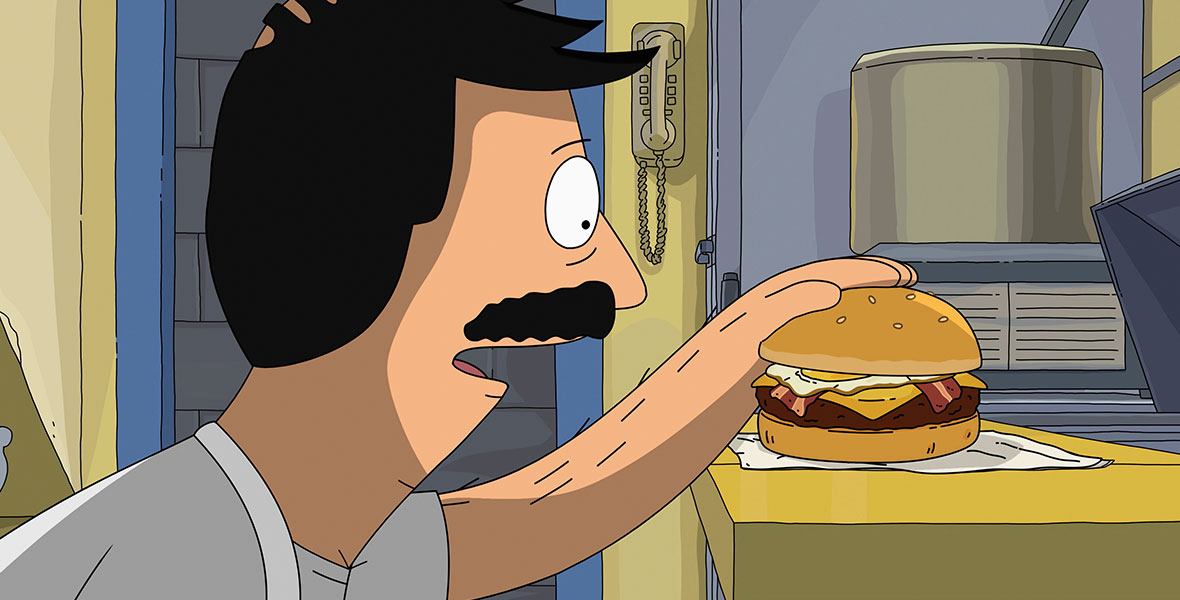 Adapting the hit series to the big screen was no easy task. Smith and director Bernard Derriman admitted they were initially reluctant to pursue the feature film knowing they would need to work on both projects simultaneously. "Making the show is a full-time job, and then we were making a movie along with it," Smith added. "We wanted to keep working on the show in a way where we were focused on it, and it was still good. We didn't want one to suffer because of the other." Derriman recalled when the creators of The Simpsons aired their grievances about working on simultaneous projects, and he didn't want Bob's Burgers to follow that same path.
For the TV series, the filmmakers have only a couple of weeks at a time to focus on an episode since each season contains 22 episodes. However, despite being stretched thin with dual projects, they were able to enhance the animation, music, storylines, and other details for the movie as they had four years to work on it. The 90-minute movie also afforded them additional time to incorporate all of the ideas they've had for the series over the years. "All the stuff that we've always wanted to do on the show, we were able to do now in the movie," said Derriman.
The Bob's Burgers Movie is only in theaters May 27.