By Jocelyn Buhlman
As Disney fans, we can't help it: We have opinions about our favorite Disney films, characters, attractions—you name it, we have thoughts on it! If there's one thing we love more than having Disney favorites , it's sharing our favorites—and sharing how correct our opinions are. Over the years, we've asked Disney fans to give their opinions on everything from Disney Parks snacks to Disney babies—and while collectively Disney fans have voted a winner from each bracket, now we want to know YOUR opinion. That's right! Download these brackets and fill them out yourselves, choosing what you think should win each round. Make sure to tag us on Facebook, Twitter, and Instagram to let us know what YOU think is the best in the world of Disney.
Plus—make sure your opinion is heard in this year's March Hare Mania. It's down to the final two, so vote now to determine which Disney Adventure Duo will win!
1. A Zoo-per sized bracket
As first featured in our 2016 March Hare Mania bracket, choose which Disney animal should be the winner! They are all so cute—but you can only pick ONE to be the champion.
Click the image to download.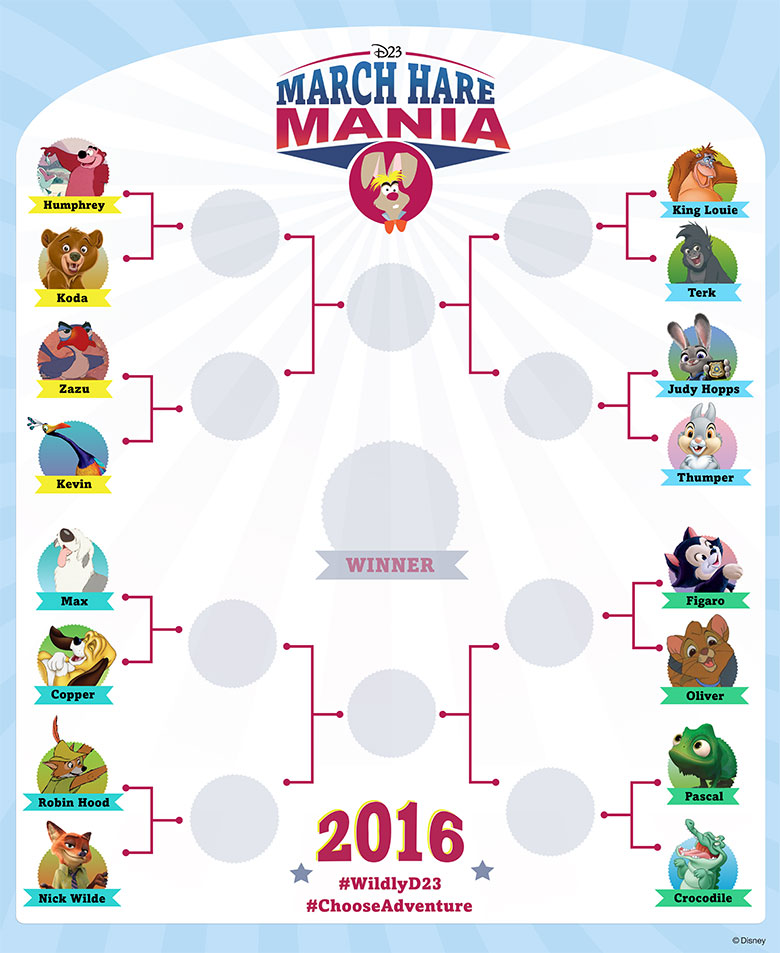 2. D23 Snack Bracket
So delicious, yet so challenging. In 2017, we asked Disney fans to pick which Disney Parks snack was the best of the best. How will you rank these tasty treats?
Click the image to download.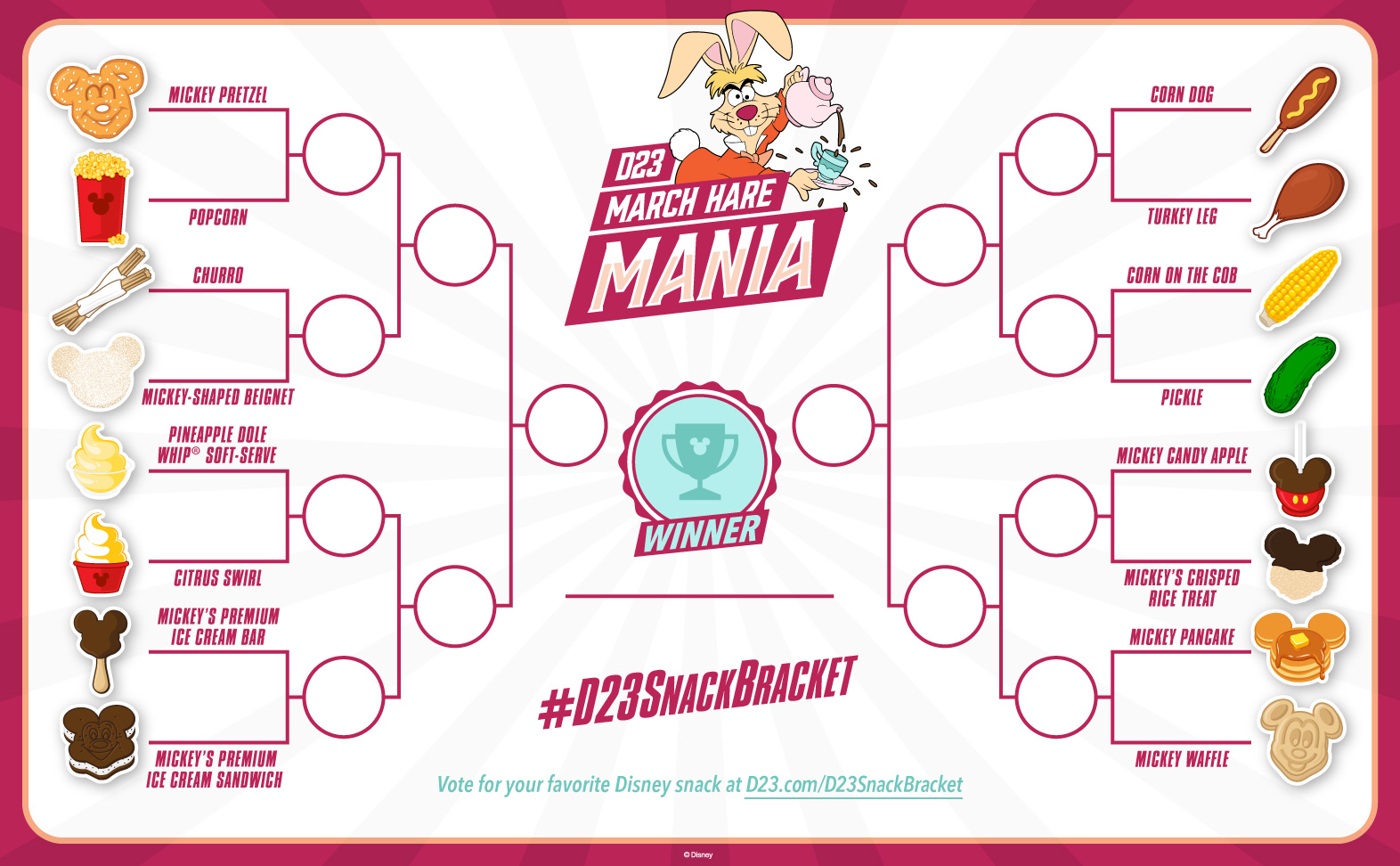 3. D23 Track Bracket
You hum the tunes while you walk, you belt out the words in the shower—but can you pick which song reigns supreme? Our 2018 March Hare Mania bracket was the most toe-tapping challenge yet.
Click the image to download.

4. D23 Baby Bracket
2019's March Hare Mania was a big challenge with small characters! Can you pick which Disney baby you think is best?
Click the image to download.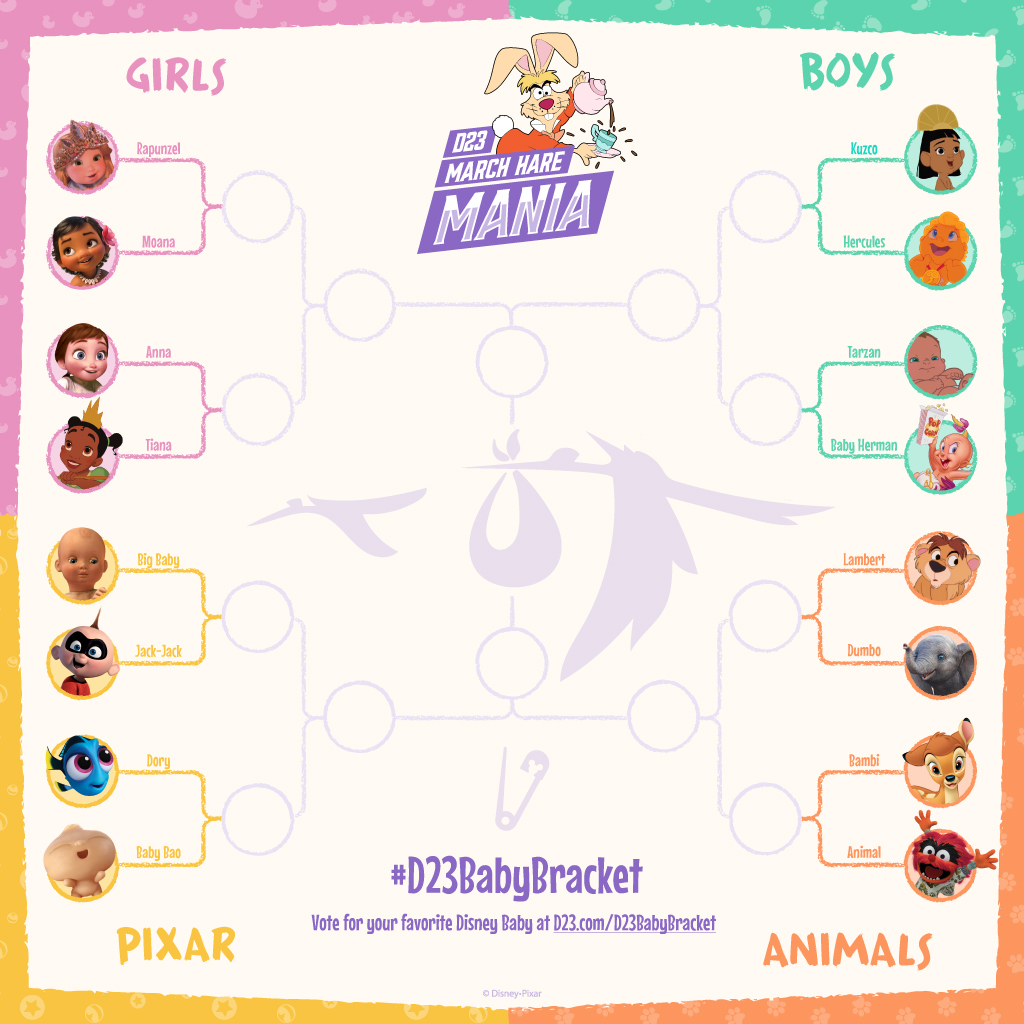 BONUS: The Ultimate Disney Couple's Tournament
We first challenged the cast of ZOMBIES 2 to rank their favorite Disney couples—but now, we need to know from you which Disney couple you think is the fairest of them all!
Click the image to download.