By Courtney Potter
Mark your calendars for some Disney wedding delight, and catch a sneak peek at the new Disney•Pixar short Bao… Read more, along with other news from around Disney, in this week's news briefs!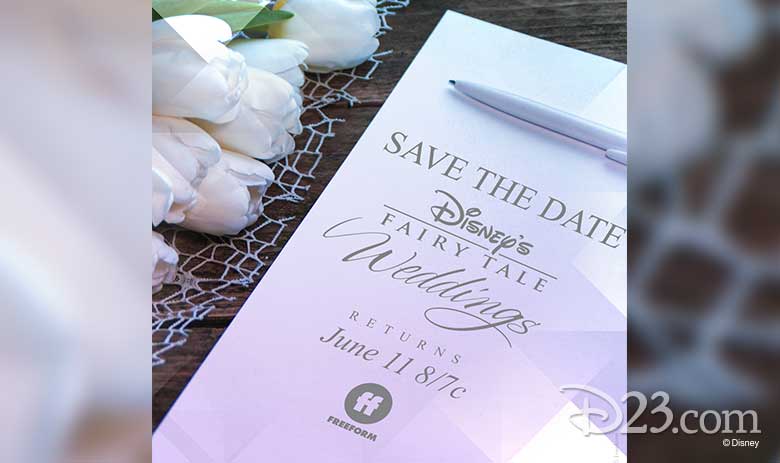 It's a Summer of Love with Freeform's Disney's Fairy Tale Weddings
Freeform requests the pleasure of your company on Monday, June 11, for the highly anticipated return of Disney's Fairy Tale Weddings… Chronicling several nuptials planned through Disney's Fairy Tale Weddings & Honeymoons, a program aimed at making a couple's Disney dreams come true, the series premiered as a holiday special last year—and is hosted once again by professional dancers and real-life couple Stephen "tWitch" Boss (The Ellen Show) and Allison Holker (Dancing with the Stars).
Trust us—you won't want to miss any of this marriage-magic! And we should know: D23 got a very special inside look at the series earlier this year, and you can read all about it in the Summer 2018 issue of Disney twenty-three. Find out more about the issue, as well as how you, too, can get this unique quarterly publication delivered to your very own doorstep, right here.
Save the Date!
Be sure to mark these upcoming Disney events on your calendar:
D23 and Walt Disney Archives


April 22, 2018


D23 Celebrates 20 Years of Disney's Animal Kingdom


May 19, 2018


Exclusive Meet & Greet with Ashley Eckstein


May 25, 2018


D23's Return to Marceline


November 16-18, 2018


Destination D: Celebrating Mickey Mouse


August 23-25, 2019


D23 Expo 2019
Parks


February 28–May 28, 2018




Epcot International Flower & Garden Festival




April 26, 2018




Disney•Pixar Toy Story Land opens at Shanghai Disneyland




May 25, 2018




Incredible Summer Begins at Walt Disney World Resort




May 27, 2018


Star Wars: Galactic Nights Returns to Disney's Hollywood Studios


June 23, 2018




Pixar Pier opens at Disney California Adventure




June 30, 2018




Toy Story Land opens at Disney's Hollywood Studios


August 17, 24, 28, 31
September 3, 7, 9, 11, 14, 16, 18, 21, 23, 25, 28, 30
October 2, 4, 5, 8, 9, 11, 12, 14, 16, 18, 19, 21, 23, 25, 26, 28, 30, 31


Mickey's Not So Scary Halloween Party at Magic Kingdom Park




August 30-November 12, 2018




Epcot International Food & Wine Festival




2019


Star Wars-Themed Lands Opening at Disneyland and Walt Disney World



Studios




April 27, 2018


Marvel Studios' Avengers: Infinity War opens in U.S. theaters


May 25, 2018


Solo: A Star Wars Story opens in U.S. theaters


June 15, 2018


Incredibles 2 opens in U.S. theaters


July 6, 2018


Marvel Studios' Ant-Man and the Wasp opens in U.S. theaters opens in U.S. theaters


August 3, 2018


Disney's Christopher Robin opens in U.S. theaters


November 2, 2018


The Nutcracker and the Four Realms opens in U.S. theaters


December 19, 2018


Mary Poppins Returns opens in U.S. theaters


Television




April 30, 2018


Dancing with the Stars: Athletes Premieres on ABC (8–10 p.m. ET/PT)


May 2018


New episodes of DuckTales debut every Friday throughout the month

Get a taste of #Bao, our upcoming short opening ahead of #Incredibles2 June 15. pic.twitter.com/Yw17N2pNZX

— Disney•Pixar (@DisneyPixar) April 12, 2018
First Adorable Look at Disney•Pixar Short Bao
The world may be talking about the incredible new trailer for Incredibles 2 (rocketing into theaters this summer)—but a new Disney•Pixar film also means a brand-new Pixar short. The one slated to premiere before the Parr family's latest shenanigans looks ridiculously cute… and heartwarming, to boot!
Bao tells the story of a Chinese-Canadian woman—feeling the pain of an empty nest—who gets another shot at motherhood when one of her handmade dumplings comes to lovable life. Check out the clip, above.
The short was conceived and directed by Pixar storyboard artist Domee Shi—the first female short director in the studio's history! Based on Domee's own life experiences growing up in Toronto, Bao will play in front of Incredibles 2, beginning June 15.
All-Star Athletes Join ABC's Dancing with the Stars
There's a whole new crop of competitors taking to the floor on ABC's Dancing with the Stars—and this time 'round, they're sure to knock it out of the park, make a touchdown, complete the perfect triple axel… or any other sports metaphor you can think of! Yes, beginning April 30, 10 superstar athletes will begin their quest for the coveted Mirrorball trophy. Who will cha-cha into the history books? Take a look at the exciting new cast right here at D23.com.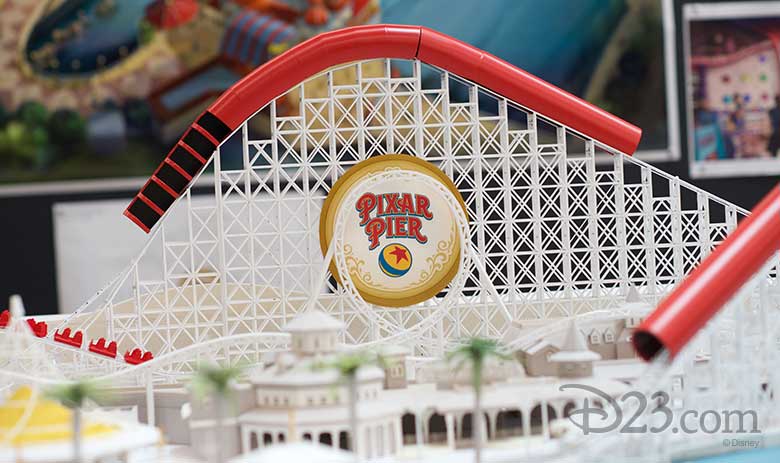 Peer into Pixar Pier at Blue Sky Cellar inside Disney California Adventure
Pixar is coming to Disneyland Resort in a major way this year… the just-underway Pixar Fest will lead directly into the big grand opening of Pixar Pier at Disney California Adventure park—and to get guests in the mood for all the infinite-ly beyond-cool fun, the Blue Sky Cellar is now hosting a special behind-the-scenes peek at the land.
From early concept art and sketches, to videos and even three-dimensional models, the space will preview the whimsy to come from the land's four new "neighborhoods"—all inspired by cherished Pixar stories like The Incredibles, Inside Out, and Toy Story. And that includes two merchandise locations, Bing Bong's Sweet Stuff and Knick's Knacks.
So if you're visiting Disneyland Resort, make sure to visit Blue Sky Cellar… and mark your calendars for the reimagined Pixar Pier opening this summer!
Lin-Manuel Miranda Gives Voice to DuckTales' Gizmoduck This May
He's won a slew of prestigious awards, but it's safe to say this is the first time he's played a character with a beak: Lin-Manuel Miranda, late of Broadway's Hamilton and soon to appear in Disney's Mary Poppins Returns, will be joining the cast of Disney Channel's DuckTales (as fan-fave Gizmoduck) this May! Read up on all the news that's fit to quack here.
A New Solo: A Star Wars Story TV Spot to Revel In
If you're anything like us and need to keep up-to-date on all things Solo: A Star Wars Story, make sure to take a gander at the film's latest TV spot, above. We cannot wait to see the finished product on the big screen…
Buckle up inside the Millennium Falcon and journey to a galaxy far, far away in this all-new adventure, featuring the Star Wars saga's most beloved scoundrel. Through a series of daring escapades deep within a dark and dangerous criminal underworld, Han Solo (Alden Ehrenreich) befriends his mighty future copilot Chewbacca and meets the notorious gambler Lando Calrissian (Donald Glover), in an adventure that will set a historic course for the most unlikely of heroes.
The film also stars Woody Harrelson, Emilia Clarke, Thandie Newton, Phoebe Waller-Bridge, Joonas Suotamo, and Paul Bettany. Directed by Ron Howard, Solo: A Star Wars Story lightspeeds into a cineplex near you on May 25.
See the Light at Rapunzel's Royal Table Aboard the Disney Magic
Disney Cruise Line is known for its truly innovative dining experiences—and their latest foodie feat is no exception. Rapunzel's Royal Table is now open on board the Disney Magic, and it allows guests to delight in delicious meals, sing along to favorite tunes from Tangled, and even kick up their heels with Rapunzel, Flynn, and the hilarious Snugly Ducking thugs! It's the first Tangled-themed restaurant of its kind, and it's exclusive to DCL.
For a lively look at the fun in store, check out this new video from our pals over at Disney Parks, above. Beautiful surroundings (dig those amazing murals), dancing, good food, magical music… and it's all in celebration of the princess's birthday. Honestly, this looks like such a good time—we can't wait to visit!